Talking Indian Food with
Rising Star Chef Neel

Looking for Indian cooks for hire near you? Indian Private Chef in London, brings the flavours to your table!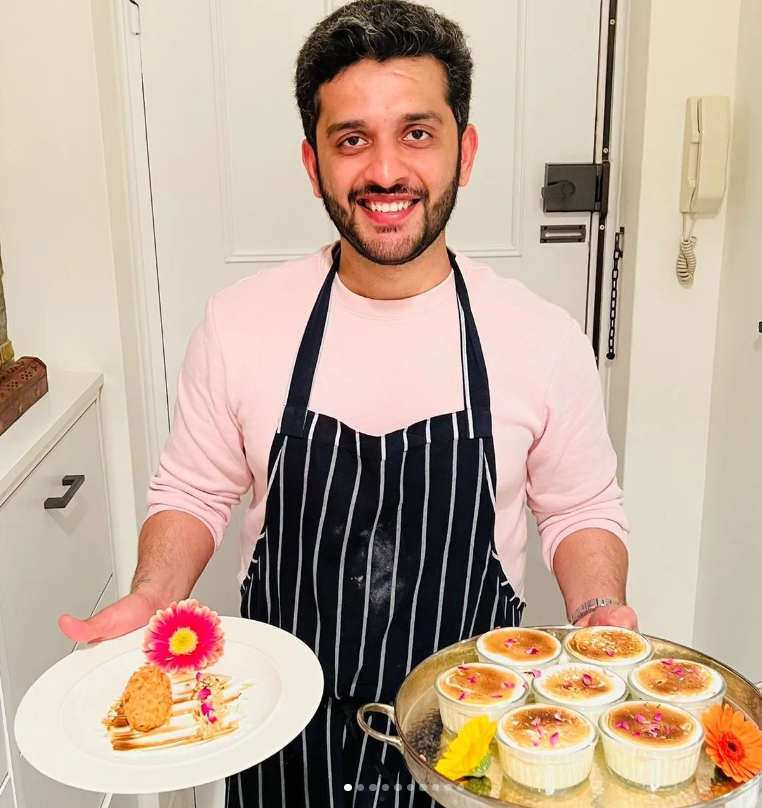 Chef Neel, brings with him a strong sense of Indian traditions to his cooking, yet manages to seamlessly incorporate modern elements. With a great sense of taste and creativity for combining flavours and creating new dishes, a strong entreprenurial spirit and big dreams, Neel is a rising star. Having owned his own establishments in India, serving as head chef and having worked at Gymkhana, one of the best Indian restaurants in London, Neel is ready to take London by storm with his experimental approach to Indian food.
Early Start
"Early on, when I was about 10, I took up an interest in cooking. I enjoyed the staple dal chawal of Northern India so much that I attempted to make it on my own at that age. At the age of about 16 or 17, when I was in high school, my brother who was then pursuing an MBA, had a project where he had to run a business. He acquired me as his partner, and we ran a cookie business for about 2 months. We sold to around 25000 clients and it was an exciting time. Back then, we didn't have deliveries through the internet, so it was word of mouth and we did a pretty good job I would say. I'd enjoyed the feeling of my cookies being in demand as well as the rush of the business being successful."
Chef Heart with an Entrepreneurial Spirit
"Along with cooking, I caught the bug of the wanting to learn more management side of the hospitality business. I didn't aim to become a professional chef then. After high school, I enrolled in a Bachelor's degree for Hotel Management in Jindal Universities. Up until then, cooking had been a passion. But witnessing firsthand, how things work behind the scenes in the kitchens, and  by own love for cooking, it clicked for me! I just jumped into the kitchen and started learn everything I possibly can. After gaining my training, I went to the US to train and to Australia, where I worked at a Japanese restaurant and learned the art of sushi making and a lot of the quirks of the Japanese cuisine. I then returned to India and opened my own cafe. It's called Coffee Clan, in Vadodara, Gujarat and it's still running, though I have sold my partnership. Even starting off as a private chef, is gives me the chance to be a brand myself and gives me a stepping stool to advance myself further as a culinary entrepreneur."
For anybody looking for an Indian private chef in London, Neel's brand of modern Indian adaptions would be a perfect option.
Exploring other cuisines

"I love my traditional Indian, but I also love the intricacies of the Japanese cuisine, love to do sushi; Mexican, Middle Eastern are versatile too. To be able to do fusion, its important to know the depths of the cuisines you are trying to emulate to be able to do justice to the traditions of both and execute a combination that pays homage to all the styles being combined on the plate. Fusion also leaves much room for creativity, the freedom to be new."
Popularising  Indian food abroad
"Well, I have a respect for the classic North Indian homefood. But when I am creating my menus, I'm very much in favour of letting the menus reflect the entirety of India's diversity. While designing a menu I will use Pahadi prawns from the mountains of northern India, then Malabar Parotta from the southern coastal regions. I'm a big fan of experimenting.  For example, the Lachcha Paratha taco is my invention and is quite popular. It's lachcha Paratha, a soft layered flatbread, topped with desi style chicken, rolled up like a taco. Even when I was in charge of my own restaurant back in India, Turban Tadka , I designed a wonderful fusion menu with items like butter chicken croquet, lamb pizzas, etc.
When it comes to adapting to tastes abroad, my fusion style works quite well. I like to maintain the Indian flavours but then familiarise the style of the dish with a more European vibe. There was an event when I was cooking for a mixed group of French people. So for appetisers, I served potatoes three ways as an appetiser. First there was the classic Indian Jeera Aloo, thickened with Potato Starch, then crispy potatoes on top. For starters, I served dum-cooked arancini with burnt tomato relish with yoghurt gel and pea shoots on top.
It was a lightly Indian flavoured French menu and I had a lot of fun creating it."
Maintaining authenticity of Indian food
"When it comes to ingredients, I love coriander, cumin, sesame and many more. But most of all coriander. If it were up to me, I would put coriander in everything, just a sprig or a bunch of it, depending on the dish, as coriander maybe used in any Indian dish!
As an Indian private chef, I rely on my supplier back home. I order a box of traditional Indian spices about every six months, because this way I know of the freshness and source origin of the spices and it is much easier on the pocket!"
What's next ?

"Well, I begun my  private chef journey this year. I saw some ads and thought to give it a go, and with this taking off, I have many plans brewing in my mind for the future. There is a shortage of staff in the restaurant industry, the hours are too long, the pay is not worth the hours and working for oneself and being your own boss is so much better. I am excited to see how things turn out with yhangry, when I can bring my brand of experimental Indian fusion to the table.
If I wouldn't have been in this industry, I would have tried my hand at acting. Next year I might try for one of the tv shows here in London. Perhaps there may be a way for me in the future to have my own cooking show (laughs)
I would actually like to open my own QSR chains of fast and exciting Indian food, rather than fine dining Indian restaurant , because that's been done and done well by a lot of people. I like to keep busy, and am always thinking of ideas to open more businesses."
About us