PRIVATE CHEF STORIES
MEET CHEF LECH

This week we are inspired by Chef Lech's story, who shares his insights on how he came to be a chef abroad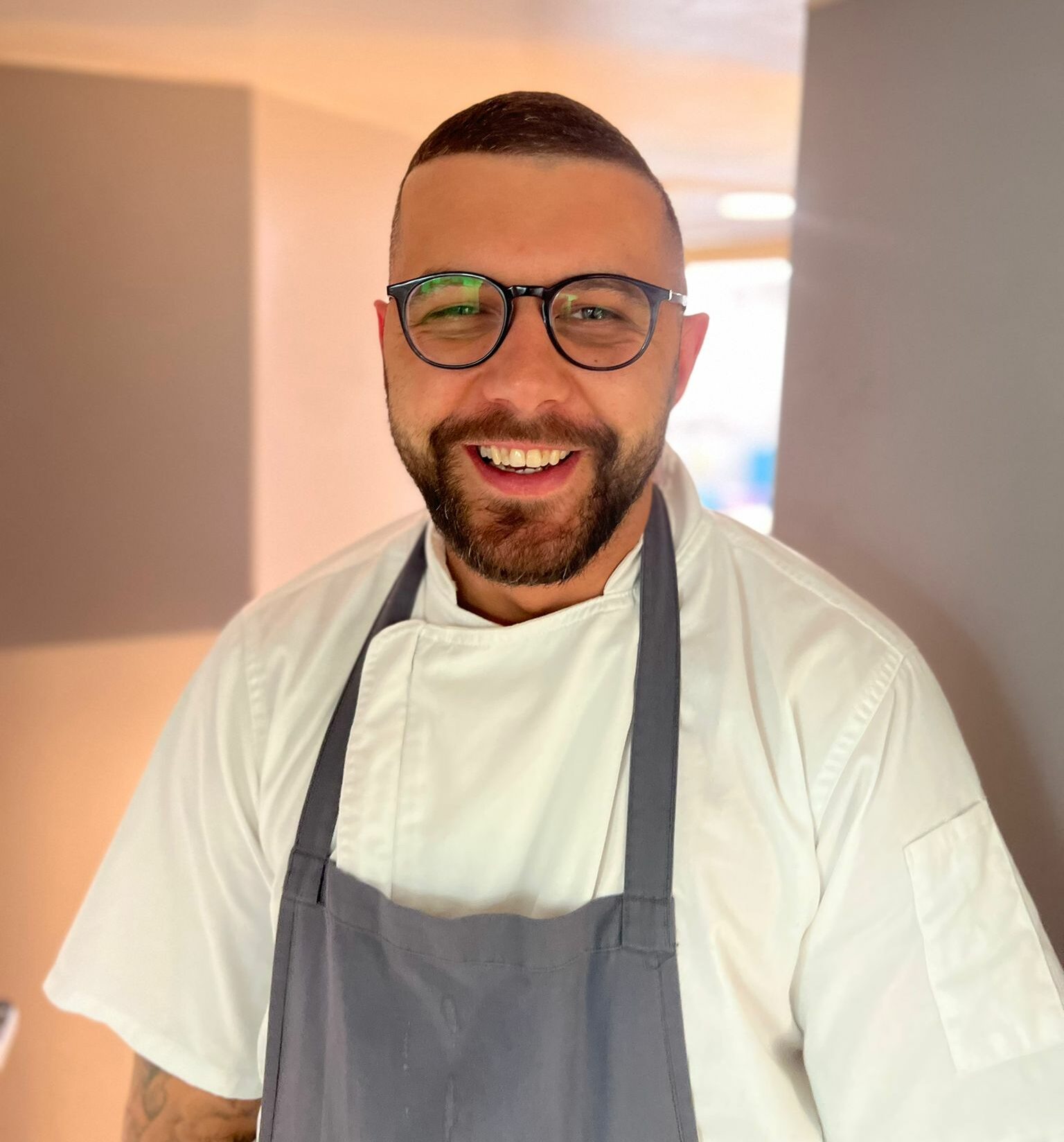 Here at yhangry, we work with a talented and driven group of chefs, master patissiers and Head Chefs at renowned restaurants. We find that their journeys may inspire so many more who have ever wondered how to become a chef professionally. One such skilled and enterprising chef is Chef Lech, originally from Poland, cooking up a storm all over the south of England.
What's the first step to being a Chef?

According to Chef Lech, it's passion. "My grandma was my inspiration. Her food was the best, I just loved it so much as a child. I wanted to be a chef since then because I loved the flavours and variety of ingredients. I was born in the early 80s and traditionally, men were not allowed in the kitchen, in Poland. My family would tell me that I shouldn't cook. It's not a manly profession. But I had to do it, it's what I loved to do. My grandmother was my inspiration, but she was not happy about me cooking at all originally. That's how it started for me."

Passionate about cooking, he would often attempt cooking on his own, only to be chased out of the kitchen by his grandmother. Not deterred, after graduating from college, Lech decided to go to a technical school to earn a diploma in the culinary arts.
If you love food, love experimenting with flavour, texture, mouthfeel, that is your first step. You need an undettered love for cooking and the desire to expirement.
How do you begin working professionally as a chef?
Many vocational training institutes and culinary institutes have programmes in culinary arts. Chef Lech got his degree at Gastronomic School in Kraków, Poland.
"After getting professionally certified, my first job was at the Sheraton Kracow, a 5-star hotel in Poland, where I was the breakfast chef. In 2006, I decided to move to England for better opportunities. In England, I started as a Commis Chef, and moved to Second Chef, after months. I was lucky to work with some wonderful chefs along the way. Then soon, I was promoted to Head Chef and I worked at many places,including The Hawkley Inn, La Piazzetta, and Ye old George in Petersfield. Then in 2018, I started my journey as a private chef. I worked with a company called dine indulge and really enjoyed myself. I complete 150 jobs with them and had a rating of 4.3 stars, which is quite impressive as it is competitive out there. After gathering some experience with them, I decided to work on my own as a private chef and later, came across yhangry. Now I am a full-time private chef, but I do work at restaurants as a freelancer if they need me. For the past nine months, I have been working at a  2-Rosette restaurant at the Alexander House Hotel."
After earning a relevant school qualification, many chefs, decide to earn a professional qualification from culinary institutes and gather professional experience in restaurants. One could also begin gaining experience professionally, learn on the job and then go on to get certiified from a training institute. Armed with many different skills like knife skills, sourcing and working with good quality ingredients, preparing seasonal menus and dishes, developing and managing other chefs, working with service staff, sommeliers amongst others; Chefs find a full-time job either working at restaurants, or teaching, or as a private chef and business owner, opening their own establishments.
What would you say to other young aspiring chefs?
"Don't be scared of going out on your own. Go out of your comfort zone. Cook good food and be open to trying new things. As long as you are passionate, you can be a great chef."
When it comes to being a successful chef, it all comes down to one's passion for the art.
Is becoming a chef a good career path?


Chef Lech does what he loves every day. It is a good career choice if you are a creative individual. It could be an extremely busy life and it leaves room for one to become a business owner, working flexible hours, like Chef Lech. One gets to work with many different kinds of people, in restaurants, with clients, even be the face of marketing campaigns, etc. the avenues are multiple. There is variety in work, and flexibility in schedule for the professional chef, but it is definitely for the faint-hearted. One has to be enterprising, have a strong work ethic, and be completely dedicated in their love for what they do to keep up with the long hours and physically taxing work.
"Personally, I prefer private jobs. The opportunities and earnings are better. You really get to hone your creativity and talk about your food with clients. It's definitely a gratifying experience."

What are the challenges one may face while trying to be a chef?

"When I first began, I was a breakfast chef. Soon I started doing night shifts and breakfast both. Those were busy days. Restaurant shifts are long, and you are not really in touch with your creative side. When I moved to England, my English was very poor. The language was a barrier, " says Lech.

Many chefs work 5 days a week, a minimum of 10 hours per day in the kitchens. It is a highly social occupation and one has to have good communication skills while working as part of a team in restaurants or individually with clients. Chefs are busiest during lunch and dinner hours and during the weekends, which means their personal social life has to be planned around their work life.

"Private jobs are not for everyone and neither is working in restaurants. It's mechanical in the restaurants, one arrives, does the work for 12 hours and leaves. With private clients, one has to do their own shopping, prepping, and cooking in front of other people. For me, I love the social aspect and the liberty it gives me with my time and creativity. But it differs from chef to chef, which bit is more challenging for them. Challenges may be many, but if you love it, you just have to go for it, there's no other way around it.", says Lech.


How does one fan their creativity, while working as a chef?
"My grandmother used to cook traditional Polish food, pierogies and stuff. She passed 2 years ago but I was able to make her proud with my work and I hope I continue doing so. Once I began working professionally, she complimented my food and asked me how I came to be so good. It is all down to her and I told her so. That's where I have always drawn inspiration from. I also love to source local produce as it is fresher. I love to create new dishes. My style is fusion. It's experimental. I am constantly looking to make things better. The display and the taste, are equally important. I tried to create stuff on my own and a few times in the restaurants, too. One time at the restaurant, I added some sugar to a lamb dish. Other chefs at the restaurant were encouraging and we served it to the clients. They loved it. Don't get me wrong, I don't mix random ingredients. I try, test, and taste. I serve it up if it is good. As a chef, your brain is thinking this is how will I make this dish better, combining flavours in your mind. How will I present this dish for it to be most aesthetically appealing? For clients, half the culinary experience is in the taste. If the food looks appealing enough, half the battle of pleasing their palates is won"

Again, passion is foremost. Chefs have to love working with food and have a desire to cook delicious and beautiful food. Encouragement from other chefs, and clients are huge morale boosters. One also needs to expand their horizons and learn constantly, to understand other cuisines. Chef Lech's favourite dish is Nasi Goreng, a popular Indonesian dish, that's mainly fried rice with meat and vegetables.

"When I was in Bali, I fell in love with their cuisine and took some cooking lessons. I even brought back a range of local Balinese spices. I have continued exploring Indonesian cuisine from home, trying out recipes. In fact, I can have Nasi Goreng any day of my life. I have travelled to the Philippines, and to Hong Kong as well. The different Asian cuisines are so interesting. I want to visit Sri Lanka, Thailand, India, Vietnam, and all these other places, try the authentic food there."



About us
Yhangry is a private chef platform which has been featured on Dragons' Den. If you are planning a party and staying in a rented venue, you can find and book local private chefs to cook for your group. You simply choose from our chefs' menus starting from £30pp. The chef will bring the shopping, cook up a feast and clean up in the kitchen, so you get to enjoy a fabulous time with your friends without having to worry about the cooking.