PRIVATE CHEF STARTUP FOUNDERS
PITCH THEIR IDEA IN THE DRAGONS' DEN 🐉

Heinin & Siddhi, founders of Dragons' Den private chef startup yhangry entered the Dragons' Den and pitched for an investment of £100k. Here's the BTS take.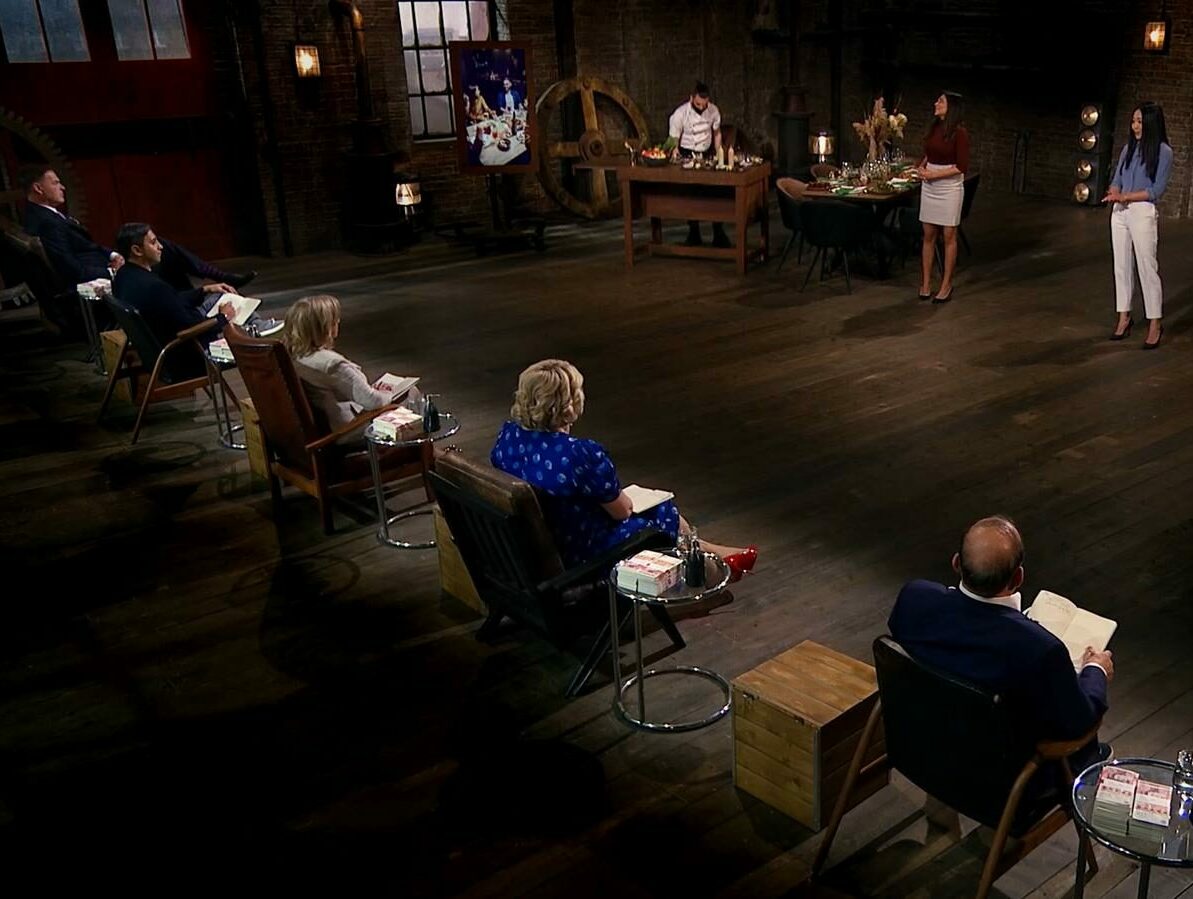 "How was Dragons' Den?" A common question we get.
Pitching our private chef startup idea in the Dragons' Den has been the highlight of our rollercoaster journey so far!
Armed with one of our amazing chefs, rock-solid numbers and an unwavering passion for dinner parties, we stepped into BBC's Dragons' Den. There, we pitched yhangry to five of the most successful, pioneering and sometimes scary business titans in the UK.
We would love for you to watch the episode so we'll keep it short and just share some behind-the-scenes intel about our 2 days in Manchester.
Smooth Arrival in Manchester
We travelled to Manchester the morning before to check in to our Airbnb, assemble our props and prepare the 3-course canapé feast for the Dragons. Upon arrival, we treated ourselves to a delicious lunch at Australasia in the centre of Manchester, believing we had plenty of time.
Disastrous Realisation(s) before entering the Dragons' Den
At the BBC studios, we realised our props hadn't arrived. Due to the pandemic, our dining table didn't get delivered during the week before our pitch. So instead of practising our pitch, we spent ages searching for last-minute furniture hire options.
Meanwhile, at the Airbnb, the oven wasn't working! Chef Jonathan had created a menu for which most of the canapés required some oven action…
We somehow managed to find Plan Bs and stepped into the den for more than two hours!!!
And we stepped into the den with props figured out, and an updated canapé menu.
We pitched our simple vision to the Dragons: yhangry is here to help friends and family create memories over great food. The dinner table is where some of the best conversations take place. We exist to take the hassle out of hosting. We make booking a chef easy and accessible.
Whether for unique celebrations such as 30th birthdays, hen parties, Christmas dinners or casual family get together. In the Dragons' Den, we pitched the vision of more friends and family sharing great food at the dining table. Because, thanks to yhangry, all it takes is to pick up your phone to book a chef. As easy as ordering Deliveroo.
Outcome
But as those who watch Dragons' Den know all too well, it's not always plain sailing when you step out of that famous lift and into the belly of the den to secure investment for your business. What we can say is that we should not have worn heels and that the whole team at the BBC was great fun to spend time with – big thank yous to our wonderful runner and our amazing makeup artist 🙂
Our favourite scenes include detective Siddhi making Touker Suleyman uncomfortable and Heinin's number-crunching which left Peter Jones with nothing to say about their valuation apart from an approving nod.
Spoiler alert: We struck a deal with two Dragons – Peter and Tej – to sell each of them a 5% stake in yhangry.
However, during the due diligence process, we decided to walk away from this deal and we ended up raising a larger funding round from a group of angel investors, including VC partners, founders, celebrities and customers. Read about our raise here.