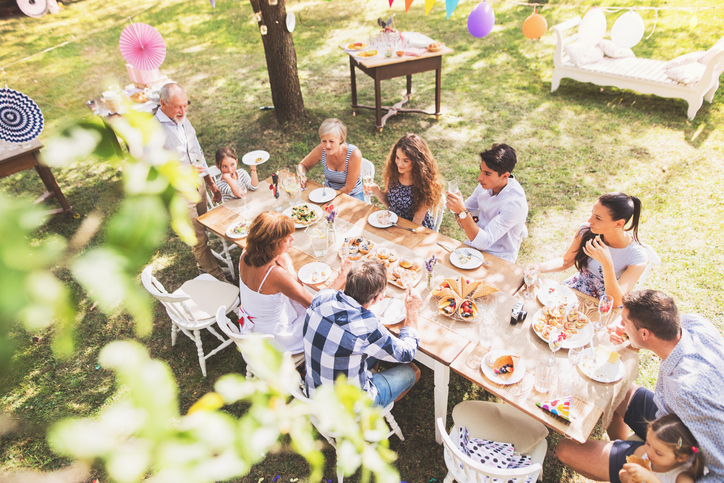 Glasgow, Scotland's largest city, is known for its vibrant cultural tapestries, Victorian architecture and rich history. With several stunning parks, scenic countryside and adventure centres, the city was made for outdoor events. Thus, its breathtaking sceneries make Glasgow the perfect city for an outdoor birthday party. However, when planning such events in Glasgow, it's imperative to consider the weather, which can be unpredictable.
Notwithstanding the climate, with proper planning and creative ideas, you can make the most of Glasgow's beautiful outdoor spaces and create a memorable birthday celebration. Hence, there's no better time to offer you some of the best outdoor birthday party ideas for a Glasgow party.
Hire a yhangry birthday party caterer
Planning an outdoor party can be exhilarating, especially when checking off completed tasks or giving orders. But party planning is serious business and can be overwhelming as there are too many tasks to stay on top of.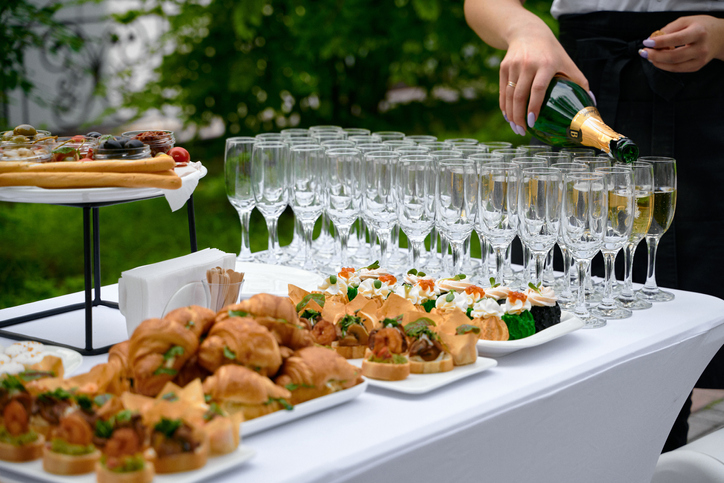 There's a lot to consider, from the venue to the decor, guest list to entertainment, etc., but catering is one of the most important aspects of planning a party. Whether planning a small gathering or a large celebration, food is the focal point of any party. It's the crucial element that sparks conversations and keeps your guests energised.
Because you have so much on your plate as a party planner, it's best to outsource some responsibilities, specifically catering, to reputable catering services like yhangry. This way, you can rest easy knowing excellence is the only outcome.
Yhangry connects you to England's most reputable and highly-rated chefs and caterers. A quick browse of our chefs' profiles will enlighten you about their comprehensive experience catering for celebrities, prestigious institutions, Michelin-star restaurants, etc. Our chefs' menus speak for themselves, and they can handle any type of event, from a casual brunch to a fine-dining gathering. Thus, catering at your Glasgow outdoor birthday party is a walk in the park for our high-profile caterers and private chefs.
So, rather than stress about cooking and serving food at your outdoor party, leave it to the culinary professionals at yhangry. Request a quote today to get started. 
7 outdoor birthday party ideas in Glasgow
Here are seven of the best ideas for your Glasgow outdoor birthday party:
1. Picnic party
Glasgow has too many beautiful parks and gardens for you not to utilise them for an outdoor birthday soirée. A picnic birthday party at the park is so evergreen and a great use of space. Such parties can be decorated however you please. From rustic to classy or children's-themed, you can transform the park into your fairytale.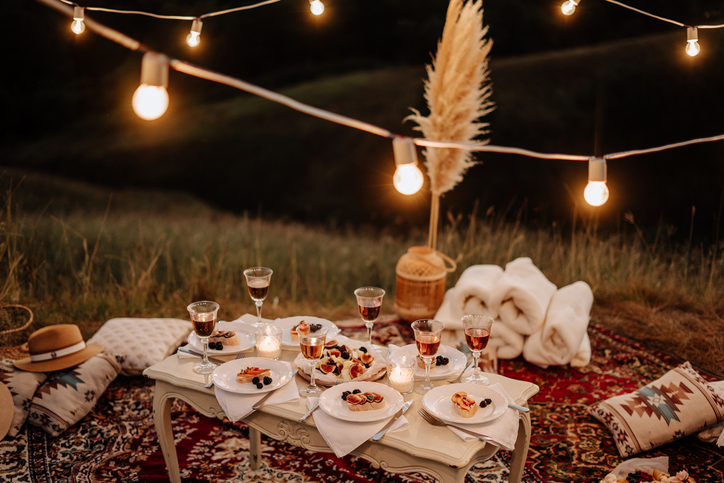 For a successful picnic party, choose a park that suits your needs. As much as Glasgow's parks are beautiful, you'll still need decor as this initiates a cosy and welcoming atmosphere. You can choose to sit on pillows or bring chairs and tables. However, food is non-negotiable, but you can trust your chosen yhangry caterer to supply you with a mouth-watering menu featuring finger foods, cheese platters, charcuterie boards, main courses and desserts.
With these simple tips, you can create an alluring and fun-filled birthday party that everyone will love.
2. Outdoor cinema
With the warm summer nights in Glasgow, an outdoor cinema can be a fun and unforgettable way to celebrate your birthday with friends and family. Outdoor cinemas are a perfect birthday celebration idea because they provide a comfortable and intimate setting for couples, groups, families and everyone. A top-tier way to celebrate your birthday is to watch a movie enveloped by the cool outdoor breeze.
You'll need the proper equipment to throw an amazing outdoor cinema-themed party. Sure, you can rent from a company, but if you have a projector, white cloth, speakers and some ropes, you can create a functional DIY cinema area. You can set this up in your garden or backyard or rent a public space like a park or community centre. Blankets are necessities for this party, likewise snacks, which your chosen yhangry caterer can handle. However, with all these measures, you're on track for a memorable outdoor cinema experience in Glasgow.
3. BBQ party
Glasgow's warm summer months make it an ideal time to fire up the grill and enjoy mouth-watering food with friends and family. BBQ parties will always be a big hit in Glasgow. So, throwing a BBQ birthday party will bring everyone to your yard. You can hire a yhangry birthday party caterer to supply your party with endless burgers, hot dogs and other foods, or you can handle it yourself.
BBQ parties are relatively easy to plan. You'll need a dining area – a few tables and chairs will suffice. The decor is important too; maybe hang some lanterns and put out some flowers. BBQ parties are great because they're minimal, low-effort and low-cost. So, if you're looking for an outdoor birthday party idea that will cost nearly nothing, go the BBQ way.
4. Game party
Whether you're young or old, there's something about the fresh air and sunshine that makes outdoor games irresistible. Games are a prerequisite for every outdoor party, but what if your birthday party can revolve around games? Now, that would be amazing.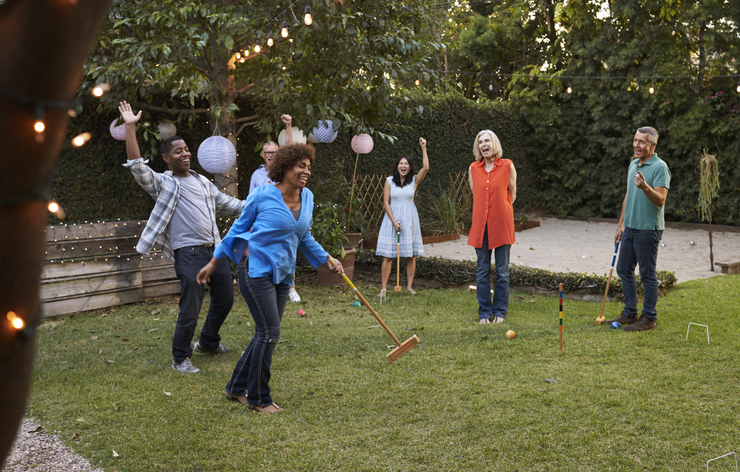 So, whatever your favourite game is, whether chess, checkers, monopoly, soccer, frisbee, volleyball, etc., you can throw a game-themed birthday party and have your guests dress up according to the chosen game. This will be fun and keep everyone entertained.
5. Adventure party
Consider an outdoor adventure party if you seek an adrenaline rush on your birthday. There are several thrilling outdoor activities you can do in Glasgow. From mountain climbing to canoeing, kayaking, rock climbing or skydiving, there's so much you can do in Glasgow to get your blood pumping. By throwing an adventure party focused on either of these activities, you're gifting your guests memories they won't forget in a hurry.
Planning an outdoor adventure requires some preparation and consideration for safety. Choose an adventure that suits your guests' experience and skill level. Ensuring everyone is equipped with the proper gear, helmets and life jackets is also essential. Also, an instructor or guide is necessary for this type of birthday party. This way, everyone can let go and have a great time knowing they're safe.
6. Hiking or cycling
A hiking or cycling party is ideal if you're looking for a stimulating way to celebrate an outdoor birthday party in Glasgow. Glasgow's lush green spaces and scenic trails provide a perfect backdrop for hiking or cycling. You can do this whether you're an experienced hiker or cyclist or just looking to try something new.
Search for a suitable trail or route that matches your guests' physical strength and kick off this hiking party. Maps and trail guides are prerequisites for this event. Another thing to ensure is that your guests have appropriate footwear and clothing, including sunscreen, hats and rain jackets if necessary. This will make the activity more bearable.
7. Outdoor water sports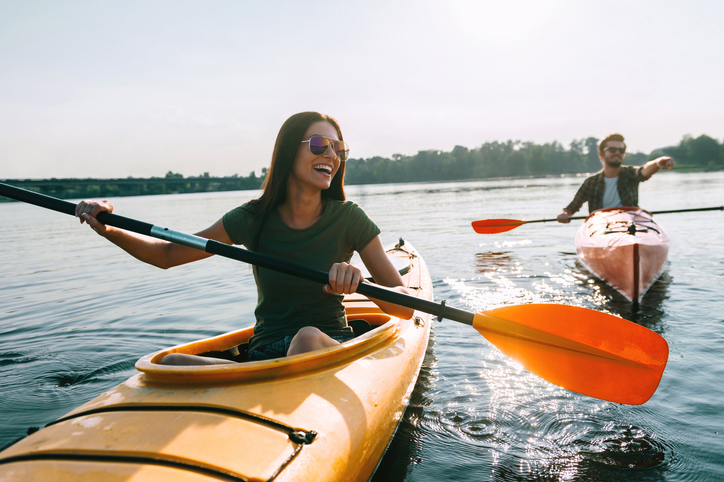 Water sports are another exciting way to celebrate an outdoor birthday party in Glasgow. Glasgow is home to several water bodies and water parks like lochs and rivers, which provide a perfect playground for various water sports. You and your guests can have a blast from rafting to kayaking, paddleboarding and swimming. However, you'll need a lifeguard and appropriate swim gear for everything to go according to plan.
How to plan a successful outdoor birthday party in Glasgow
These pointers will come in handy when planning a successful outdoor birthday party in Glasgow: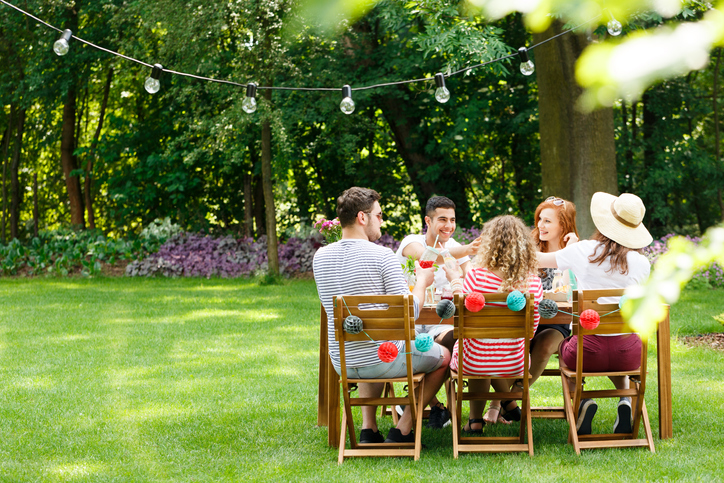 1. Choose the right location
The type of party you want determines the location you choose. Glasgow has many parks, gardens and outdoor spaces that accommodate different parties, from picnics to BBQs. Choosing the right location sets the tone for the party.
2. Be prepared for the weather
The weather in Glasgow can be unpredictable, so it's essential to plan for different weather conditions. If you're planning an outdoor party, have a backup indoor location in case of rain or extreme weather. Alternatively, you can rent a marquee or gazebo to provide shelter.
3. Provide appropriate seating and tables
If you're planning a picnic or outdoor dining party, provide enough seating and tables for your guests. You can also rent picnic tables or folding tables and chairs if necessary.
4. Plan the menu
Decide on the type of food and drinks you want to serve and plan accordingly. With birthday parties in general, variety is always appreciated. So, you might have to prepare different types of meals. Alternatively, hiring an outdoor birthday party caterer from yhangry can absolve you of this.
5. Have a first-aid kit
Accidents can happen, so having a first aid kit handy is always a good idea. Ensure it's stocked with essential items such as band-aids, antiseptic cream and pain relievers.
FAQs

What's the process of booking? How do I book?

Once you've determined your preferred yhangry caterer or private chef, you can check their availability, input details like date, number of guests, budget and postcode, and secure said chef. Requesting a quote from your chosen chef lets you know how much your specifications will cost. 

Do I need to tip a private chef?

While it's not mandatory, tipping is highly appreciated and should only be done out of your volition. Hence, if you're feeling generous, you can tip your yhangry chef for a job well done.

What happens if the chef cancels?

Yhangry offers booking protection that ensures deposits are refunded if the chef cancels. However, you will most likely be protected from this inconvenience.