With the sun shining and the birds chirping, there's no better time to gather your friends and family for a fun-filled day amidst the beautiful blossoms.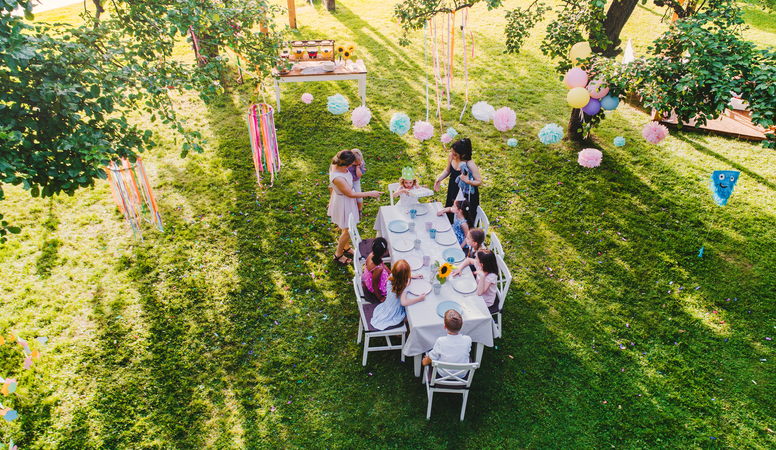 Whether you're celebrating a milestone or just looking to enjoy the summer breeze, we have the most amazing garden party decoration ideas to make your event one for the books. From whimsical fairy lights to rustic centrepieces, your guests will surely be swept away.
Let's help unleash your inner party planner extraordinaire! But first, we have to set the record straight.
Hire a garden party caterer on yhangry
When hosting a garden party, you want everything to be perfect. Every detail matters, from the location to the decor, food, guest list, etc. Without outsourcing some responsibilities, you'll find yourself juggling many roles, and once there are too many balls in the air, it could all come crashing down, and your party could be ruined before it even begins.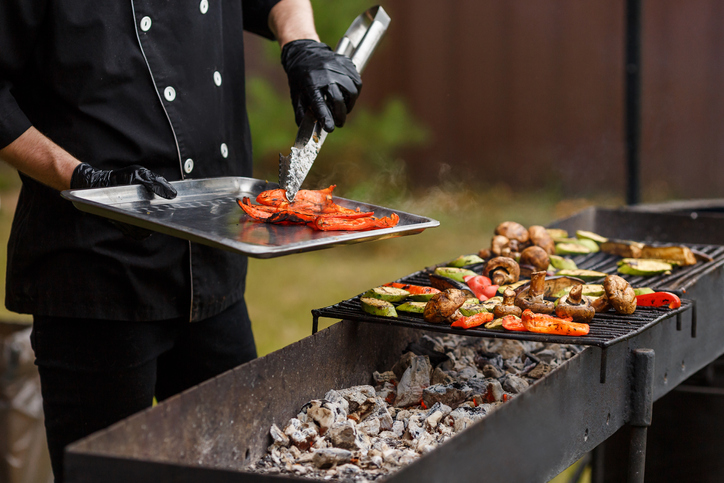 Hiring a garden party caterer will absolve you of many responsibilities, preventing your burnout. However, with so many catering companies, how do you know the best ones? Well, there are certain differentiating qualities the most skilled caterers have. These include cross-cultural experience, awards and accolades, high service ratings and versatility. Luckily, at yhangry, our caterers check these boxes and so many others.
Yhangry is an online platform that links individuals and households with some of London's top chefs. We provide a customised service where one can choose a chef, menu and preferred services.
Our experienced caterers can handle your garden party, regardless of the guest list.
So, if you want a beautiful and hassle-free garden party, yhangry will exceed your culinary expectations. Browse our garden party caterers' profiles, get a quote and get started immediately!
Garden party decoration ideas
With catering handled, we can move on to the best decor ideas to transform your outdoor space into a stunning garden paradise. Here they are:
1. Rustic garden party
Rustic decorations are appropriate for various occasions, from weddings to birthdays, making them versatile. This garden party decoration idea uses natural elements like wood logs, tree stumps and burlap to create a rustic, earthy feel for your party. You can use wooden crates to display your food and drinks and decorate them with strings of garland and twine.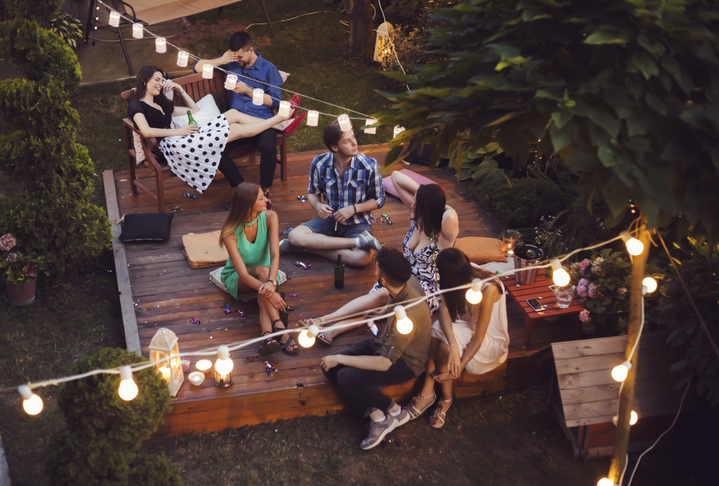 The best part about this theme is that you don't have to spend a fortune on decorations. You can use recyclable materials to make it eco-friendly. Use natural colours and textures that complement the greenery and floral arrangements in a garden party setting.
2. Chic vintage garden party
Vintage never goes out of style, especially vintage decor, and you can incorporate vintage elements into your garden party. How? By using pastel-coloured vintage floral vases, candles and teacups as centrepieces. A vintage tablecloth, chintz-inspired plates and silverware can also get the job done.
In the true vintage spirit, a photo booth is also mandatory, and you can DIY using colourful props and a fun backdrop. For added allure, your guests can come in their best vintage attires.
3. DIY flower wall
A DIY flower wall is so easy to create, and it's a stunning and inexpensive addition to any outdoor party. Using real or fake flowers, you can create stunning floral walls and garlands for the perfect photo backdrop. You can colour-coordinate the flowers to match the party's theme and add fairy lights to give it a dreamy effect. Then, hang it on a wooden trellis or fence for a beautiful photo op.
4. Bohemian decor
Boho garden parties are in now, so this is your chance if you haven't had one. You can create a bohemian garden party with colourful tapestries, dream catchers, cosy low seating and vibrant coloured cushions.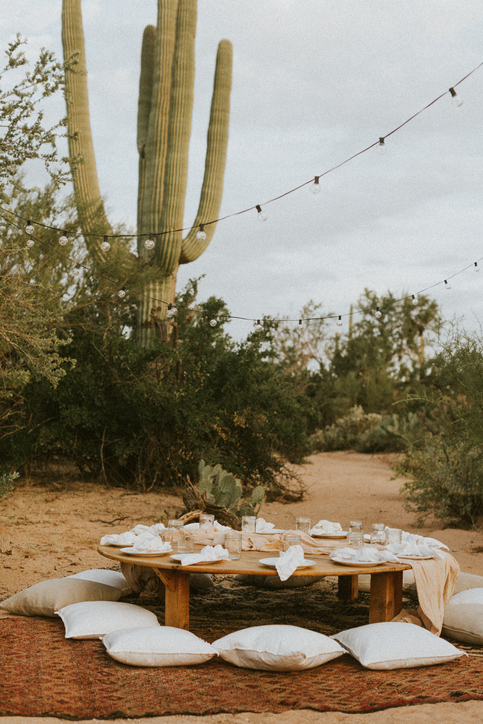 Bohemian decor comes to life when one hangs handmade lanterns made from mason jars on tree branches or places them on tables. White candles, colourful tea and fairy lights will also create a relaxing and earthy ambience, which you need.
5. Balloon arches
Balloon arches are versatile decor elements that can be mounted outdoors and inside. The bigger and more vibrant they are, the greater the statement they make. Hoisting a balloon arch at the entrance of your garden party gives your guests an impression of impending fun and excitement. If it's a kid-friendly garden party, you can even disassemble the balloon arches for the kids to play with. Choose balloons in shades and colours that match your party's theme, and add some tassels or flowers for extra flair.
6. Ambient lighting
There are so many lighting ideas for garden parties. One of the more popular ones is fairy lights. These lights will illuminate your party in the most magical hue. They're easy to handle as you can string them throughout your garden or hang them from trees and bushes. Other kinds of ambient lighting that would do your garden party justice include:
Festoon lights

Hurricane lanterns

LED candles.
Any of these options will transform your garden party into a fairytale once the sun goes down.
7. Flower vases
For a stunning garden party, items like flower vases are important. Granted, you can use the typical ones, but this would make your event look boring. So, switch it up by converting unusual items into flower vases. You can stick your flower arrangements in teapots, beer bottles, birdcages or watering cans. This gives your party an edgy look and is a great way to incorporate your garden's elements into the decor.
8. Table setting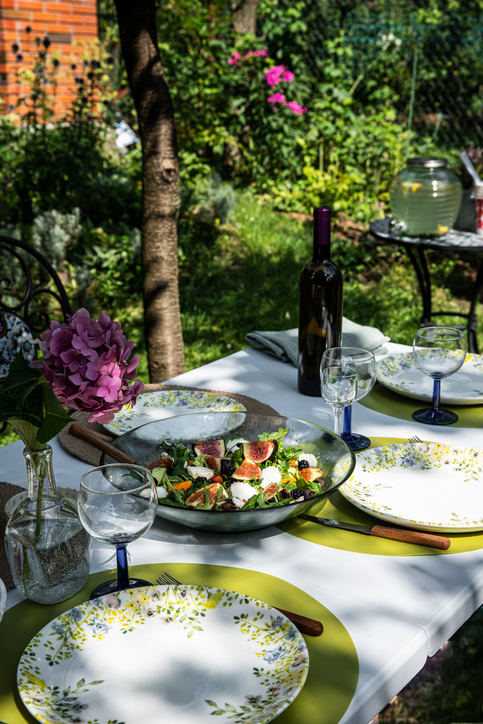 The table is the focal point of the garden party, so how it looks matters a lot. From ceramics to serving platters, bowls and glasses, you can customise your table setting to make it more unique.
A great tip is using personalised name card holders and napkins. This will make your guests feel welcome and important. You can then accessorise with fresh garden flowers, vases, candles, centrepieces and tablecloths that match the theme.
9. Chalkboard signs
A chalkboard sign is a great garden party decor idea that is informative and whimsical. You can use this as a menu, welcome sign or for garden party games. It's so versatile and a guaranteed item your invitees will love.
10. Games
Your garden party can have any type of game you want. But games like croquet, arts and crafts, bocce ball, tug of war, beanbag toss and horseshoes are more appropriate for this event. You can set up a game area with party hats or headbands. However, choose an interactive game that all age groups can enjoy to ensure everyone has a great time.
Garden party food ideas – yhangry
What is a great garden party without tasty food? If you want to step outside the box and do something creative with the food, here are a few ideas our caterers can help you set up:
1. Build-your-own grill station
A garden party is a perfect opportunity to whip out the grill and let your guests have fun. Set up a build-your-own grill station with various meats, vegetables and marinades. Add some grilling tools and let your guests test out their grilling skills. Our seasoned chefs and caterers will help you and your guests with this.
2. DIY pizza bar
Pizza is a crowd-pleaser, and a DIY pizza bar is a perfect way to let guests have fun while creating their meals. Set up a table with a range of toppings such as pepperoni, mushrooms, spinach, cheeses and tomato sauce. Add pizza dough, rolling pins and a pizza oven, and let your guests build their pizzas.
3. Fruit skewers
Fruit skewers are easy to make, refreshing and perfect for any garden party. Wash and dice some strawberries, pineapples, kiwis and oranges, and stick them onto wooden skewers. Serve with honey or yoghurt dip, and enjoy a light, healthy snack.
4. Charcuterie boards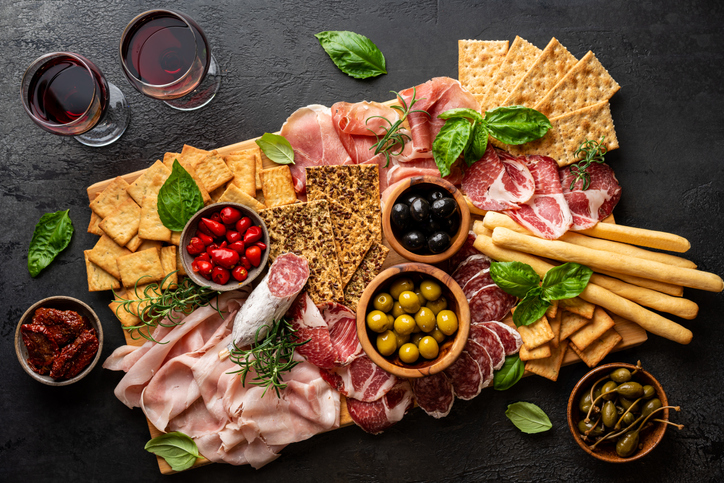 It wouldn't be a garden party without a charcuterie board. You can make this board with anything, be it cheese, fruits, snacks, cured meats, butter, etc. Our caterers can supply your garden party with exquisite charcuterie boards.
5. Build-your-own ice cream sundae
If you are having a garden party, chances are that it is just the perfect weather for a sundae. A sundae bar is an excellent way to sweeten up your garden party. You can hire a private chef to whip up a variety of ice creams so that your guests have a wide range of options. Or, you can do it yourself by starting with vanilla and letting your guests add their favourite toppings.
FAQs

Can the yhangry chef prepare the food before the guests arrive?

Sure, they can. Our private chefs and caterers are dedicated to working in your best interest. So, if you'd prefer them to prepare the meals before the guests arrive, that's what they'll do. 

What are some popular garden party themes?

Some popular themes for garden parties include vintage chic, rustic countryside, tropical paradise, etc. It all depends on the mood and atmosphere you want to create.

I have lots of dietary requirements; how does this work?

At yhangry, our chefs and caterers are dedicated to serving. They offer menus that can be customised to accommodate the dietary restrictions, preferences and requirements of each person or household. All you'd need to do is communicate these requirements to the caterer, and everything will fall in place.