Behind The Hero: Vicki Broadbent, Blogger, Broadcaster, Author, Filmmaker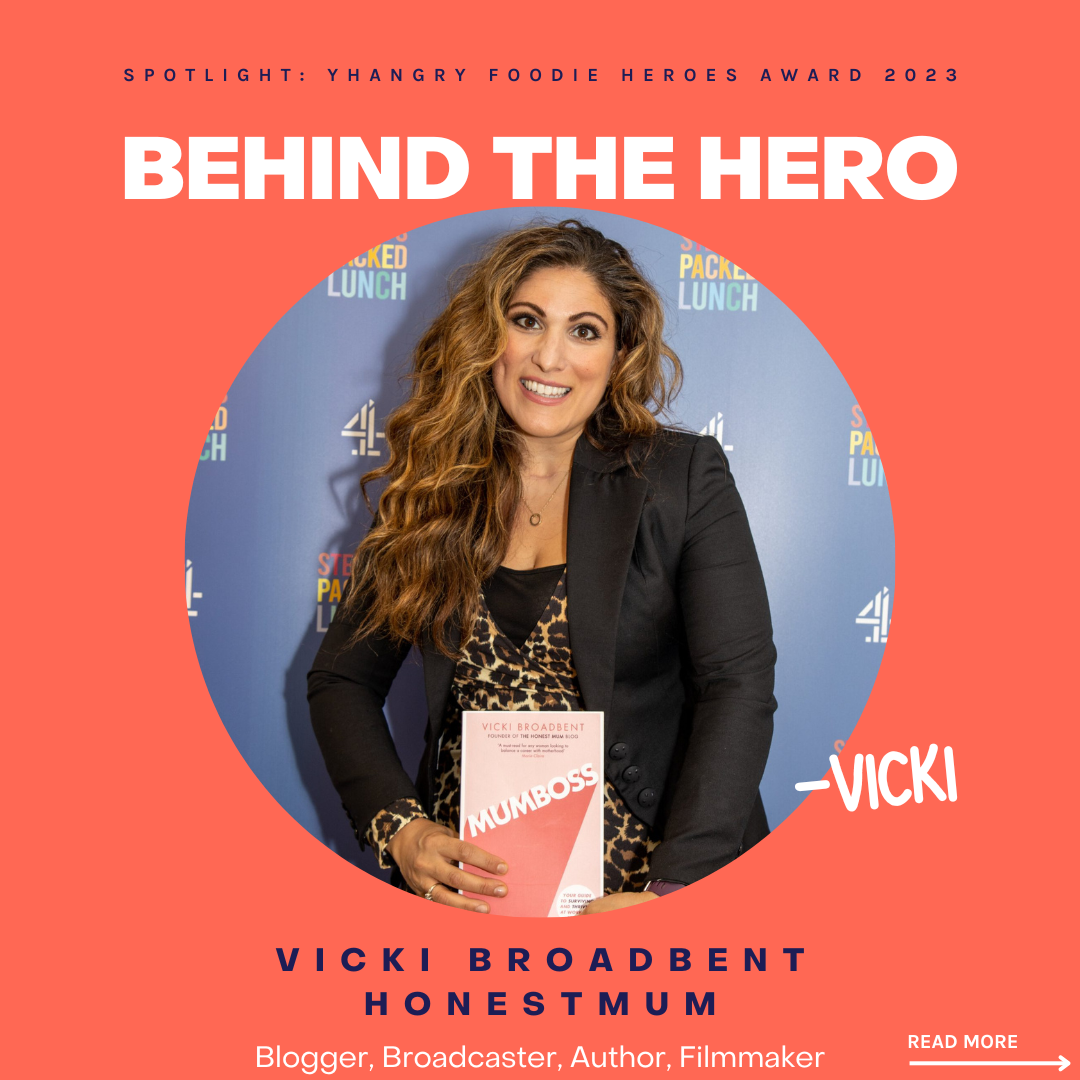 (Photo by Duncun Cuthbertson)
After serving over 20,000 guests nationwide last year, yhangry recognised that behind every dinner party, every recipe, and every photo of a dish and chef is a compelling story waiting to be shared with the world.
We launched the Yhangry Foodie Hero Award, an award for food creators, chefs, cookbook authors, recipe developers and more to celebrate the local heroes who nourish us all and highlight the businesses and individuals who shape the industry.
Join Usman as he dives Behind the Hero and sits down with nominee Vicki Broadbent, Blogger, Broadcaster, Author, Filmmaker to hear her story, including some BTS. We love that Vicki is part of this food award.
Interview:
Q: What's your story, how did you get started in this space?
A: Blogging was an accidental career as I set up honestmum.com in 2010 not expecting it to become my job. I was simply seeking a way to share my voice and build some confidence after a traumatic birth. I missed writing. I was on Maternity Leave as a TV Director and screenwriter at the time feeling frustrated that the industry was inflexible and meant being away from my young son for weeks at a time.
A filmmaker friend of mine Amancay Tapia encouraged me to start a blog after I shared the realities of motherhood with her. I started earning within weeks and within 2 years (and two children later), it became my full-time career.
I now have three kids and I feel lucky to have collaborated with so many inspirational creatives and brands I love. Just in the food sector, I've worked with Jamie Oliver, James Martin, the late and great Antonio Carluccio, and Aldo Zilli.
Q: What does the food industry mean to you?
A: Food was and continues to be an integral part of my upbringing and identity. As a second-generation British Greek Cypriot, food and learning the art of Greek Cypriot cooking specifically was a way of understanding and also retaining my cultural identity. It was also a bonding time with my parents and grandparents.
I fondly remember learning how to bake Greek Marble Cake with my Yiayia (all my cousins do, too) and after careers in other sectors (my Mum was a teacher, my father an entrepreneur), my parents opened up award-winning restaurants in Yorkshire and even cooked on national and international TV when I was young. I elevated my own cooking style at 11 years old when I entered Junior Masterchef. My Dad taught me how to cook in a way that was more fine dining than anything I'd experienced before. I came fourth in the North and they only needed 3 young cooks for the TV show. My Dad was more upset than I was!
My parents put so much effort into creating a sensory experience around food from the presentation, crockery and tablecloths to even music. Eating with them is definitely a multi-sensory experience.
Q: What was your "holy Sh*t, this is kind of going somewhere" moment?
A: Six weeks after I started my blog whilst on Maternity Leave, I was nominated for a Brit Mums' Fresh Voice award which took me by complete surprise. It gave me the confidence to continue. Six months on, I was part of a campaign with Olympians and a household brand which was cool.
I realised that I could use my skills as a TV Director to control my output and create an online space others could hopefully relate to but also enjoy.
Q: Who are you inspired by?
A: When it comes to food and business Ella Mills of Deliciously Ella is utterly inspiring. I'd love to one day write a cookbook and even open my own café or restaurant. Who knows?!
Q: What advice would you give to people who want to join the industry?
A: Do some research, find out what you like watching yourself then create content without pressure (you don't have to post everything you shoot). Don't expect overnight success either.
I've been blogging and creating online for over 12 years now and every post takes lots of work behind the scenes to make happen. Reflect on your analytics and Insights so you gain an understanding of what your audience enjoys. My readers are mostly time-short parents so they love quick and easy family-friendly recipes (soups, salads, tray bakes), as well as cakes and bakes to make with their kids.
Ultimately though, trust that a like-minded audience WILL discover you so don't lose sight of what makes YOU happy. I find baking mindful so tend to lean more towards cakes and biscuits than anything else. I love sharing my family's Greek recipes too. My blog is a digital family archive, really. Photos, experiences, memories and recipes that mean something to us.
Of course, I wrote a book on creating a digital brand called Mumboss (The Working Mom in the US and Canada) so my real top tip is to read that haha!
Q: How does it feel to be nominated for the Foodie Hero Award and why do you want to win?
A: I'm honoured to be nominated but honestly, I never expect to win anything. Winning is always lush, of course, it is, but just sharing my passions with others and being messaged by someone who created a cake from my blog is a win for me!
Q: What's your go-to comfort food?
A: Anything from my childhood really. The nostalgia-comfort hit is always the best, right?! My Mum made a rich bolognese the other day that hit the spot. She's actually been teaching my 15-month-old to cook and she now stirs ingredients!
Want to support Vicki?
Help her become a Yhangry Foodie Hero, by voting now! (voting closed)