Behind The Hero: Serena Patel, Food Blogger & Recipe Developer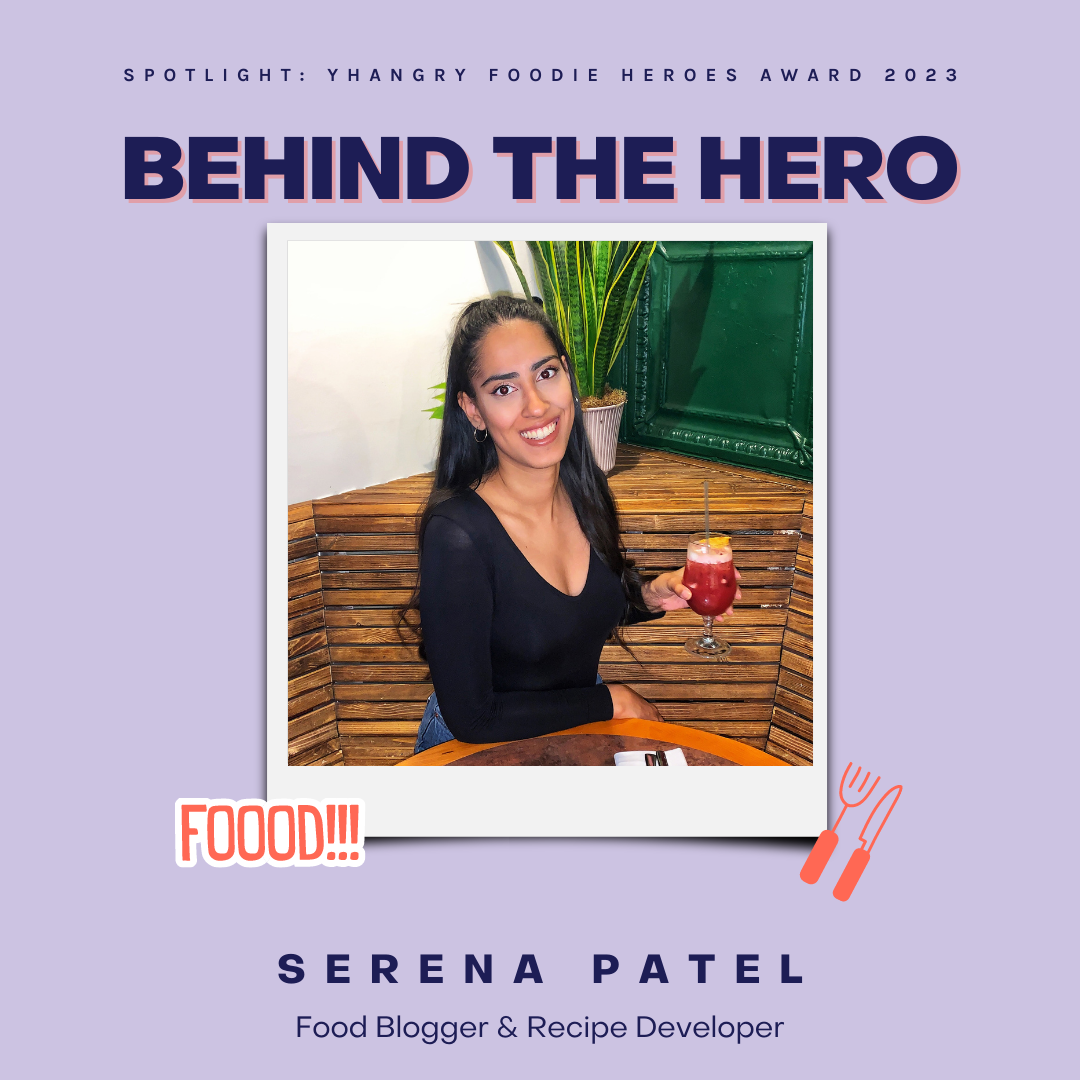 After serving over 20,000 guests nationwide last year, yhangry recognised that behind every dinner party, every recipe, and every photo of a dish and chef is a compelling story waiting to be shared with the world.
We launched the Yhangry Foodie Hero Award, an award for food creators, chefs, cookbook authors, recipe developers and more to celebrate the local heroes who nourish us all and highlight the businesses and individuals who shape the industry.
Join Usman as he dives Behind the Hero and sits down with nominee Serena Patel, Food Blogger & Recipe Developer to hear her story, including some BTS. We love that Serena is part of this food award.
Interview:
Q: What's your story, how did you get started in this space?
A: My decision to start in this field was somewhat random. It started during the lockdown phase when there was obviously not very much to do. I found myself with plenty of time on my hands and a phone full of photos of food I'd made or restaurants that I'd visited in the past.
One day, it just came down to me being a bit bored and deciding to put those things to use. I enjoyed creating content. I enjoyed cooking and trying new dishes, so just thought, why not start that way, and create a page to hold all of that? Little did I know at the time that it would become what it is today, which I am extremely grateful for!
Q: What does the food industry mean to you?
A: When I think about the food industry, three things come to mind: creativity, passion, and community. I don't put pressure on myself to create the perfect-looking dish; I experiment and try new things.
The food industry is full of people from different walks of life – Some are creators just like me, some are professionals or in restaurants and I've even met celebrity chefs, like Jamie Oliver! No matter where you feel your place within the food industry is, all of them bring something different to the table, both literally and figuratively.
I think it's amazing that there's such a strong sense of community, and every one offers something unique.
Q: What was your "holy Sh*t, this is kind of going somewhere" moment?
A: My turning point was when someone outside of the UK, where I am from, sent me a DM with a picture of one of my dishes that they had recreated at home, along with feedback.
At that point, I was just sort of like, hold on… someone from across the world has actually gone on my page and made something that I've created!! I was in shock & that moment continues to be a holy sh*it moment for me every time!
Q: What's the hardest thing you've had to overcome to get to where you are now?
A: So this isn't something I've had to necessarily overcome, but rather a challenge that I willingly accept, knowing that it requires hard work and effort. Food is not my full-time job, but rather a hobby of mine. Even from the beginning, I approached it with this mindset.
So I need to prioritize my responsibilities and sometimes, that does mean I can't take on things that I may want to. However, I view this as a challenge that I continue to face, rather than an obstacle that I have already overcome. Through experience, I've learned that organisation is key and as this is something I love, I'm willing to put in the extra effort!
Q: Who are you inspired by?
A: To be frank, I think every individual in the food community is inspiring. I don't have a standout inspirational person in the industry.
This is largely due to the countless number of individuals I've encountered both in-person and online, whose work ethic, content, or presence within the food industry inspires me greatly. I believe that the entire industry, as a whole, exudes inspiration.
Q: What advice would you give to people who want to join the industry?
A: The biggest lesson that I learned, and the biggest thing that I would probably pass on is to enjoy it. If you want to join the industry, if you want to get into any of those spaces, then you have to have that passion for it. You have to just want to do it. I think if you bring that, and you are creative in what you're doing, that's the key!
Q: How does it feel to be nominated for the Foodie Hero Award and why do you want to win?
A: I think it doesn't feel very real!! I'm immensely thankful for this opportunity. I hope I can inspire others to start something new or persevere in their current pursuits. But it feels great. It's an amazing feeling, and I'm grateful for all those who voted, follow my page, and enjoy my food. Their support means everything to me.
Q: What's your go-to comfort food?
A: My go-to comfort food is probably either a pasta dish or some sort of pie. I think I say that today probably just because it's been so cold recently which makes me crave something warm and filling that can provide a sense of comfort! Plus, these dishes are relatively simple to make, meaning I can spend more time unwinding and enjoying my food!
Want to support Serena?