Behind The Hero: Aminah Sattar, Content Creator & Food Blogger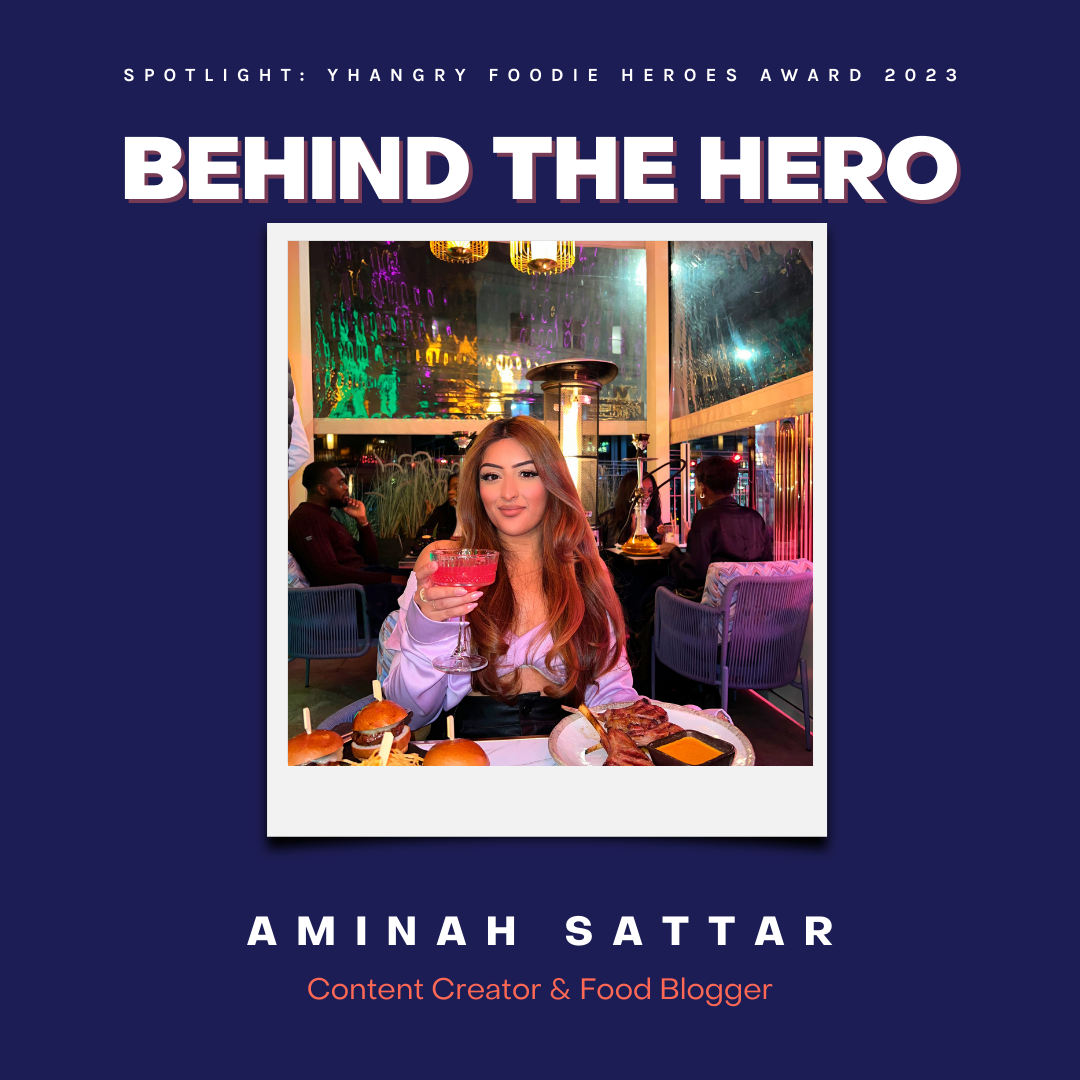 After serving over 20,000 guests nationwide last year, yhangry recognised that behind every dinner party, every recipe, and every photo of a dish and chef is a compelling story waiting to be shared with the world.
We launched the Yhangry Foodie Hero Award, an award for food creators, chefs, cookbook authors, recipe developers and more to celebrate the local heroes who nourish us all and highlight the businesses and individuals who shape the industry.
Join Usman as he dives Behind the Hero and sits down with nominee Aminah Sattar, Content Creator & Food Blogger to hear her story, including some BTS. We love that Aminah Sattar is part of this food award.
Interview:
Q: What's your story, how did you get started in this space?
A: I started my blog during the very first lockdown with the mere intention to just share my 'bites' and 'bakes' with my family and friends.
Q: What does the food industry mean to you?
A: The food industry is huge! There are so many businesses involved in this industry from food production, processing, packaging, supplying – you name it! Some may think it is a highly saturated industry but there is a special place for everyone and this community is so welcoming.
Q: What was your "holy Sh*t, this is kind of going somewhere" moment?
A: I still have these moments till this day! My very first moment was when I landed my first big boy campaign with Skittles! I remember till this day, I had been approached by them to create and develop my own recipe (with full creative control) to be published on their website and across my social media – I could not believe that they wanted to work with little old me! I screamed with excitement and told my close family & friends.
Q: What's the hardest thing you've had to overcome to get to where you are now?
A: For a long time I struggled with balancing my time between creating consistent content for my food blog and my full time job. It took me a while to find that balance and enjoy and prioritise my passion which is this blog.
Q: Who are you inspired by?
A: I cannot pinpoint just one individual. I am inspired constantly by a number of family and friends I am surrounded by who have really pushed me to follow my passion and do what makes me happy!
Q: What advice would you give to people who want to join the industry?
A: Just do it. Stop comparing yourself to others and just go for it. This industry might seem very saturated but just remember no one is YOU and that is your power!
Q: How does it feel to be nominated and why do you want to win?
A: I am so honoured to be nominated for this award and it would mean the world to win! I would love to win this as a recognition of all my hard work and as a motivation to keep going!
Q: What's your go-to comfort food?
A: A big bowl of creamy pasta with all the cheese!
Want to support Aminah Sattar?