Behind The Hero: Latitude Wine, Chris Hill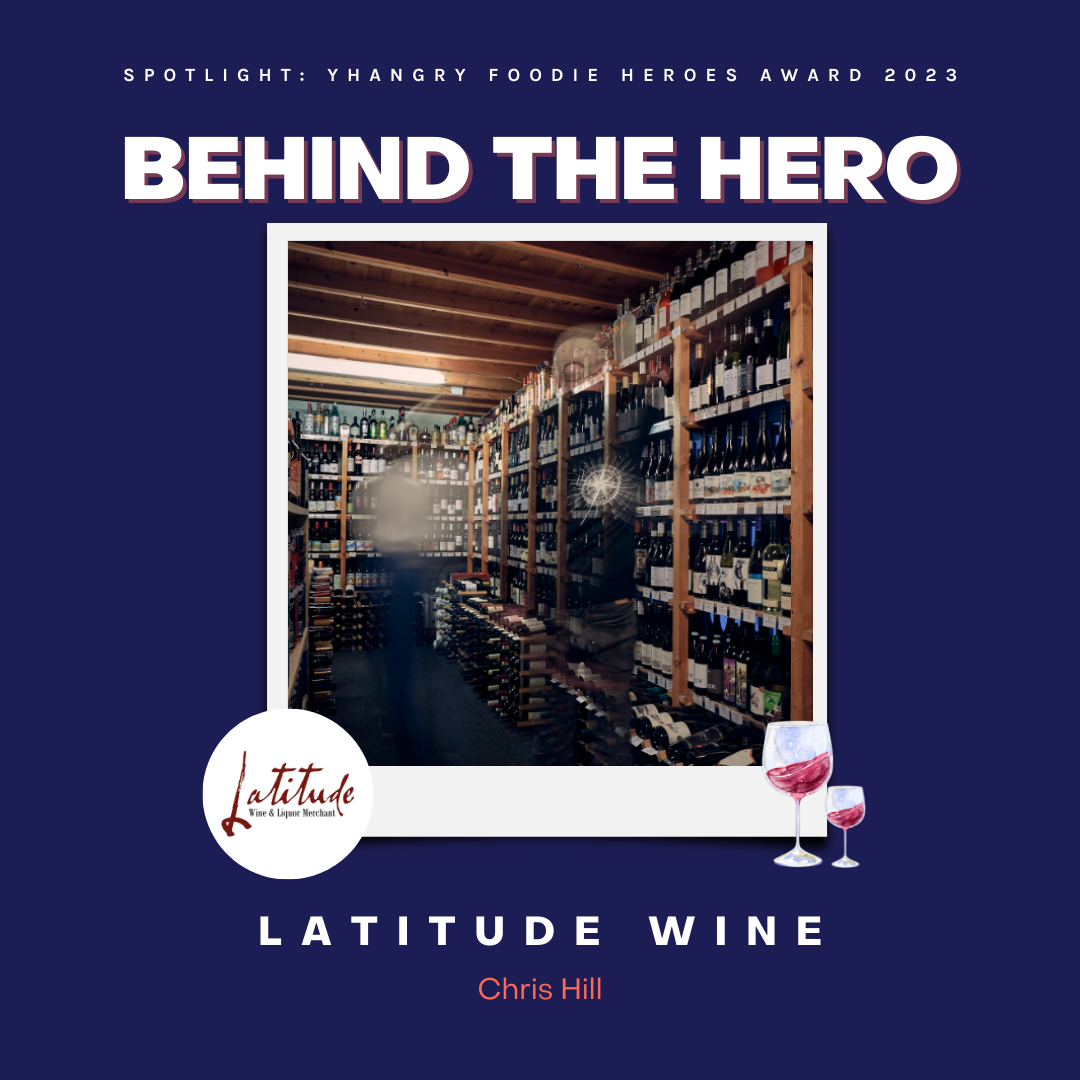 After serving over 20,000 guests nationwide last year, yhangry recognised that behind every dinner party, every recipe, and every photo of a dish and chef is a compelling story waiting to be shared with the world.
We launched the Yhangry Foodie Hero Award, an award for food creators, chefs, cookbook authors, recipe developers and more to celebrate the local heroes who nourish us all and highlight the businesses and individuals who shape the industry.
Join Usman as he dives Behind the Hero and sits down with nominee Latitude Wine to hear her story, including some BTS. We love that Latitude Wine is part of this food award.
Interview:
Q: What's your story, how did you get started in this space?
The story began in 2008 when Chris Hill, the owner of Latitude Wine and Liquor Merchant, established a wine shop beneath the railway arches in Leeds. Our primary aim was to offer the people of Yorkshire premium quality wine and spirits. Initially, the shop focused on retail, but due to Leeds' lively food and beverage sector, it developed a small but loyal wholesale customer base.
Fast forward 15 years and Latitude Wine & Liquor Merchant have transformed into an unstoppable force. Despite being located in the same archway in the heart of Leeds, with only 660 square feet, we now boast an impressive inventory of over 1700 products. We cater to more than 300 bars and restaurants across Yorkshire and have a mailing list of over 8000 retail customers who repeatedly choose to do business with us. This is our story so far, and things are going well.
Q: What does the food industry mean to you?
A: The roots of the business trace back to Chris Hill's experience from working in restaurants in Leeds prior to opening the shop. This has led to hospitality being a crucial aspect of the business. All employees of Latitude have come from a hospitality background as Chris prefers to hire from within the industry.
This ensures that the staff are capable of dealing with customers correctly, and also have a  foundation of knowledge about the products they sell. So in that sense, the industry is essentially what we are. Essentially, we are a part of the broader hospitality industry, serving as a microcosm of it.
Q: What was your "holy Sh*t, this is kind of going somewhere" moment?
A: It's been a roller coaster of holy shit moments the entire time. But, there are a couple that stands out. The pandemic was a significant turning point for us, much like it was for many others. We had to adapt or die, we lost 50% of our business overnight due to wholesale closures. However, our customers continued to seek out quality wine and spirits, leading to a surge in online orders. This caused our old website to crash, and I spent six hectic weeks building a new one while also making deliveries.
Fortunately, this challenging time led to positive developments. The importance of shopping local, and supporting independent businesses has really grown within people's hearts in the past four or five years. And I think that's led to a kind of holy shit moment of, you know, we really have something special here.
Most recently, we had a truly amazing moment when we won a national award for Independent Spirits Retailer of the Year at 'The Drinks Retailing Awards'. Needless to say, we are thrilled about this achievement.
Q: What's the hardest thing you've had to overcome to get to where you are now?
A: The initial weeks of the pandemic were undoubtedly the most challenging period of my entire career. Our workload had doubled as we were delivering to more customers than usual, not just serving them in-store but ensuring that the products reached their doorstep. Additionally, we were in the process of developing a new website. Interestingly, the bigger companies were overwhelmed by the sudden influx of orders, causing them to halt taking orders and deliveries.
As a result, we received more orders and were able to retain many of those customers, which was a pleasant surprise. But unlike the bigger companies, who have the luxury of being able to do that; when you're a small company like us, you survive or you die so we just kept going. Deliveries were being made from 8 am to 11 pm, making it an incredibly demanding time. But because of the hard work that we've put in over the past few years. We have overcome it and we are now stronger than ever, which is amazing.
Q: Who are you inspired by?
A: The wine shops in London are incredible. That would always be lovely to be that size. But to be honest, it may sound cliché, but our customers truly are our greatest inspiration. They are the reason I wake up every day excited to work in a small, independent wine shop.
They value local shopping and high-quality wine and spirits, and it is through conversations with them that we have built our extensive stock. Our focus is always on the customers, and we are delighted to see that they show their appreciation by voting for us in awards. Ultimately, we're here for the customers.
Q: What advice would you give to people who want to join the industry?
A: It's bloody hard work. While customers may see us sampling new wines and spirits, they often don't realize the backbreaking work that goes on behind the scenes.
Moving thousands of boxes in a cold, damp room is no easy feat. However, having worked in restaurants and cocktail bars for years, I understand the value of hard work. It's been a tough journey, but I'm grateful to have landed this job. Hard work pays off, you just have to keep going.
Q: How does it feel to be nominated for the Foodie Hero Award and why do you want to win?
Earlier, Chris used to attend the London awards on behalf of Latitude for many years. However, we consistently lost out to larger, London-based companies. Despite this, we decided to enter the Drinks Retailing Awards again last year, without setting our hopes too high. To our surprise, we won!
Following this, we were nominated for the yhangry Foodie Heroes Award, and I thought we might as well give it a shot. Winning awards is truly remarkable for us, because we've got a lot going on at the moment, and we've got a lot of serious aspirations.  Being from a small company that a lot of people might not have heard of, you would want to instil trust in them.
So having a badge of honour that shows we are a highly recommended supplier on our website, front door, or at the bottom of our emails makes a difference. It instils trust, especially in a world where there are so many options online for buying wine and spirits. It's easy to get lost and end up with someone who doesn't care about providing good quality.
Q: What's your go-to comfort drink?
A: Grenache is our preferred drink for comfort, and we absolutely adore it. It's available from various locations worldwide and is of the highest quality. The flavour is exquisite, juicy, and rich. It can be anything that you want it to be.
For those looking to explore the world of wine, we highly recommend starting with Grenache. Additionally, it pairs well with most food, and we suggest trying it with roast pork for dinner. Give it a try, and you won't regret it!
Want to support Latitude Wine?