Behind The Hero: Niyi Olopade, Novice Kitchen Founder & Content Creator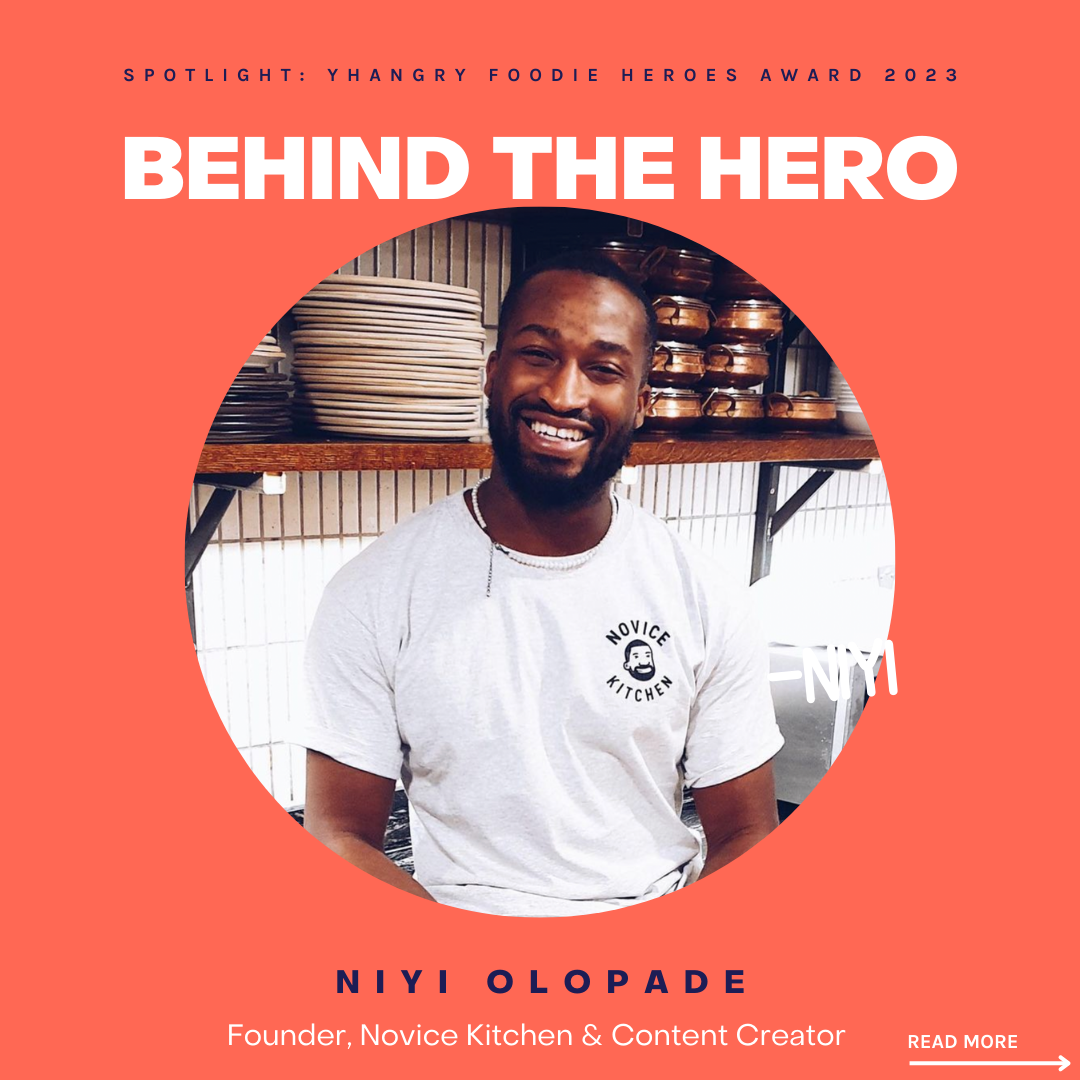 After serving over 20,000 guests nationwide last year, yhangry recognised that behind every dinner party, every recipe, and every photo of a dish and chef is a compelling story waiting to be shared with the world.
We launched the Yhangry Foodie Hero Award, an award for food creators, chefs, cookbook authors, recipe developers and more to celebrate the local heroes who nourish us all and highlight the businesses and individuals who shape the industry.
Join Usman as he dives Behind the Hero and sits down with nominee Niyi Olopade, Founder of Novice Kitchen & Content Creator to hear his story
Interview:
Q: Can you tell us a little bit about how you got started in the food industry?
A: Sure! It all started at a much younger age when I was travelling around with my dad and he introduced me to a lot of different foods. I then started Cooking for Students – an Instagram page to help with basic recipes while I was at university.
During the lockdown, I had the opportunity to create food content that highlighted different cultures. I also went on a holiday to Spain with a chef who taught me how to fuse multicultural flavours.
Q: What does the food industry mean to you?
A: The food industry is huge, and I love how it brings people and communities together. I've always loved cooking and have been doing it since I was a child. I worked in the TV industry from a food perspective to gain knowledge and figure out where I wanted to go. Now, creating my own brand in the food industry is a dream come true.
Q: What was your "holy Sh*t, this is kind of going somewhere" moment?
A: I'd say that I'm still in the midst of it, but last year in the first week of January was a moment for me. Within a week, I had done a guest Mob episode and a Soho House supper club, and my sauces had won a Great Taste Award. I want to keep pushing and growing my brand.
Q: What's been the hardest thing you've had to overcome to get where you are today?
A: I'm still trying to overcome it, actually. From a sauce perspective, I'm trying to finalise manufacturing and find a production company. I'm in a bit of a nexus where I create content, make food products, and try to balance both. I want to get bigger on both sides and establish myself as a startup with multiple retail locations.
Q: Who are some of your inspirations in the food industry?
A: My dad has always been an inspiration, but outside of close family, I'm really inspired by people like Lewis Hamilton and especially Gordon Ramsay who has built crazy media and restaurant empires.
Q: What advice would you give to someone who wants to break into the food industry?
A: Focus on what you want to do and what you genuinely care about with food. It's easy to get distracted and compare yourself to others, but sticking to your niche and being consistent is key.
Don't focus on going viral, just stay true to yourself and the quality of your content and products. Customers will shift if you're not providing top quality consistently.
Q: How does it feel to be nominated for Supper Club of the Year, and why do you want to win?
A: It's crazy to be nominated because I'm just a random dude who loves sharing recipes with people. I'm not a big name with a huge following, so it's a huge honour to be recognised. Winning would mean more acclaim and the ability to share my food with more people, which is always the goal.
Q: What's your go-to comfort food?
A: My go-to comfort food is a simple spaghetti dish with garlic, olive oil, chilli, thyme, all-purpose seasoning, and parmesan. It's delicious and easy to make!
Want to support Niyi?