HEN PARTY
FOOD IDEAS
What's the best food to serve at a hen party? What does everyone like to eat? How to cater for fussy eaters? And what food to have to cover everyone's dietary requirements? Here are some hen party food ideas to help you out.
When it comes to hen party food there are a few different ways you can find what's right for you. Here are our Hen Party food ideas to help you out and plan an event to remember!
1. Theme
Do you want a theme for the hen party? If so the food can fit into that!
Are the bride and groom getting married in Italy, did they meet in Spain, are they honeymooning in Japan? Choosing the cuisine can give a nod to their own love story and make it a little extra personal.
2. Seating Style
This is often the most important aspect.
Where is the hen party taking place? This can help with what style to go for!
Questions to ask are:
Will there be enough cutlery and plates for everyone to have a sit down meal or will it need to be buffet style food with paper plates?
Will everyone sit down around the same table or do you want people to move around and mix?
Our tip? Keep it casual! Let everyone mingle, meet and mix. A less formal meal also means you can spend the budget on other fun things to bond over.
3. Budget
What's the focus of the night? Is the bride a foodie and wants the food to be the main event? Or does she love tequila, so the food only needs to soak everything up!
Knowing where to spend the money is key.
See our tips on how to plan a hen party here to help with this!
4. Crowd Pleasers
The most popular hen party foods are Italian food, things such as pizza and pasta, cheeses and meat platters. Filling food that almost everyone loves!
Mexican feasts with tacos, nachos and burritos are also really popular! Small bites of tasty food that you can eat with your hands meaning no need for a big tidy up afterwards!
5. Dietary Requirements
Add labels to all the food! People can help themselves without any awkwardness, and there's less chance of accidentally eating the wrong item.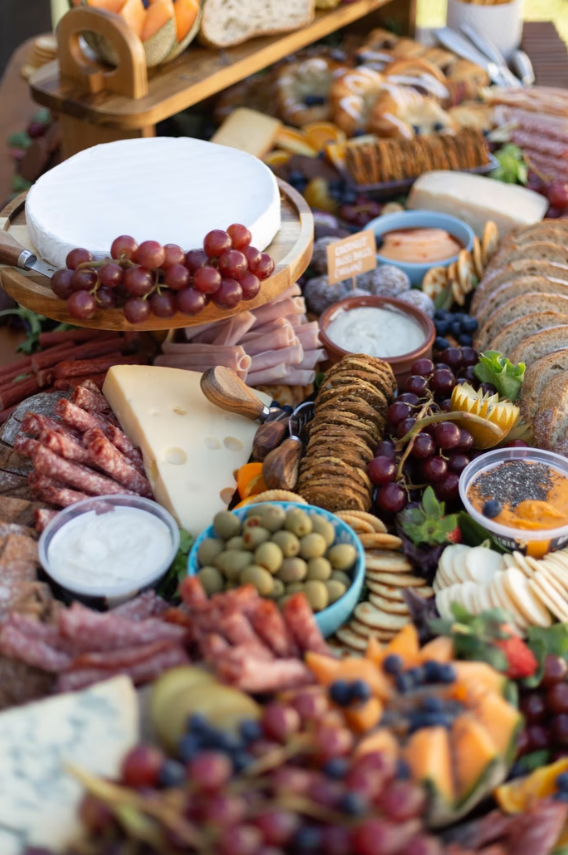 We've narrowed down some ideas for you too!
You can click on the Hen Party filter ➡️  browse them here.





Hen Party Food Ideas
Food Platter
Pros: These look beautiful! They're so photogenic and are sure to be a memorable feature. Easy to put together and perfect for having lots of choice for your group! They keep things casual by letting people serve themselves and move around the room – creating the atmosphere we want!
Cons: They are so hard to clear up afterwards! It often means lots of food waste. It can also be difficult to separate foods for people with allergies and dietary requirements.
Canapés
Pros: Beautiful to look at! Perfect for eating in one hand with a drink in the other. They let everyone circulate the room and work really well if you don't want people sitting down with plates and cutlery.
Cons: These can be time consuming to make and therefore can end up being costly!
Pizzas
Pros: Crowd pleasers! You can mix it up with any topping os that everyone's happy. They fill people up and you can keep them coming while everyone grabs a slice of the pizza fresh out the oven. (Pizza is also the best food for having as leftovers the next day).
Cons: Remember you gluten free and lactose intolerant guests!
Mexican Bites
Pros: Easy to prepare, easy to eat! Nachos, tacos and burritos are great for parties. No need for plates and no need to sit down. Really easy to make tasty vegan alternatives of the food too! Perfect for groups with mixed dietary requirements (just remember to label which is which!)
Cons: Difficult to have everything warm at the same time – always watch out for room temperature rice we don't want anyone getting ill!
About us
Yhangry is a private chef platform which has been featured on Dragons' Den. If you are planning a hen party and staying in a rented venue, you can find and book local private chefs to cook for your group. You simply choose from our chefs' menus starting from £25pp. The chef will bring the shopping, cook up a feast and clean up in the kitchen, so you get to enjoy a fabulous time with your friends without having to worry about the cooking.