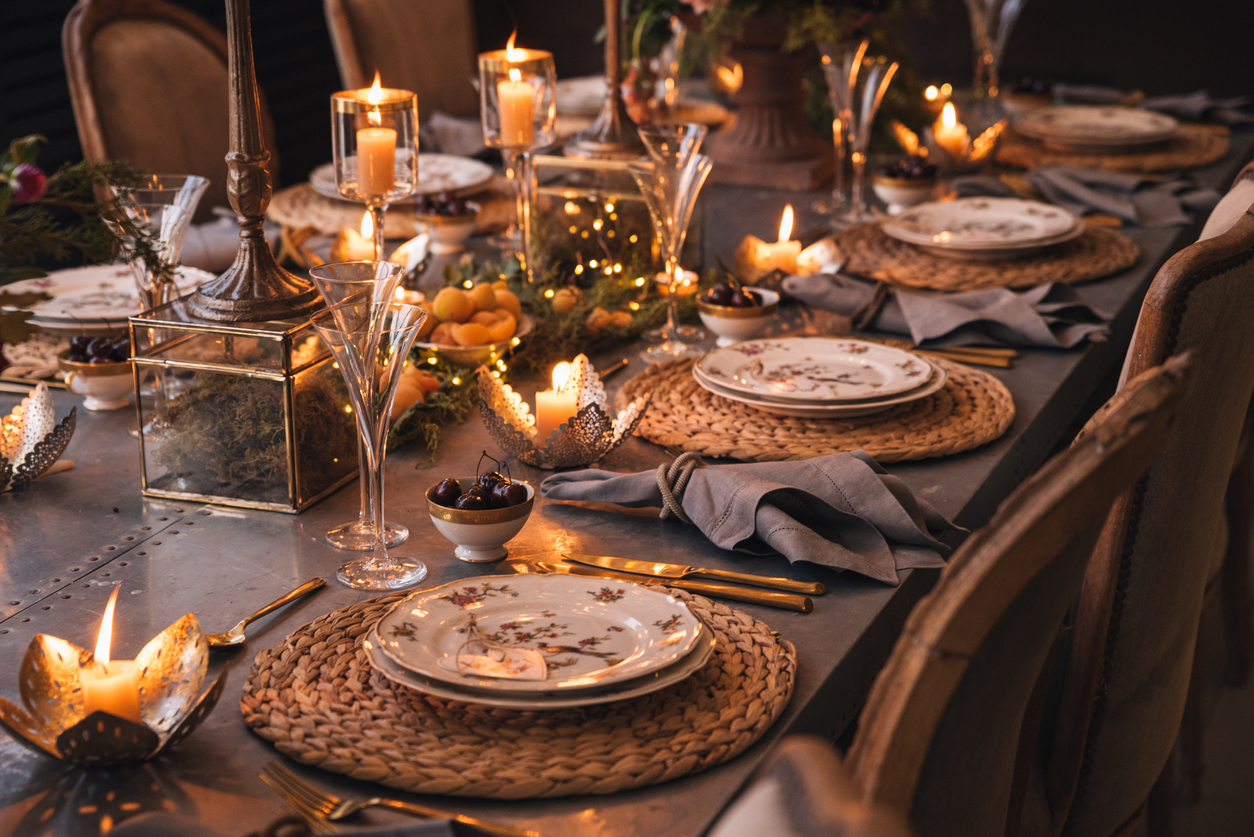 As Christmas carols fill the air and the scent of pine needles and cinnamon spice waft through your home, it's time to think about the pièce de résistance of your festive decorations: the Christmas table. This is not just a table; it's the stage for your culinary masterpieces, a tableau of festive joy, and the centrepiece of your celebrations. Our curated list of extraordinary Christmas table ideas will spark your imagination and turn your holiday feast into a scene straight out of a Christmas storybook. Prepare to dazzle your guests and create an atmosphere of warmth, magic, and merriment that will make this Christmas truly unforgettable. So, if you are ready to embark on this journey of festive transformation – let's go!
Winter Wonderland
Imagine stepping into a serene winter night where the world is blanketed in pure, untouched snow. To recreate this magical tableau, start with a tablecloth as white as a fresh snowfall. This will serve as your canvas. Now, introduce glass dishes and sparkling silver cutlery, their frost-like finish mimicking a landscape delicately kissed by winter's chill. To add to the ambience, sprinkle in clear glass decorations that glimmer in the soft candlelight, each one a perfect snowflake suspended in time. Add a touch of the outdoors with pine cones and a dusting of faux snow. This table setup isn't just about creating a dining space; it's about transporting your loved ones to a magical winter wonderland right in the comfort of your home.
Rustic Charm
Picture a cosy, rustic cabin tucked away in the woods, its every corner brimming with the charm of simple living. Begin with a burlap table runner, its coarse texture reminiscent of the rugged outdoors. Next, add wooden plates that echo the raw beauty of nature and Mason jar candle holders, their flickering flames casting a warm, inviting glow. Green pine branches and bright red berries, scattered thoughtfully across the table, bring in the vibrant colours of the forest. And for that final rustic touch, use cloth napkins tied with simple twine. This table isn't just about rustic style; it's about creating a sense of warmth and belonging that invites everyone to sit, share, and make lasting memories.
Traditional Elegance
Imagine a Christmas tradition passed down through generations, each element a treasured symbol of the holiday season. Begin with a rich palette of red and green, the colours of Christmas enhanced by the sparkle of gold accents. Decorate with time-honoured symbols of the season, such as holly leaves, vibrant red poinsettias, and miniature Christmas tree figurines. This table setup goes beyond just a dining arrangement. It's a celebration of shared history, a nod to the comforting rhythm of annual festivities. When your loved ones gather around this table, they'll feel enveloped in the sense of nostalgia, tradition, and the timeless elegance that only Christmas can bring.
Scandinavian Simplicity
Draw inspiration from the landscapes of the North, epitomising the essence of Nordic minimalism. A harmonious neutral colour palette fosters a sense of calm, punctuated by simple glassware and clean-lined cutlery that echoes the ethos of 'less is more.' Natural elements such as stark pine branches, aromatic cinnamon sticks, and minimalist wooden ornaments breathe life into the setting. This pared-back design, rooted in the beauty of simplicity, invites loved ones to appreciate the joy of companionship and the heart-warming indulgence of a festive feast.
Vintage Victorian
Picture your dining room transformed into a scene straight out of a Victorian novel. Begin this journey into the past by laying out cherished family heirlooms, the china dishes, each one brimming with stories of yesteryears. Add an extra layer of elegance with the intricate patterns of lace doilies, paired perfectly with the distinguished charm of antique silverware. The warm, inviting glow of candles held in polished brass holders brings a gentle light to the scene, reflecting off the unique texture of a garland made from dried fruit. Don't forget to add hand-written place cards, a personal touch that speaks volumes of your attention to detail. This vintage setting, steeped in history and elegance, elevates your mealtime into a memorable event that transcends time.
Glitz and Glamour
Prepare to dazzle your loved ones with a table setting that's a true celebration of luxury and opulence. The stage is set with a sequin-studded tablecloth glittering under the dining room light. Crystal glassware, each piece a work of art, pairs wonderfully with metallic chargers that add another dimension of sparkle to your table. The glitz continues with glittery ornaments, each one adding a touch of whimsy to the luxurious setting. But the true stars of this show are the plumes of feathers, the softness of faux fur, and the grandeur of extravagant floral arrangements. Every element in this glamorous setting works together to turn an ordinary meal into an event that's nothing short of spectacular.
Santa's Workshop
Captivate your loved ones with a whimsical setting that brings the magic of Santa's Workshop right into your dining room. The adventure begins with vibrant dishware, their bright colours echoing the joy and excitement of the holiday season. Add to this scene candy cane napkin rings, a sweet and festive detail that never fails to delight. Small toy figurines, carefully placed, seem to have tumbled straight out of Santa's sack, while a centrepiece composed of wrapped gift boxes stirs the thrill of anticipation. This fun, festive setting turns your meal into a magical event, creating an atmosphere of joy and wonder that will be remembered long after the holiday season has passed.
Candyland Dreams
Immerse your guests in a whimsical world of sweetness with a setting reminiscent of a dreamy Candyland. Start with tableware in soft pastel hues, creating a canvas for your candy-inspired masterpiece. Decorate with ornaments shaped like your favourite candies and napkins with peppermint stripes, adding a touch of nostalgia. The pièce de résistance of this sweet setting is a centrepiece composed of gingerbread houses and lollipops, a sight that would delight both children and adults. This playful, candy-themed setting will transport your guests into a world of sweetness and fun, making your mealtime a delightful experience that tickles the senses.
Boho Chic
Bring the serenity of nature to your dining room with a boho-chic setting that pays tribute to the simple beauty of the natural world. Begin with a runner made of fresh greenery, its vibrant hues bringing life to your table. Enhance this natural landscape with candles wrapped in bark, their warm glow reflecting off the unique textures. Use pinecone place card holders to add a rustic touch and a centrepiece composed of logs, moss, and winter berries for a unique, nature-inspired look. This boho chic setting, with its focus on natural elements, provides a serene and calming backdrop for your meal, creating a relaxing and intimate atmosphere.
Luxury in Monochrome
Experience the power of simplicity with a monochromatic setting that exudes luxury and elegance. Choose a single colour, such as pure white or rich red, and play with different shades and textures to add depth and interest. Use elements made from crystal for a touch of sparkle, silk for a sense of luxury, and metallic elements to add a modern edge. The beauty of this monochromatic setting lies in its simplicity and sophistication. By focusing on a single colour, you can create a luxurious and elegant atmosphere that allows your meal to be the star of the show.
Conclusion
As you prepare to celebrate this festive season, remember that your dining table is more than just a place to eat—it's a canvas for creativity and a testament to your personal style. Whether you're dreaming of a vintage Victorian feast, a Candyland-inspired banquet, or a sophisticated monochrome dinner, these delightful ideas will ensure your table is as memorable as the feast itself. So, deck the halls and set the stage for a magical Christmas filled with love, joy, and unforgettable memories. Here's to a holiday season that's truly merry and bright!
Introducing yhangry
So now you've picked the perfect table theme, get yourself a personalised chef to cook the food to match! Welcome to yhangry, the game-changer in-home dining experience. Starting at just £25 per person, yhangry offers you the luxury of having a diverse selection of cuisines crafted by passionate chefs tailored to accentuate the mood of your chosen Christmas table theme.
But yhangry goes beyond providing tantalising meals. It's about orchestrating an unforgettable experience. Our chefs meticulously select fresh ingredients and prepare a feast to rival any gourmet restaurant. And the best part? They handle clean-up, too, enabling you to immerse fully in the Christmas joy with your loved ones.