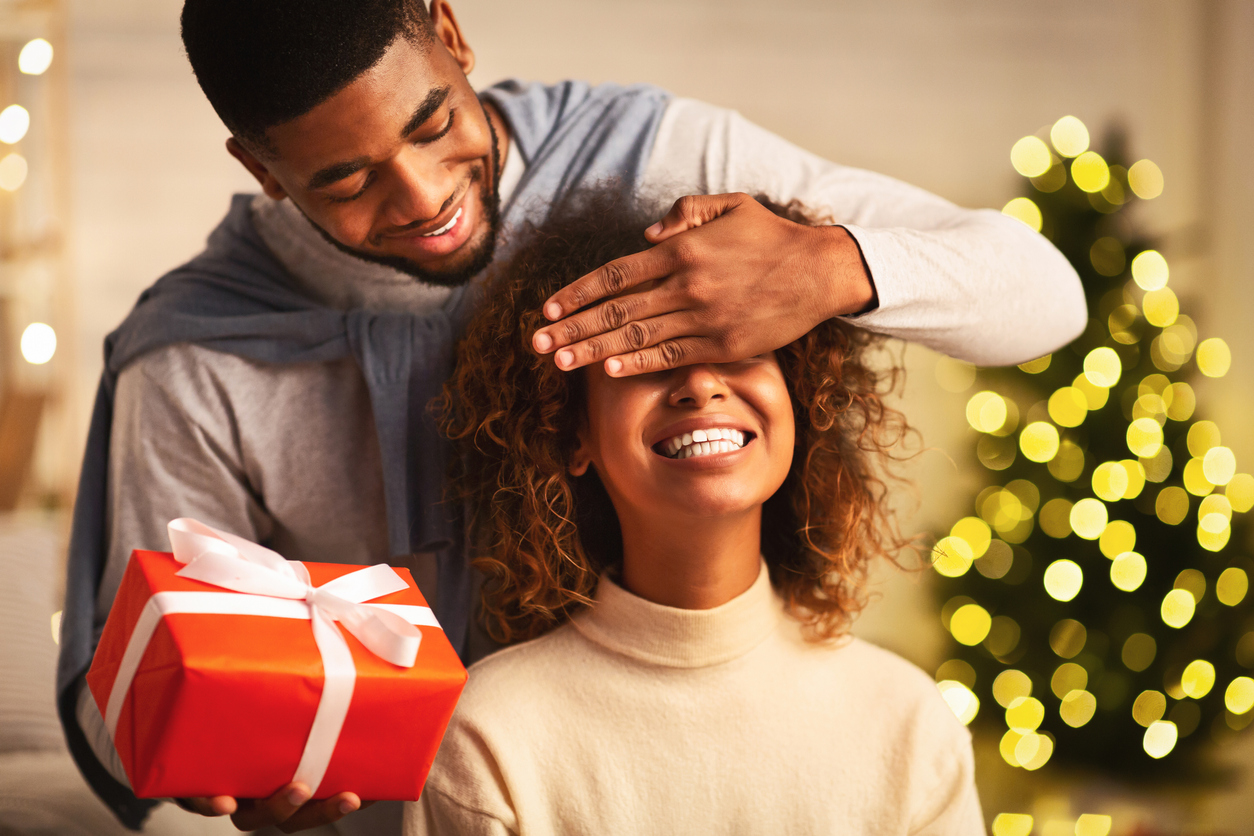 Your wife, your partner, your best friend — finding the perfect Christmas gift for the woman who means everything to you can sometimes feel daunting. However, there's nothing more heartwarming than seeing her face light up as she unwraps a well-thought-out present. Here at yhangry, we understand this feeling and have curated a list of eleven outstanding gift ideas to add a touch of magic to your wife's Christmas.
1. Private-dining experience
There's something extraordinary about having a culinary expert meticulously crafting your Christmas meal. Imagine no stress of cooking or cleaning up, just you, your loved ones and a bespoke menu that perfectly caters to your tastes.
With yhangry, you can bring this luxury into your home, transforming your Christmas day into a remarkable dining celebration. Our private chefs are professionals, vetted for their craft and reliability, giving you the feel of a first-class restaurant in the comfort of your home. Your wife would appreciate this lovely break from the kitchen, allowing you both to remember it for years to come.
On the other hand, if the Christmas feast is a family tradition, a private dining experience is also a special gift for a future date night. If your wife is often the one handling the dinner preparations, why not treat her to a cosy, romantic meal at your home or a rented venue? You can swap the kitchen's hustle and bustle for an intimate night or even an entire family banquet.
Browse our set menus and expert chefs, or get a quote today for a personalised menu prepared by a professional. 
2. At-home spa kit
In the nonstop pace of life, who wouldn't be grateful for the chance to unwind and relax? Gift your wife an at-home spa kit, complete with a range of bath and body products that are sure to transport her into a world of relaxation. For bonus points, make it yourself with all her favourite scents, like lavender or rose.
Firstly, pick out a reusable gift basket or beauty bag. Next, add the goods! You might opt for a plush bathrobe, scented candles and a collection of soothing teas to make the experience even more special. In addition, consider organic and cruelty-free products to show your thoughtfulness. Each time she indulges in a relaxing evening, she'll appreciate the care and love behind this gift.
3. Cashmere comfort
If you're looking for Christmas ideas for your wife, it doesn't get much better than a snug layer to keep her warm. Since the Christmas season is synonymous with cosiness, cashmere offers unrivalled comfort and warmth, making it an excellent gift for the festivities. From luxurious jumpers to super-soft scarves and socks, cashmere items are an absolute delight and offer a practical element that is ideal throughout the winter. Choose a piece in her favourite colour or perhaps a shade that matches her eyes to show your careful consideration for the gift.
4. Staple earrings
Every woman has a unique sense of style, and earrings can be a charming reflection of that. They're a small accessory that makes a big impact; simple gold or silver studs can be a versatile addition to her collection, suitable for a day at the office or an evening out. Alternatively, select a statement piece that complements her personality. If you need help figuring out where to start, earrings with a birthstone or engraved initials are excellent for that personal touch.
5. Premium skincare products
Beautiful skin doesn't just look good; it feels good, too. Invest in a range of high-quality skincare products to help maintain her skin's health and glow. Look for products tailored to her skin type and remember to include a mix of essentials — cleanser, toner, moisturiser and nourishing night cream. The luxury of premium skincare is a reminder to take a few moments for herself each day, making this a truly thoughtful gift.
6. Serving plates or glasses
If your wife enjoys hosting dinner parties or family gatherings, consider stylish serving plates or a set of elegant glasses. Look for pieces that reflect her style — perhaps chic modern designs or antiques. Pair this with yhangry's private dining experiences for the ultimate gift this Christmas. Your wife can proudly display her new serving platters and decorations while a private chef adorns them with premium dishes for all to enjoy. This gift will truly enhance the ambience of your next gathering.
Haven't got an event planned yet? Check out our set menus and hire a private chef to top off the occasion; get a quote today to get started.
7. Noise-cancelling headphones
For the wife who enjoys tech, a pair of high-quality noise-cancelling headphones would be a hit. Perfect for listening to music, podcasts or even taking a work call, It is a practical item that she can use daily. Ensure you select a set with excellent sound quality and a comfortable fit, considering brands known for their technical excellence.
8. Stylish luggage
Travel opens us up to new experiences and strengthens our bond as we navigate unfamiliar terrains. However, every jet-setter needs reliable suitcases and bags to make the trip safe and secure. Thus, gifting your partner with practical yet fashionable luggage sends a wonderful message of shared adventures to come. Look for sturdy, high-quality cases and bags that prioritise function without compromising style. In addition, choose a design that mirrors her personality and taste. When she unwraps her present, she'll be excited about your next trip before you've even booked the tickets.
9. Create a reading list
Whether your wife is an avid reader or looking to read more, a handpicked selection of books can be a treasure. Consider including titles from her favourite authors, delve into genres she's interested in or introduce her to new literary voices. Reading is an exciting way to brighten her creativity, learn new things and explore new worlds. However, if you're not sure which texts she'll enjoy, opt for a book subscription that keeps giving long past Christmas.
10. Weekend getaway
Planning a weekend escape for just the two of you is a beautiful way to show your love. It's not just about the destination but also the anticipation, the shared memories and the break from daily routines. Whether it's a romantic city break or a countryside retreat, she'll appreciate the effort you've put into planning this surprise. Why not take the occasion a step further by hiring a private chef for the evening? When you book a menu or get a quote through yhangry, the chef will bring restaurant-quality cuisine to your home or rented accommodation. It's a remarkable way to enjoy each other's company and eat a delicious, nutritious meal in the process. 
11. Personalised gifts
Nothing says 'I know you' quite like a personalised gift. Whether it's a piece of jewellery with her initials or a chopping board etched with a favourite quote, these gifts bear a stamp of your intimate knowledge of her, making them all the more special. A personalised offering, be it an item or a bespoke dining experience, shows your wife how much care and attention you put into it.
Final Thoughts
We hope this guide helps you find the perfect gift for your wife this Christmas. Remember, it's not about the price tag but the thought and love you put into it. Since every woman has unique likes, interests and quirks, let these Christmas ideas for your wife guide you to the perfect gift. As long as it shows that you know and appreciate her, it will be the best Christmas present you can offer.
After all, Christmas is a season of joy and spending time with your loved ones; that's exactly what we're about at yhangry. With our private dining experiences, you can spend more time with your partner and make her feel extra special.
FAQs

What can I make my partner for Christmas?

Crafting a homemade gift shows a great deal of thought and effort. From an at-home spa kit to a reading list, you can create many DIY gifts for your wife. However, for an exceptional homemade celebration, consider hiring a private chef from yhangry for a memorable dining experience.

What to get your wife for a personal Christmas?

Personalised items, such as an engraved jewellery box or wooden chopping board, add a unique and personal touch to your Christmas gift. Alternatively, surprise her with a bespoke menu of her favourite cuisine prepared by a private chef in the comfort of your home. 

How much should I spend on my wife for Christmas?

The monetary value of a gift doesn't define its worth; the thought and love behind it do. Whether it is a book, a getaway or a dining experience, what matters most is the sentiment behind the gift, ensuring it resonates with your partner.

How do I choose a gift for my wife?

Consider her hobbies, passions and the things she values most. Whether she loves hosting, enjoys tech gadgets or treasures personal moments, use these insights to guide your gift choice.