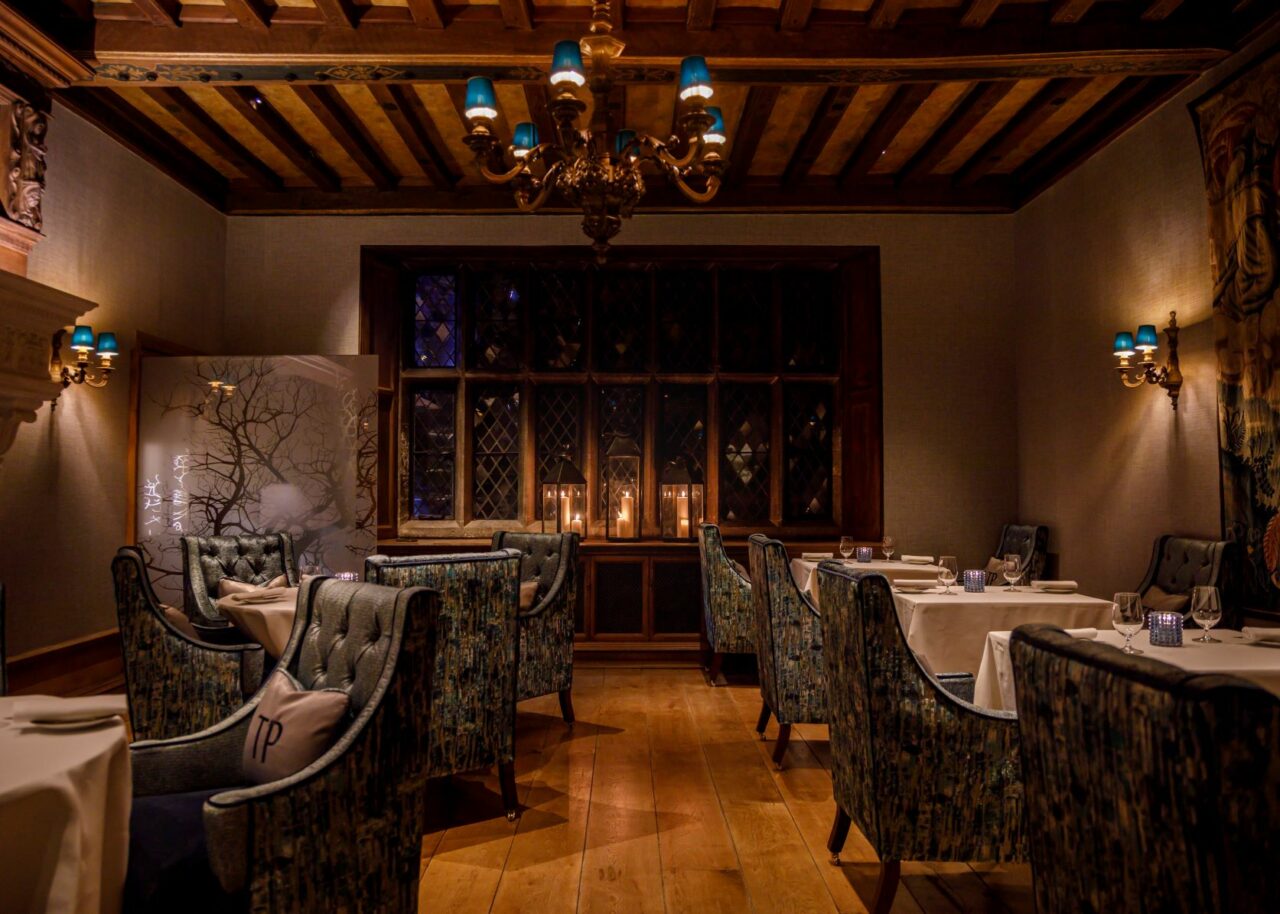 Surrey is home to some of the best restaurants in the country. Whether you're looking for a fine dining experience or a casual night out, the county has something to offer for everyone. However, with so many places to eat in Surrey, knowing exactly where you want to go can sometimes be difficult.
That's where we come in! We've constructed a definitive list of the top 15 best restaurants in Surrey. From fine food dining to casual eateries and everything in between, you're sure to find something that offers you and your guests a great time!
Introducing yhangry: Private Chef and Catering Services
While going out to restaurants can be a great night out, sometimes getting a private chef or bringing in catering is the better choice for your circumstance. It's cheaper and easier, and you don't even need to leave home. Yhangry links you with private chef services in Surrey and the surrounding areas.
With yhangry, you can enjoy restaurant-quality food in the comfort of your own home. There is a range of menus as part of our catering services, including fine dining, international cuisine and even BBQs. Our team of experienced private chefs will not only cook the food but clean the kitchen and, depending on the number of guests, even serve and clear plates!
Booking a private chef with yhangry is easy. And, to make it even easier, there are two ways to do it! If you fancy doing it yourself, head to the menu section and decide what kind of food you want. Then, glance over the carefully constructed menus and make your choices. Once booked, a follow-up email will give you all the required details.
If you want us to narrow down your search for you and provide you with a quote for your event, then head to our booking quote page and answer a few simple questions about your event and expectations. No matter how large or small the event is, yhangry has the perfect private chef or caterer to make your occasion a success! So don't hesitate to contact us today and let us make your event special.
Best Places to Eat in Surrey
People living in Surrey are blessed to have some truly outstanding restaurants in their local area. From traditional British cuisine to Indian, Italian, Lebanese and more, there is no shortage of choice as we name our 15 best restaurants in Surrey.
Fine Food Dining in Woking
Woking is the biggest town in the county and, as such, boasts some of the best restaurants in Surrey. From the Michelin star-winning Clock House to the historic Cloche Hat, there is no shortage of high-quality fine food dining in Woking.
The Clock House
High Street, The Green, Ripley, Woking, Surrey, GU23 6AQ
The Clock House is a charming and intimate restaurant in the heart of Surrey, offering a fine dining experience with a relaxed atmosphere. The menu is created with locally sourced ingredients, and the dishes are beautifully presented and burst with flavour. The restaurant has won numerous awards, including a Michelin star in 2019, and is known for its exceptional service and attention to detail.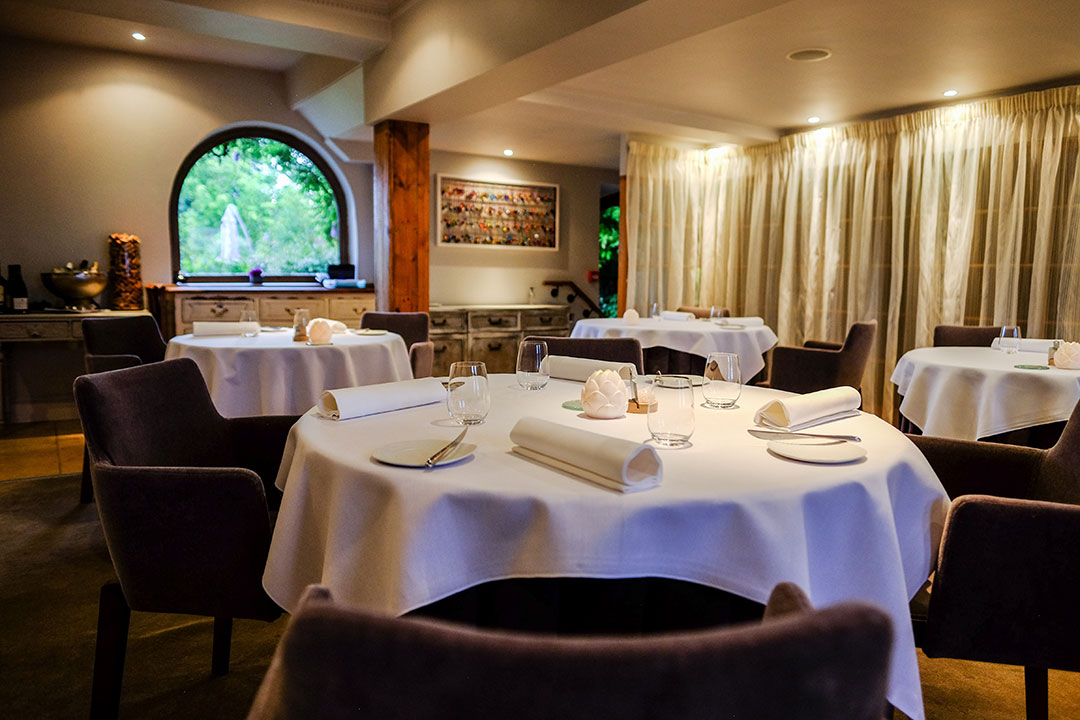 Beit Beirut
14 The Broadway, Woking, Surrey, GU21 5AP
Beit Beirut is a Lebanese restaurant in Woking that offers various delicious Lebanese dishes. The menu features hot and cold mezze, grilled meats and fish dishes made with fresh ingredients and authentic Lebanese spices. The restaurant's ambience is warm and inviting, with Arabic music playing in the background and beautiful décor throughout. Beit Beirut also offers a range of vegan and vegetarian options, making it a nice restaurant for everyone.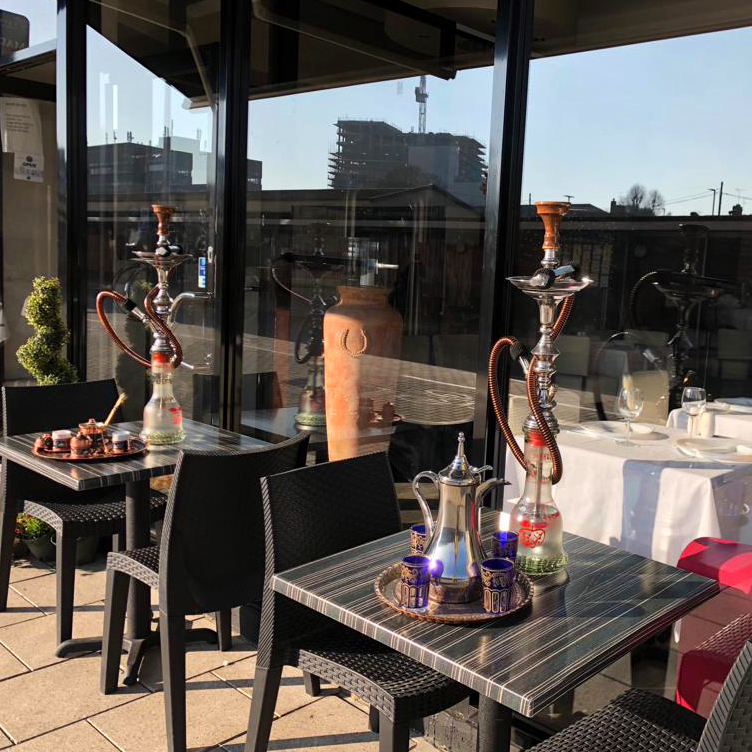 The Inn at Maybury
1906 Maybury Hill, Woking, Surrey, GU22 8AB
The Inn at Maybury is a charming pub, bar and restaurant in the picturesque village of Maybury. With a warm atmosphere, it offers an extensive menu featuring traditional British dishes made with locally-sourced ingredients. The food is consistently delicious and beautifully presented and includes pub classics like fish and chips to more refined options like 30-day matured steak or seared salmon fillet. The bar also boasts a high-quality range of wines, spirits and real ales. The cosy interior and lovely garden make it a perfect spot for an intimate dinner or a lazy Sunday roast.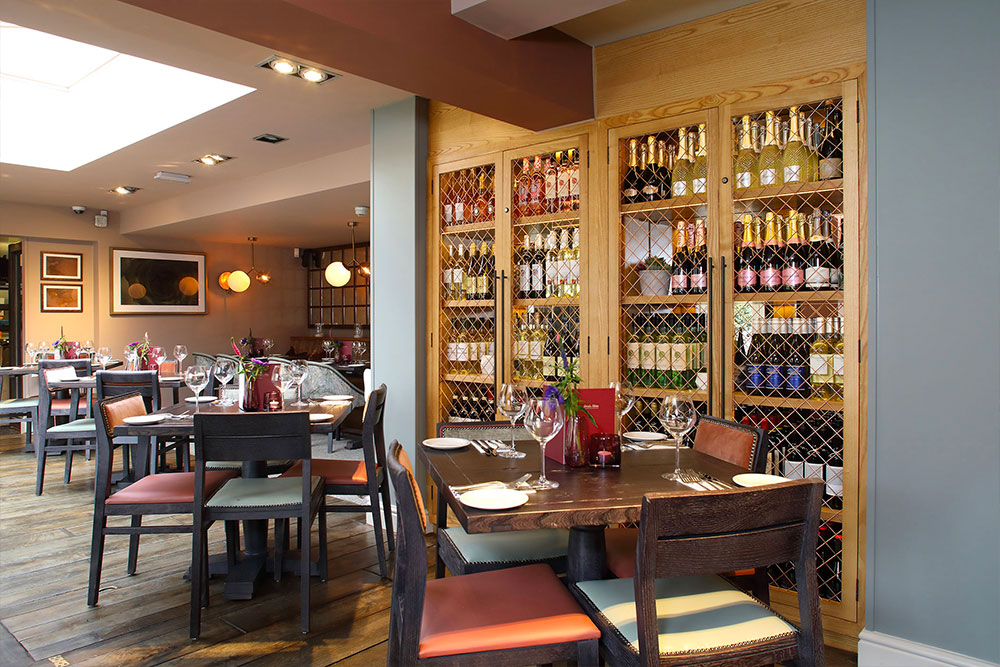 The Cloche Hat
125 Windsor Rd, Chobham, Woking, Surrey, GU24 8QS
The Cloche Hat is a stylish restaurant that serves contemporary European cuisine in a relaxed and elegant setting. Set in the stunning village of Chobham, the atmosphere won't fail to delight, with the restaurant being situated inside a stylish 16th-century Tudor farmhouse. Highlights on the menu include the braised lamb, the quail and the fine selection of artisanal British and French cheeses. The attentive service and extensive wine list complete the fine dining experience. So, whether you're celebrating a special occasion or just looking for a romantic night out, The Cloche Hat won't disappoint.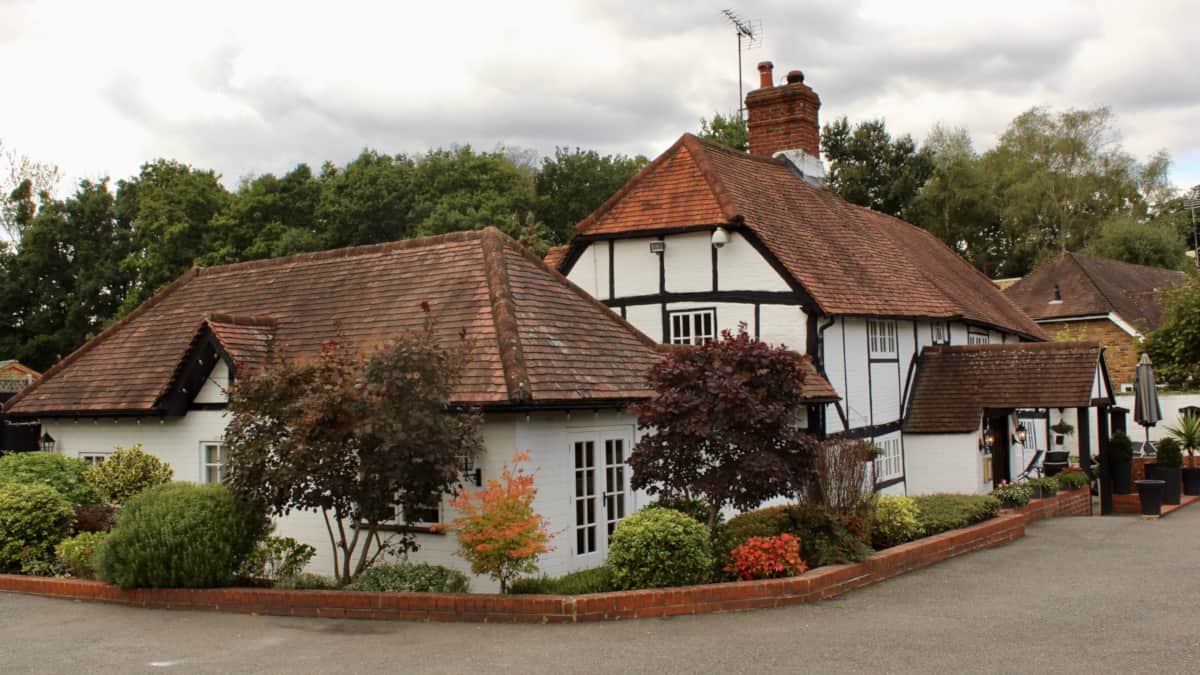 The Anchor
High Street, Ripley, Woking, Surrey, GU23 6AE
The Anchor is an award-winning fine-food dining restaurant in the historic village of Ripley. The restaurant serves classic British and international dishes, such as slow-cooked pork belly, smoked almond tofu and smoked salmon. Originating from the 16th century, the pub's interior is cosy and welcoming, with a traditional fireplace and comfortable seating. The Anchor is also available for private hire and can accommodate up to 24 people in its main dining area, making it a great option for small parties and events. With its relaxed atmosphere and excellent food, The Anchor is a must-visit for anyone looking for a nice restaurant in Surrey.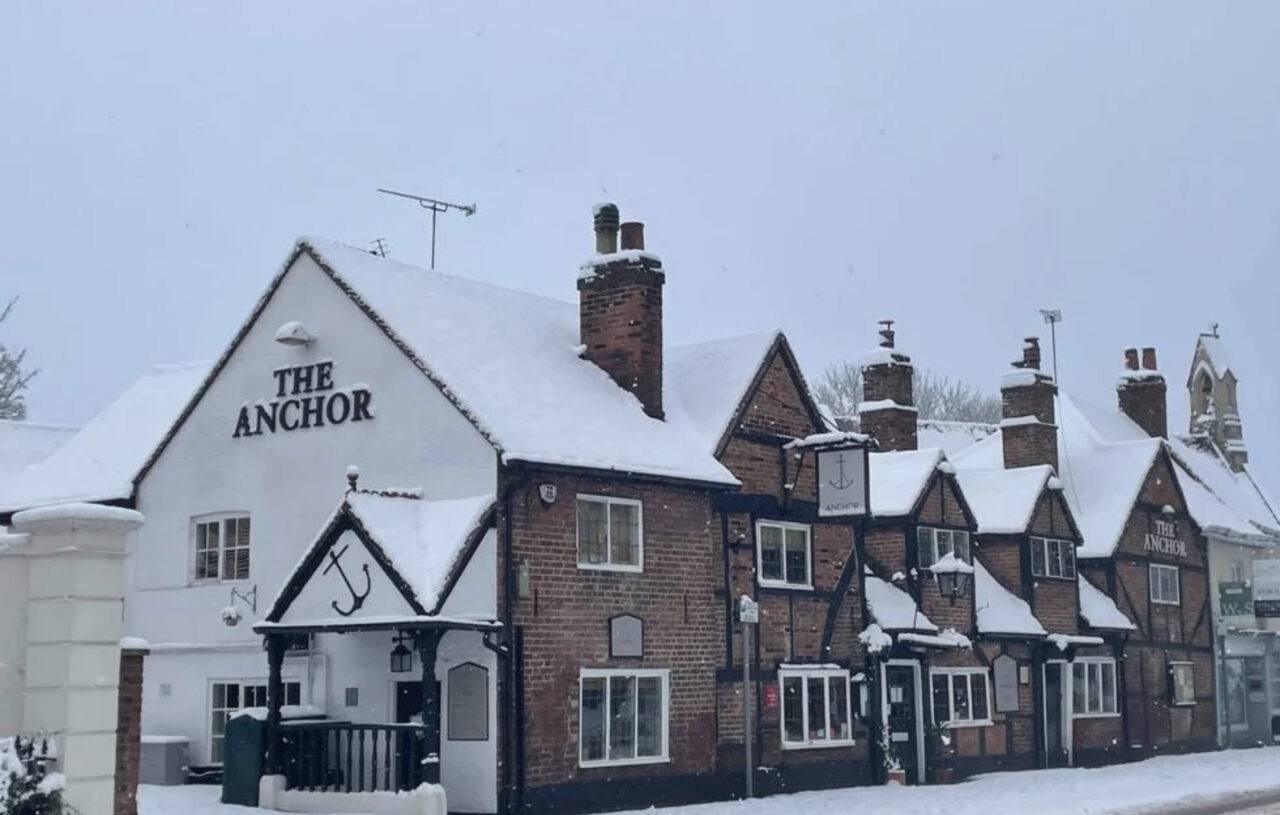 Best Fancy Restaurants in Guildford
While some of the best restaurants in Surrey may be located in Woking, that doesn't mean Guildford is short of fine dining. Some of the best places to eat in Surrey are in the town, with plenty of fancy restaurants to tickle your taste buds!
Ten Tables
Asperion Hillside, Perry Hill, Worplesdon, Guildford, Surrey, GU3 3RF
Ten Tables is a popular restaurant centrally located in Guildford. As part of the Asperion hotel, the restaurant has modern décor and a relaxed atmosphere, making it a great place to unwind and enjoy great food. Some popular dishes include pan-roasted hake, risotto and beef fillet. The restaurant also boasts an impressive selection of drinks to enjoy with your meal, making it one of the best places to eat in Surrey.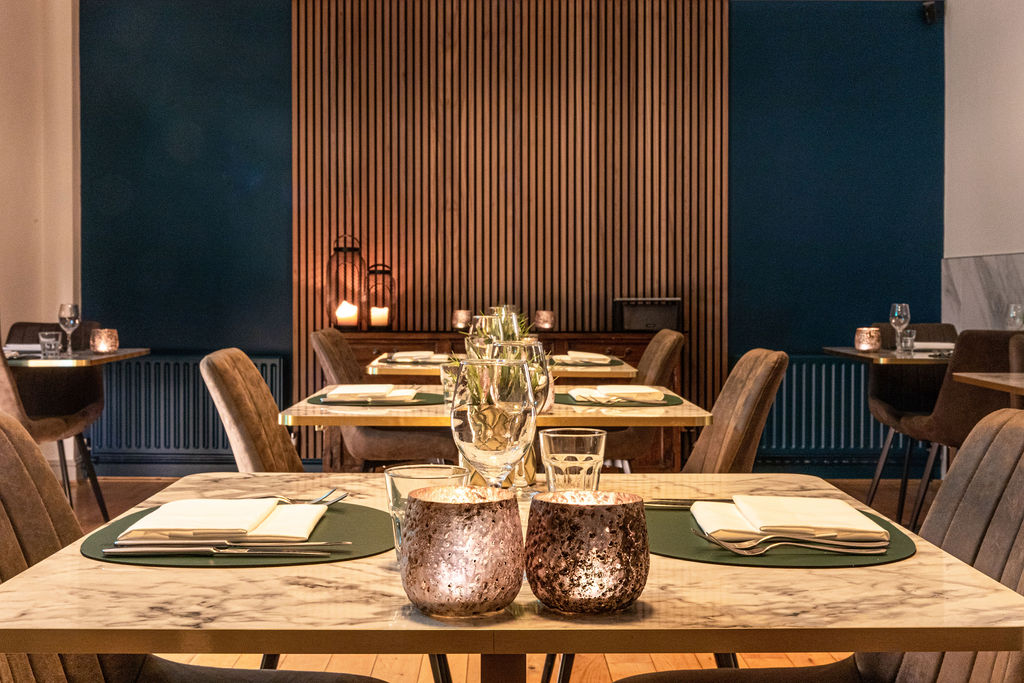 The Seahorse
52-54 The Street, Shalford, Guildford, Surrey, GU4 8BU
The Seahorse is a fine-dining seafood restaurant located at the edge of Shalford Park, known for its outstanding natural beauty. The restaurant offers a sophisticated and elegant dining experience, with a menu showcasing the very best of British seafood. The restaurant has stylish décor while maintaining a traditional old-world charm. You'll feel at home in a welcoming atmosphere with plenty of exposed beams and an open fire. The menu features exquisite dishes, from freshly battered line-caught cod to pan-fried sea bass or king prawn, crab and chorizo linguine. For those who would rather avoid seafood, the beef brisket is the meal of choice! The restaurant is perfect for fine dining in Surrey.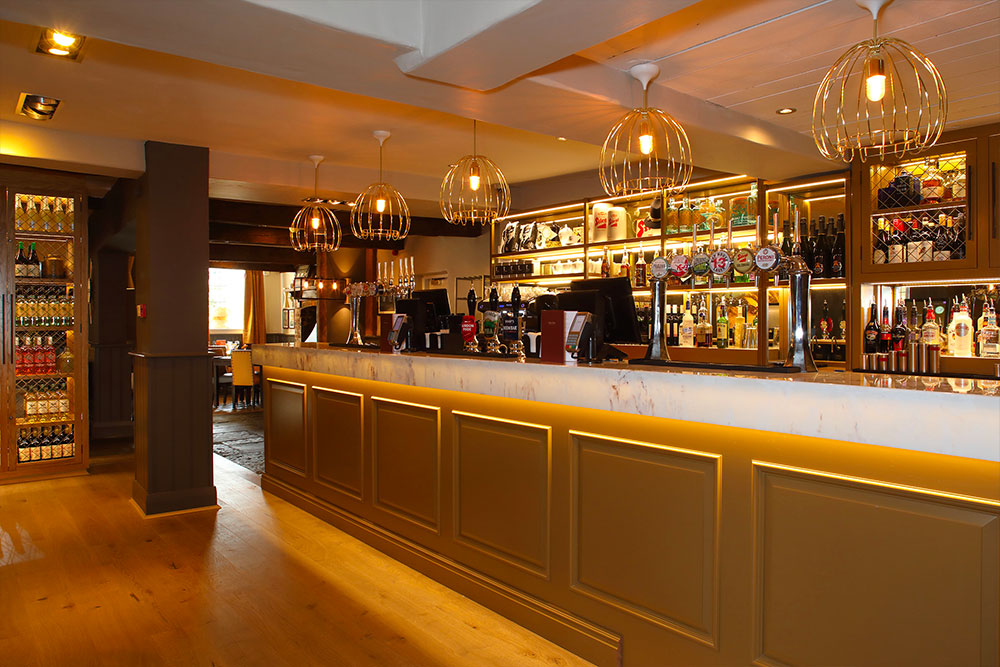 Positano
124A High Street, Tunsgate, Guildford, Surrey, GU1 3HQ
Positano is a family-run Italian restaurant located in the heart of Guildford. The restaurant offers a welcoming atmosphere "hidden within an intriguing red brick Elizabethan building bursting with character". Their menu celebrates the best Italian cuisine, featuring a range of classic Italian dishes, including a wonderful selection of pasta, perfect pizzas and fresh seafood. The restaurant also has an extensive wine list, with a great selection of Italian wines. Positano is perfect for catering to any occasion, being more than a nice restaurant and instead being a true slice of Italia.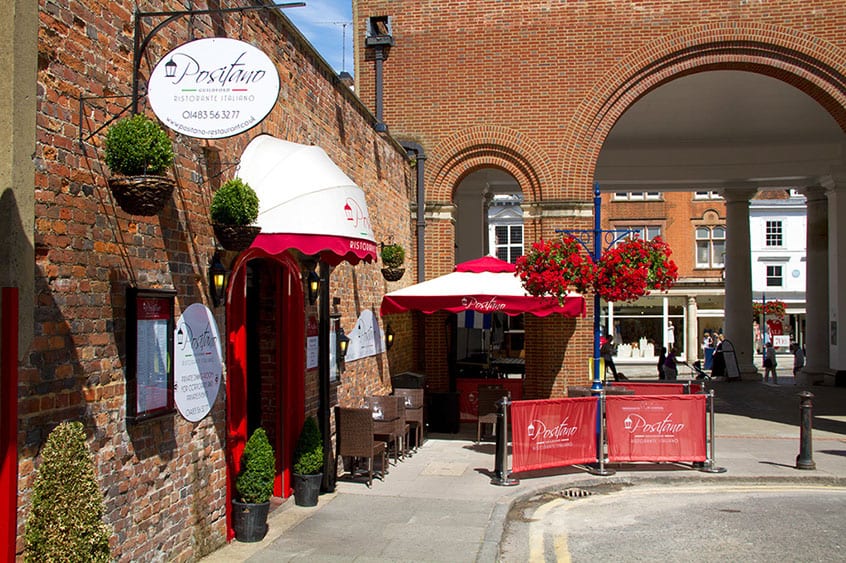 The Grill & Bar 36
36-40 London Rd, Guildford, Surrey, GU1 2AE
The Grill & Bar 36 is a stylish, sophisticated restaurant and bar combination located within the Mandolay Hotel. The restaurant has contemporary and elegant décor and gives off a feeling of relaxation. It offers fine dining, with a menu featuring a range of interesting dishes, including pork tomahawk steak, sirloin steak and beer-battered cod. The restaurant also features bespoke gin, vodka and cocktail menus.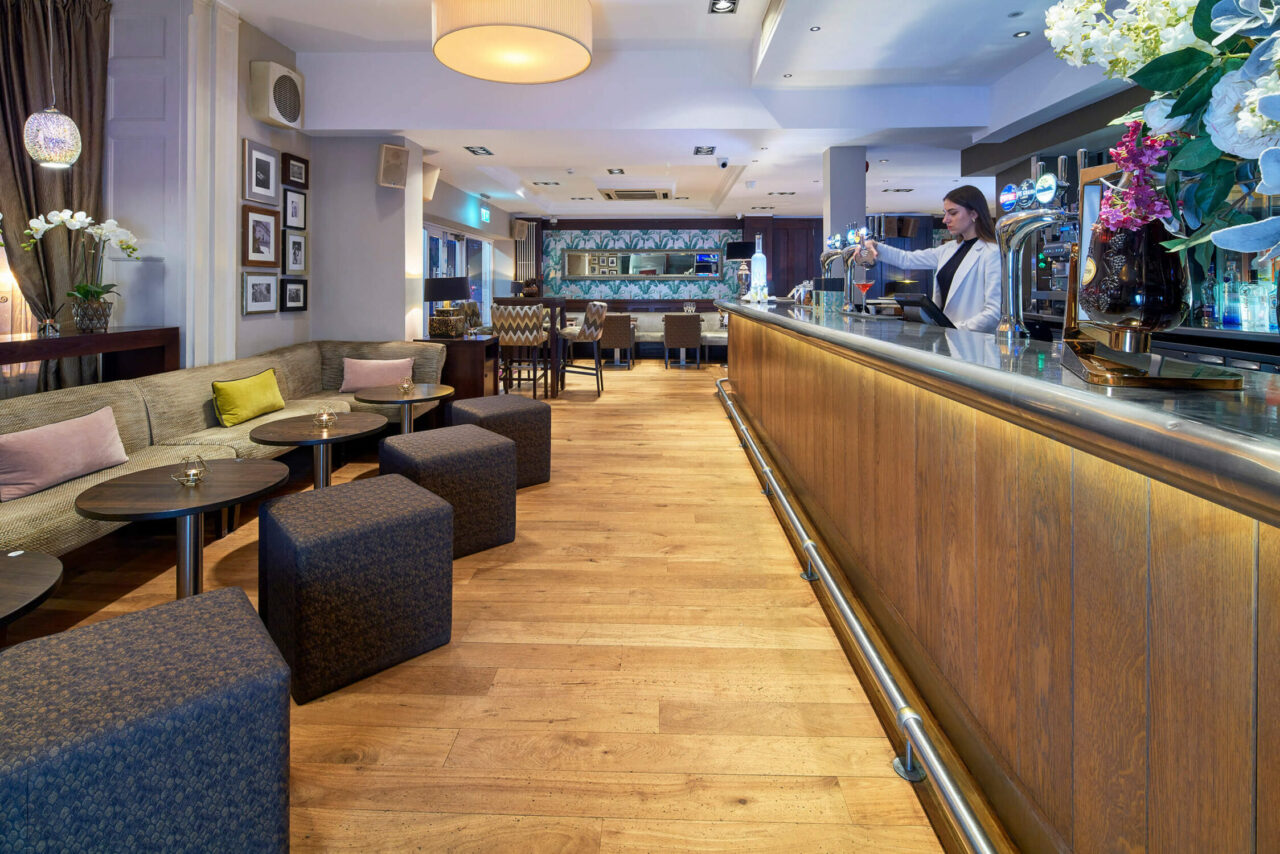 RAVIZ
8/9 Jeffries Passage, Guildford, Surrey, GU1 4AP
RAVIZ is an Indian restaurant in Guildford that offers a unique and contemporary dining experience. The menu features a range of classic Indian dishes and some lesser-known specialities that are sure to delight your taste buds. The restaurant's modern and elegant décor has warm lighting and comfortable seating. The attentive staff provide the best possible service to complete the dining experience.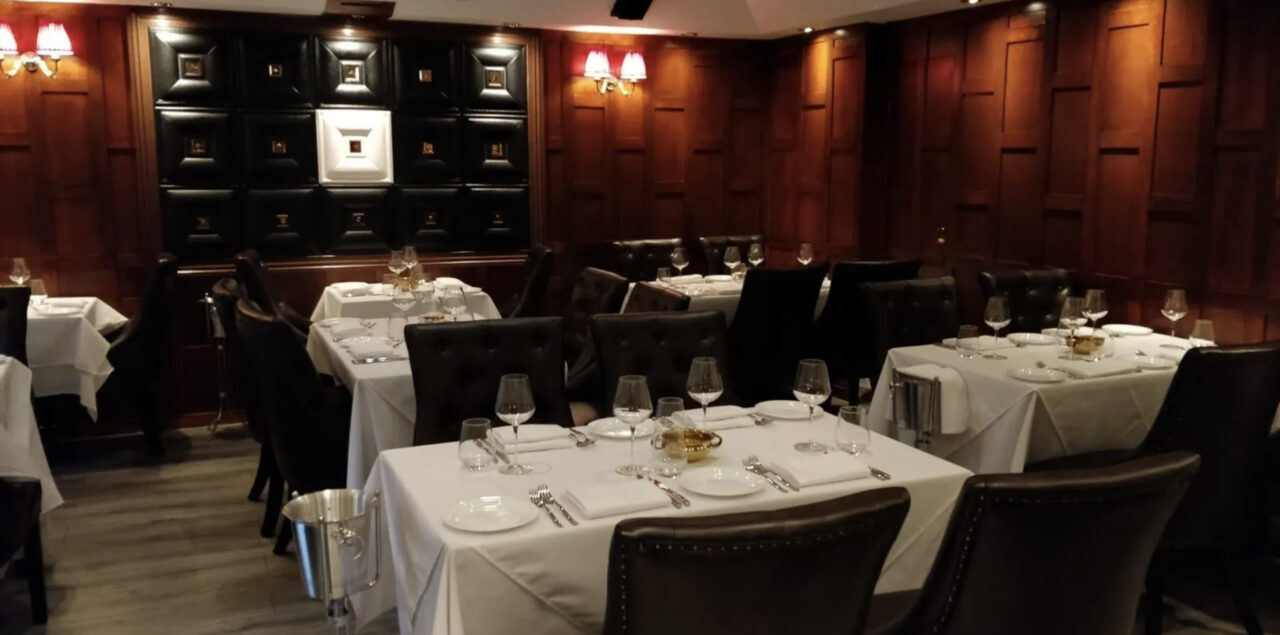 Other Fine Dining in Surrey
Fine dining in Surrey isn't limited to the big places, with fancy restaurants all over the county. Beyond Woking and Guildford, you'll find more of the best restaurants in Surrey, including some with those fabled Michelin stars!
The Tudor Pass
Stroude Road, Egham, Surrey, TW20 9UR
The Tudor Pass is a Michelin-starred restaurant in the Great Fosters Hotel in Egham, Surrey. The restaurant is renowned for its exquisite fine gastronomic experience and intimate setting. With only seven tables, this is a homely experience that explains why it's also known as "The Tudor Room"! The Tudor Pass has an elegant and sophisticated atmosphere, with oak-panelled walls and a stunning original period fireplace. The restaurant is a visual masterpiece, and outside its walls, you can marvel at 50 acres of breathtaking gardens and parkland.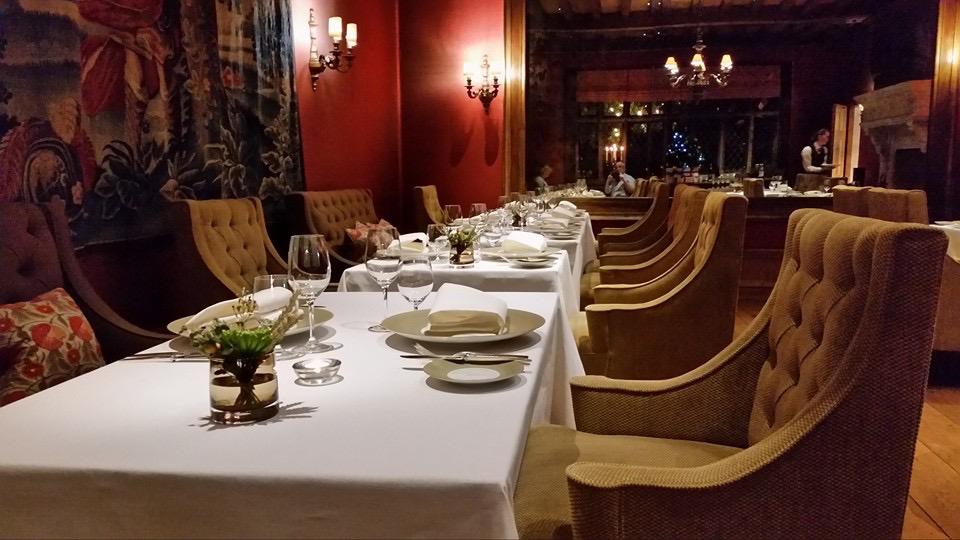 1907 Restaurant
Brooklands Hotel, Brooklands Drive, Weybridge, Surrey, KT13 0SL
1907 Restaurant is a stylish brasserie and grill in the Brooklands Hotel in Weybridge, Surrey. The restaurant offers an innovative menu that has helped them win two AA Rosettes, alongside their exceptional service and a fine selection of wines. 1907 Restaurant has an elegant and inviting atmosphere, with décor that evokes an era of elegance from the art deco period of the 1920s and 1930s.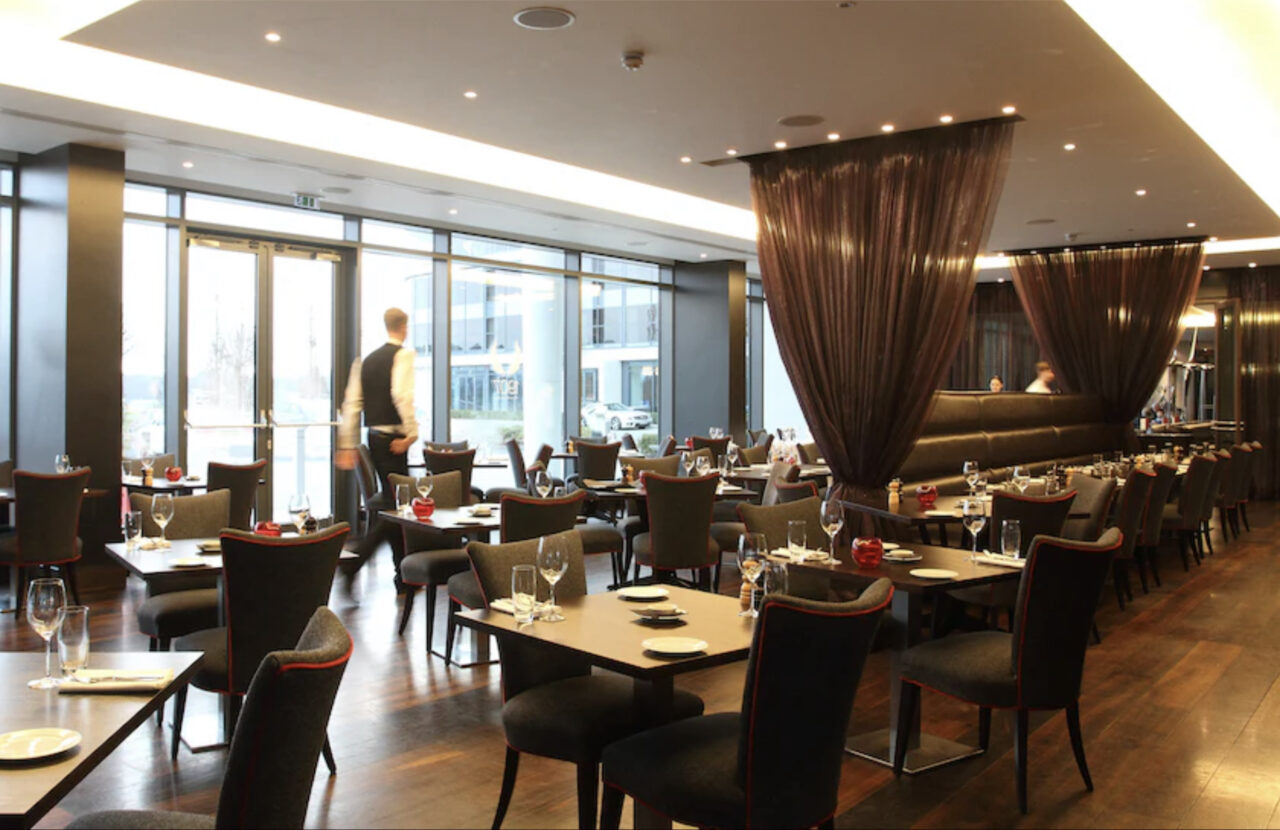 The Oak Room
Tylney Hall Hotel, Tylney Hall, Ridge Lane, Rotherwick, Hook, Surrey, RG27 9AZ
The Oak Room is a fine dining restaurant in the Tylney Hall Hotel in Rotherwick, Surrey. The Oak Room has a sophisticated and elegant atmosphere, with a décor that reflects the history and grandeur of the hotel, all situated on 66 acres of landscaped gardens, woodlands and lakes. The menu, meanwhile, is the epitome of fine dining in Surrey, having a wide reputation as being both innovative and distinctly British. The restaurant has both AA Rosettes and the RAC Gold Ribbon Dining Award, meaning that the quality of the experience is sure to impress. The Oak Room is, therefore, the perfect place for those looking for a fancy restaurant for entertaining a special someone.
The Latymer
London Road, Surrey, GU19 5EU
The Latymer is a Michelin-starred restaurant within the luxurious Pennyhill Park Hotel and Spa, with other accolades, including four AA Rosettes. Led by Chef Steve Smith, the restaurant offers an exceptional dining experience with modern European cuisine using the finest seasonal ingredients. The menu features bold-flavoured dishes like Brixham sea bass, smoked eel and mustard, and a wide range of vegetarian options. The restaurant has sophisticated, elegant décor and an extensive wine list to complement the dishes.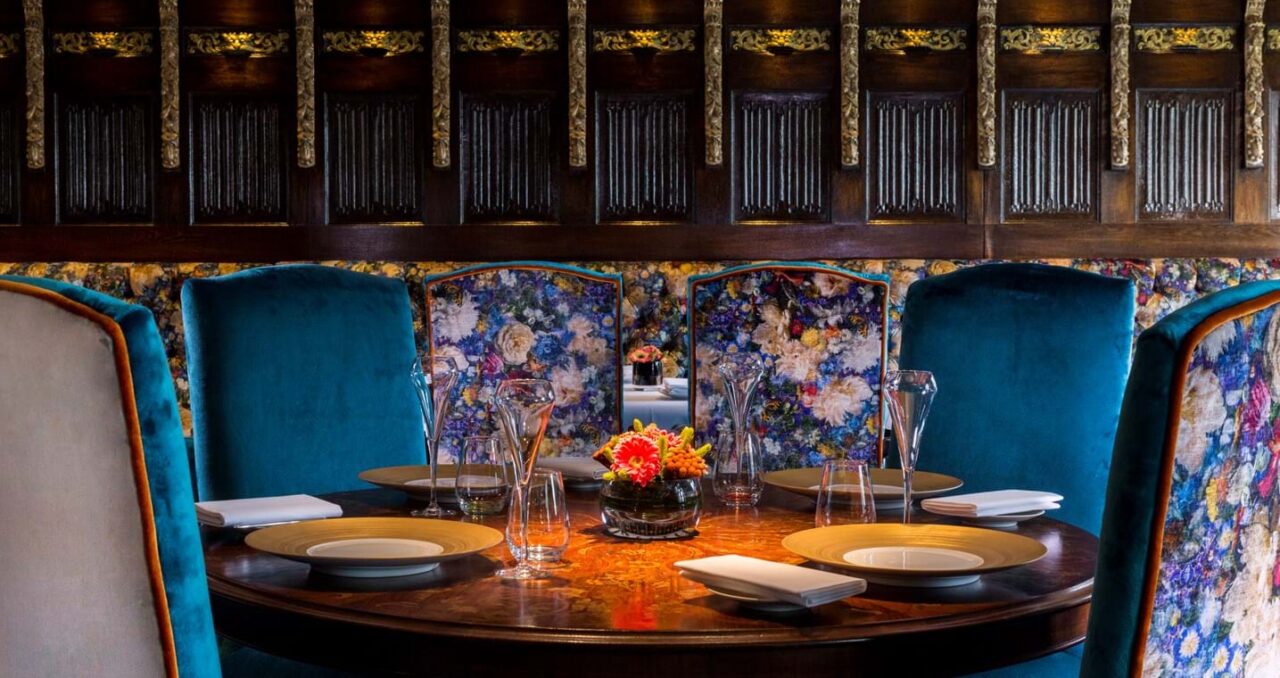 Sorrel
77 South Street, Dorking, Surrey, RH4 2JU
Last and by no means least, Sorrel is a Michelin-starred restaurant in Dorking that offers an exquisite fine dining experience. The menu features seasonal British ingredients, prepared with innovative techniques and presented beautifully and artistically, thanks to head chef Steve Drake. The restaurant's décor is elegant and understated, with muted colours and soft lighting that create a relaxed and intimate atmosphere. The knowledgeable staff provide excellent service to ensure guests have a memorable dining experience. Sorrel is a great choice for a special occasion or romantic dinner.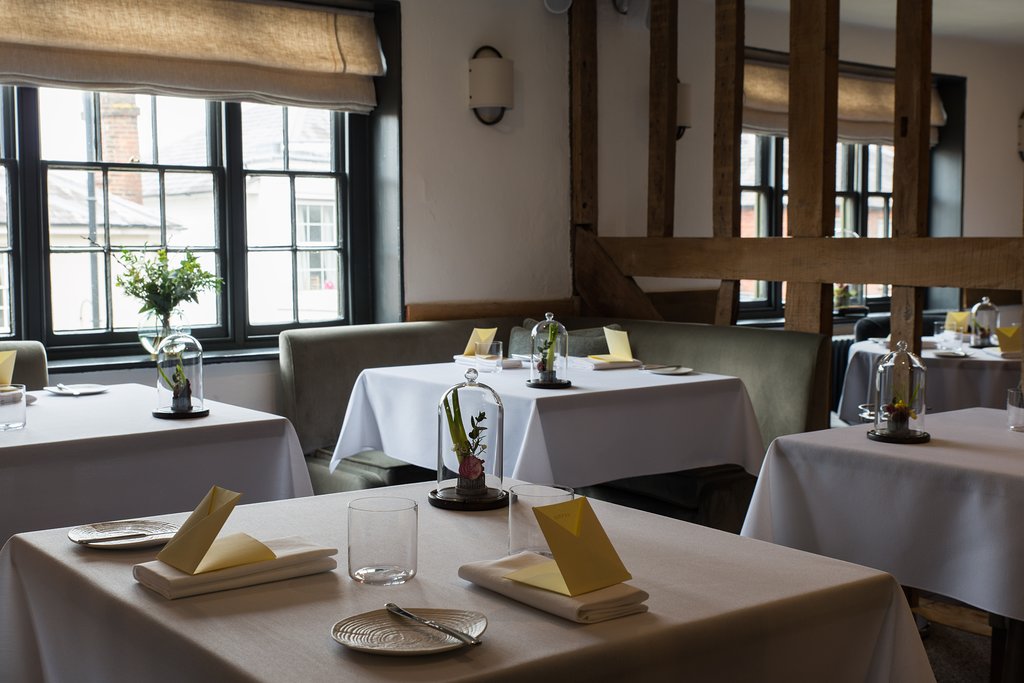 FAQs

What is the best way to find nice restaurants in Surrey?

The best way to find fancy restaurants in Surrey is through online review websites like TripAdvisor or the dedicated restaurant sections of certain newspapers such as The Guardian. These sites allow users to easily read reviews from other diners or experts and make informed decisions about where they want to eat. However, the restaurants above are a great starting point, and you won't be disappointed with them!

Which restaurants in Surrey have Michelin stars?

Looking at Michelin stars is the perfect way to find amazing places to eat in Surrey. Alongside Sorrel, The Latymer, The Clock House, The Anchor and The Tudor Pass discussed here, The Michelin Guide highlights The Bailiwick in Egham, Dastaan in Ewell, The Victoria in Oxshott and The Garden House in Leatherhead.

What if going to a restaurant isn't practical, such as for an event I'm planning?

If you're planning an event or function and need catering, you will want the highest quality food. Luckily, fine dining in Surrey goes way beyond the amazing restaurants covered here! With yhangry, you can have all the flavours of a nice restaurant in your home or any location you desire. We connect you with some of the best catering in Surrey. So why not check out the rest of our website, or get a quote to make your event go with a bang?