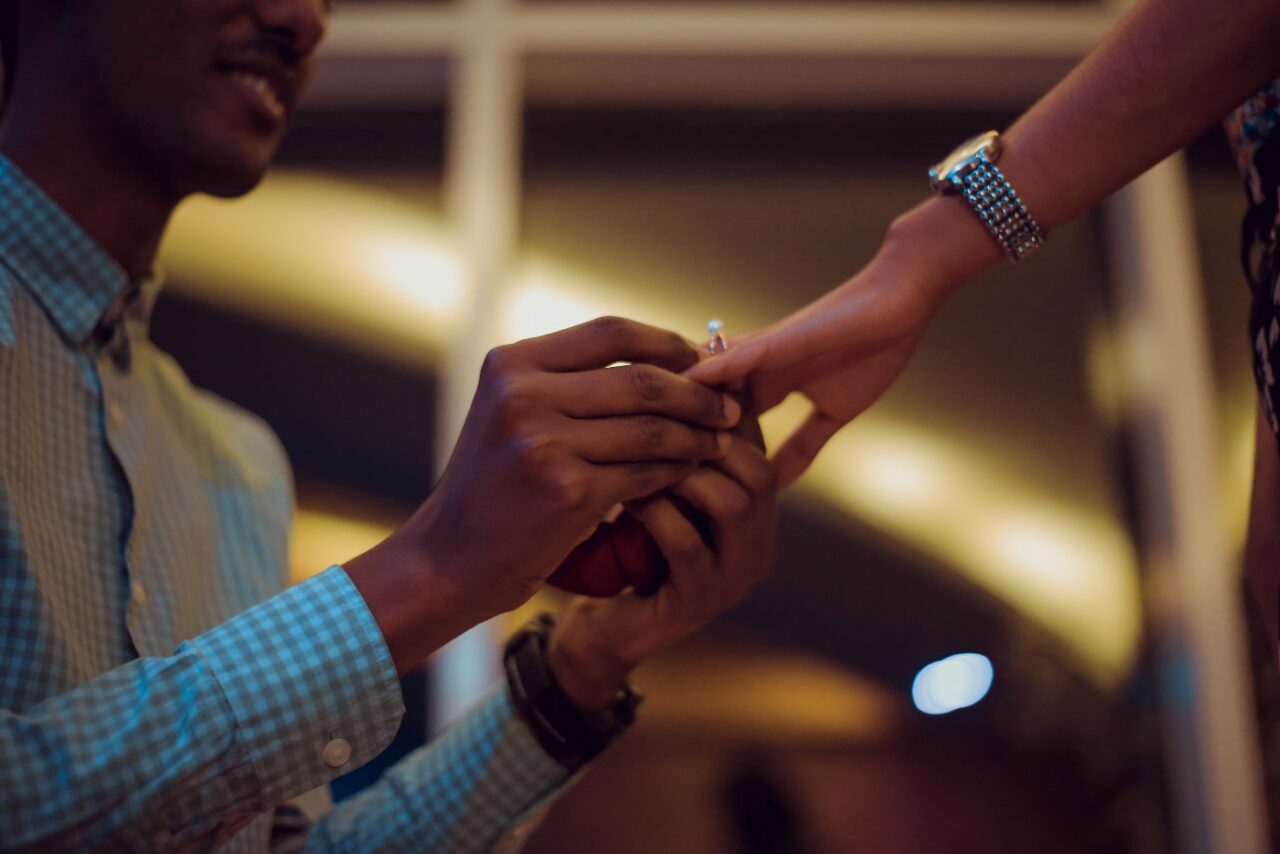 If you're planning on surprising your loved one with a ring this Christmas, Jack Jahan from Ramsdens Jewellery shares his top tips for planning the perfect proposal at home.
Due to its festive magic and cosy romance, Christmas is the most popular time to propose, with more engagements happening between the 24th December and 1st January than any other time of the year. If you're planning on getting down on one knee this festive season, you might be putting a lot of thought into how you'll do it.
Although your ideas of proposing at a fancy restaurant or on holiday may have been put to a stop this year, you can easily plan the perfect proposal right at home. Below, I'll be going through some of the things you should think about while you're planning the perfect Christmas proposal.
Choose the perfect ring
The ring is one of the most important parts of your proposal, so it's important that you choose one that they'll love. There are a few things you'll need to consider when you're picking out the ring, including style, diamond size and shape, and the colour of the band. We have a great engagement ring guide at Ramsdens Jewellery that will help you choose the right design.
Take into account your loved one's personal style to help you pick out a ring they'll love. For example, perhaps they prefer minimalistic jewellery or pieces made from a certain metal. You could even ask their friends and family to see if they've dropped any hints on the kind of thing they might like.
If 2020 has left you with a lower budget than you'd originally planned, you can get some fantastic pre-owned rings that have been cleaned and polished back to their original shine. Opting for a pre-loved piece is often a great way to find a larger diamond or higher carat stones for less money. Plus, you can get a wide range of styles from modern designs to lovely vintage pieces, so you're bound to find the perfect ring for your significant other.
Hire a chef
You'll want to pull out all the stops in order to make your engagement special. But, just because you're at home doesn't mean you can't make it a magical night to remember. A delicious candle lit meal can help to set the mood for your proposal and you'll want to spoil your loved one with expertly made dishes that they can savour.
To help make the occasion feel even more special, consider hiring a professional chef to do the cooking for you. They will prepare and serve some delicious dishes so you can spend the whole night with your fiancé-to-be.
YHANGRY's chefs have all completed COVID training and will adhere to the necessary protocol to help keep you and your partner safe.
Alternatively, if you'd like to cook the meal yourself, consider taking a virtual cooking lesson before the day. These include step-by-step instructions to guide you through the process. You can even choose from a list of dishes so you can learn to cook something you know your partner will love. 
Set the scene
Once you've picked out the perfect ring and organised a delicious dinner, you'll then want to focus on your decorations. A few candles and rose petals are a traditionally romantic way to set the scene for your proposal. A cosy fire and a playlist of your favourite songs can help add to the ambiance. You could even set up a few lanterns or fairy lights to create a magical scene ready for you to get down on one knee.
Alternatively, to add a more personal touch to your proposal, you could choose a theme. For example, if you had planned to go on holiday this year, you could recreate your destination at home instead. Consider adding a few themed decorations and choosing a menu full of the destination's local cuisine to make the night special.
Remember to wear your best clothes and jewellery for your big night in — especially if you're planning on posting a photo on social media afterwards!
If you're thinking of popping the question this holiday season, just follow these tips to pick out the perfect engagement ring, cook the ultimate meal, and decorate your home ready for the big moment.