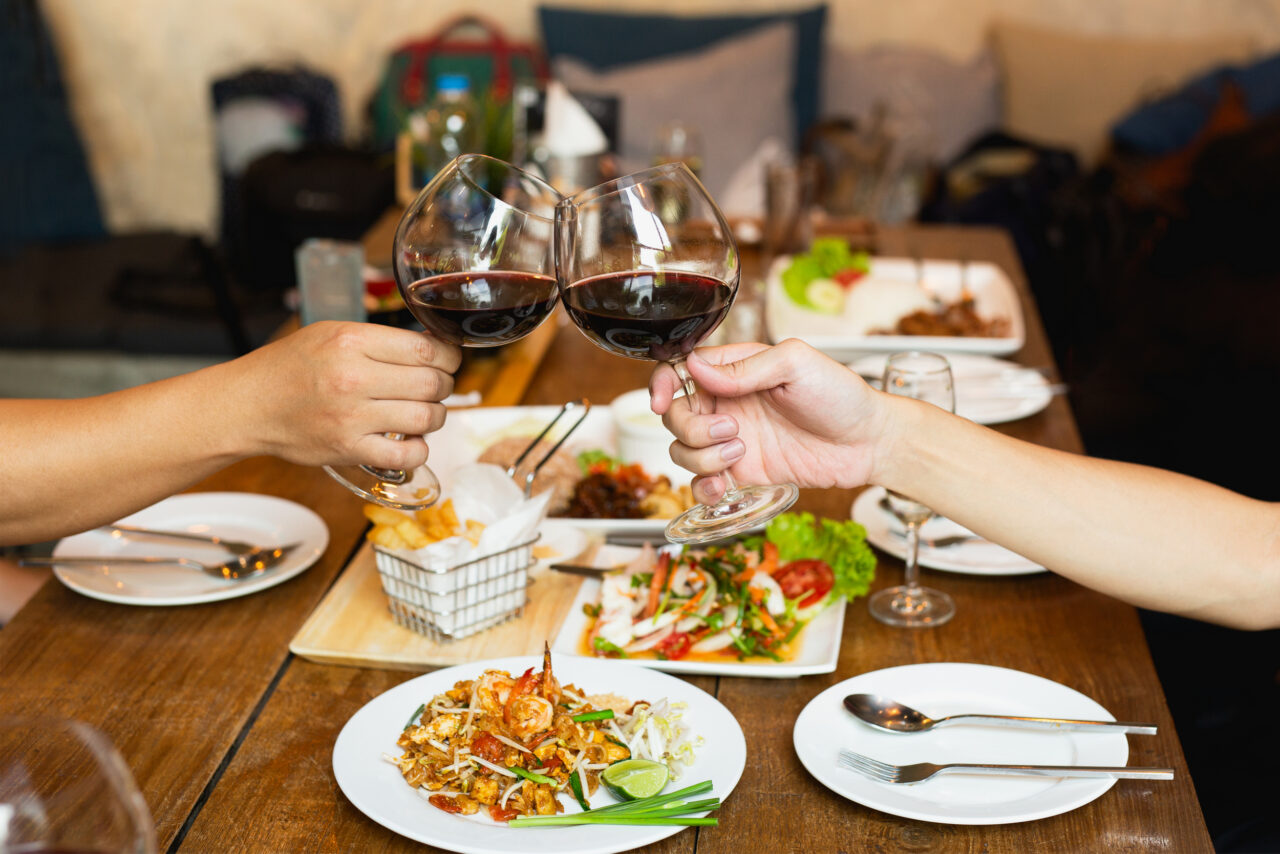 Richmond, North Yorkshire, is a food lover's paradise. The town is a feast for the senses with its ancient castles and enchanting culinary scene. From cosy inns to Michelin-starred restaurants, Richmond has a selection of eateries that fit any palate. Whether you're a resident searching for traditional Yorkshire cooking or a tourist looking for international cuisine, this treasure-filled town has something for everyone. And with its warm and friendly community, dining in Richmond is not just about satisfying your hunger but also about experiencing the warm hospitality that makes this charming town so special.
But with such a wide array of choices, how can you decide where to dine? Fear not! We have done the tedious work of scouring the depths of the internet to bring you a comprehensive guide to the top restaurants in town. From a quick bite to a gastronomic indulgence, our curated list has got you covered. So sit back, loosen that belt and join us on a gastronomic adventure as we take you through the ultimate go-to resource for sumptuous dining in Richmond. Trust us; you won't be disappointed.
Introducing yhangry: Luxury Dining without Leaving Your Home
Prepare to be blown away by some wonderful news! Are you tired of dining out and waiting in long lines for your favourite meal? Listen up because yhangry has something special in store for you that will take your dining experience to the next level!
Introducing a revolutionary way to indulge in a 5-star quality fine dining experience without leaving your home in Richmond, Yorkshire! That's right; you can now sit back, relax and enjoy the same high-quality gourmet cuisine you would find at a Michelin-starred restaurant in the comfort of your backyard or on your favourite outdoor sofa. And we're not talking about delivery or takeout here; we're talking about a professional private chef coming to your kitchen, bringing all the necessary ingredients and cooking up a feast while taking care of your dietary restrictions.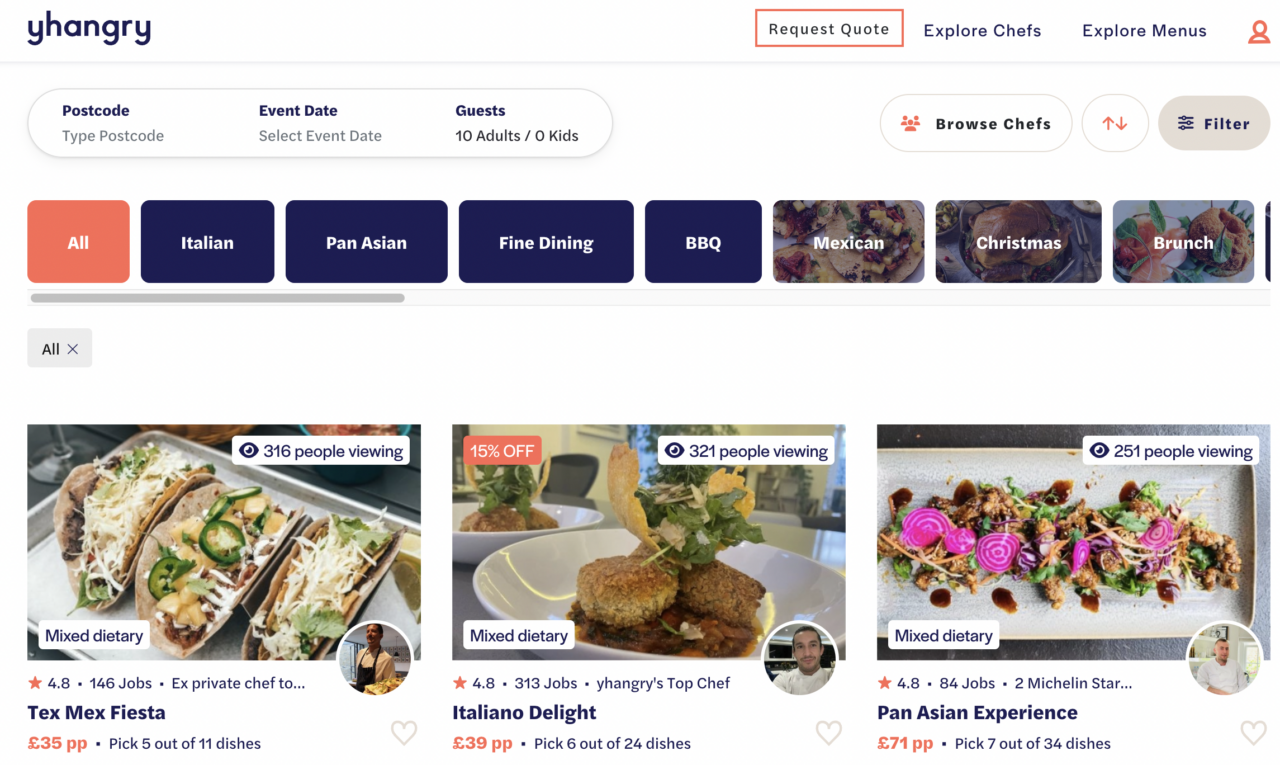 With yhangry, you can finally say goodbye to long queues, traffic jams and the stress of planning special events like birthdays or anniversaries. And the best part? The private chef will even tidy up after themselves, leaving you with nothing to worry about except enjoying your delicious meal. You'll be able to create a truly intimate and personal dining experience with your loved ones.
You might think that hiring a private chef would be out of your budget, but that's where yhangry comes in to surprise you! Our services are super affordable and pocket-friendly, and the chef can work around your budget and requirements to give you complete flexibility. Plus, our user-friendly messaging feature lets you easily communicate with the chef and plan your menu.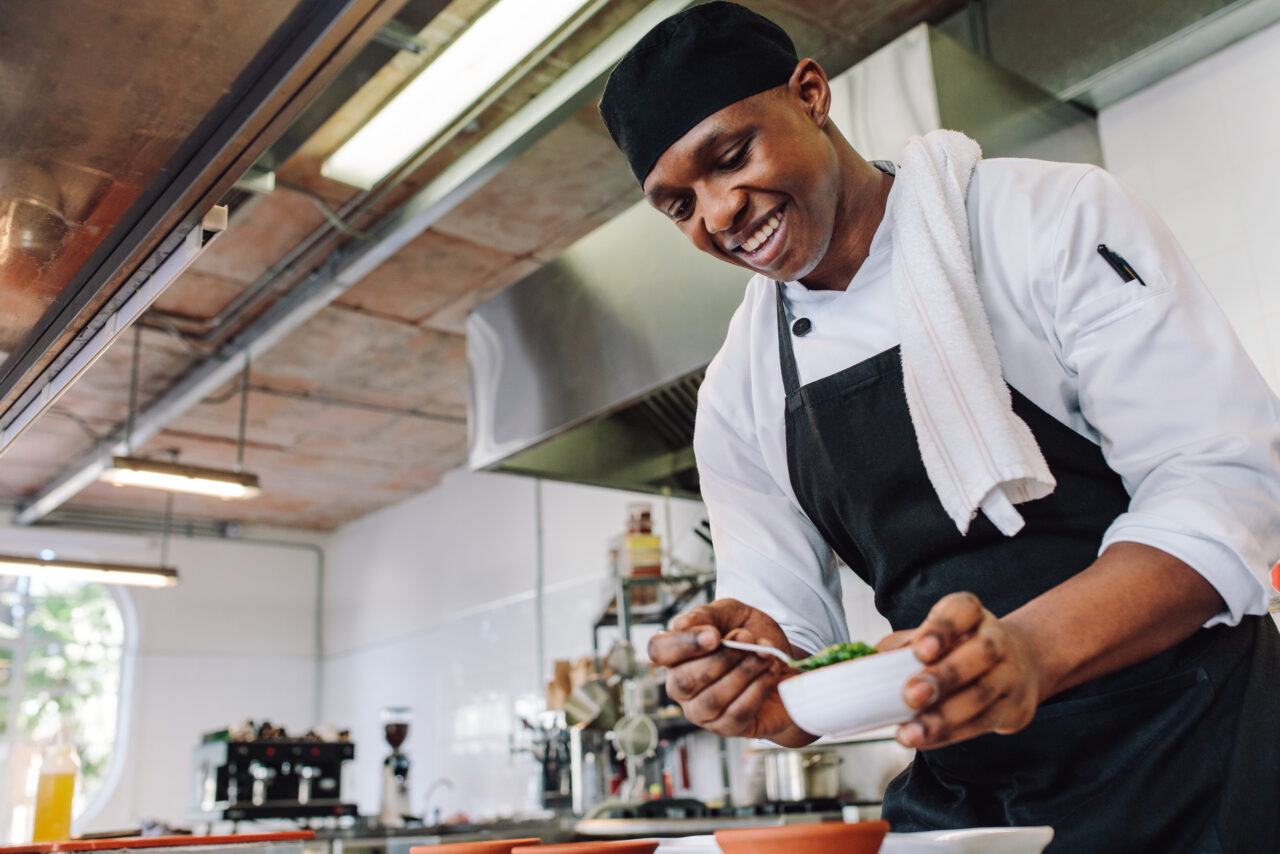 So, why go out to eat when you can turn your home into the best restaurant in Richmond, Yorkshire? Get a quote today and prepare to be wowed by the magic of yhangry!
Best Restaurants in Richmond, Yorkshire
To make your restaurant search easier, we've curated a comprehensive list that is categorised by cuisine. Whether you're a fan of Italian delicacies, crave Indian spices, prefer Mediterranean flavours or desire juicy barbecued food, you'll discover your perfect culinary match in Richmond. Without further ado, let's take a closer look at some of the best restaurants in Richmond, Yorkshire.
Top 3 Indian Restaurants in Richmond, Yorkshire
Amontola Indian Restaurant
Address: 8-10 Queens Road, Richmond, North Yorkshire, DL10 4AE
Nestled in the picturesque and historic market town of Richmond, North Yorkshire, lies the exquisite Amontola restaurant. Strategically located on the main road near the town centre, it's easily accessible whether you're driving or strolling. Not just limited to dine-ins, this restaurant also caters to a myriad of personal events, from birthday parties to corporate events and even weddings and engagements. With numerous accolades to their name, the highly trained staff provides exceptional service, while the head chef's wealth of experience guarantees a unique and delectable Indian cuisine. Whether you're craving the mouth-watering chana masala, the classic chicken tikka masala or a traditional biryani, visiting Amontola is a must for any food lover.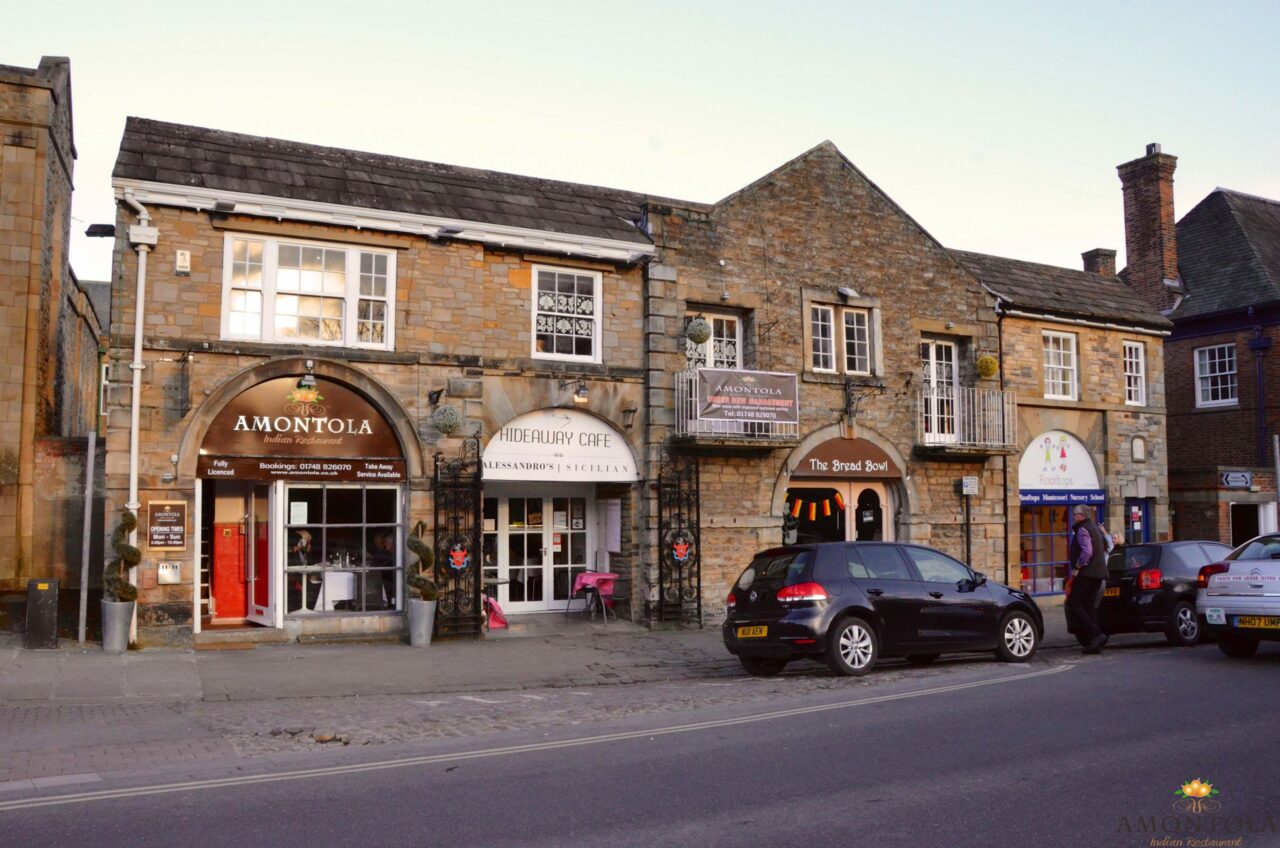 Taj Mahal
Address: 2-3 Trinity Church Square, Richmond, DL10 4HY
This unique fine-dining Indian restaurant is a must-visit for any foodie. With a distinctly contemporary and stylish setting, the Taj Mahal is perfect for an intimate night out with friends or family. Specialising in contemporary Indian cuisine, the restaurant features an extensive wine list and a range of mouth-watering desserts. It can be hard to choose which dish to order, but we recommend trying the tandoori chicken or the lamb shank. If you're lucky enough to visit on the weekend, be sure to book a table, as this place can fill up quickly!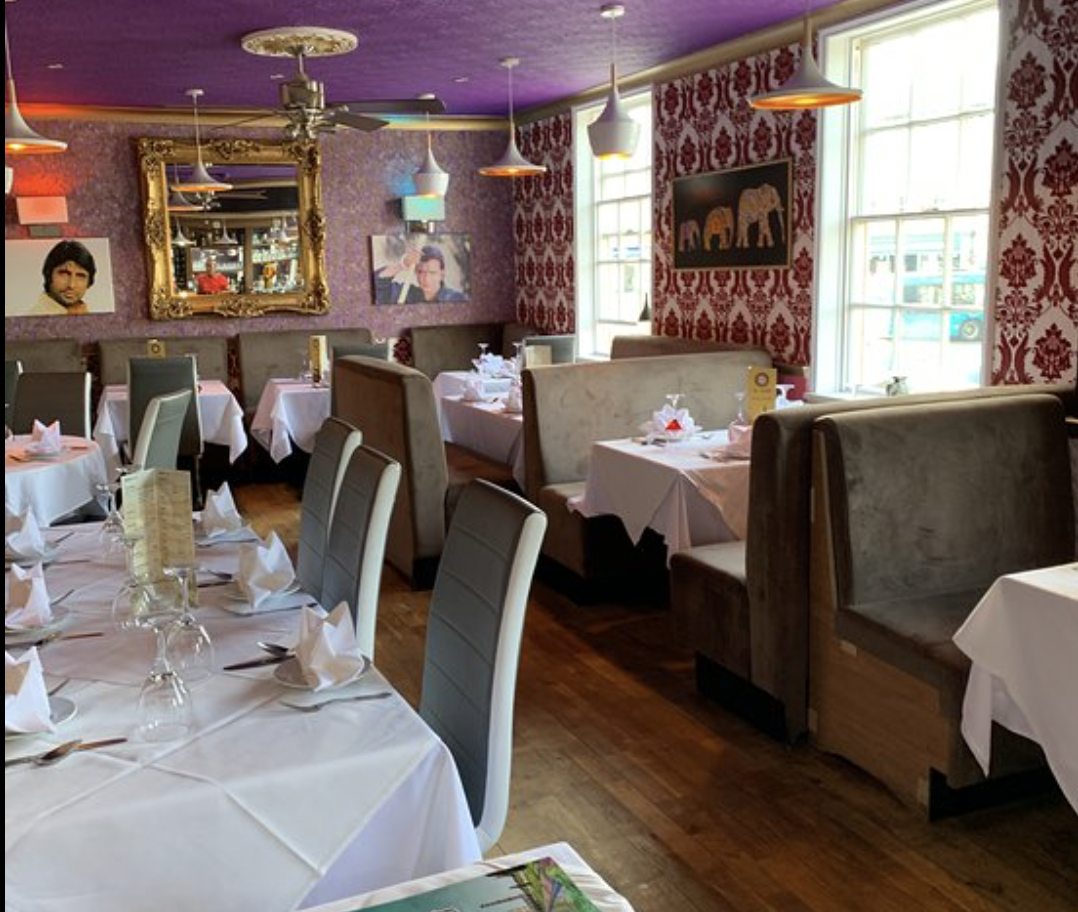 Royal India
Address: 3 Castle Hill, Richmond DL10 4QP
For three decades, this restaurant has been serving the finest and most delicious Indian cuisine, leaving a lasting impression on its patrons. The moment you step into this culinary haven, you're transported into a world of luxury and elegance fit for royalty. The intricate oriental rugs and plush fabrics adorning the space create a regal ambience that adds to the dining experience.
This restaurant places great importance on presenting its dishes and maintains impeccable hygiene standards to ensure complete customer satisfaction. Given this establishment's popularity, booking your table in advance is recommended, as seating is limited. In addition to the dine-in option, they also have a separate takeaway menu, allowing customers to enjoy their delectable offerings from their homes.
Top 3 Italian Restaurants in Richmond, Yorkshire
La Piazza
Address: 2 Dundas St, Richmond DL10 7AB, United Kingdom
If you're looking for a high-end Italian restaurant with ample space and authentic cuisine, you'll want to visit La Piazza in Richmond. With an impressive 5000+ five-star reviews on TripAdvisor, it's no surprise that La Piazza is considered one of the best Italian restaurants in Richmond, Yorkshire. The restaurant is perfect for both dining in and catering events and parties, and guests have left highly satisfied with the restaurant's services.
What's truly unique about La Piazza is its daily special lunch menu, which features genuine Italian dishes such as pizza and pasta. You can also indulge in delicious Italian sweets like tiramisu and panna cotta. And, of course, no Italian meal is complete without a glass of fine wine – and La Piazza has an outstanding selection to choose from.
Capri
Address: 10 Queens Rd, Richmond DL10 4AE, United Kingdom
Capri is a traditional Italian restaurant with an owner who has over 40 years of experience in the hospitality industry. His expertise is evident in the exceptional treatment guests receive at the restaurant. But there's more to the owner's background – having worked globally, he brings a wealth of international experience to the table.
At Capri, you can savour a culinary journey filled with authentic flavours and ingredients that transport you straight to the island of Capri in Italy. The owner promises a one-of-a-kind experience with the most experienced Italian chefs, who skillfully craft each dish.
If you're planning on adding Capri to your list of must-try restaurants, be sure to plan ahead and book your table in advance, especially if you plan to visit on the weekends.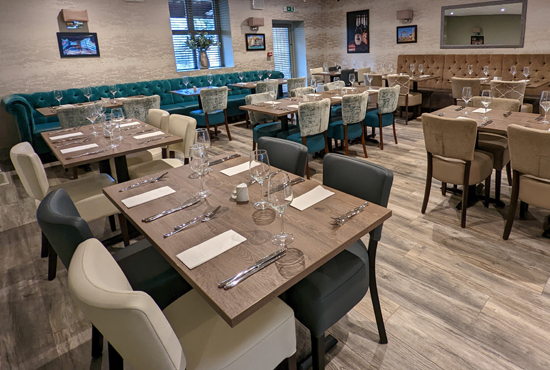 Elixir
Address: 30 Market Place, Richmond, North Yorkshire DL10 4QG
Elixir, a contemporary Italian restaurant located in Richmond, North Yorkshire, offers a premium and luxurious dining experience. Known for its unique setting, exceptional cuisine and superb wine list, Elixir has become a popular destination among discerning foodies.
One of the restaurant's standout features is its ability to accommodate diners with dietary restrictions or allergies. They prepare each dish separately to ensure everyone can enjoy their meal without worry. In addition, Elixir serves all of the hottest Italian dishes and takes plating very seriously, creating visually stunning plates that are perfect for sharing on social media.
But what truly sets Elixir apart is its cocktail menu and late-night hours. The restaurant serves some lovely cocktails and stays open late, making it the perfect spot to unwind with friends and family. Elixir also offers private bookings for special occasions such as birthdays and anniversaries, ensuring a memorable celebration for all.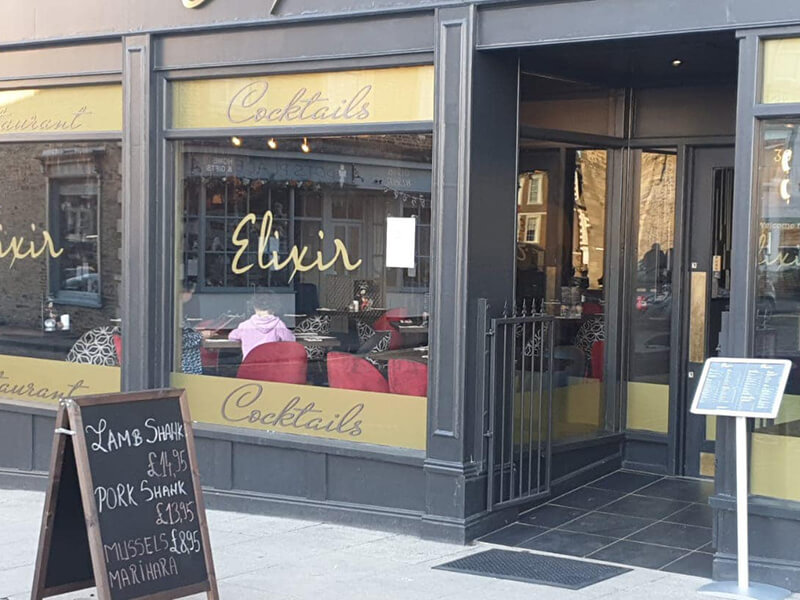 Top 3 Local Restaurants in Richmond, Yorkshire
Black Lion
Address: 12 Finkle Street, Richmond, DL10 4QB
Located in the heart of Richmond, the Black Lion hotel cum restaurant is a must-visit for those exploring the area. With its wooden flooring, plush red carpets and grand chandeliers, the Black Lion creates a welcoming ambience for patrons. The restaurant boasts an impressive selection of ales, wines, cocktails and spirits, ensuring that there's something for every palate. They serve all the classic dishes and even offer weekday lunch deals, making it a great option for a midday break.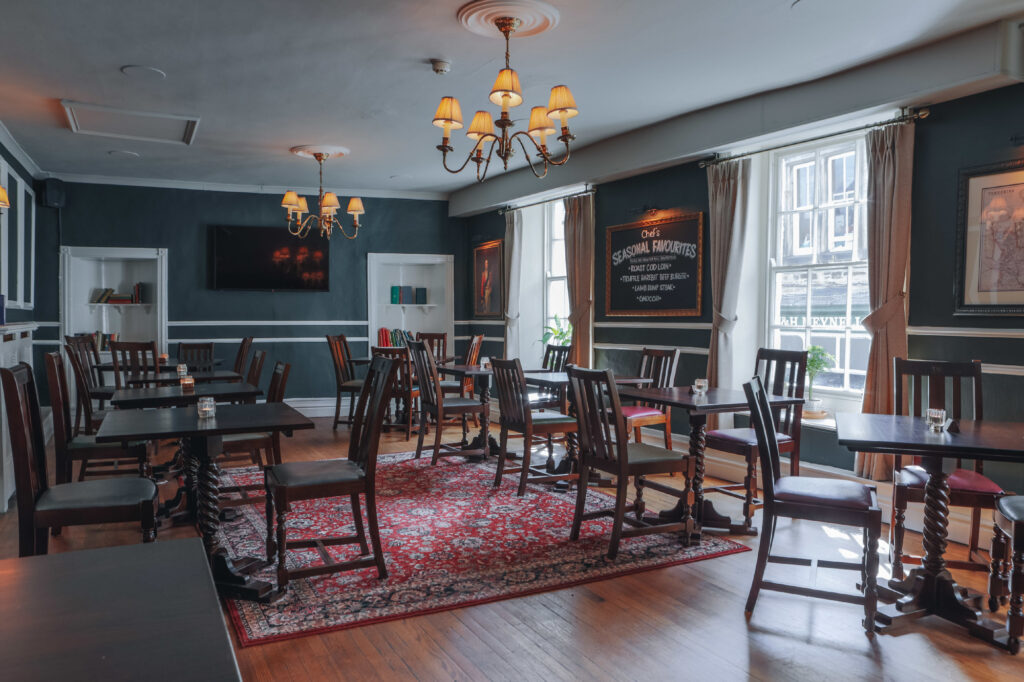 Shoulder of Mutton
Address: Middleton Tyas, Richmond DL10 6QX
This 400-year-old family-owned village pub in Richmond, Yorkshire, is the epitome of tempting and good-quality local cuisine. The menu is complemented by a wide selection of traditional spirits that will perfectly accompany your meal. Whether you're planning a social gathering or a casual dinner, this pet-friendly spot is a perfect choice. For added privacy and intimate dining, the restaurant is divided into smaller private rooms that can accommodate up to 18 people, and a custom menu can be prepared especially for you.
Wensleydale Heifer
Address: Main Street, West Witton, Leyburn, North Yorkshire. DL8 4LS
With a focus on using locally sourced ingredients, this family-friendly restaurant offers a genuine taste of Richmond on your plate. They are particularly known for their fish and chips and smoked meats but also have a range of other options. The restaurant offers a children's menu, ensuring that even the little ones can enjoy their meals without any difficulties. Furthermore, they cater to various dietary restrictions, including vegan and gluten-free options.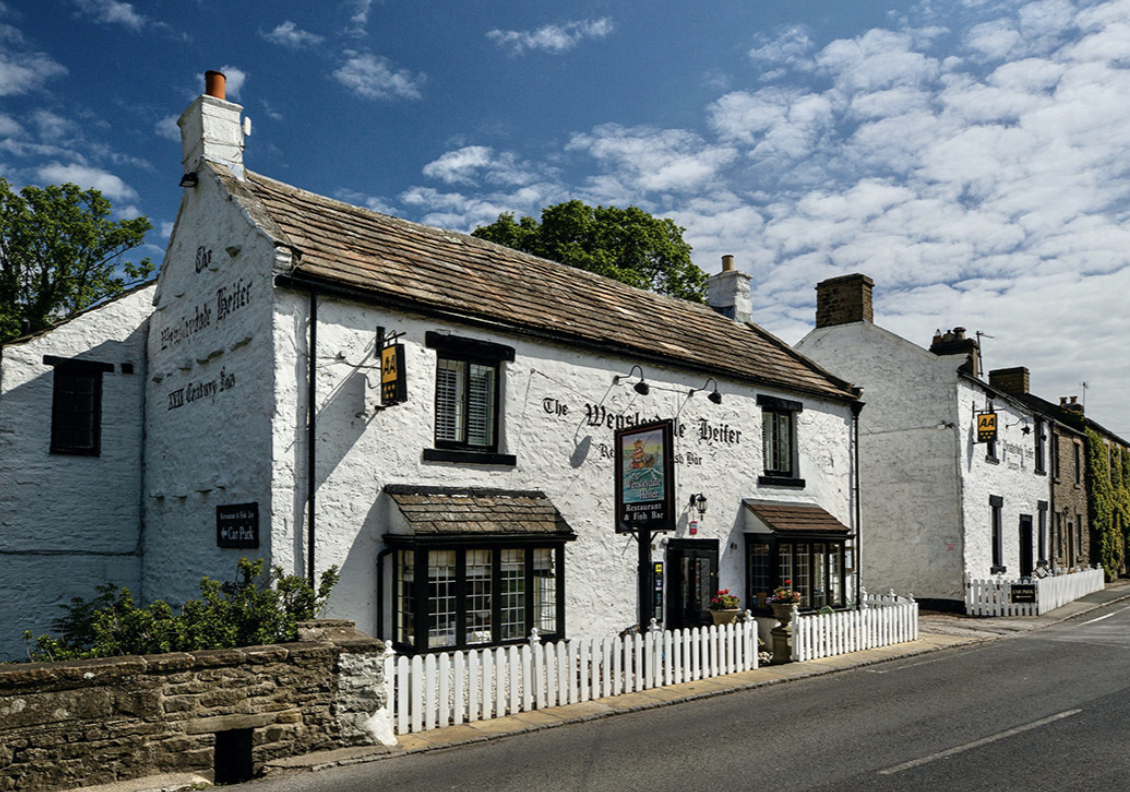 Top 3 Spanish Restaurants in Richmond
Number 29 Tapas Bar
Address: 29 Frenchgate, Richmond, DL10 4HZ
Experience the flavours of homemade tapas all day, every day, at this charming restaurant. Along with that, they offer delectable charcuterie and vegetarian sharing boards to satiate your taste buds. Pair your meal with a refreshing craft beer, a classic gin or a fine wine from their diverse selection.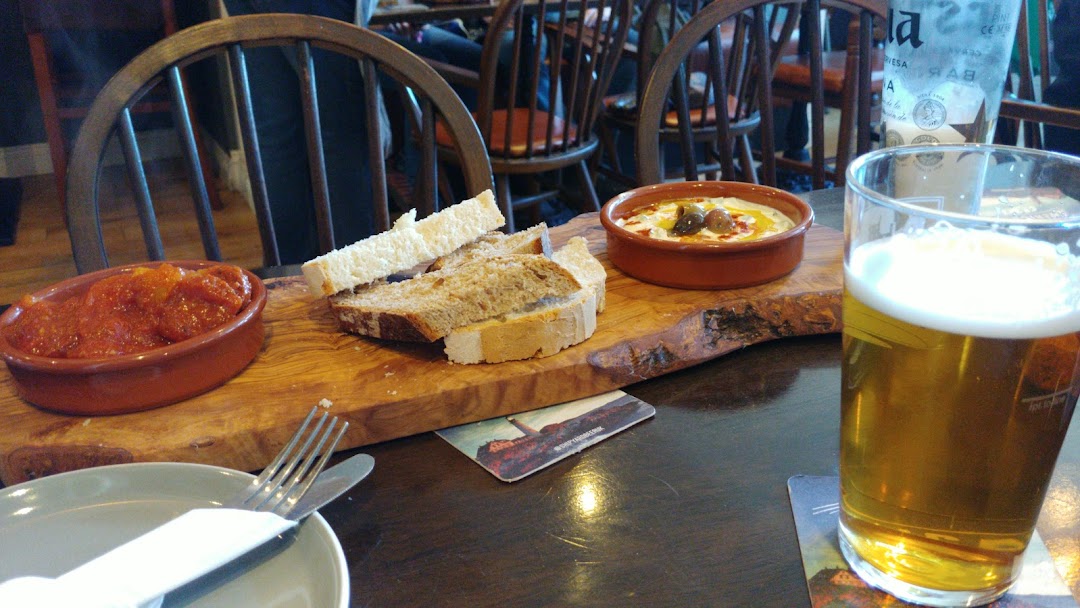 The Little Drummer Boy COCINA
Address: 7 Rosemary Ln, Richmond DL10 4DP
Discover the charm of Spain at The Little Drummer Boy COCINA, a cosy restaurant with an excellent atmosphere. Treat yourself to a variety of mouth-watering dishes, including sopa del dia, bruschetta, ensaladas, charcuterie boards and an extensive selection of tapas. Don't forget to check out their specials board for some unique and delicious options. This pet-friendly restaurant is perfect for a casual night out with your furry friend.
Sol Tapas Restaurant
Address: 28 Duke Street, Darlington, DL3 7AQ
Located just a stone's throw away from Richmond, this charming Spanish restaurant in Darlington is a true culinary gem. Here, you'll experience a feast for your senses with their delicious tapas crafted from the freshest and finest ingredients available. The menu is ever-evolving, meaning there's always something new and exciting to try.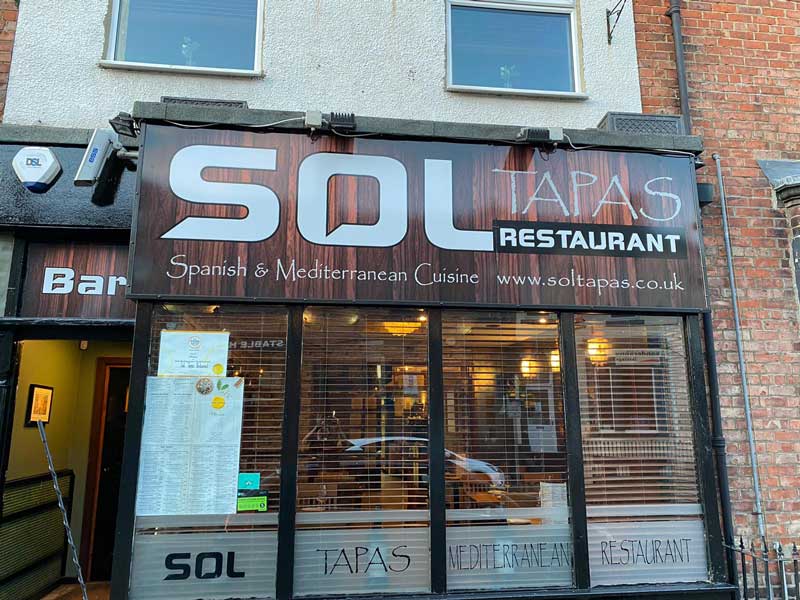 Conclusion
Although our curated list of restaurants in Richmond is undoubtedly helpful for dining out, we must confess that you can find the ultimate culinary experience with yhangry. Imagine having a personal chef create a custom menu designed to meet your every culinary whim, all in the comfort of your home or backyard. It's a truly exceptional dining experience that is both intimate and unforgettable.
FAQs

What food is famous in Richmond, Yorkshire?

Richmond is known for its local cuisine, which includes a variety of traditional British dishes as well as some unique local specialities. One of the most famous foods in Richmond is the Yorkshire pudding, a savoury baked dish made from a batter of eggs, flour, and milk or water.

Does Richmond have any Arabic restaurants?

Yes, several Arabic restaurants in Richmond offer a range of traditional Arabic dishes such as shawarma, falafel, hummus, tabbouleh and other Middle Eastern specialities.

Is Halal food available in Richmond?

Yes, Halal food is available in Richmond. You can find restaurants catering to a diverse range of dietary requirements, including halal, vegetarian, vegan and gluten-free diets.