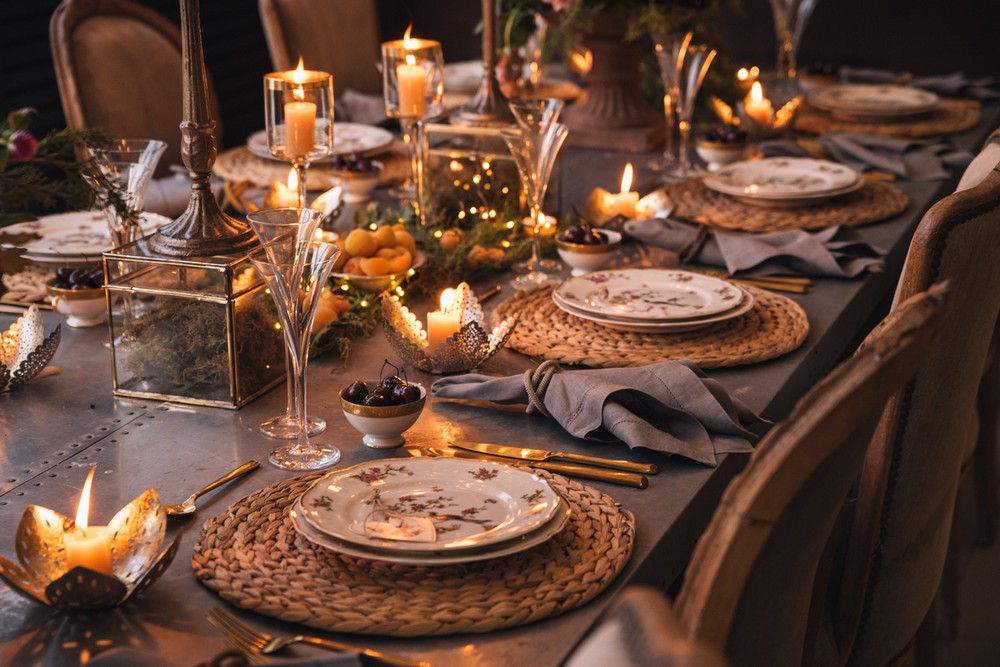 The festive season is a time of joy, warmth, and memorable gatherings around the dining table. It's the perfect opportunity to express your creativity and set the mood for the celebration. With our curated list of Christmas decoration ideas, you can turn your holiday feast into a spectacle that leaves a lasting impression. From natural elements to DIY centrepieces, these ideas are designed to inspire and ignite your imagination.
So, let's explore these innovative ideas and transform your holiday feast into an unforgettable experience.
1. Enchanted Forest
Imagine a miniature forest of light and shadow right on your dining table. Carved trees, meticulously sculpted and adorned with twinkling lights, serve as a captivating centrepiece. These arboreal wonders bring an enchanting forest-like ambience to your dining space, creating a visually stunning and emotionally evocative spectacle. When paired with matching candlesticks, they cast a soft, warm glow that dances across your guests' faces, creating an intimate and cosy atmosphere. This setup is not merely a decoration but a celebration of the serene beauty of winter nights. It brings the charm of a tranquil forest into the comfort of your home, making your gathering not just a meal but a journey into a magical winter wonderland.
2. Candlelit Charm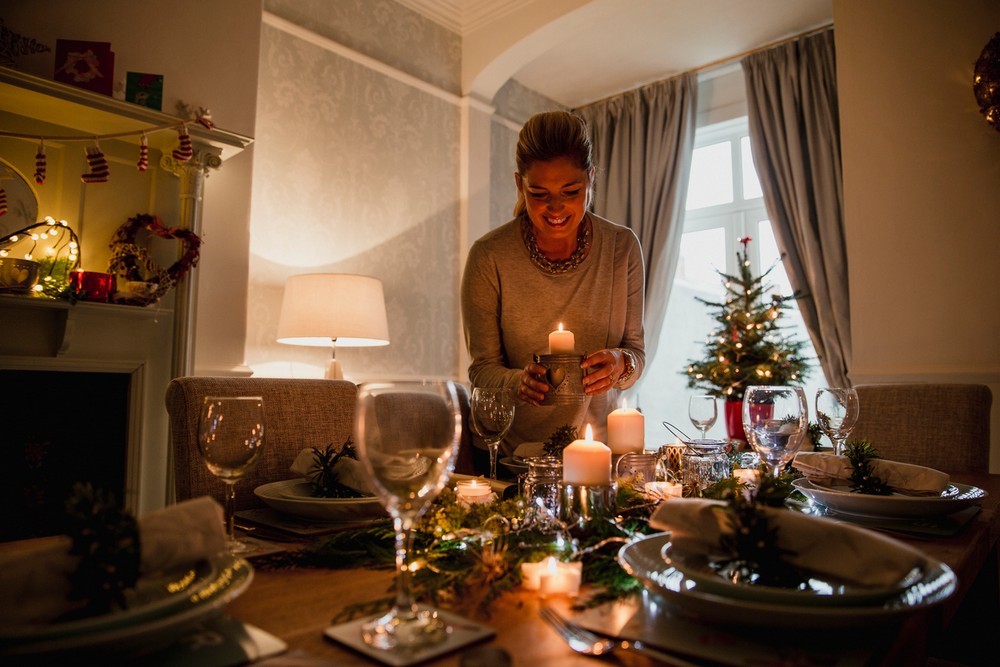 Candles, with their ethereal glow, and grandeur, form a harmonious blend of elegance and charm. The rhythmic repetition of these elements across the table creates a visual symphony of shapes, sizes, and materials. The candles cast a gentle, flickering light, creating a mesmerising play of luminescence and shadow. On the other hand, the holders and raised platforms add a touch of majesty, elevating your culinary creations to new heights. This combination is a testament to the beauty of contrast, where light meets dark and grand meets intimate. It's a unique way to create a dynamic and engaging visual landscape in your setting, making each meal a feast for the eyes as well as the palate.
3. A Feast of Nature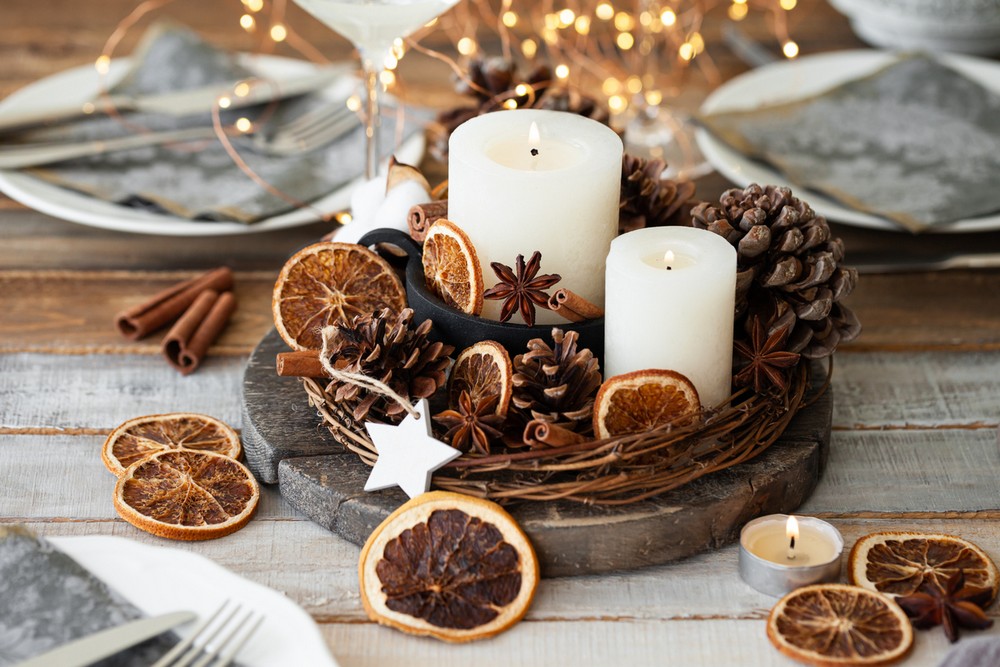 Incorporating natural elements such as green apples, limes, pine cones, and gourds into your decor can create a refreshing and organic aesthetic. The vibrant hues of the fruits add a pop of colour, while the pine cones and gourds bring a touch of rustic charm. This setup is a celebration of nature's bounty, a reminder of the earth's gifts amidst the winter chill. It's not just a table setting but a tableau of life's simple pleasures, a still-life painting brought to life. Perfect for those seeking a minimalist yet vibrant decor for their gathering, it's a way to bring the outdoors in, creating a table that is sustainable and stylish.
4. Simplicity in Elegance
The combination of magnolia leaves and hydrangeas can offer a sophisticated centrepiece for more intimate gatherings. The blend of the magnolia leaves' verdant shades and the gentle allure of the hydrangeas encapsulates a sense of simple elegance. This arrangement embodies the charm of minimalism, illustrating how a less-is-more philosophy can hold its own allure. It serves to bring the grace of nature's minimalism into your space, generating an atmosphere that calms the mind and pleases the eye. This style is ideal for those who seek a sense of tranquillity through the pure beauty of simplicity, forming an ambience that is as serene as it is aesthetically pleasing.
5. Festive Florals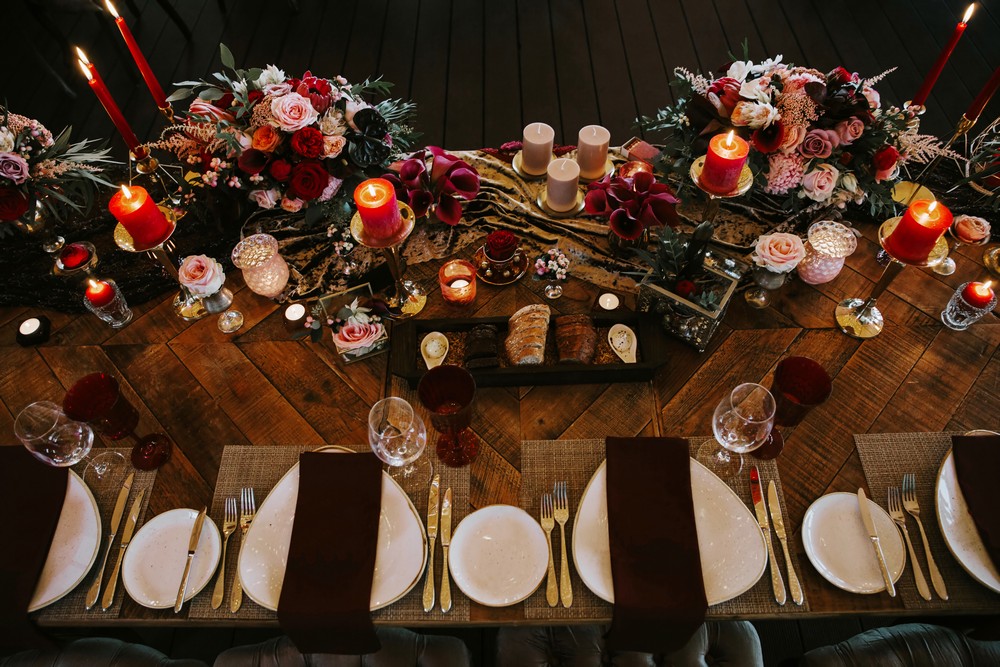 A billowing basket of warm-toned florals can serve as a dramatic centrepiece without sacrificing precious space. The warm tones of the florals create a welcoming atmosphere, while the basket adds a touch of rustic charm. This setup is a celebration of the beauty of nature and the power of colour, a testament to the visual impact of a well-chosen centrepiece. It's a way to bring a touch of the garden to your home, creating a setting that is as vibrant as it is inviting. This approach is perfect for those who love flowers and want to create a truly unforgettable dining experience.
6. A Royal Setting
Create a table fit for royalty with traditional Christmas crackers, candles, glassware, and napkins. The Christmas crackers add a touch of tradition and fun, the candles create a warm and inviting atmosphere, the glassware adds a touch of elegance, and the napkins provide a practical and decorative element. This setup is a celebration of tradition and elegance, a testament to the timeless appeal of a well-set table. It's a way to bring a touch of luxury to your decor, creating a setting that is as elegant as it is festive.
7. Crafted with Love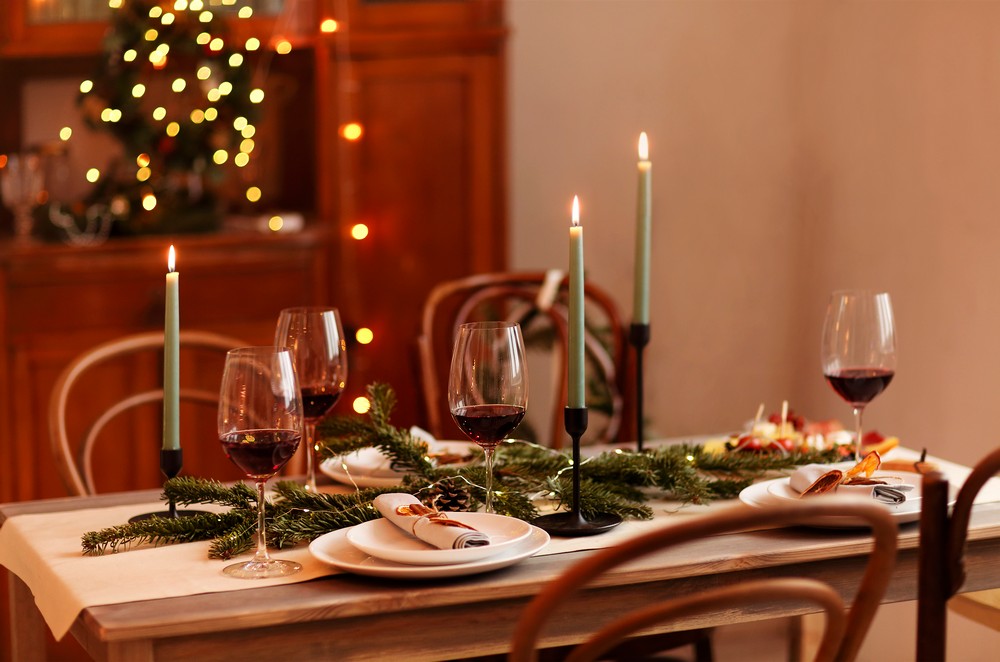 Your DIY centrepieces serve as a canvas for your creativity, expressing your unique sense of style and personal touch. The bespoke blend of candles, pine cones, and mason jars on the runners exemplifies the joy of crafting, narrating a story of love and care in each element. They not only liven up the space but also infuse it with your personality. Ideal for the creative spirits, this setup embodies a unique narrative for each creator. Let your craft do the talking, and watch your table transform into a testament to your creative prowess.
8. Whimsical Wonderland
A playful display can be created with a mini stone dragon statue, gilded vegetables, and fresh, plump persimmons. The stone dragon statue adds a touch of whimsy, the gilded vegetables bring a hint of luxury, and the persimmons add a pop of colour. Best suited for those who look beyond the ordinary, this approach lets your meals be a platform to stimulate playful conversations, ignite imaginations, and lift spirits. Let the whimsy of your table echo the mirth in your laughter and turn every meal into a joyful feast.
Yhangry: The Secret Ingredient to Your Christmas Celebration
With your Christmas table now adorned with innovative decorations, it's time to think about the feast that will grace it. That's where yhangry comes in. This unique platform allows you to hire a private chef to create a dining experience right in your home or rented venue. Starting at just £30 per person, yhangry offers a marketplace of chefs for every price range, cuisine, and event type.
This Christmas, let yhangry take the culinary reins. No need to fret over meal planning, grocery shopping, or the daunting post-feast cleanup. Instead, you can focus on the joy of the season and the company of your loved ones. Whether you're envisioning a traditional Christmas feast or a menu that breaks the mould, yhangry has a chef for you.
Moreover, yhangry ensures all dietary needs and allergies are catered for. You can co-create a menu with your chef that pleases every palate, all within your budget.
In essence, yhangry is about creating memorable dining experiences. So, this Christmas, complement your beautifully decorated home with a feast prepared by a professional chef. With yhangry, you're not just serving a meal; you're serving an unforgettable experience.
Conclusion
As you prepare for your gathering, remember that your table is more than just a place to serve food. It's a stage for your creativity, a canvas for your imagination, and a centrepiece for your celebration. With these decoration ideas, you can create an atmosphere that's visually stunning and filled with warmth. So, let your imagination run wild and transform your feast into a memorable spectacle. Whether you prefer the elegance of a royal setting, the charm of a woodland scene, or the vibrancy of a billowing basket of florals, there's an idea here for you. So, start planning today and make your gathering an event to remember.
FAQs

1. How can I make my Christmas table look nice?

Creating an appealing table involves a balance of colour, texture, and arrangement. Start with a tablecloth that complements your room's decor. Use placemats or chargers for added depth. Arrange your tableware neatly, and consider a centrepiece that matches the occasion. Personal touches, like handwritten place cards, can also enhance the overall look.

2. What must you have on a Christmas Table?

A Christmas table should have a festive centrepiece, such as a floral arrangement or a bowl of ornaments. Traditional Christmas crackers add a fun element. Ensure you have ample tableware for all courses, and don't forget the holiday-themed napkins. Candles can provide a warm, festive glow, and a touch of sparkle, like glittery place mats or shiny baubles, can add to the festive feel.

3. What are some budget-friendly Christmas table decoration ideas?

Decorating your Christmas table doesn't have to be expensive. You can use natural elements like pine cones, branches, and holly, which can often be found in your own backyard. Homemade ornaments and candles can also add a personal and budget-friendly touch to your table. Additionally, simple things like tying a festive ribbon around your napkins can make a big difference to your table setting.