HOW TO PAIR WINE AND CHEESE
with Edward, the founder of CheeseGeek


Think cheese and wine, and you'll most likely instinctively reach for a bottle of red for your cheeseboard. But is there more to pairing wine and cheese? Let's dive a bit deeper…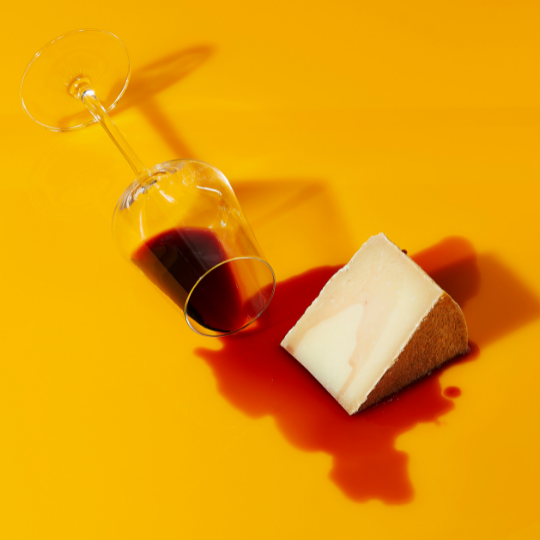 First of all, tasting. You are looking to taste a bit of cheese first to coat your palate. Wash it down with a sip of wine, then repeat. Too much cheese or too much wine, and you might miss some detail, so keep the portions/swigs small!
If you are fortunate enough to have a number of wines to pair with a number of cheeses, we generally let the cheeses lead. (ie you may go from white, to red) That it because, leading with the wines may mean powerful cheeses preceding more delicate ones, which will blow your palate.
How can you tell if a pairing is good?
Well clearly the best answer here is whether you enjoy it or not. But the hallmark of a clash is when you will be left with a taste of alcohol/ethanol.
Also not ideal is where you lose the identity of the cheese entirely, or the wine of course. We are really looking for a balanced flavour, maintaining the identity of both components.
The real jackpot, and what we always look for at cheesegeek, is elevation. Where the cheese and wine together produce new flavours, or accentuate existing flavours.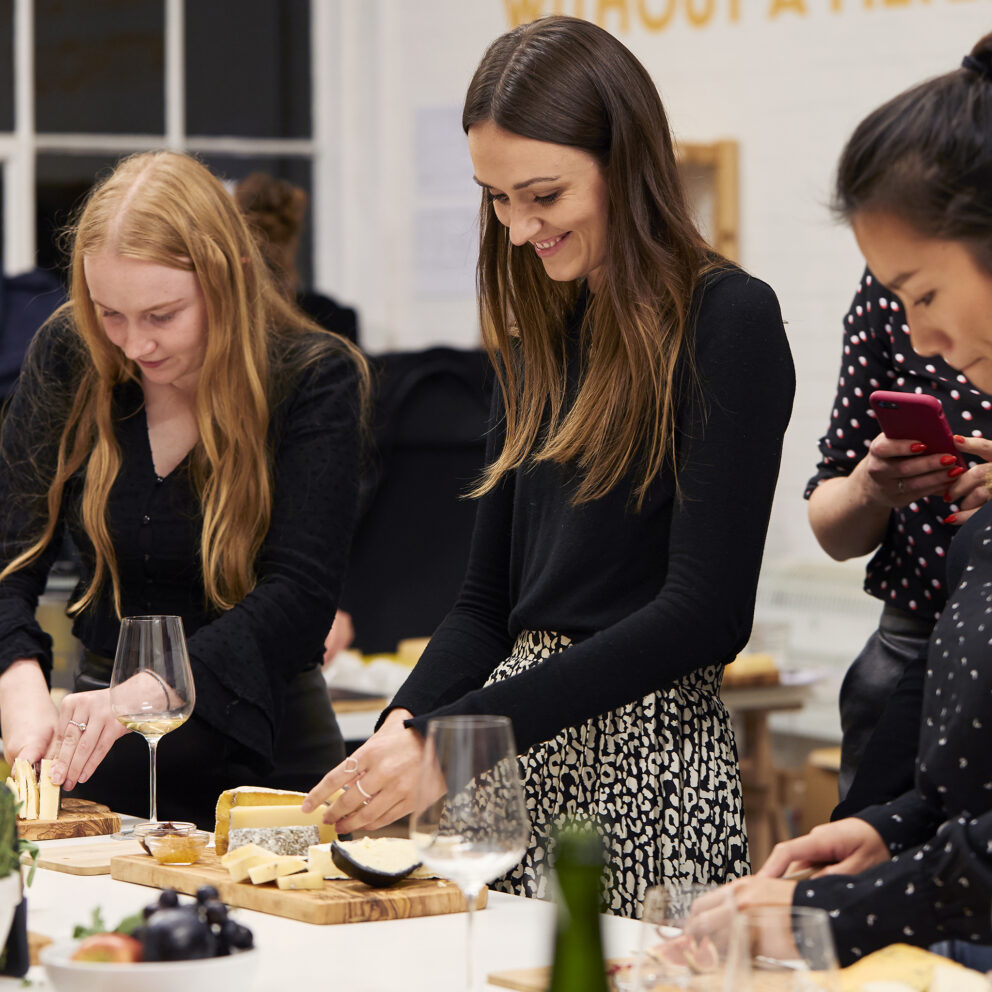 (Science alert – I'm about to get geeky)
First of all, the tannins in wine can often clash with the acidity in cheese. This can lead you to imbalanced pairings that fail to showcase the quality of each product.
White wine doesn't have this issue, because the skins of the grape contain tannins, whereas white wine doesn't.
Specifically in the case of Chardonnay, the grape is one of the few that benefits from Malolactic Fermentation (MLF) where malic acid (sharp apple flavour) within the wine is converted to lactic acid (creamy, buttery, rounded). This is why Chardonnay classically carries those rounder more 'dairy' like characteristics like buttery and creamy. When you think the maturation of cheese involves lactose converting to lactic acid, you have two parallel processes, both creating lactic acid, and therefore complimentary flavour profiles.
So, scientifically speaking, Chardonnay and cheese makes perfect sense!
Best of the reds
But many of you will ignore all of that and stick to your guns. I want red wine with my cheese. Fair enough. So, how do you pick your reds?
I tend to find red wines with slightly finer tannins (see tannins reference above) generally work better across a wider range of cheeses, particularly if you are choosing a single grape variety. So the best example here would be Pinot Noir, which is a real all rounder when it comes to cheese.
Gamay is another (famously used in Beaujolais) that works really well with cheese, and its inherent fruitiness is perfect foil for rich, salty, creamy cheese.
If you wanted to focus on robust, powerful cheeses, like aged Gouda or a lip smacking cheddar, then Shiraz works very nicely. The tannins are more forward, and there is a spicy robust body to the wine that holds up really well against the complexity of these cheese.
In terms of fortified wines, or port, there is no doubt that port and stilton works very nicely, but it can get a little rich and cloying if you're not careful. Historically we have found that a big red tends to work better.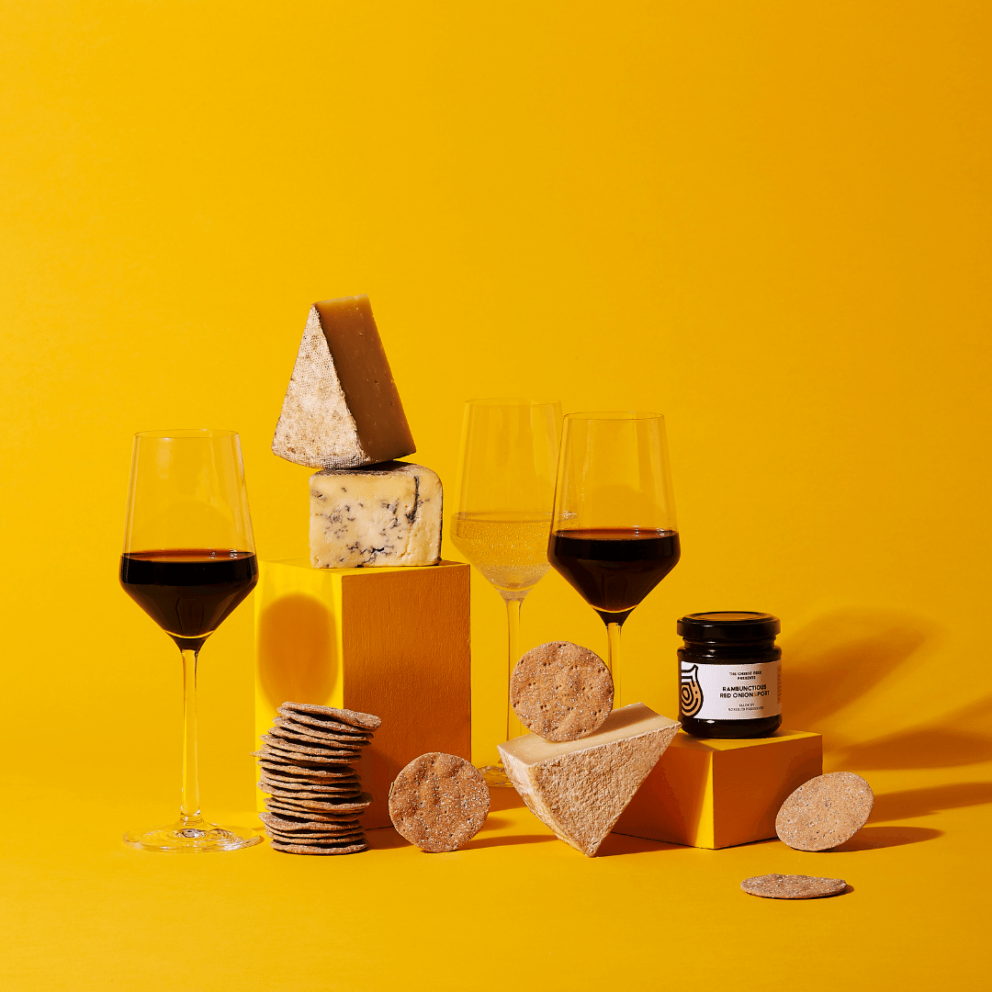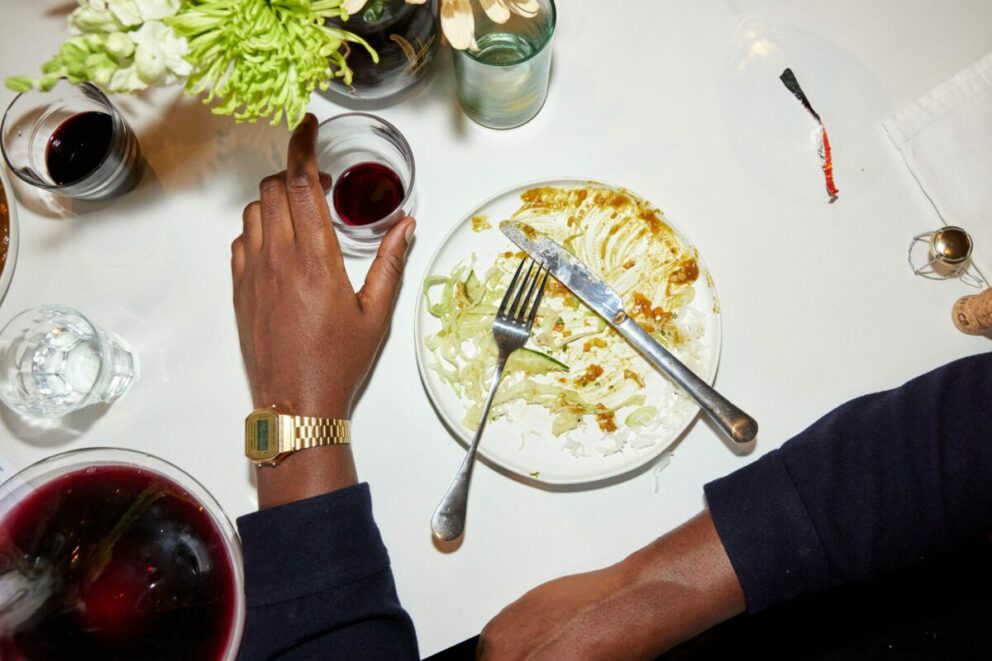 About Yhangry X CheeseGeek
To find some pairings of your own, Cheesegeek and Yhangry have launched a cheese & wine pairing menu, exclusively on Yhangry. You'll be given some of Cheesegeek's favourite seasonal cheeses and taken through a wine pairing by Isabelle, the Sommelier. The goal is having fun and making your own approach to cheese and wine pairings. You can find the menu here, book now for an evening to impress.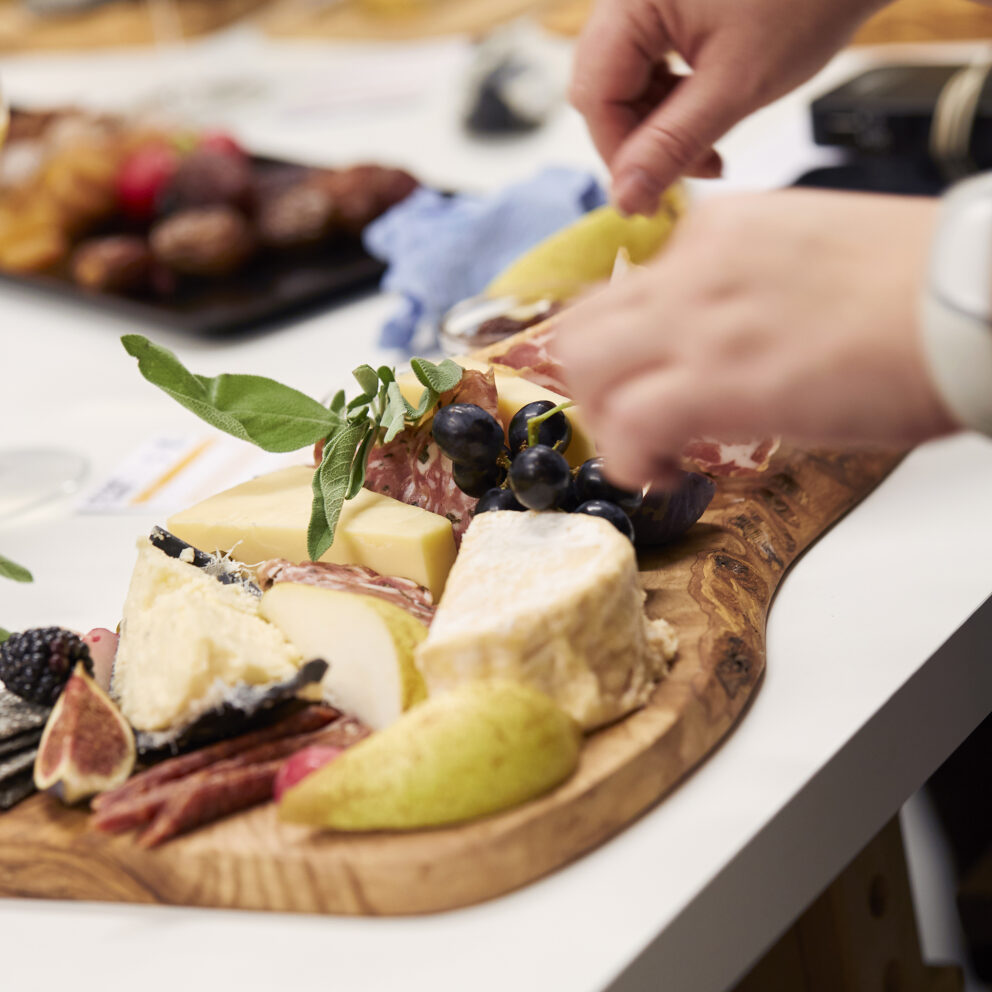 The all rounder?
Say that your friend has invited you to a dinner party & told you that there will be a cheese board. The host is a cheese nut, and it is going to cover every style and variety imaginable. So, the question is, what bottle of wine do I take that has the best chance of pairing with as many of the cheeses as possible?
The answer is Chardonnay, ideally lightly oaked, with a slight preference for the Old World.
Many of you will now be thinking:
That's a white wine…sacre bleau
Chardonnay is awful, especially the oaked stuff
Well the truth is, Chardonnay has a bad rep. But provided you get a refined version that hasn't been oaked to within an inch of its life, there is a science behind why Chardonnay works so beautifully with cheese.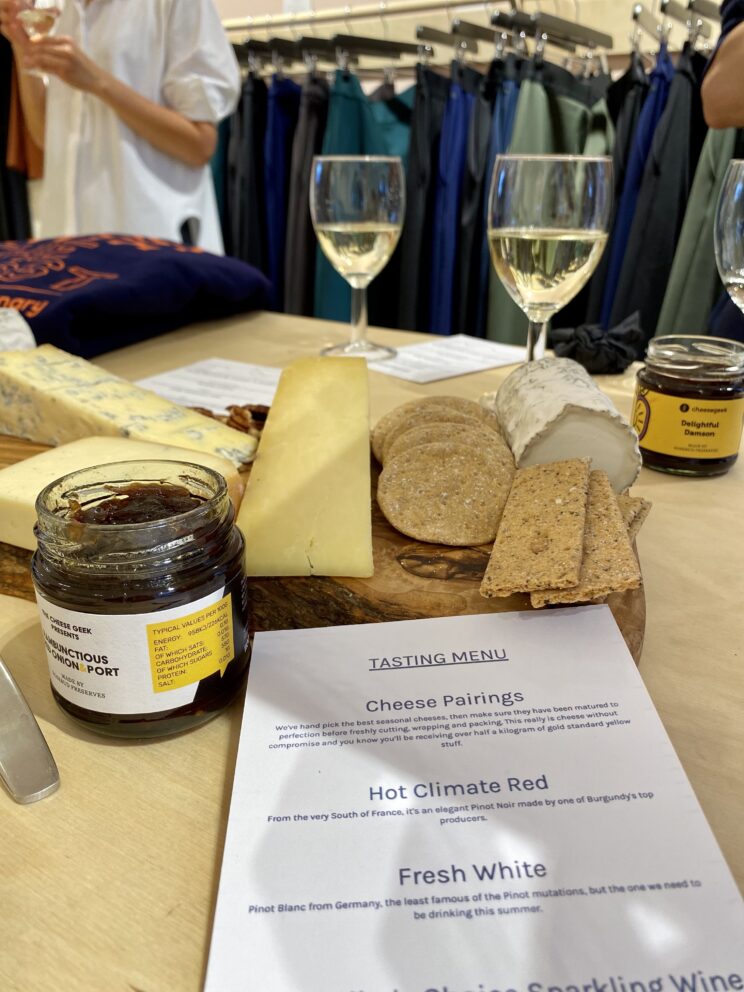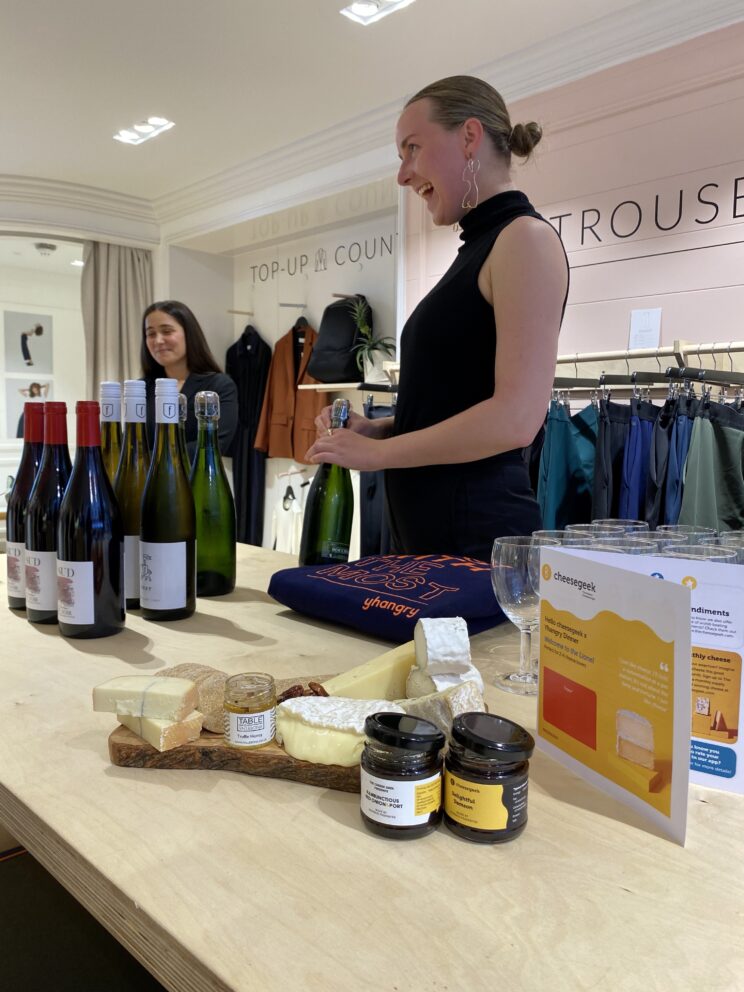 The dream wine and cheese pairings
In terms of dream pairings, I have come across a few over the years. Recently a Banyuls (fortified dessert wine) paired with Cropwell Bishop Stilton was out of this world.
Laurent Perrier with aged Gruyere is another that really stuck in the mind.
I've had some incredible Bordeaux with mature cheddar. Oaked chardonnay works a treat with Brie style cheeses such as Baron Bigod.
But the greatest cheese and wine pairing of all time remains, for me, Roquefort and Sauternes. When you are looking for a perfect pairing, you are either looking to match robust flavours with robust, or delicate with delicate (ie a match of equals) or you are looking for opposites attract. Roquefort and Sauternes is the ultimate example of opposites attract. The sharp, spicy saltiness of the cheese, combined with the honey, fruity zestiness of the Sauternes (served cold) is a joy to behold.
For some more general guidance, there is also the famous saying 'what grows together, goes together'. Most famously, Sancerre and goat's milk cheese from the Loire Valley, or Vin Jaune paired with Comte/both produced in the Jura region in Eastern France.
Another great example I came across a few years ago closer to home was Tunworth and Hattingely Valley sparkling wine.
All of these tips are based around my own findings.
But the most important advice I can you give is– "be open-minded and adventurous!"