CATERING FOR YOUR
OFFICE CHRISTMAS PARTY

There are many catering options for organising an office Christmas party. Learn about them and browse the ones most suited for your office.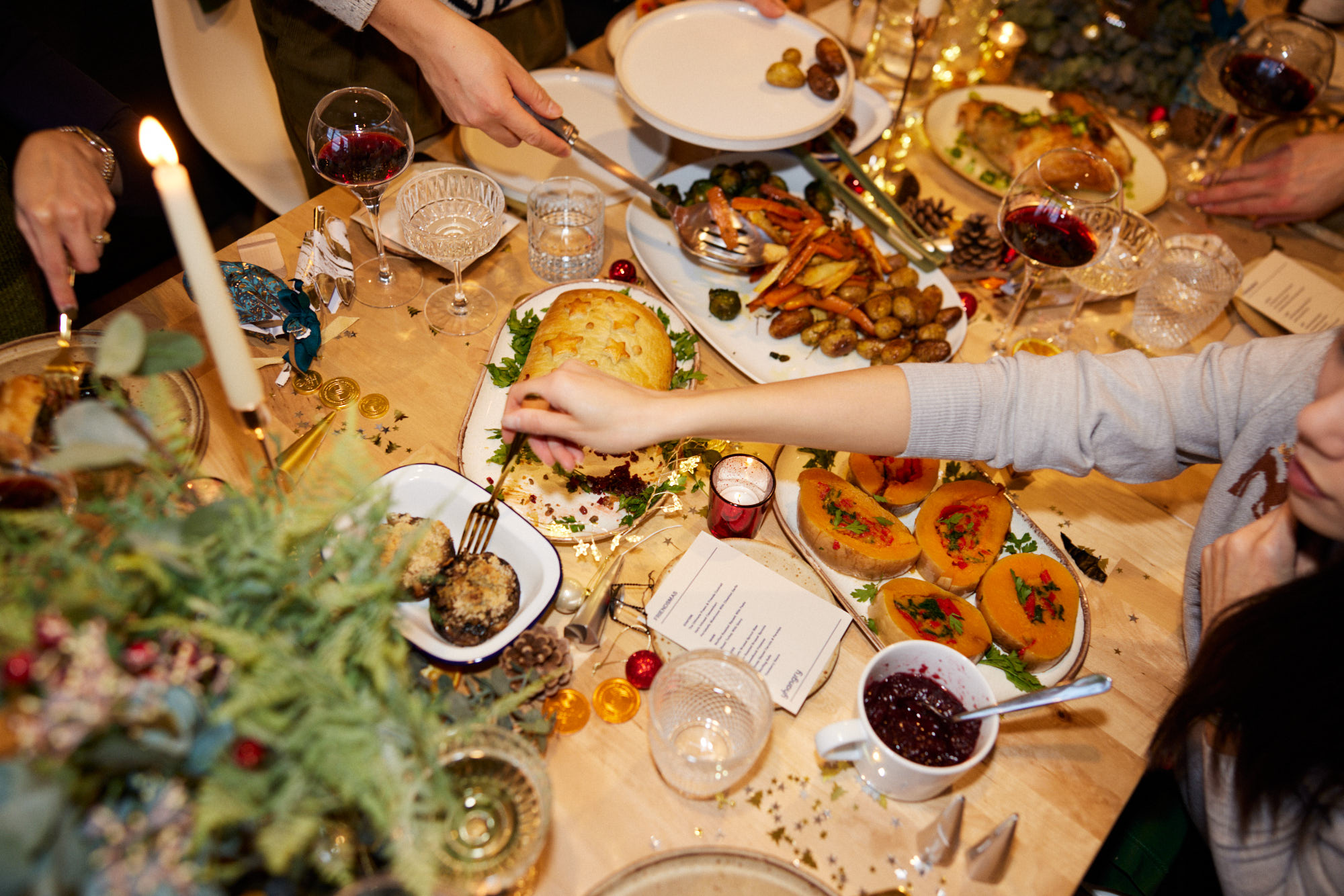 Best Value for Money: Christmas Party at your Office
Cost: £15-£50 per person
Team Size: 10-100 people
If you have a lovely office space which is suitable for hosting a party, you won't need to spend money on venue fees and this will be the cheapest option. There will be two different types of catering options depending on the facilities you have in your office:
1. Proper kitchen facilities (stove and oven) to cook items fresh on-site
2. Just a pantry with microwave and surface space to assemble festive finger foods and a cold buffet
3. Enough crockery and glasses
If you have a proper office kitchen and enough crockery and glasses, congratulations, you will be able to book the best value options, which is hiring a private chef to come and prepare whichever menu you prefer. You have the option to add another chef/waiter if you would like someone to help with serving at the event.
Lowest Effort: Christmas Party at a Restaurant
Cost: £40-£80 per person
Team Size: 50-100 people
If you don't want to worry about your facilities available and prefer not to spend unnecessary time in the office, hiring out a venue, such as a restaurant, for your office Christmas party will be an easy solution. VenueScanner is a great platform for finding restaurants which offer private hire for corporate events.
Most WOW: Christmas Party at a Unique Venue (£90-£200pp)
Cost: £100-£200 per person
Team Size: 20-500 people
Depending on the budget you have and the impact you would like to achieve, a higher effort office Christmas Party with WOW-factor involves hiring a unique venue and choosing bespoke catering for the venue. Depending on the size of the team, this could mean hiring a beautiful treehouse location for a unique experience for 20, or the Natural History Museum in London for 400 guests. Our friends at VenueScanner offer a range of great venues permitting external catering so you could book a venue and hire an external caterer for whatever type of food your office would enjoy the most.
About Us
We are a private chef platform and we work with more than 400 chefs in the UK. We have an extensive Christmas offering, ranging from festive canapés and finger foods to bowl food and buffet style platters to indulgent multi-course seated Christmas menus. We also have very unique and trendy menus, such as Pan Asian Christmas dinner or the Classic Italian Christmas feast.
How much is a private chef to cater for my Christmas party?
It depends on the type of service you are looking for. The costs per person for the chef and food will range from £10pp for canapés to £50pp for a seated 3-course Christmas dinner with beef or vegan wellington as a main dish.
What does the price include?
The chef will bring the groceries, cook the food fresh at your home or rented venue. If you are booking for less than 10 people, the chef will also serve between courses and clean up afterwards. If it's more than 10 people, you have the option to add a waiter to help with serving.