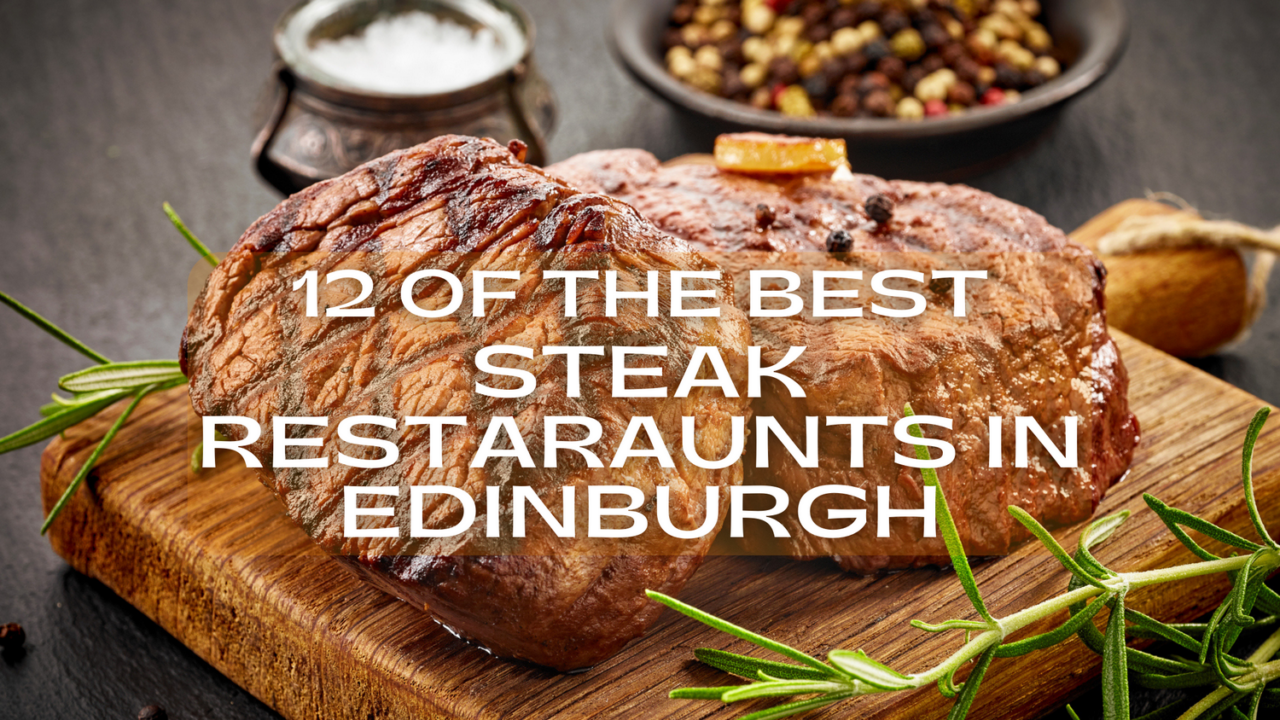 There's nothing quite like a perfectly cooked steak. Whether you enjoy yours well done or with a nice reddish hue, we can all agree that it's one of the best meals for dinner. If you're in Edinburgh and craving a protein-rich steak, you are in luck, as it is one of the best cities in the world for steaks.
You don't have to travel far for a good steak here, as plenty of restaurants and steakhouses can make you your perfect steak, no matter your preference. To help you decide where to satisfy your craving, we've created this list of the top steak restaurants in Edinburgh, with excellent service, extensive menus and great ambience.
Enjoy the Perfect Steak at Home Thanks to yhangry
Steak is great, but cooking it at home for multiple guests can be a nightmare. It's hard to cook it right for yourself, let alone multiple guests, each with their preferences regarding how well done it should be. If you don't have enough experience, you could end up serving well-done steak to someone who wanted it rare, which could spoil the party and waste your culinary efforts.
To avoid any kitchen calamities, you should hire a private chef, or if you're cooking for a large group, you should hire catering services. Steaks are a classic British food, so plenty of culinary wizards know what they're doing in the kitchen with some prime cuts and can reliably cook steaks to perfection.
Getting hold of a great chef who knows how to cook steaks right used to be tricky and expensive. However, thanks to yhangry, it is now easier to access a chef and much more affordable to hire one. Yhangry is a bit like a matchmaking service. We ask you which cuisine you want, where you want it and your budget. We then connect you to an experienced chef who can make your perfect meal.
Private chefs aren't just for billionaires. Get a quote with a yhangry and discover the best chefs and caterers who can cook you the perfect steak. 
Steakhouses
Chop House
102 Constitution Street, Edinburgh EH6 6AW
Chop House is an indie eatery quickly becoming Edinburgh's most popular steakhouse. It serves a wide range of steaks using the best dry-aged British beef. Chop House offers its patrons first-class food and service and has a host of great side dishes to enjoy alongside its resplendent steaks.
Chop House is a big deal in Edinburgh and has high prices too. A night out there can easily set you back, but the quality they offer is undeniable. Don't be put off by their prices, as they offer arguably the best steaks in Edinburgh and the whole of Scotland.
They have three restaurants across Edinburgh, each offering a slightly different experience. Their original location is in Leith, which is based in a former cork warehouse and offers a great meal for a night out. They have an eatery in the old town on East Market St, noted for its buzzy electric atmosphere and stunning exterior. Their final restaurant is in the heart of Bruntsfield, a restaurant and cocktail bar with amazing views, excellent steaks and an extensive drinks menu.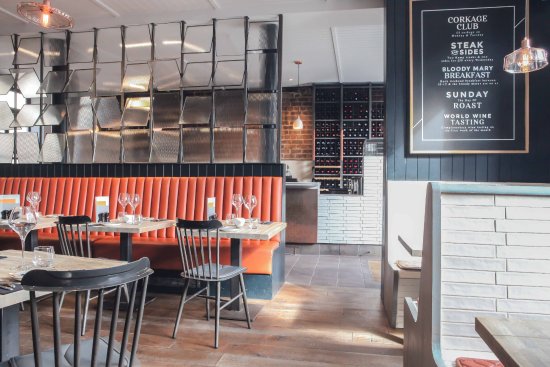 Miller & Carter Steakhouse
29 – 31 Frederick St, Edinburgh EH2 2ND
If you're looking for great chefs, an extensive selection of succulent meats and a superb range of sides, sharing boards and chargrilled meats, then the Miller & Carter Steakhouse might be perfect for you.
It has various menus, such as the chef's special menu, younger guest menus, lunch menus and a dessert menu, each filled with great options to ensure everyone can find something to enjoy at the steakhouse. Miller & Carter Steakhouse is an award-winning restaurant that has notably won "The Masters of Steak" award from the Craft Guild of Chefs for their meticulous steak production and the consistently high quality of their steaks.
Their mouth-watering steaks are a labour of love, and they use cattle reared on trusted Scottish farms for their steaks, which are dry-aged by 30 days to ensure they are full of flavour.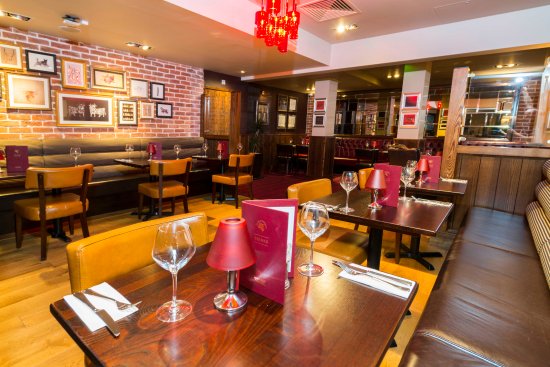 McKirdy's Steak House
155 Morrison St, Edinburgh EH3 8AG
McKirdy's Steak House is a family-owned steakhouse that has been operating for 24 years, making it one of Edinburgh's oldest still-running steakhouses. The McKirdy family have been butchers since 1895, so their steaks are made with experience and passion.
They have an unrivalled selection of Scottish-reared beef made by their own butchers. They turn this beef into outstanding steaks, which have garnered them rave reviews. McKirdy's is the enamour of Edinburgh steak fanatics, who will undoubtedly be familiar with the steakhouse.
You can find McKirdy's in the heart of Edinburgh, and if you're looking to fill your stomach, there's no better place to go. If you're not in the mood for steaks, they have plenty of chicken dishes, burgers and side dishes to ensure you won't go hungry.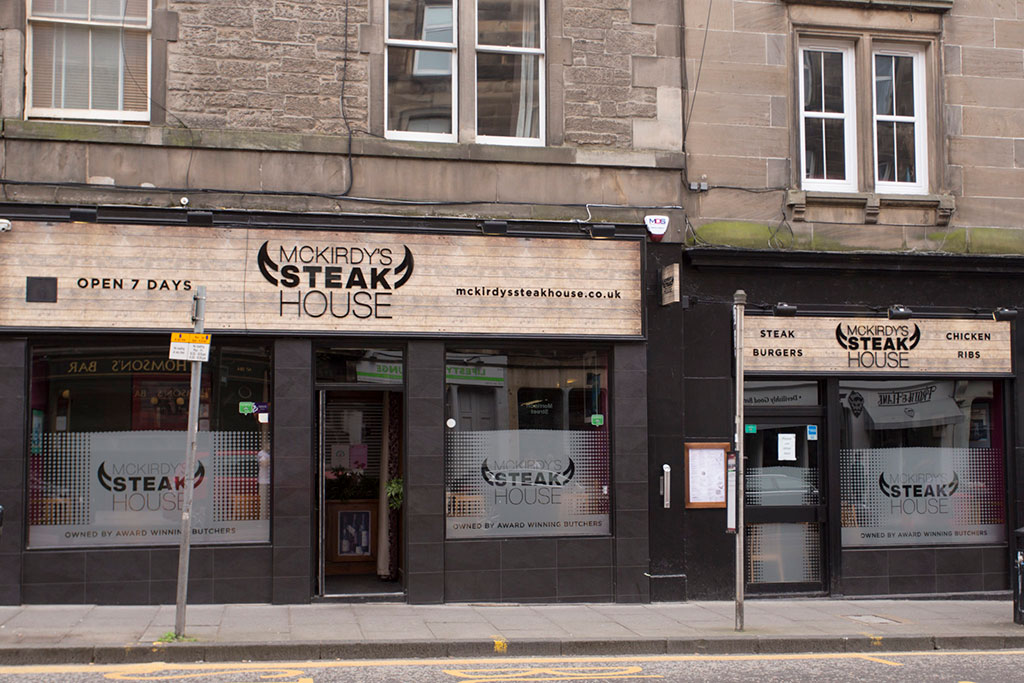 South American Steakhouses
Los Amigos
17 Dalry Rd, Edinburgh EH11 2BQ
Alongside the more-regular steakhouses, there are a handful of high-quality Argentine steakhouses in the city. Los Amigos is an excellent Argentine steakhouse with a retro style and a Latin-inspired menu. They have plenty of excellent steaks on offer for people to enjoy.
Los Amigos offers diners great authentic steaks and friendly service. It is the perfect place to eat out if you want a non-traditional steak experience.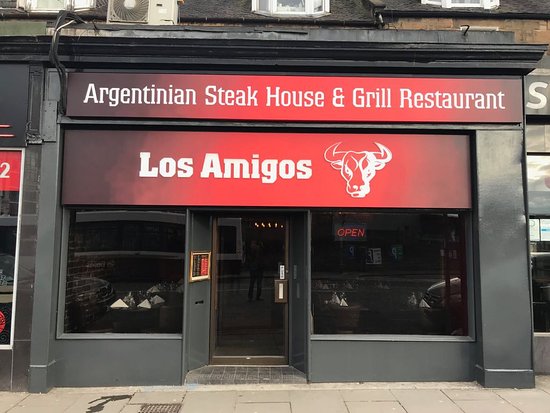 Gaucho
4a St Andrew Square, Edinburgh EH2 2BD
Gaucho is another Argentine steakhouse in the city. You can find it just off St Andrew Square. It is an upmarket steakhouse with a contemporary style and sophisticated interiors. It's a bit more upmarket than Los Amigos but still offers an authentic experience.
It's a great place to dine with a lively cocktail bar, and you can enjoy an in-house DJ on the weekends. There's plenty to enjoy. It has great cocktails, a brunch menu, good fusion dishes and even a great Sunday roast. However, Gaucho's best dish is its Aberdeen Angus steaks, which are delicious and worth the trip into the city.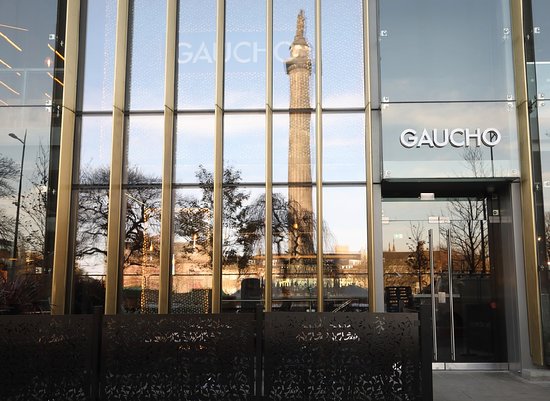 Rancho Steak House
244A Morrison St, Edinburgh EH3 8DT
Rancho Steak House is a beautiful little restaurant in Edinburgh's west end, bringing classic South American flavour to Edinburgh. It has an attractive wooden beamed interior and offers a great range of steaks, such as their Herby chimichurri, ribeye, fillet and t-bone steaks. It also has a good cocktail menu and dessert selection.
Rancho Steak House is a great place to enjoy an authentic steak, especially when rugby is on, as they show the games inside the steakhouse. They have a set menu for when they show rugby that includes some great 12 oz steaks.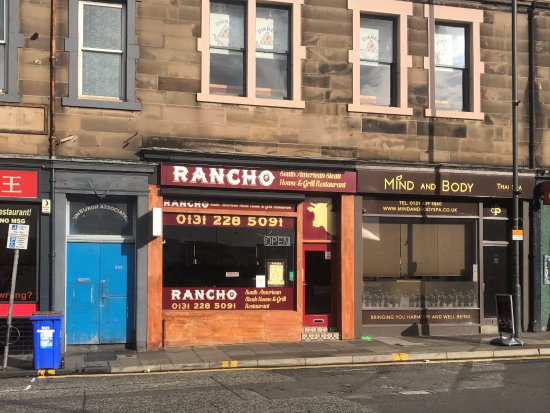 Restaurants with Great Steaks
Kyloe Restaurant & Grill
1 – 3 Rutland St, Edinburgh EH1 2AE
Kyloe Restaurant & Grill is Edinburgh's first gourmet steak restaurant and one of the favourite destinations of Edinburgh-based steak lovers. It has a superb location, delightful desserts and terrific steaks. It's hard to find anything to criticise about Kyloe.
The independent restaurant can be found on the first floor of the Rutland Hotel, and it offers a stunning view of Edinburgh castle. If you're planning a party, you're in luck, as it has private dining facilities catering to parties of 10 to 16 guests.
This classy restaurant works with some of Scotland's best farms and butchers to provide its customers with the best possible steak experience. As well as providing great steaks, it also offers an award-winning Sunday roast that you'd be a fool to miss, replete with incredible Yorkshire puddings, delicious gravy and fluffy roast potatoes.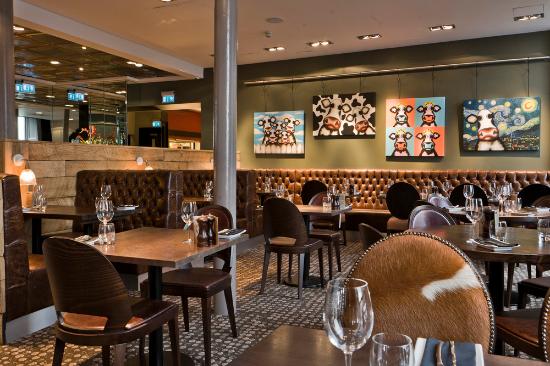 Wildfire
192 Rose St, Edinburgh EH2 4AZ
Wildfire is a restaurant that can be found in the heart of Edinburgh's New Town. It specialises in providing Scottish Aberdeen Angus steaks and west coast mussels. It's a fine, smartly furnished restaurant that offers a more intimate dining experience than a steakhouse usually provides.
It's a cosy, family-run steak and seafood bistro with an extensive menu that offers plenty of options for diners, most of which are made with locally-sourced produce. Its steaks are provided by John Gilmour Butchers, which has been providing quality Scottish beef since 1946.
Alongside its steak and seafood, it offers many traditional Scottish dishes, including locally-made haggis and fisherman's pie. It has a good drinks menu, including well-priced wines, beers, spirits and an exceptional selection of single malt whiskies. Wildfire is a good restaurant with reasonable prices.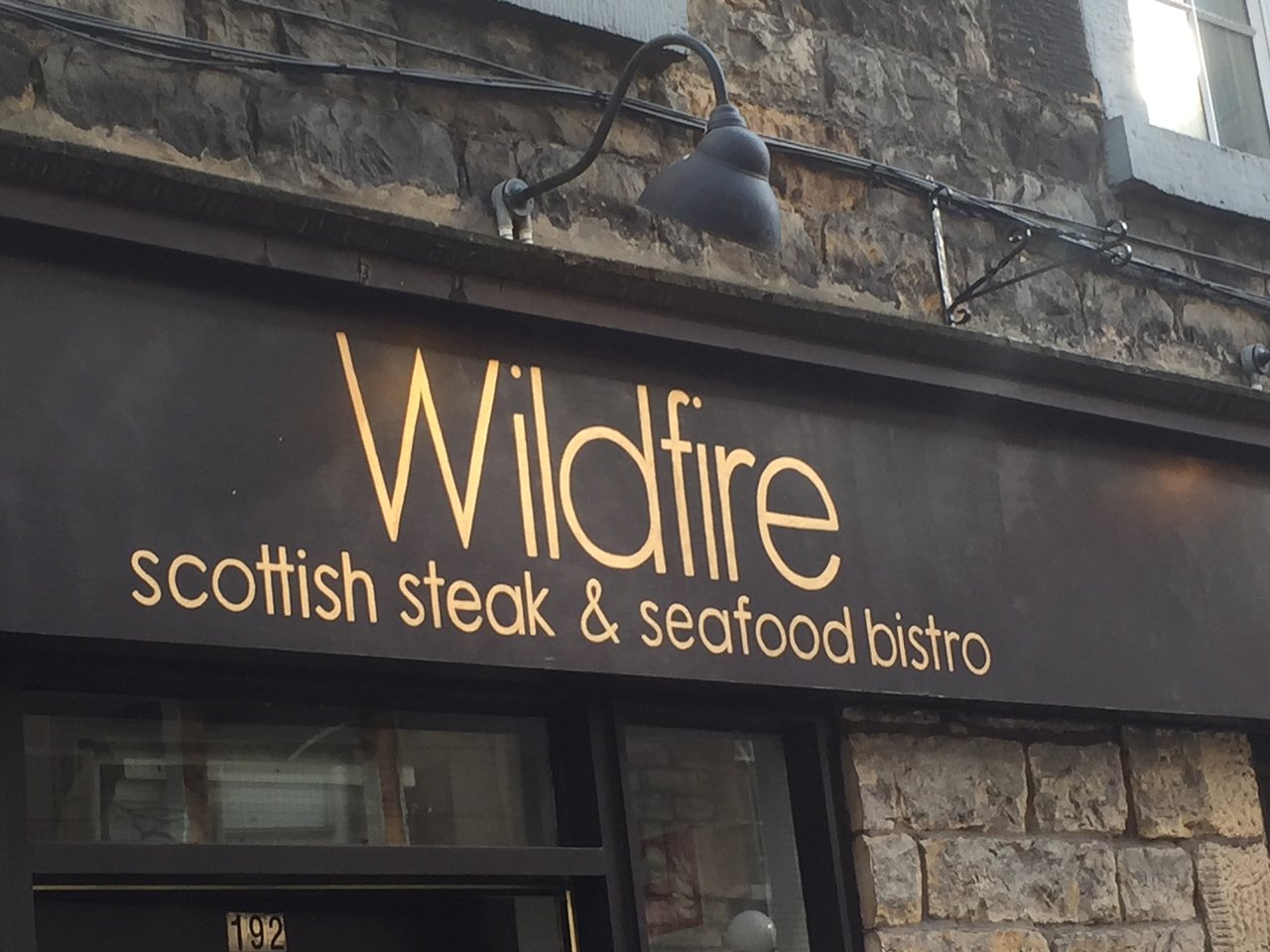 Blackwood's Bar & Grill
6 Gloucester Pl, Edinburgh EH3 6EF
Blackwood's Bar & Grill is an award-winning restaurant that offers great service and expertly done steaks. Its speciality is charcoal grilled steaks filled with an authentic charcoal flavour. They use 40% of local Scottish produce to make their meals.
Their steaks are dry-aged for at least 21 days and are cooked from grass-fed cattle on a Josper chargrill oven. Alongside their excellent steaks, they offer breakfasts featuring back bacon dry-cured by hand for eight days and organic, traditionally-made sausages.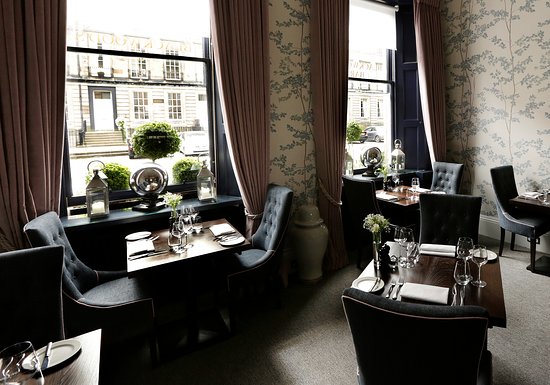 Hawksmoor Edinburgh
23 W Register St, Edinburgh EH2 2AA
Hawksmoor is an award-winning restaurant with locations in Manchester, London and Edinburgh. Its Edinburgh location is in the Grade-A listed former National Bank of Scotland Banking Hall and has been beautifully refurbished. It's a great place to dine in and offers a refined dining experience.
They have an extensive menu filled with great dishes, such as their sustainable seafood menu, but they are perhaps most notable for their prime cuts of matured beef. Their steaks are delicious and some of the best steaks in the country.
Hawksmoor doesn't offer a particularly innovative menu with new twists on traditional dishes. Instead, they stick to tried-and-true classics and do them expertly. Alongside their steaks, they offer a great cocktail menu and an incredible Sunday roast that Observer Food Monthly considers among the best in the United Kingdom. No matter what you're looking for, there's plenty to enjoy at Hawksmoor.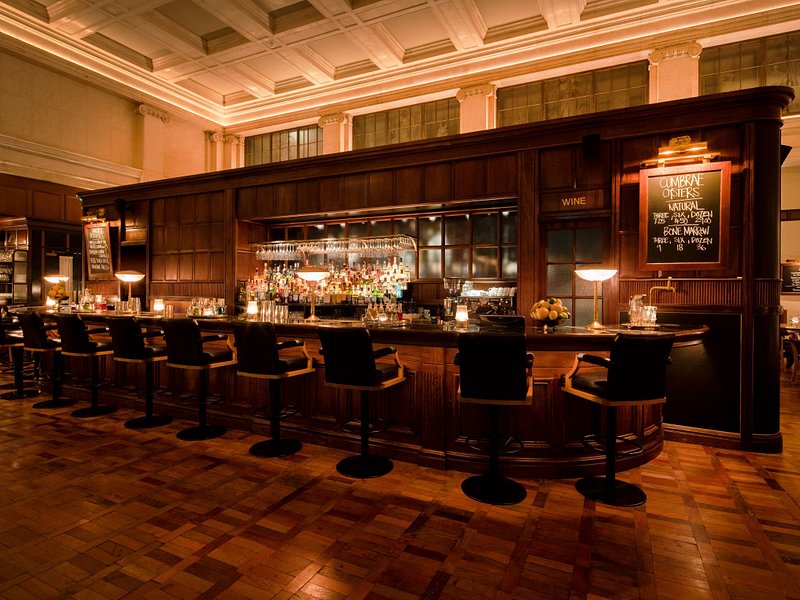 Fine Dining
Number One
1 Princes Street, Edinburgh EH2 2EQ
Number One is a Michelin-star restaurant that has been in operation since 1997 and got its Michelin-star in 2003. It is a fine dining experience in an elegant, refined dining room. The restaurant uses Scotland's fresh and finest ingredients to give you a culinary experience you'll never forget.
Number One claims to be where Scottish culture meets world-class service, and it's hard to argue with that as it is a remarkably well-run restaurant that is a must-know for any Scottish foodie. Its Chef, Matthew Sherry, is experienced with Michelin-star food as he was previously the head chef at Michelin-starred Northcote, Lancashire.
Although it is not their signature dish, Number One can make an excellent steak alongside many other tasty dishes. It provides seasonal menus that routinely feature Scottish classics with a modern twist. If you're looking for a one-in-a-million experience, you should go to Number One, which was named one of the world's best restaurants in the prestigious La Liste 2022.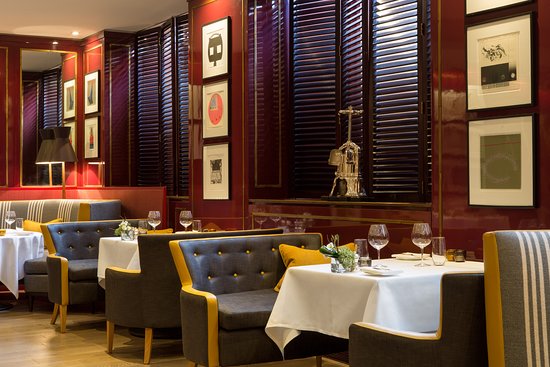 Restaurant Martin Wishart
54 Shore, Edinburgh EH6 6RA
Martin Wishart is an award-winning restaurant in Leith that gained its Michelin-star in 2001 and has retained it ever since due to its consistently brilliant food and great ambience. This fine dining establishment is a favourite of many Edinburgh diners thanks to its inventive, well-crafted menu.
It is an elegant restaurant often considered the crown jewel of Edinburgh's fine dining scene. It uses classic French culinary techniques on Scottish ingredients to offer a modern cuisine that is creative and sophisticated without being pretentious. Martin Wishart does a fantastic 35-day-aged Tweed Valley sirloin that is delicious and tender.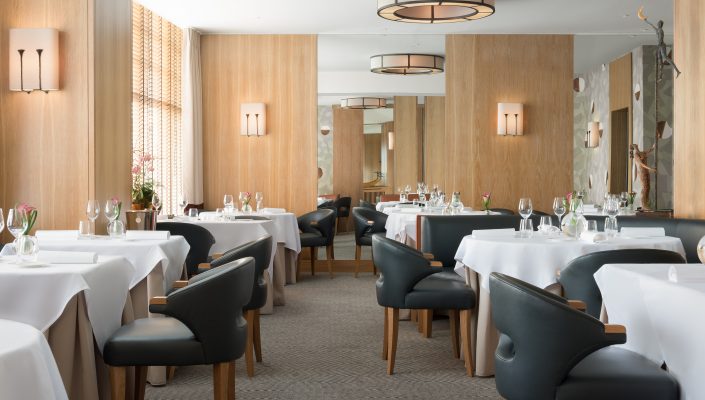 FAQs

Which restaurant in Edinburgh has the best Angus beef?

Edinburgh is filled with great restaurants that serve excellent grass-fed Angus beef. It's hard to narrow it down to a solitary best steak restaurant, but you can't go wrong with a steak at Kyloe or Chop House.

What are the best steaks to order at a restaurant?

The perfect steak depends on your personal taste. If you want a tender steak, order a fillet; if you want a flavourful steak, choose a ribeye.

Is Angus better than Wagyu?

Although both steaks are incredibly delicious, it is generally agreed that Wagyu steak is of higher quality and tastier due to its marbling, which makes it moister, more tender and flavoursome.