Leeds is an exciting and vibrant city with a wide range of activities for any group looking for a great stag party. Leeds provides plenty of opportunities for an unforgettable time, from its bustling nightlife to its many cultural attractions and sports venues.
So, whether you're looking for a wild night out or something more relaxed, Leeds has it all. With fantastic restaurants, bars and clubs, and outdoor activities like paintballing and go-karting, there's something to suit everyone in your group when organising a Leeds stag do.
Introducing yhangry: Great Food for Your Stag Party
In addition to the many activities Leeds has to offer for a stag party, you also need to consider food options. This is where yhangry comes to the rescue. Yhangry is an innovative platform that connects you with private chefs in your area to provide excellent catering services for any occasion, including stag nights.
With yhangry, you can choose from various menu options that cater to all dietary requirements and preferences. Private caterers can whip up anything from classic British food to more elaborate international dishes to satisfy your taste buds. You can even customise your menu to include your favourite dishes and drinks.
Perhaps you fancy a private chef to whip you up a manly BBQ with traditional steaks, burgers and kebabs, all washed down with plenty of beer. We have you covered. Or perhaps your taste is more refined, and you fancy sitting down to a gourmet meal. Whatever your taste, catering from yhangry will give you a memorable experience.
Yhangry saves you the stress of cooking and shopping for ingredients by providing an end-to-end service that includes sourcing ingredients, food preparation, table service and clean up, depending on the number of guests. This way, you can enjoy the stag night without worrying about meal planning and preparation hassle.
So why not get a quote right now and make your Leeds stag do even more memorable with a delicious meal prepared by a private caterer from yhangry?
10 Leeds Stag Do Ideas That Will Leave a Lasting Memory
Thinking of stag-do ideas in Leeds can be difficult with so many options out there. To make it a little easier, we'll get your brain in gear with ten of our own ideas for a memorable stag do in Leeds. From hiring your own private chef to cook for you and your mates in your own home to the traditional pub crawl around the city, there's sure to be an idea for everyone!
Hire a Private Chef for Home Catering
For a stag party that's all about food and relaxation, why not hire private caterers to prepare a delicious meal for you and your friends in the comfort of your home or outside for a garden party? You can relax while the chef takes care of everything, creating a menu tailored to your tastes and preferences.
A private chef allows you to enjoy a restaurant-quality meal in whatever situation you fancy. Perhaps you fancy an outdoor BBQ and lawn games for your stag night? Or a movie and drinks night with the best food you can buy?
Where to go: You can find private caterers in Leeds here on yhangry, so why not get a quote now and see what we can do to make your stag memorable?
Paintballing
If you're looking for an adrenaline-fueled day out, paintballing is a great option for a Leeds stag do. You and your friends will have the chance to compete against each other in a variety of game modes, from capturing the flag to the last man standing. With plenty of different arenas to choose from, you'll have the chance to try different play styles – and the equipment provided ensures everyone is safe.
Paintballing is a great way to release steam and bond with your friends. It's fine for those with varying fitness levels, as you can adjust the intensity of the games to suit. However, paintballing can be messy and unsuitable for some people depending on the weather.
Where to go: Delta Force Paintball.
Address: Denby Dale Rd, Wakefield, WF4 4JN.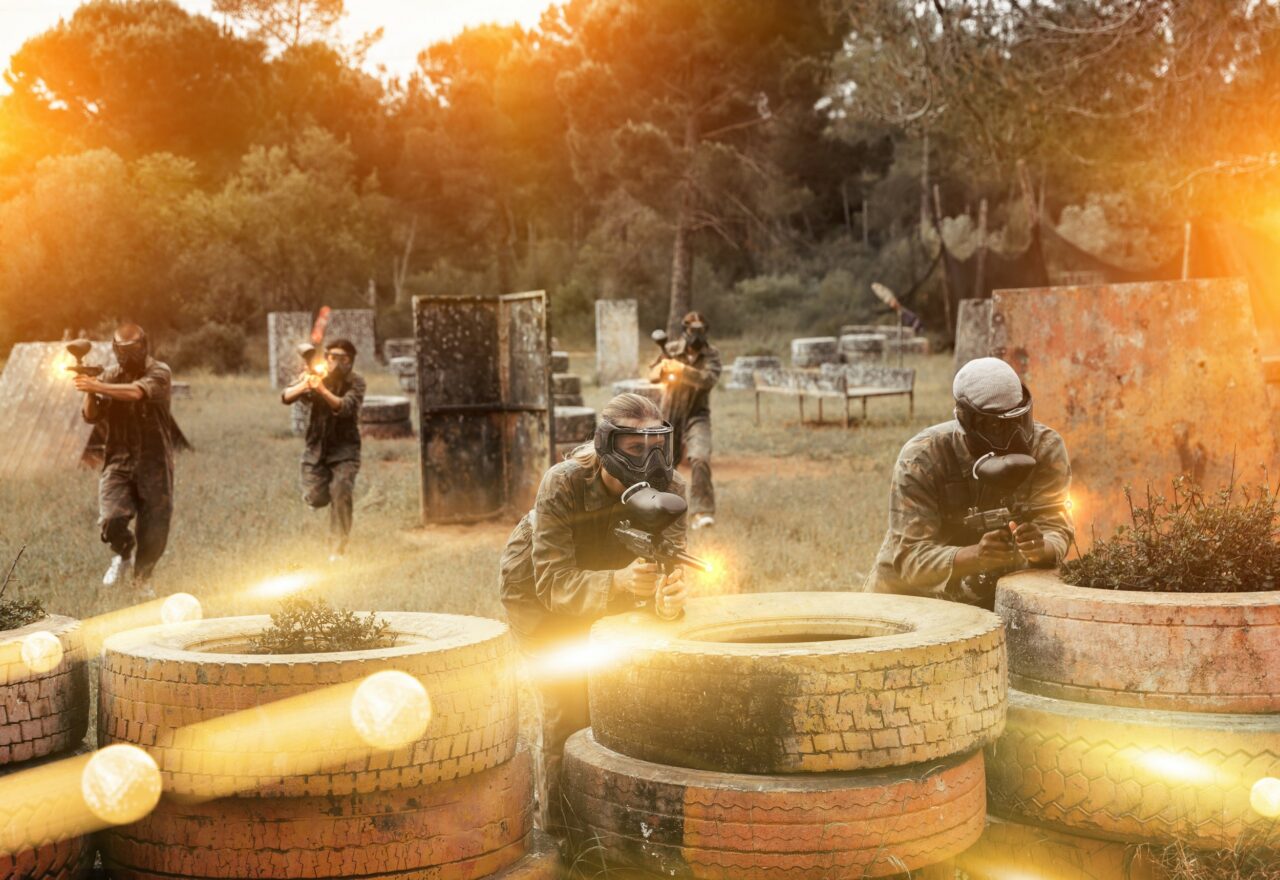 Go-Karting
Another high-energy activity for a stag do in Leeds is go-karting. You'll have the chance to test your driving skills against your friends on various tracks, from tight and twisty indoor courses to longer outdoor circuits. Whether you're a seasoned driver or a beginner, go-karting is a fun and challenging activity everyone can enjoy.
Go-karting is a great option for groups of all sizes and abilities. It's also a good choice if you're looking for a more structured activity. With that said, go-karting can get expensive depending on where you go, and some people may find it repetitive after a while.
Where to go: TeamSport Karting.
Address: S Accommodation Rd, Leeds, LS10 1NQ.
Brewery Tour
A brewery tour could be just the ticket if you're looking for a more relaxed and laid-back time on your stag do in Leeds. The city is home to several excellent breweries, each with its unique style and range of beers. A brewery tour allows you and your friends to learn about brewing, sample some great beers and enjoy a few drinks in a relaxed setting.
A brewery tour is also a fantastic way to unwind and spend quality time with friends – a good option if you're looking for something a little more low-key without the wild nature of a pub crawl.
Where to go: Northern Monk Refectory.
Address: Marshalls Mill, Marshall Street, The Old Flax Store, Leeds, LS11 9YJ.
Escape Room
For a mental challenge that will test your problem-solving skills, an escape room is a great option for a stag do in Leeds. You and your friends will be locked in a themed room and given a set of puzzles and challenges to solve to escape. With a range of different themes to choose from, including horror, mystery and adventure, there's something for everyone.
Guests can expect to spend an hour or two trying to solve the puzzles and escape the room. It's a great opportunity to work together as a team and put your minds to the test, and the sense of achievement when you finally escape is unbeatable.
Where to go: The Great Escape Game.
Address: Atlas House, 31 King St, Leeds, LS1 2HL.
Cocktail Making
If you want a Leeds stag do that's a little bit more sophisticated, why not try your hand at cocktail making? You'll be guided through mixing, shaking and stirring a range of different cocktails, learning about the history and ingredients of each one. You can create your signature cocktail with plenty of variations to impress your friends.
Cocktail making is a great option for groups who enjoy a good drink and want something more refined. However, cocktail-making can be quite expensive, and some people may not enjoy the taste of certain mixes.
Where to go: The Alchemist Trinity.
Address: Level 1, Trinity, Leeds, LS1 6HW.
Bubble Football
For a stag do in Leeds that's a bit more unusual, why not try your hand at bubble football? You'll be strapped into a giant inflatable bubble and set loose on a football pitch to score as many goals as possible. The bubbles add an extra level of challenge and hilarity to the game, and it's a great way to exercise and have fun with your friends.
Bubble football is a unique and hilarious activity that creates great memories. Watch out for the weather, as bubble football can be hot and uncomfortable in summer.
Where to go: Excel Bubble Football.
Address: Redcote Lane, Off Kirkstall Road, Leeds, LS4 2AW.
Quad Biking
For a Leeds stag that's slightly more adventurous, why not try your hand at quad biking? You'll be able to navigate various terrains, from mud pits to steep hills while driving a powerful quad bike. It's a great way to get the adrenaline going and test your driving skills.
Quad biking is an exciting and thrilling activity that creates great memories. It's also a good option for groups of all sizes, but it's important to gauge the abilities of your guests as some people may not enjoy the rough and bumpy terrain.
Where to go: Yorkshire Outdoors.
Address: Felixkirk, Thirsk, North Yorkshire, YO7 2DP.
Comedy Stag Nights
For a stag do that's all about laughter and entertainment, why not visit a comedy club? Leeds is home to various comedy venues, each offering its unique lineup of comedians. It's a great way to relax and enjoy good humour with friends.
Comedy clubs are always an entertaining way to spend an evening and fit most budgets and group sizes. However, everybody has a different sense of humour, and it can be difficult to find a comedian that is suitable for all tastes. It may be wise to sound out everyone in the group about what's on the bill, particularly if any comedians are likely to be performing controversial material.
Where to go: Leeds Comedy Club.
Address: Inside Pryzm 16, 18 Woodhouse Ln., Leeds, LS2 8LX.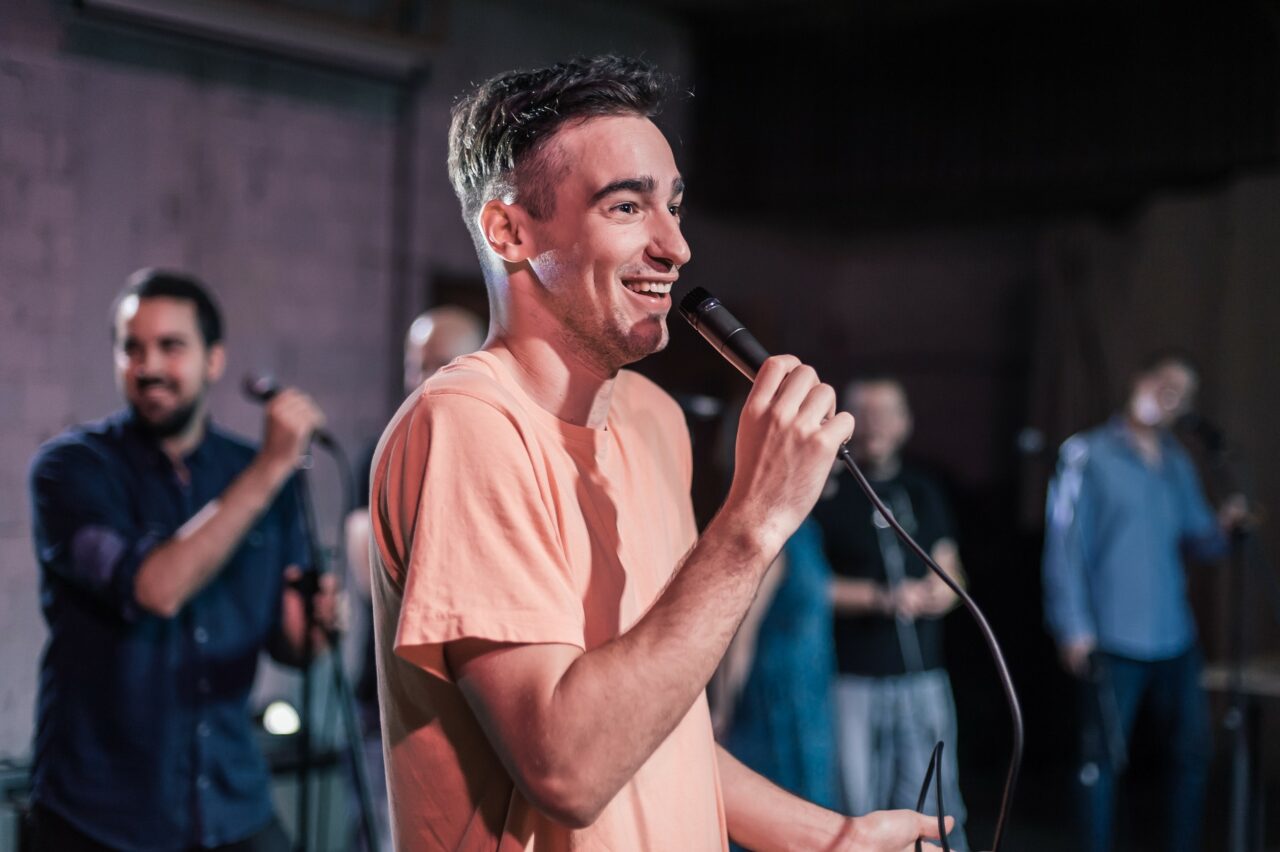 Bar Crawl
No Leeds stag do would be complete without a pub crawl. Leeds has many pubs, bars and clubs, each with a unique vibe and atmosphere. A pub crawl is the perfect way to experience some of the best drinking spots in the city and get a taste of the local nightlife.
A pub crawl is a fun and social way to experience the nightlife of Leeds. Remember, a pub crawl can be quite tiring, and some people may not enjoy some of the bars' crowded and noisy atmospheres.
Where to go: The exact route of the pub crawl is up to you, but some popular areas to explore include Call Lane, Greek Street and the Northern Quarter.
Conclusion
Leeds is a great city for a stag party, with plenty of activities and entertainment. Whether you're looking for something unique, adventurous or just plain fun, there's sure to be something to suit your group. Leeds has everything from bubble football and go-karting to comedy clubs and bar crawls!
Now that you have decided on the perfect activity for your stag do in Leeds, all that is left is to go out there and make some awesome memories with your friends!
FAQs

What are some popular stag-do ideas in Leeds?

Some popular stag-do ideas in Leeds include brewery tours, paintballing, go-karting and escape rooms. However, if you're looking for a stag night we haven't discussed, maybe you could consider looking up indoor skiing, axe throwing or an event focused on Leeds United Football Club.

What stag-do ideas are best for a large group?

For a large group, go-karting and paintballing are great choices. Both activities have plenty of space for large groups to spread out and enjoy the activity. These events provide plenty of adrenaline and excitement for your stag night, and participants will surely have an enjoyable time.

What ideas for stag nights are there that are focused on food?

You might consider hiring a private chef if you want stag-do ideas centred on food. Here at yhangry, we connect you to private caterers in your area, with plenty of catering options available in Leeds. Perhaps you could combine your catering with entertainment, such as an outdoor cinema screen, lawn games, a dinner party or a BBQ.