Flavour Tales From
Chef Alessandro

Italians live to relish the flavours of their culinary traditions. Italian private chef Alessandro talks to yhangry about bring Italy to your kitchen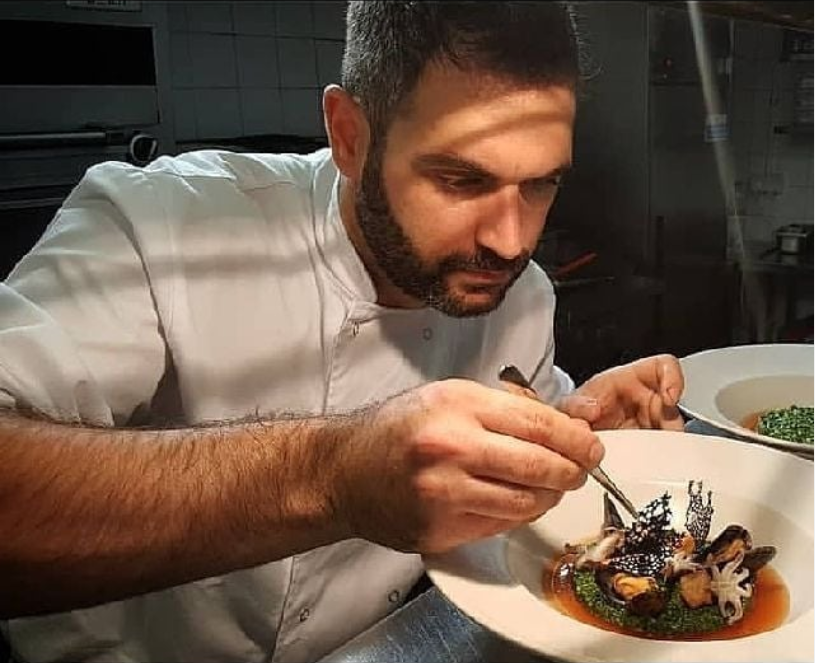 It is common knowledge that Italians love their food. Talking about it, eating it, cooking it and feeding others; For Italian Private Chef Alessandro, growing up in a small village in Southern Italy, food was a central element. He recalls his earliest memories being those of large extended families gathered around large tables laden with food. Be it social events, family events, laughter, important decisions, or arguments, none of them took place on an empty stomach. Hence, with traditional food taking a centre stage in his life early on, his passion only enhanced when he trained in Bologna, learning to handmake masta from Bolognese masters. From the kitchens in Bologna, to moving to the UK in 2014, and serving Head Chef  at the Pierre Victoire and the Rabbit Restaurant, London, to being a full-time private chef and business owner, Chef Alessandro's journey has certainly been one that has gone from strength to strength.

How did you get into cooking?
Looking back, how I came to be a chef is a story nothing short of shocking! When I was 18, used to work as a handyman for a catering company in Bologna where my daily duties included washing dishes and floors, waiting on people, some accounting and from time to time, helping the chef in the kitchen. But I had love and appreciation for food and a intense drive to learn. This pushed me little by little, to what would become my career as a chef. Every single day, I would stay back in the kitchen, pen and paper in hand, asking questions, jotting down chefs' secrets in my notebook that I hold on to zealously, even now. Then the course of my entire life changed in a single day! On the eve of an important event, the chef of the catering company I was working at, had a disagreement with the owners and left the business with no notice. The owners had no other option than to put me in charge and the rest was written in the stars. 20 years ago, that was the first time I wore the chef's jacket at the age of 20 and now it is like second skin.
How did you come to specialise in Traditional Italian cuisine?
The early influences on my passion for traditional Italian cuisine can be attributed to my grandmothers first, and then to my mother. Trying to emulate those who for me were (and still are) the best chefs in the world, has always been my primary goal. Once this goal has been achieved, modelling, improving and adapting the cooking style with innovative and modern techniques have made me the private chef I am today.
What drives me is being able to serve up these traditional recipes, using traditional methods. All my menus are created according to the old Italian tradition of homemade pasta. Kneading the dough by hand, flattening the dough with an antique roller, inherited from my grandmother, painstakingly cutting and shaping each piece of pasta, one at a time; I hold these lessons and respect for tradition close to heart. I believe that is what is the only real way to make authentic pasta. From Northern Italy to the Southern Peninsula, I love the diversity of  the Italian cuisine. I strive to bring the authentic taste of Italy to one's table, the taste of Liguria and Calabria with a plate of  Spicy Trofie N'duja e Salsiccia, and the taste of Puglia in Orecchiette with Chilli, Broccoli and Aromatic bread, the traditional Burrata Pugliese with Rucola e Pine nuts or even Zinzuli Alla Puttanesca. 

What started out as a pleasant passion, over the years turned into a career and my signture. With food, emotions are transmitted, a synergy is created with the client, and a very close relationship is established where the best senses are stimulated.

If there is one comfort dish you love to cook, what is it?
I really like Carbonara, as a fast comfort dish. It is easy to make. Of course, there is no bacon and cream in it when I make it. It is the authentic carbonara from Rome, made of  egg yolk, Pecorino Romano cheese and Guanciale. Just delicious!


Given how diverse Italian cuisine is, do you have any ingredients you are partial to?
There are a series of ingredients that can never be missing in my kitchen! They are all ingredients that reflect who I am and where I came from. The "soffritto" with which I begin my whole food process must necessarily contain the following ingredients: Onion, garlic, celery and wild fennel seeds (if I'm cooking meat). Capers, parsley, garlic, chilli and anchovies if, on the other hand, I cook a dish based on fish.
But, if I have to be honest and reveal one of my secrets, anchovy is the ingredient I put on top of all the others. It must never be missing in fish-based dishes and I love to put a couple of them in the "soffritto" for meat-based dishes such as ragu. Other Italian private chefs would do well to note that they are salty and can be an excellent substitute for salt and they give me that extra boost by elevating the taste. It is advisable to not overdo it however as anchovies have a strong flavour.



What do you find most enjoyable as a chef?

What I love most about my job is sharing experiences. I was called to design a new menu and train the staff at a beautiful restaurant in Moldova and jumped at the chance. It was a special and unique experience for me as I was not just executing a job but narrating the story of my origins through food. Exporting typically Italian products, teaching ancient traditions of homemade pasta, and using simple ingredients dedicated by tradition were special as my whole story was contained in a single plate of handmade Trofie with Octopus Sauce. It was designed to evoke the nostalgia of a day spent fishing with my father, and my mother preparing pasta at home. Transmitting those flavours and memories of my youth, to the food and sharing them with the world, is priceless.
Do you have any favourite client stories?
I once added the Trofie al Pesto Genovese as a vegetarian dish on a menu, obviously following the tradition of the city of Genoa. An Italian customer decided to send the dish back complaining that he had found potatoes and green beans along with the pasta and pesto. The original recipe for pasta and pesto includes the addition of boiled potatoes and green beans. Fortunately, the matter was resolved by a Genoese waitress who, showing her identity card to the customer, told him that this is how her grandmother used to do it. A quick fact check on google search calmed the Italian customer and resolved the matter. Italian cuisine is so varied that often not even an Italian knows well the traditions and origin of the dish.
Tips for aspiring chefs

Hard work and passion are the keys to success. But, at some level, it takes a pinch of madness. Knowing how to propose the new, without fear of criticism, is a step that only the bravest can take. As a  that this should be done without ever forgetting the roots.



About us

Yhangry is a private chef platform, featured on BBC's Dragons' Den. If you are planning a party and staying in a rented venue, you can find and book local private chefs to cook for your group. You simply choose from our chefs' menus starting from £30pp. The chef will bring the shopping, cook up a feast and clean up in the kitchen, so you get to enjoy a fabulous time with your friends without having to worry about the cooking.