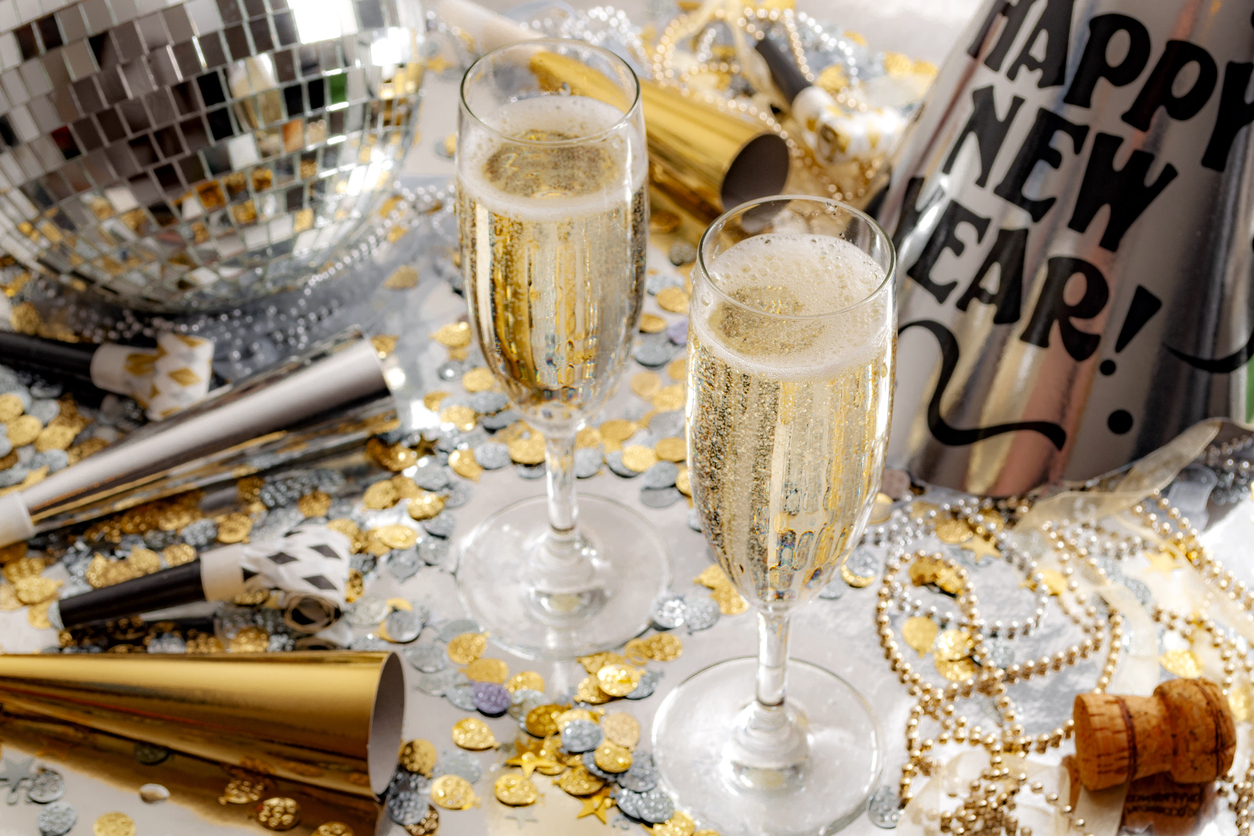 Welcome to your ultimate guide to New Year's Eve gastronomic delights. We've handpicked a smorgasbord of recipes that range from chic canapés and robust mains to sinful desserts and whimsical cocktails. Whether you're throwing the bash of the year or hosting a cosy night in, these culinary creations are guaranteed to make your guests' eyes sparkle even before the fireworks begin.
So, tie up that apron, uncork the bubbly, and let's dive into a New Year's Eve feast that promises a night awash with flavour, laughter, and love. Here's to making this New Year's Eve a night to remember!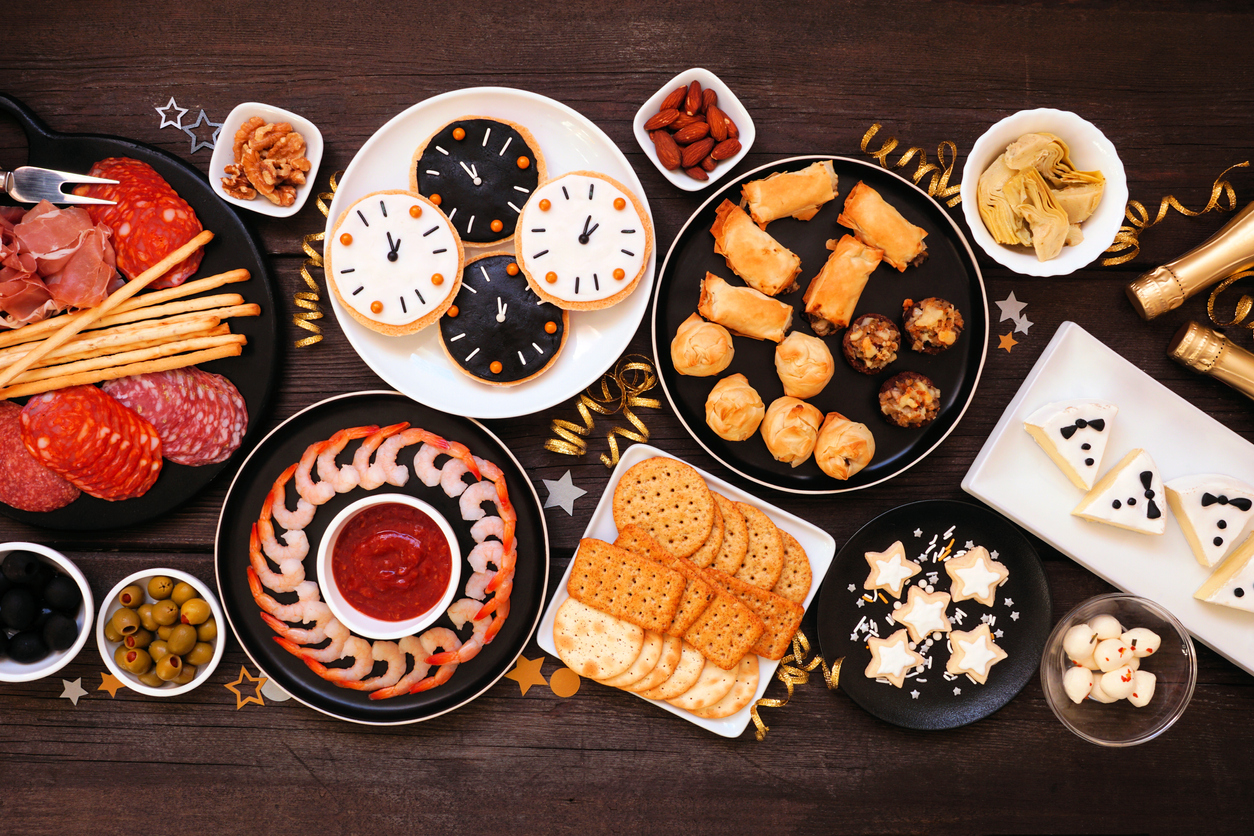 Start the Party With Sensational Starters
The clock is set, the champagne is chilling, and as your guests arrive, it's the sensational starters that set the mood for a New Year's Eve to remember.
Canapés and Nibbles
The first impression is everything, and your New Year's Eve party should start with a bang! These easy-to-make canapés and nibbles are delicious and visually stunning, sure to wow your guests as they arrive.
Cheese Puffs: Light, airy, and filled with cheesy goodness, these puffs are the perfect bite-sized treat.

Salmon Deviled Eggs: A timeless favourite, elevated with a garnish of smoked salmon for an added dash of sophistication.

Smoked Salmon Toasts With Horseradish and Cress: Elegant and flavorful, these toasts are a delightful combination of textures.

Christmas Pickle Crostini: A festive favourite that brings a tangy crunch to the party.
Pro Tip: Serve these starters on stylish platters, and don't forget to pair them with a refreshing welcome drink like pimped-up Prosecco.
Vegan and Gluten-Free Options
Inclusivity is the key to a successful party, and these vegan and gluten-free options ensure that everyone can indulge in the celebration.
Vegan Winter Rolls: Fresh and vibrant, these rolls are packed with flavour and perfect for those seeking a healthy option.

Gluten-Free Mince Pies: A holiday classic made accessible for all without sacrificing taste or texture.
Pro Tip: Labeling your dishes with dietary information helps guests easily navigate food choices.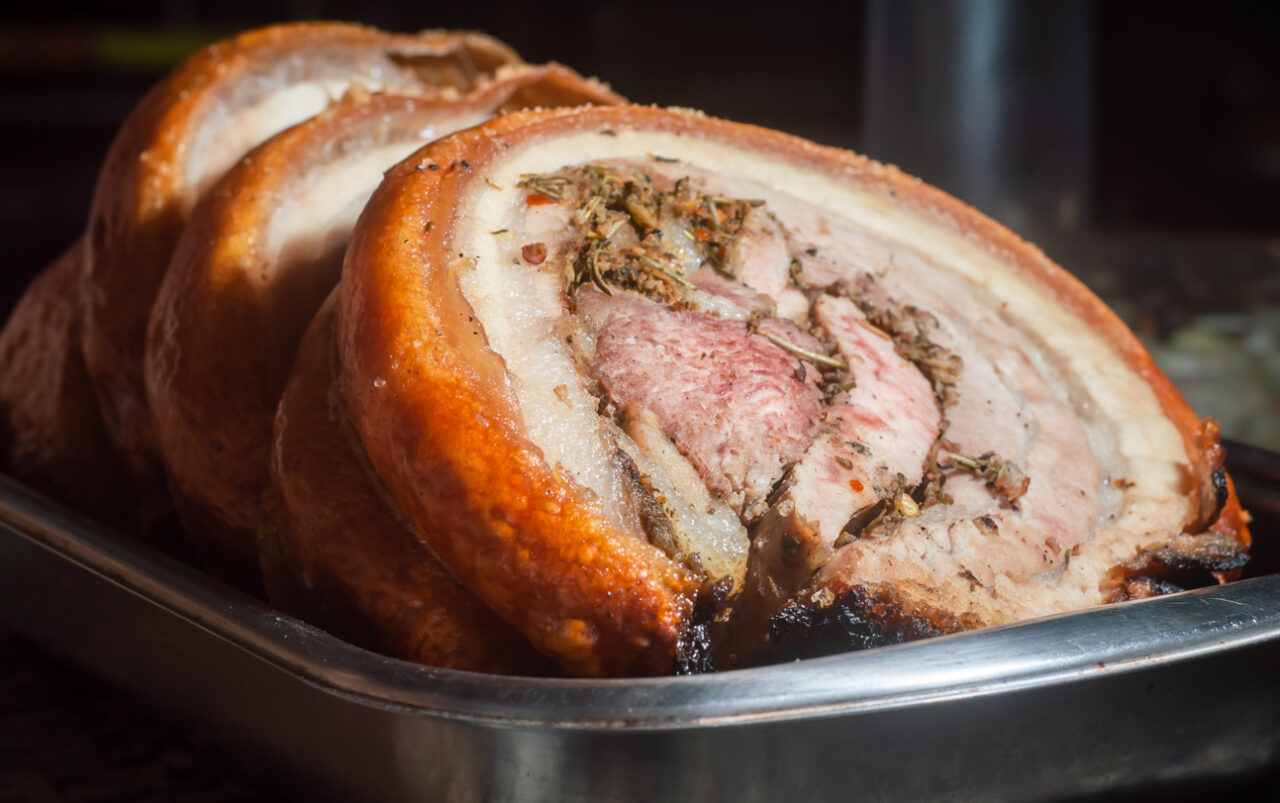 Main Courses
Crafted to tantalise the senses, our selection of entrées is the epitome of culinary grandeur. Whether you're a meat aficionado or a vegetarian, there's something here to make your taste buds sing. So, prepare for a gastronomic journey that will be the talk of the night, long after the fireworks have faded.
Meat Lovers' Delights
When it comes to the main course, it's time to pull out all the stops. These meat-centric dishes will satisfy even the most discerning carnivores at your party.
Porchetta: This Italian roast pork dish is succulent, flavorful, and a true showstopper.

Roast Duck With Honeyed Figs: A rich and elegant choice that pairs beautifully with seasonal fruits.

Mexican Marinated Pork Tenderloin: Add some spice to the evening with this zesty and tender pork dish.
Pro Tip: Consider offering a carving station for larger cuts of meat, allowing guests to choose their preferred portion size.
Vegetarian and Vegan Feasts
Who says the main course has to be all about meat? These vegetarian and vegan dishes are so flavorful and satisfying that even meat lovers will be coming back for seconds.
Mushroom and Squash Vegetarian Wellington: A hearty and beautiful centrepiece for the vegetarian table.

Vegan Nut Roast With Cranberry Tart: Nutty, savoury, and paired with a tangy cranberry tart, this dish is a vegan delight.

Roasted Fennel and Pine Nut Polpette: These vegetarian meatballs are flavourful and perfect for sharing.
Pro Tip: Balance the richness of these main courses with fresh and vibrant side dishes like a roasted squash and couscous salad or a Tuscan tomato and bread salad.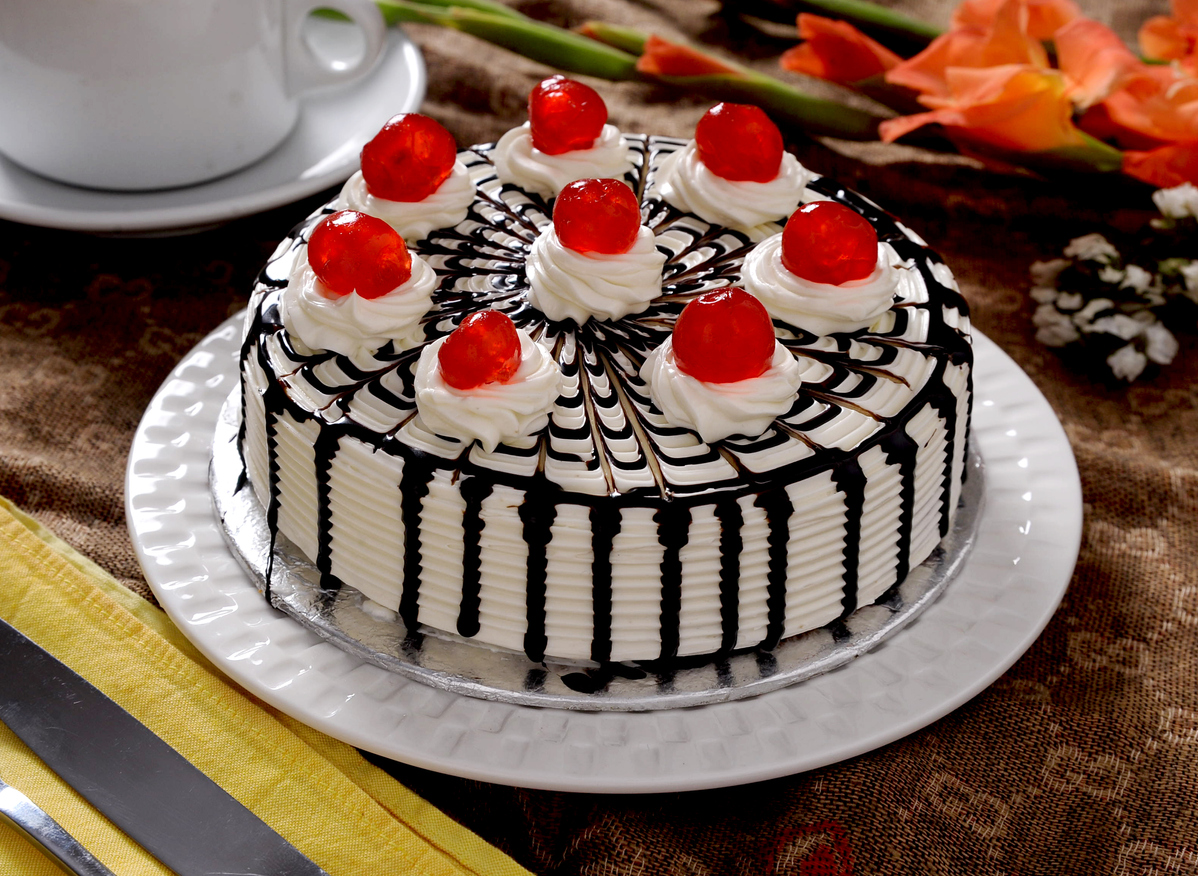 Delectable Desserts
Dessert is the grand finale of any feast, and these sweet treats are designed to leave a lasting impression. From classic indulgences to modern twists, these desserts satisfy every sweet tooth.
Vegan Chocolate Pots: Rich and creamy, these pots are a vegan delight everyone will enjoy.

Black Forest Frozen Cheesecake: A frozen twist on a classic, perfect for a refreshing end to the meal.

Baileys Pavlova: Light, airy, and infused with the beloved Irish cream, this dessert is a crowd-pleaser.

Mojito Cake: Bring the party to the dessert table with this cocktail-inspired cake.
Pro Tip: Offer a dessert bar with various mini treats, allowing guests to sample different flavours.
Gluten-Free Goodies
No one should miss out on the joy of dessert; these gluten-free goodies ensure everyone can indulge on New Year's Eve.
Gluten-Free Pumpkin Pie: A seasonal favourite that's comforting and delicious.

Salted Butterscotch Popcorn Cheesecake: A playful and decadent dessert that's sure to impress.
Pro Tip: Consider serving dessert with speciality coffee or dessert wines for a sophisticated touch.
Cheers to the New Year With Creative Cocktails
Raise a glass to the New Year with these creative cocktails that put a twist on classic favourites. Whether shaken or stirred, these drinks will surely add sparkle to your celebration.
Pimped-Up Prosecco: Elevate your bubbly with fresh fruit and herbs for a personalised touch.

Manhattan With Cherry Infusion: A classic cocktail with a cherry twist, perfect for sipping.

Charlotta Champagne Cocktail: A blend of champagne and citrus, this cocktail is a refreshing delight.

Winter-Spiced Pear Cocktail: Warm spices meet crisp pear in this seasonal favourite.
Pro Tip: Set up a DIY cocktail station with various mixers, garnishes, and spirits, allowing guests to create their own concoctions.
Non-Alcoholic Options
Not everyone indulges in alcohol, and these non-alcoholic options ensure that everyone can join in the toast.
Orange and Rosemary Fizz: A zesty and herbaceous mocktail that's as sophisticated as its alcoholic counterparts.

Frozen Mango and Lime Margaritas: A tropical treat that's refreshing and fun, perfect for guests of all ages.
Pro Tip: Serve non-alcoholic options in elegant glassware to maintain a festive and inclusive atmosphere.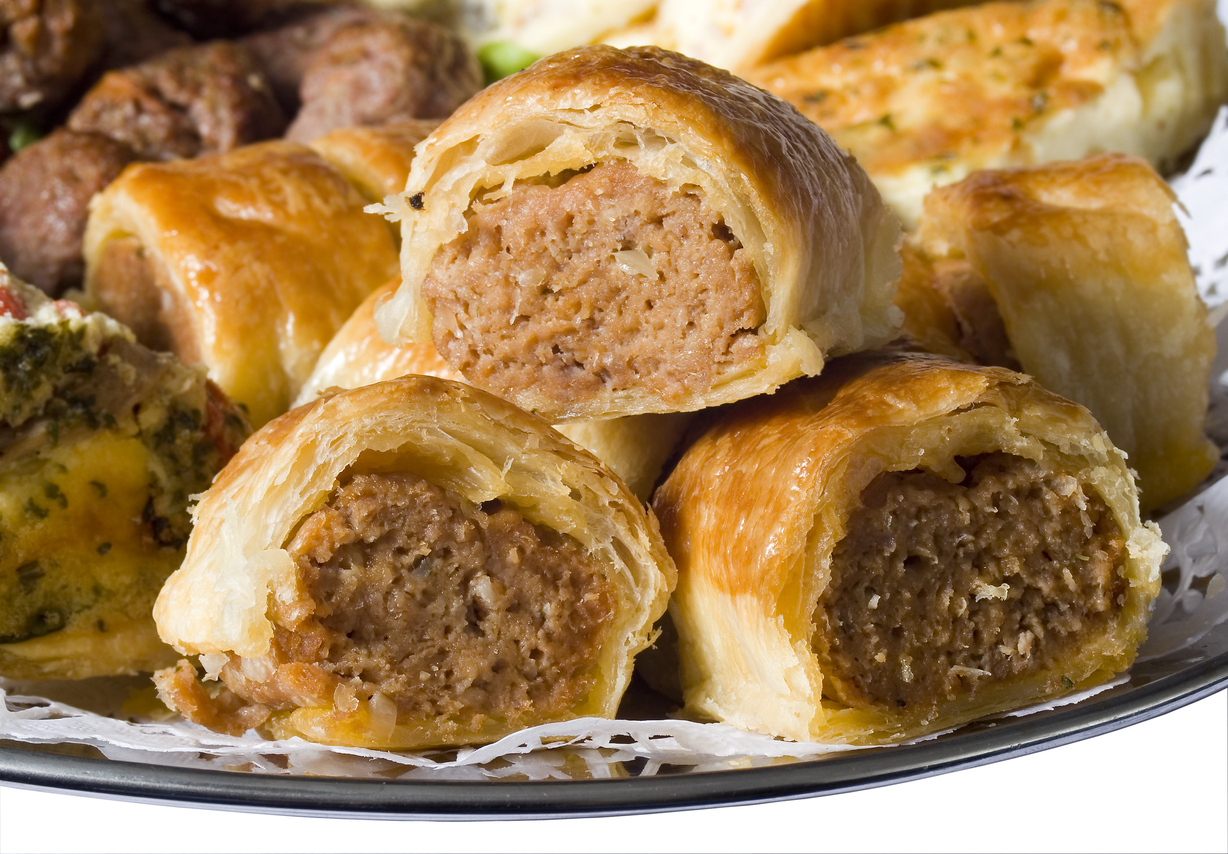 Sharing Dishes and Finger Foods
New Year's Eve is about coming together, and these sharing dishes encourage a communal dining experience. Perfect for mingling and casual dining, these platters are sure to please a crowd.
Lamb Carnitas With Plum-Sriracha Sauce: A flavorful and tender lamb dish perfect for sharing.

Lobster Mac 'n' Cheese: A luxurious twist on a comfort food classic, served family-style.

Tear 'n' Share Sausage Roll: A fun and interactive dish that guests can pull apart and enjoy.

Persian Aubergine Bake: A vegetarian option rich in flavour and perfect for communal dining.
Pro Tip: Serve sharing dishes on large, attractive platters and provide small plates for guests to help themselves.
Finger Foods and Snacks
Keep the party going with these finger foods and snacks that are perfect for grazing throughout the evening.
Harissa Hot Wings With Hazelnut Dukkah: Spicy and crunchy, these wings are a hit with spice lovers.

Avocado Fries With Spicy Dipping Sauce: A trendy and tasty snack that's perfect for dipping.

Mini Lobster Rolls: A bite-sized version of a classic, adding a touch of elegance to your snack table.

Baked Camembert Toppers: A gooey and indulgent cheese dish that's perfect for spreading on crackers.
Pro Tip: Set up a snack station with various dips, chips, and finger foods, allowing guests to mix and match their favourites.
Elevate Your New Year's Eve Celebration With yhangry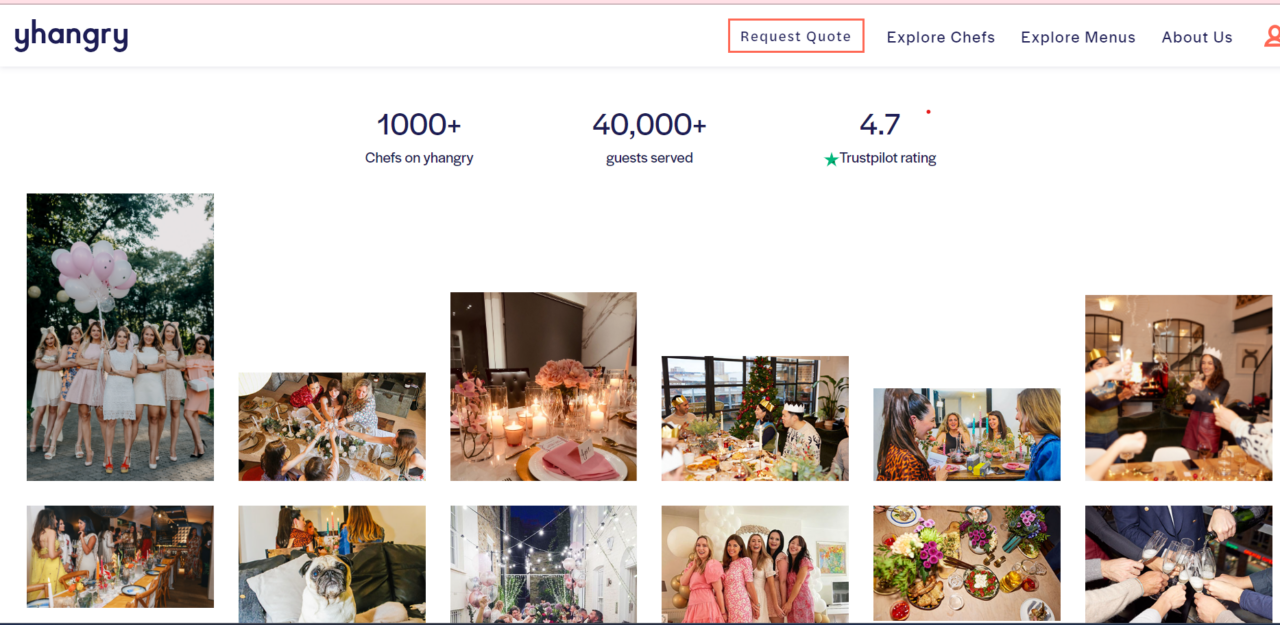 At yhangry, we understand that hosting a New Year's Eve party can be both exciting and overwhelming. The pressure to create the perfect menu, the stress of cooking, and the desire to impress your guests can all add up. That's why we're here to make your celebration delicious and effortless.
With yhangry, you can hire a private chef for New Year's Eve who will take care of everything from menu planning to cooking and cleaning up. Imagine enjoying restaurant-quality food in the comfort of your home, surrounded by friends and family, without lifting a finger. That's the yhangry experience.
Here are some more reasons why you should choose yhangry for your New Year's Eve bash:
Personalised Menus: Chefs will work with you to create a menu that reflects your tastes and dietary preferences.

Stress-Free Hosting: No shopping, no cooking, no cleaning. Just sit back and enjoy the party.

Flexible Options: Whether you're hosting an intimate dinner or a grand celebration, we have options to suit your needs.
Hosting a New Year's Eve bash should be a joy, not a chore. With yhangry, you can focus on what truly matters – spending quality time with your loved ones. Let us take care of the details so you can ring in the New Year with style, flavour, and peace of mind.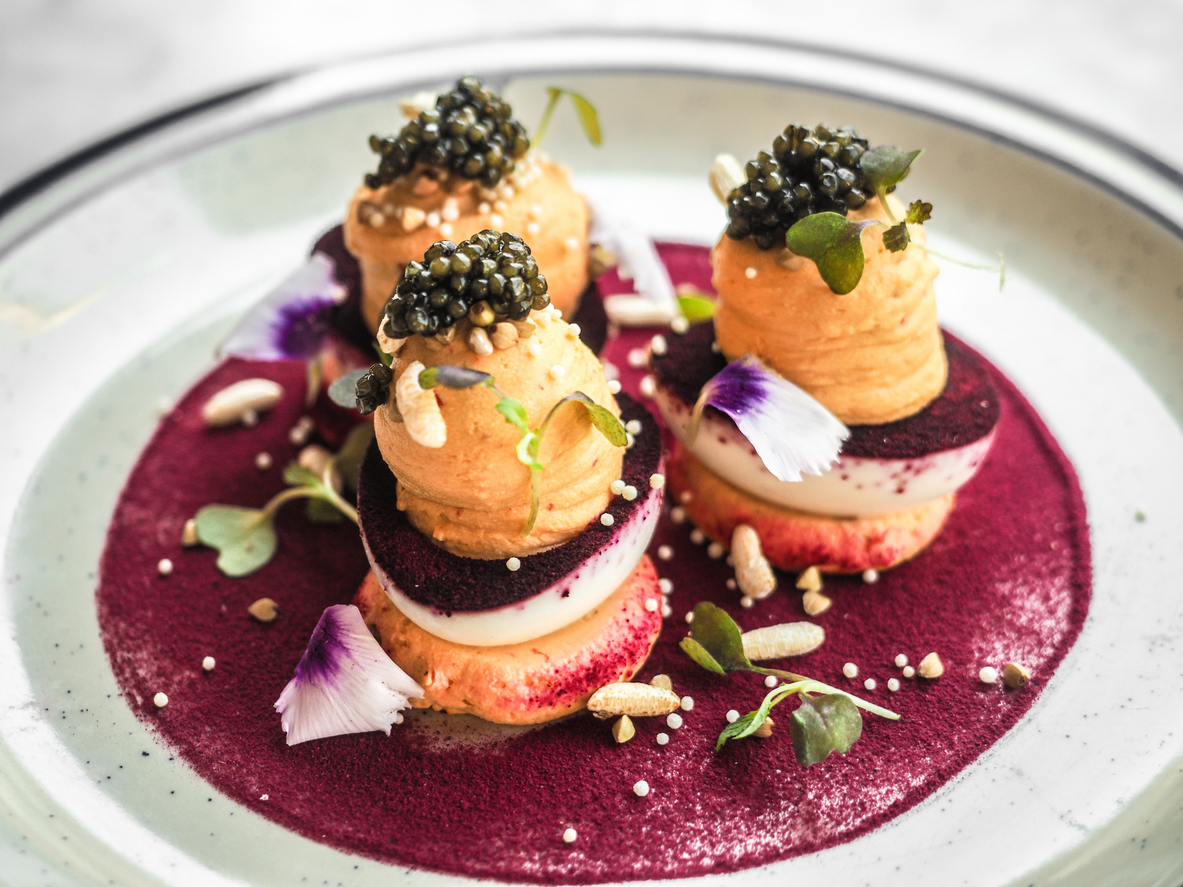 Conclusion: A Feast to Remember
New Year's Eve is a magical time filled with hope, joy, and the promise of new beginnings. But it's also a time to gather, share, and indulge in the pleasures of the table.
From sensational starters to main course masterpieces, delectable desserts to creative cocktails, and sharing dishes that bring people together, these recipes are more than just food; they celebrate life, love, and the connections that sustain us.
And if you want to elevate your celebration to a new level, consider partnering with yhangry. Caters and private chefs can take the stress out of hosting, allowing you to enjoy restaurant-quality food in the comfort of your home. With yhangry, you can focus on the joy of the evening, knowing that the culinary details are in expert hands.
FAQs

What do you serve at a New Year's Eve party?

Serve a mix of starters, main courses, desserts, cocktails, and sharing dishes, or hire a yhangry private chef for a personalised menu.

What kind of food do you serve on New Year's Eve?

With yhangry, you can serve both traditional and modern dishes, including canapés, meat and vegetarian options, desserts, and cocktails. Simply, with yhangry at your service, customised options are effortlessly within reach.

What do you serve at a New Year's Eve buffet?

Present a mix of classic and contemporary cuisine, various appetisers, main courses, desserts, and finger foods. Simply, with yhangry at your service, customising your menu becomes a breeze.