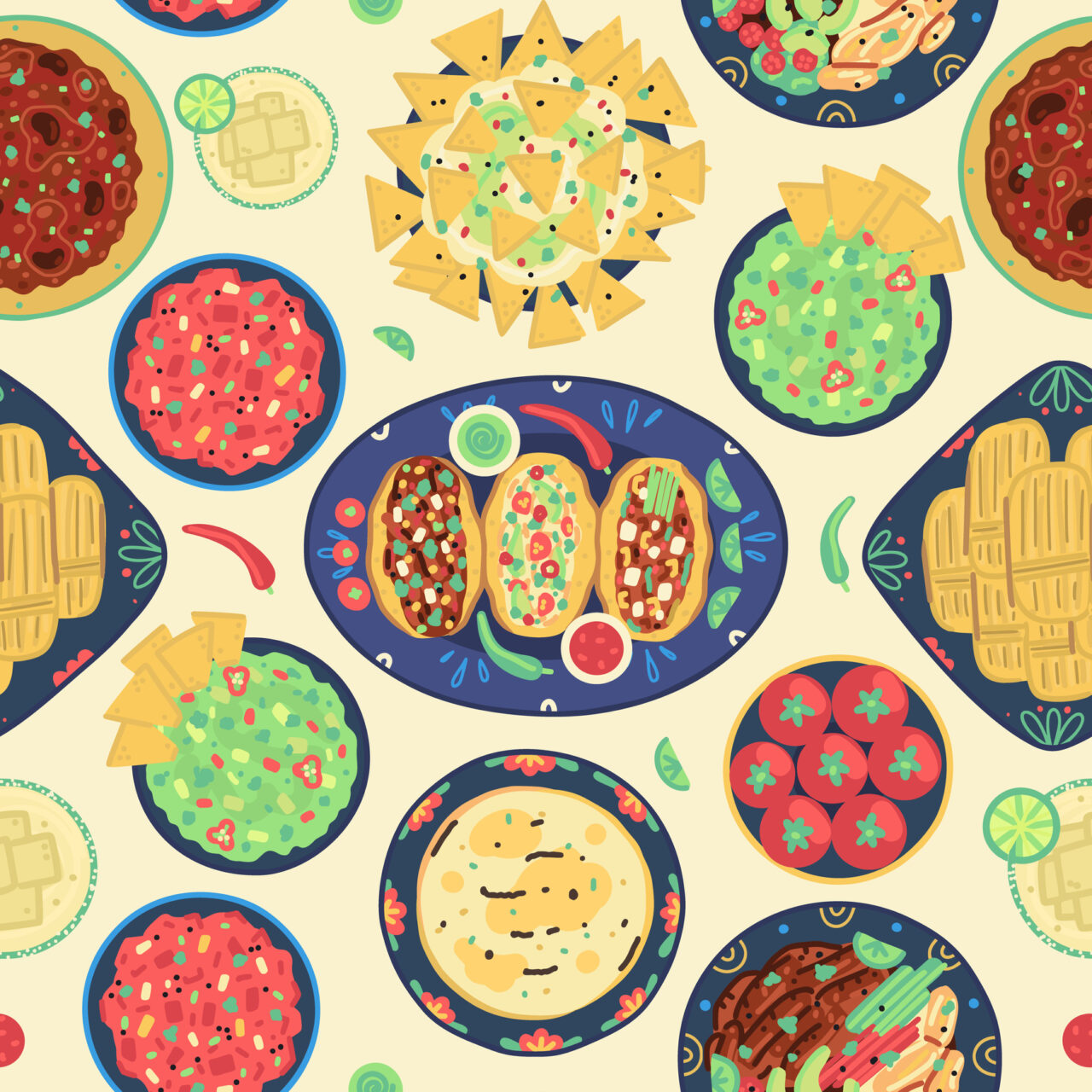 Introduction
Mexican cuisine is perfect for parties because it's flavorful, colourful, and easy to share with a group. Whether you're looking to host a full-fledged fiesta or simply infuse some Mexican flair into your celebration, this guide will provide you with everything you need to impress your guests and throw a Mexican-themed New Year's Eve party to remember.
So grab your sombrero, prepare your taste buds, and get ready to ring in the New Year with a touch of Mexican magic!
Exploring Mexican Food for New Year's Eve
Mexican cuisine is known for its vibrant flavours, diverse textures, and colourful presentations, which all make it a fantastic choice for any party. Here's how you can explore Mexican food for your celebration:
Appetisers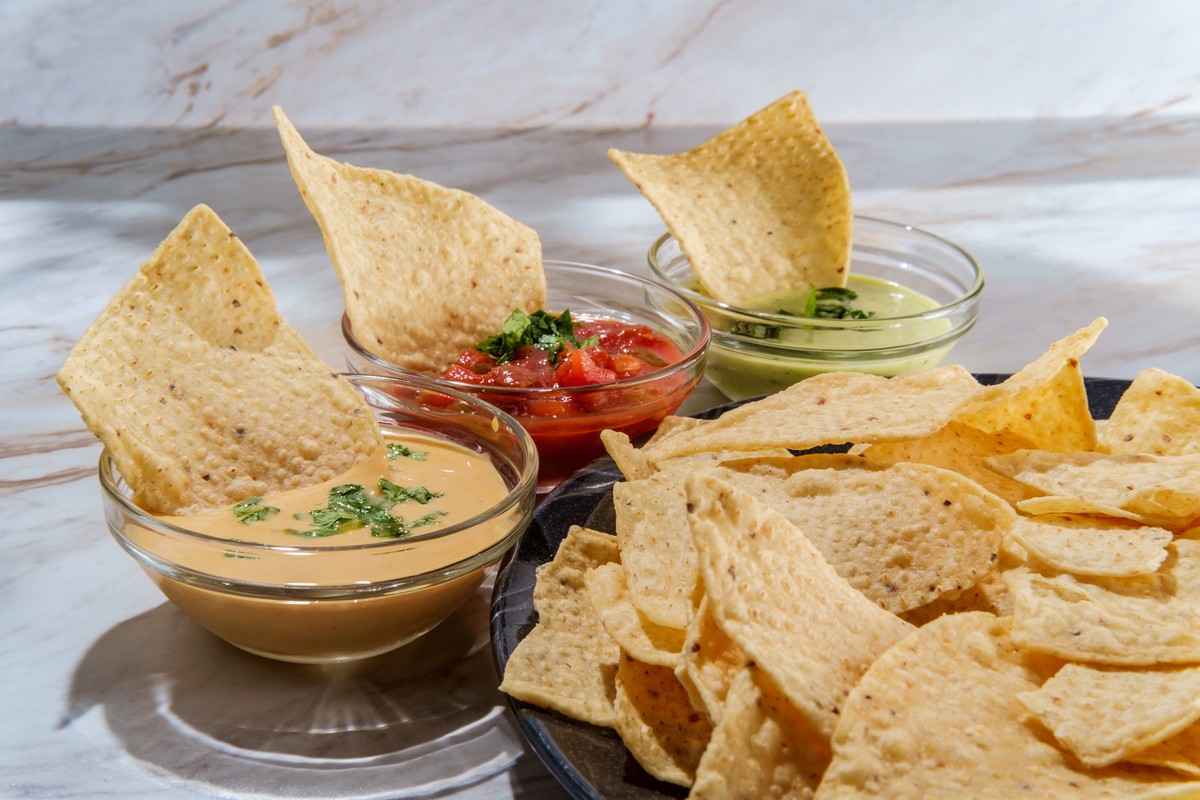 Guacamole, Salsa, and Queso Dip: These classic Mexican dips are the quintessential starters for any fiesta. Serve them with crispy tortilla chips or fresh vegetable sticks for a lighter option. Simply, the combination of creamy avocado, tangy salsa, and rich queso creates a flavourful trio that appeals to various tastes.
Mini Tostadas: Transform traditional tostadas into bite-sized delights by topping small tortilla rounds with refried beans, your choice of shredded meat (chicken or beef), crisp lettuce, melted cheese, and a dollop of salsa. These miniatures offer a satisfying crunch and a burst of flavour in every bite.
Empanadas: These pastry pockets are a versatile and crowd-pleasing appetiser. Fill them with combinations like cheese and jalapenos for a spicy kick, spinach and cheese for a vegetarian option, or shredded chicken for a meaty treat. Seal the edges and bake until golden brown for a warm and comforting start to the meal.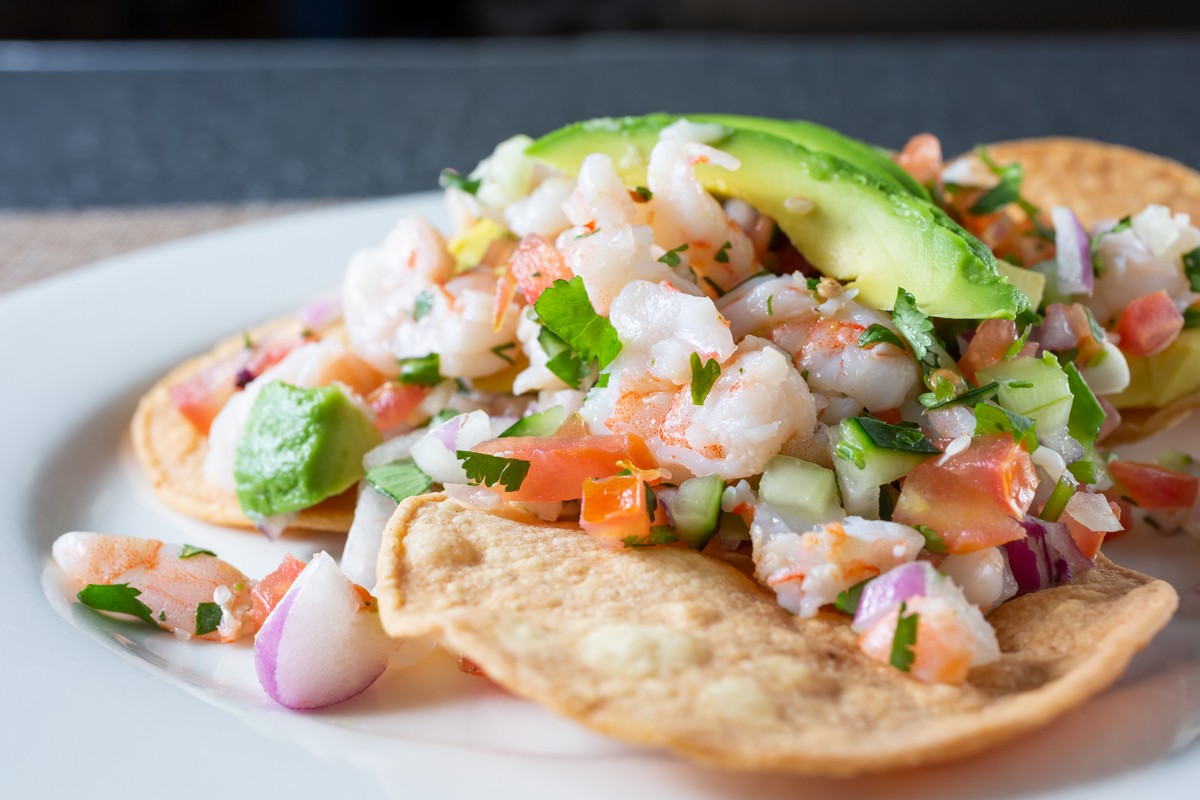 Ceviche: Offer a refreshing seafood ceviche made with shrimp, lime juice, and diced vegetables. Serve in small cups or spoons for an elegant and tangy appetiser.
Stuffed Jalapeños: Fill jalapeño peppers with cream cheese and wrap them in bacon for a savoury treat. These spicy bites are sure to be a hit among those who enjoy a little heat.
Mexican Street Corn (Elote) Bites: Serve mini portions of grilled corn on the cob, slathered with mayonnaise and cheese. A sprinkle of chilli powder and lime adds a street food flair to this beloved dish.
Chicken Taquitos: Roll shredded chicken with cheese and spices in small tortillas and bake until crispy. Serve with dipping sauces like guacamole or sour cream for a delightful crunch.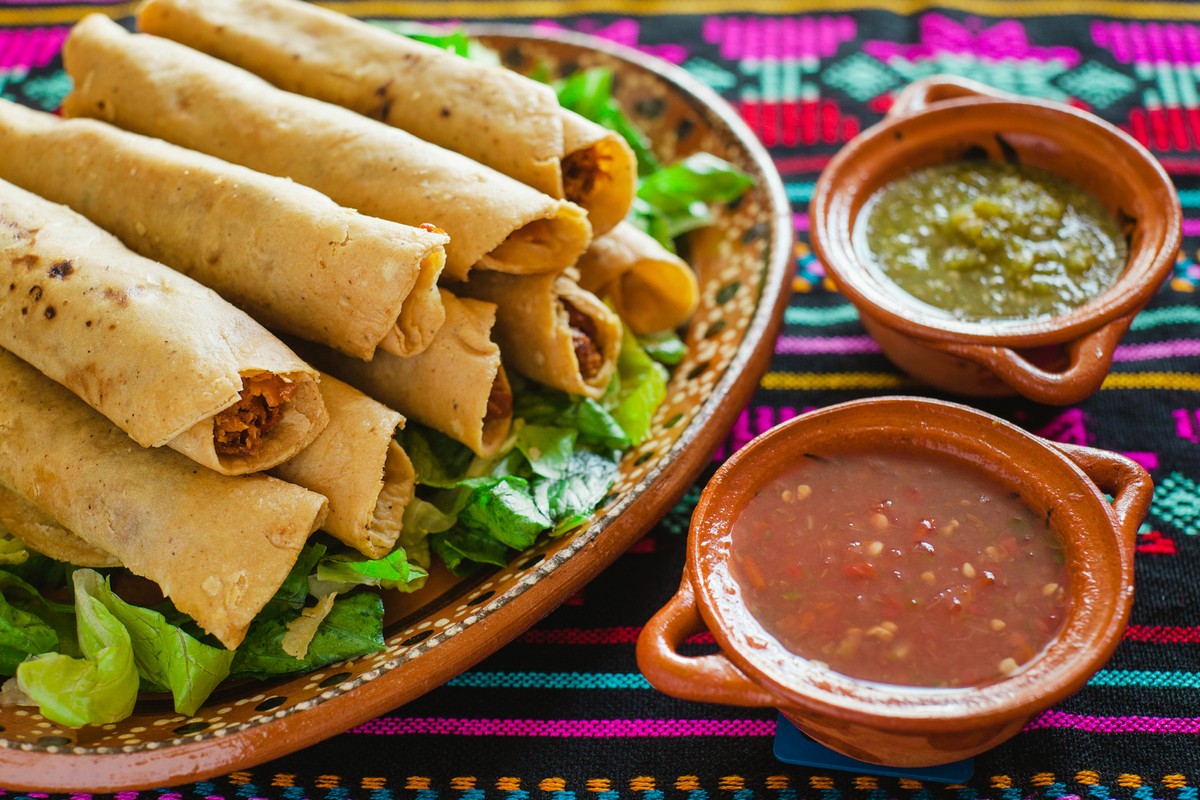 Chilled Avocado Soup Shots: Offer chilled avocado soup in small shot glasses for a unique appetiser. The cool and creamy texture provides a refreshing palate cleanser between flavours.
Mexican Shrimp Cocktail: Serve individual portions of shrimp cocktail with a tangy tomato sauce and avocado. Garnished with cilantro, this seafood twist adds a touch of sophistication to the menu.
Main Dishes
Tacos: A Mexican classic, tacos offer endless possibilities. Offer fillings like marinated grilled chicken, succulent beef, zesty shrimp, or vegetarian-friendly grilled vegetables and black beans. Serve with soft or crunchy tortillas and a range of condiments to suit all tastes.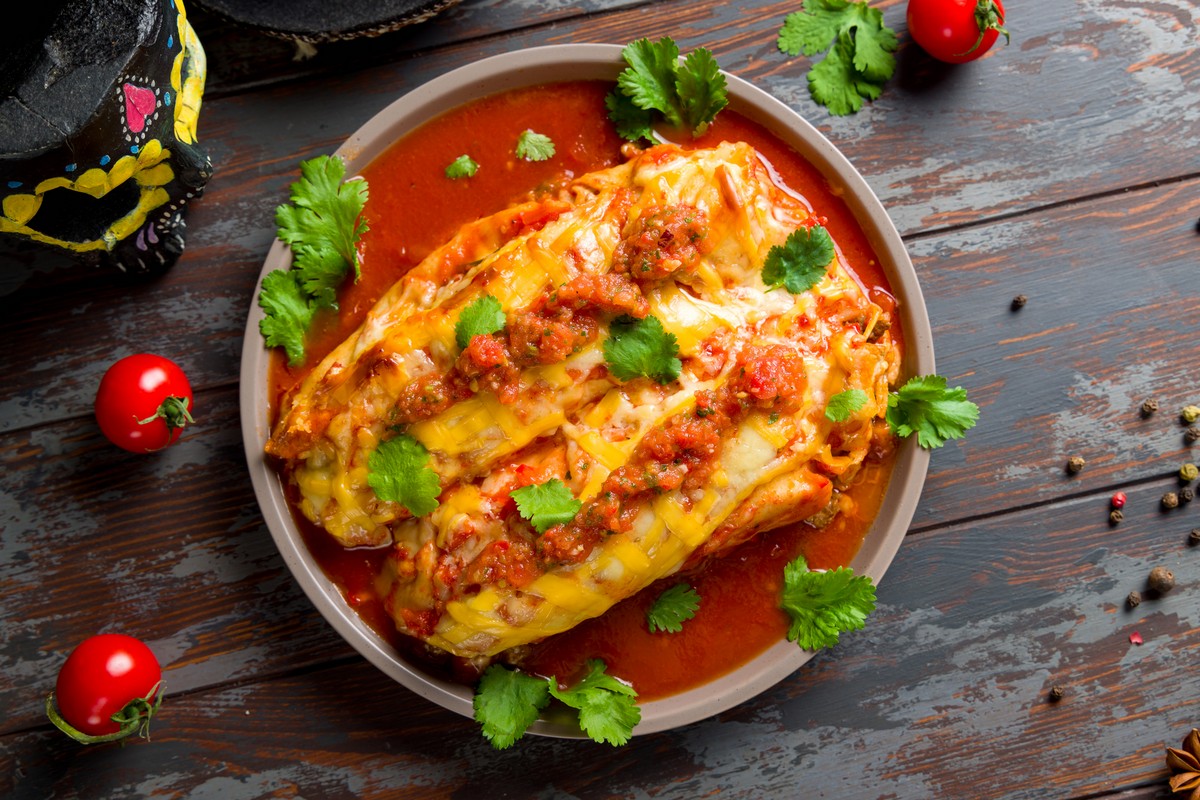 Enchiladas: These rolled tortillas filled with your choice of cheese, meat, or seafood are baked to perfection with a rich sauce and melted cheese. Consider a green tomatillo sauce for chicken enchiladas or a robust red chilli sauce for beef. The combination of textures and flavours makes enchiladas a satisfying main dish.
Tamales: Though time-consuming, tamales are a festive treat worth the effort. Fill them with seasoned pork, shredded chicken, or cheese, and wrap them in corn husks before steaming. Serve with a side of salsa or chilli sauce for added flavour.
Carnitas: Slow-cooked pork carnitas can be served with tortillas, rice, and beans for a hearty meal. The tender and flavorful meat is a crowd-pleaser that pairs well with various sides.
Fajitas: Offer sizzling fajitas with grilled chicken, beef, or vegetables, served with warm tortillas and classic accompaniments. Guests can assemble their fajitas, adding a fun and interactive element to the meal.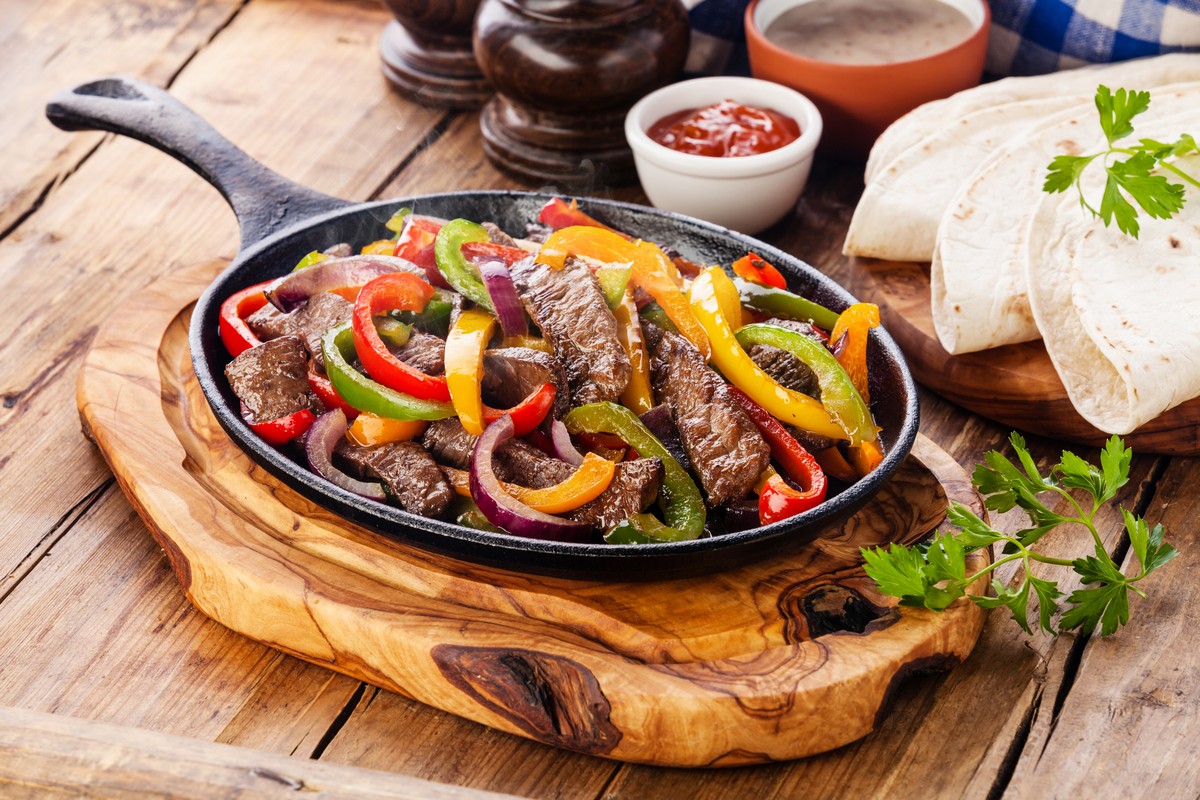 Mole Poblano: Serve this complex and rich sauce with chicken or turkey for an authentic Mexican experience. The blend of chocolate, chilli peppers, and spices creates a unique and unforgettable flavour.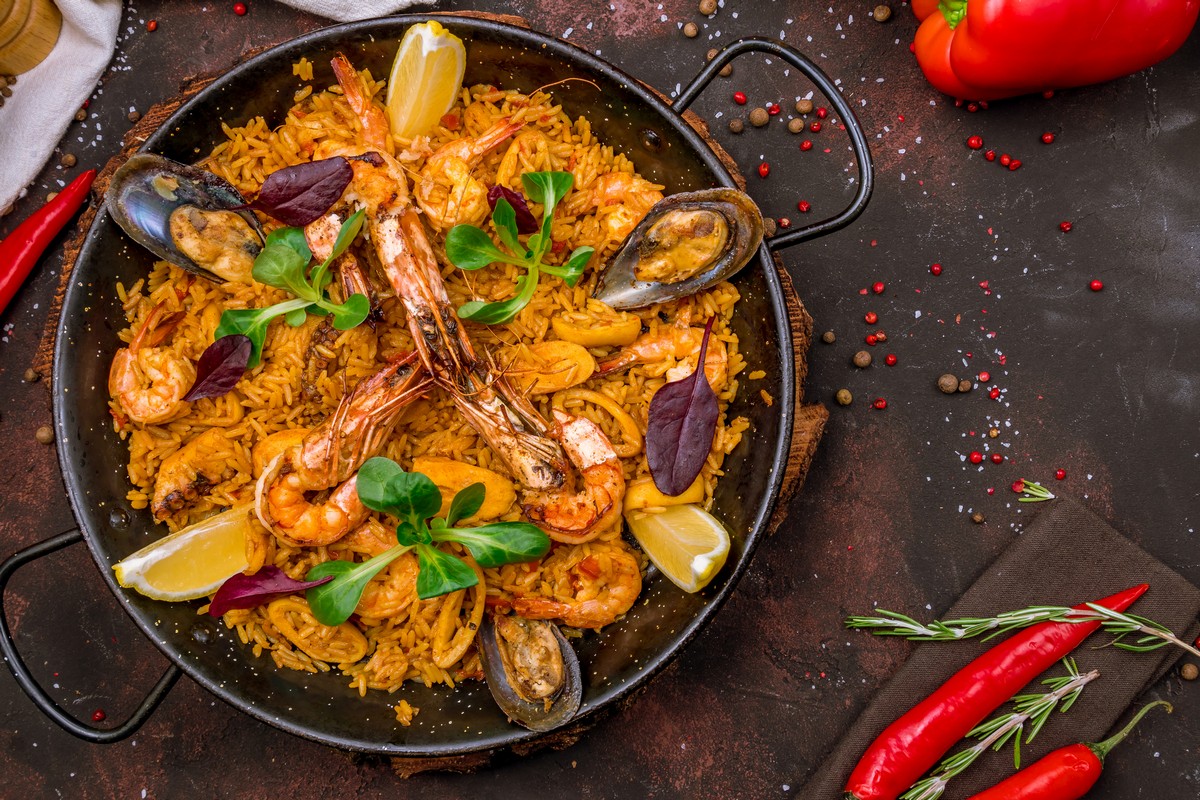 Seafood Paella: For a coastal twist, consider a Mexican-style seafood paella with shrimp, mussels, and fish. Infused with saffron and served with lime wedges, it's a luxurious addition to the menu.
DIY Taco Bar and Build-Your-Own Burrito Station: Add a fun and interactive element to the meal by setting up DIY stations. Provide a variety of fillings, such as grilled meats, beans, and vegetables, along with toppings like shredded lettuce, diced tomatoes, cheese, sour cream, and various salsas. Allow guests to assemble their tacos or burritos, encouraging creativity and catering to individual preferences.
When it comes to main dishes, traditional Mexican dishes like tacos, enchiladas, and tamales are sure to impress your guests. But why stop at traditional when you can elevate your fiesta with the help of yhangry?
With yhangry, you can connect with talented chefs who specialise in Mexican cuisine, offering everything from casual dining to Michelin-quality tasting experiences. Whether you want a DIY taco bar, a fancy fine dining meal, or even a BBQ with Mexican flair, yhangry makes it easy to find the perfect chef for your New Year's Eve celebration.
Desserts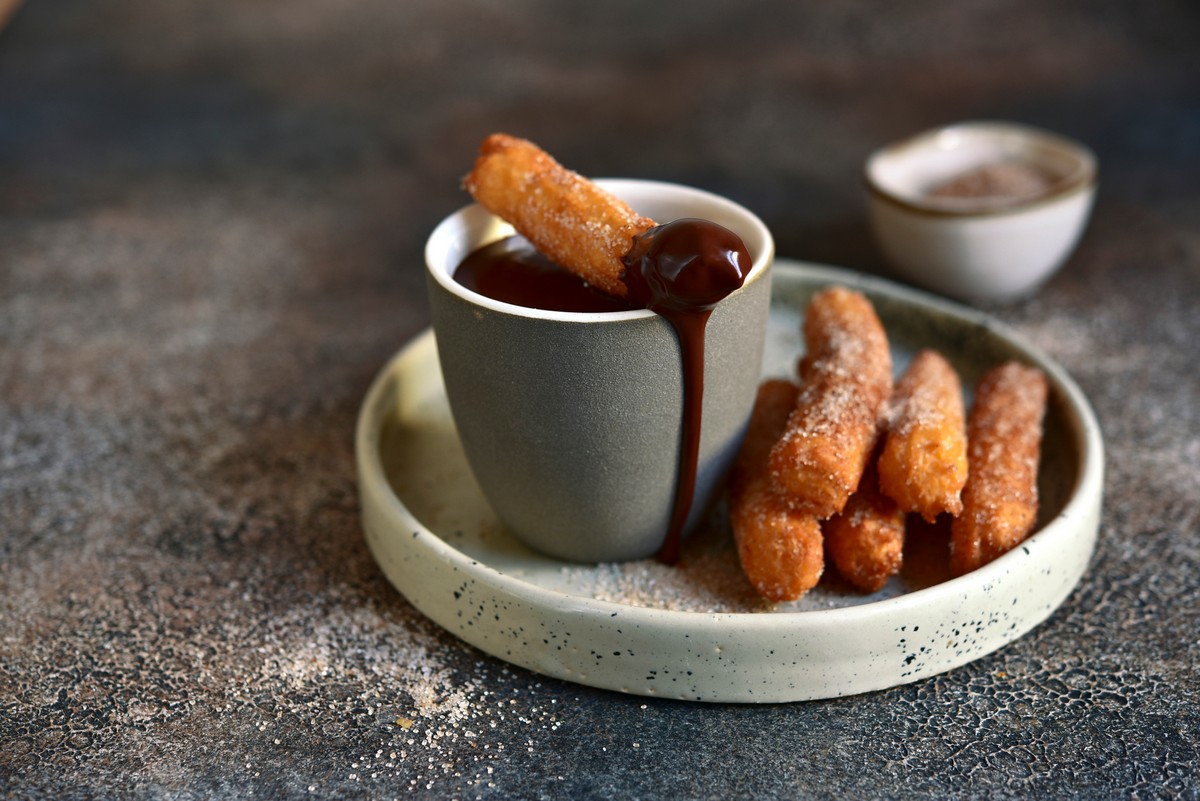 Churros: These fried dough pastries, coated in cinnamon sugar, are a beloved Mexican treat. Serve them with rich chocolate sauce or velvety caramel for dipping, creating a delightful contrast of textures and flavours.
Flan: Indulge in the creamy elegance of flan, a caramel custard that melts in your mouth. Its rich and decadent taste makes it a perfect finale to the meal, and it can be garnished with fresh berries or a sprinkle of cinnamon for added flair.
Tres Leches Cake: This sponge cake soaked in a blend of evaporated milk, condensed milk, and heavy cream offers a moist and flavorful experience. Topped with whipped cream and a dusting of cocoa powder, it's a crowd-pleaser that satisfies the sweet tooth.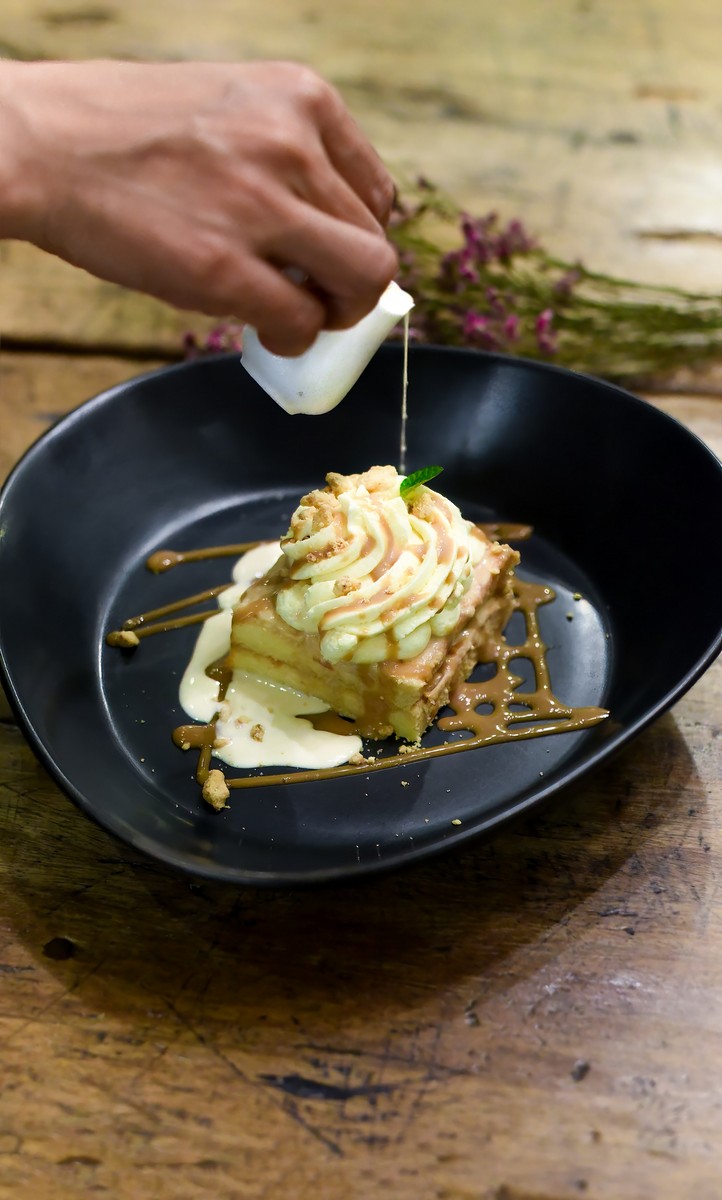 Mini Churro Bites: For a playful twist on traditional churros, try making mini churro bites by cutting and frying refrigerated biscuit dough. Toss in cinnamon sugar and serve with dipping sauces for a fun and immersive dessert option.
Mexican Hot Chocolate Bar: Set up a hot chocolate bar with various flavours, including traditional Mexican hot chocolate spiced with cinnamon and chilli. Offer toppings like whipped cream, marshmallows, and cinnamon sticks, and provide liqueurs like Kahlua or Baileys for an adult twist.
Sopapillas: Serve these pillowy fried pastries dusted with powdered sugar and a drizzle of honey. Sopapillas are a comforting and simple dessert that pairs well with coffee or tea.
Mango With Chilli and Lime: For a refreshing and lighter option, offer slices of ripe mango sprinkled with chilli powder and a squeeze of lime. This combination of sweet, spicy, and tangy flavours provides a palate-cleansing finish to the meal.
Drinks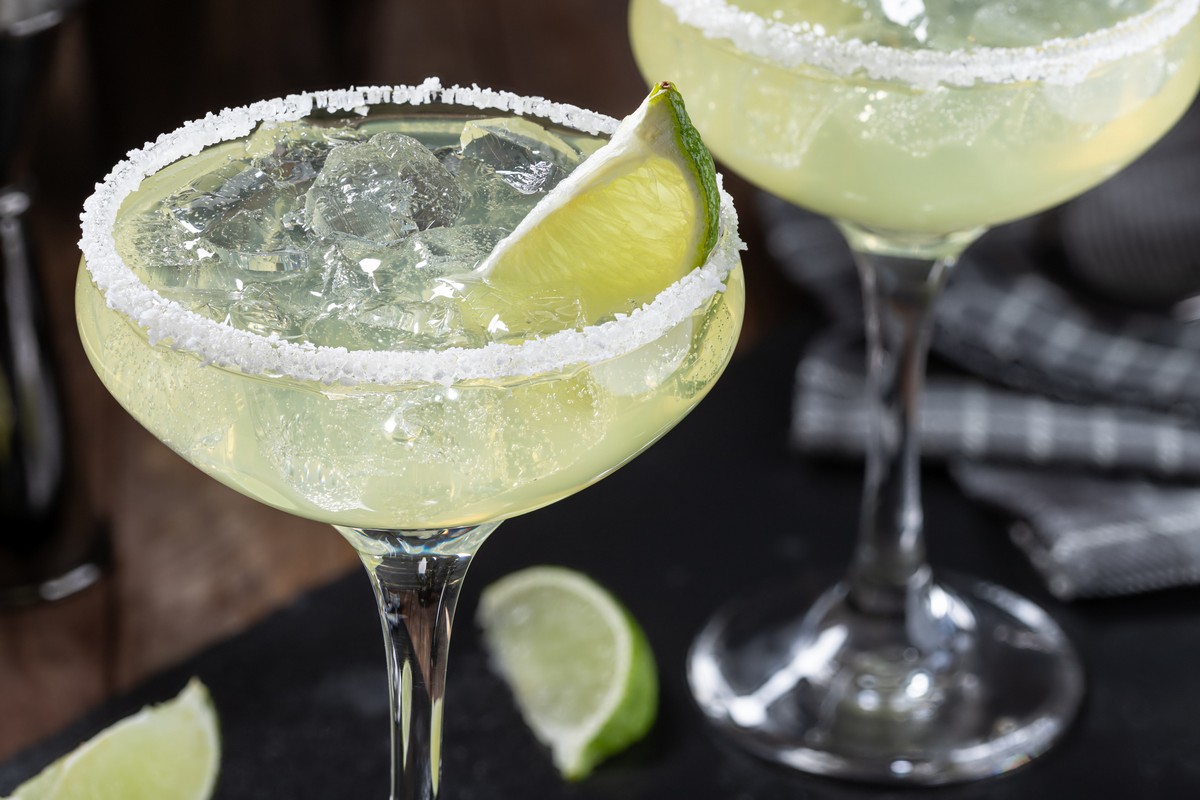 Margaritas: A quintessential Mexican cocktail, margaritas come alive with flavours like traditional lime, sweet strawberry, or tropical mango. Serve them on the rocks or blended with ice for a frosty treat, and garnish with a salted rim and lime wedge for an authentic touch.
Palomas: This refreshing cocktail combines tequila with tangy grapefruit soda and fresh lime juice. Serve in a highball glass with a salted rim and a grapefruit slice, offering a citrusy delight that's perfect for toasting the New Year.
Micheladas: For those who prefer savoury flavours, micheladas blend beer with lime juice, hot sauce, and Worcestershire sauce. Serve in a chilled glass with a spiced salt rim, and offer a lime wedge for a zesty kick.
Agua Frescas: These fruit-based drinks are a delightful option for kids and non-drinkers. Blend fruits like watermelon, pineapple, or cucumber with water and a touch of sugar, and serve over ice for a refreshing and hydrating beverage.
Horchata: This creamy Mexican drink made with rice, milk, cinnamon, and sugar offers a sweet and comforting option. Serve chilled with a sprinkle of ground cinnamon on top, making it a perfect sipping companion for a warm New Year's Eve.

Mexican Coffee: Spice up your coffee by adding cinnamon and a splash of coffee liqueur like Kahlua. Top with whipped cream and a dusting of cocoa powder for an indulgent after-dinner drink.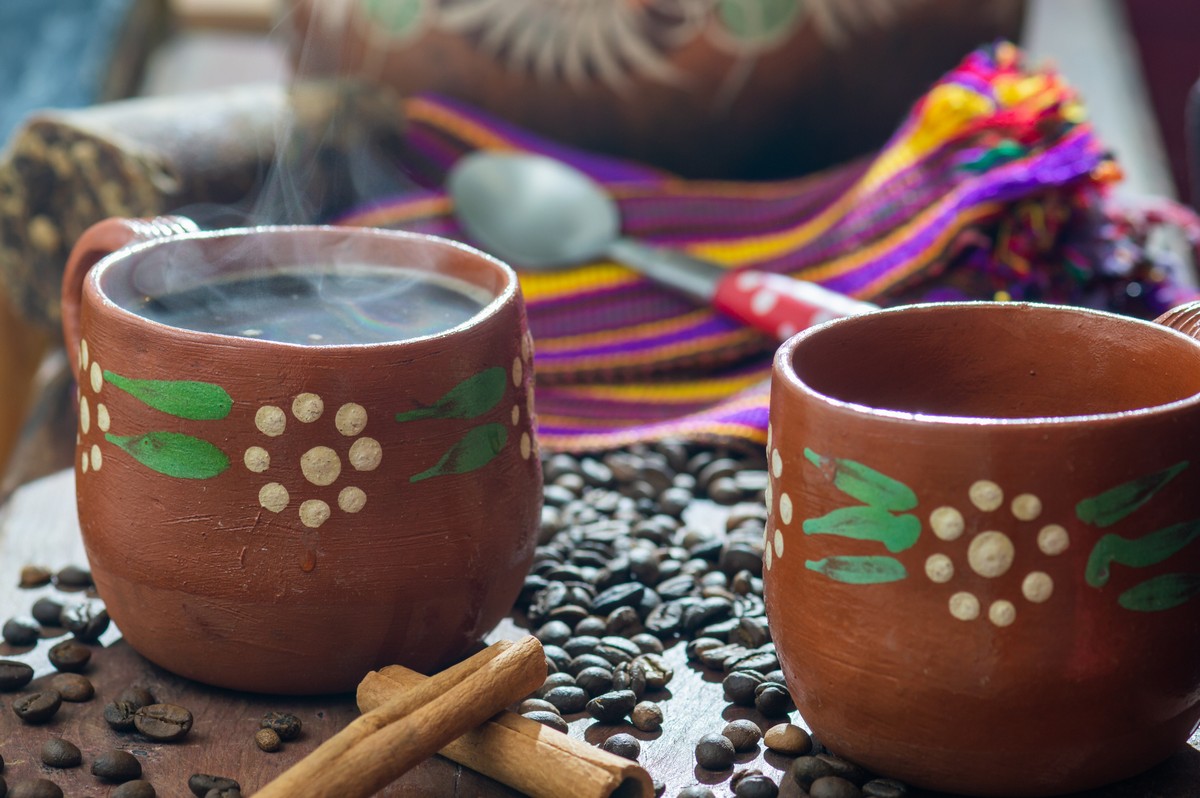 Accommodating All Guests
When planning your Mexican-themed New Year's Eve party, consider the diverse dietary needs of your guests by offering thoughtful substitutions. For meat-free options, utilise plant-based proteins like tofu or legumes, and for dairy-free alternatives, opt for plant-based milk or vegan cheese. Similarly, alcohol-free mocktails can be created using fruit juices or herbal teas, providing festive choices for non-drinkers. Guests avoiding gluten can enjoy corn tortillas and gluten-free sauces or desserts. Clear labelling or consulting with guests in advance about specific dietary needs ensures an inclusive and enjoyable experience for everyone, demonstrating care and consideration for all attendees.
Celebrate a Mexican Fiesta at Home: yhangry Brings the Culinary Magic to Your New Year's Eve Party!
Planning a Mexican-themed New Year's Eve party? Imagine the vibrant flavours of Mexico brought to life in your own home without the stress of cooking or hunting for the perfect chef. Welcome to yhangry.
Importantly, yhangry is not just a platform; it's a culinary experience that connects you with talented chefs ready to cater to your specific needs. Whether you crave authentic Mexican tacos, enchiladas, or a Michelin-quality tasting experience, yhangry offers a breadth of choice like no other.
Why Choose yhangry?
Here are some reasons why you should consider choosing yhangry:
Ease of Use: Browse local chefs, their menus, and reviews all in one place. Book a chef's menu within seconds or request a free quote for something more personalised.
Affordable Luxury: With yhangry, private chefs no longer mean extravagant costs. We offer a range of options to suit your budget without compromising on quality.
Safety and Security: With secure payment options, flexible cancellation and refund policies, and insurance coverage for all events, your peace of mind is our priority.
Exclusive Access: From Masterchefs to Michelin experience chefs, yhangry's curated and vetted listings ensure you have access to the best in the business.
Time-Saving Convenience: Forget the hassle of cooking or commuting to a restaurant this New Year. Enjoy quality dining in the comfort of your home, complete with your favourite Mexican dishes.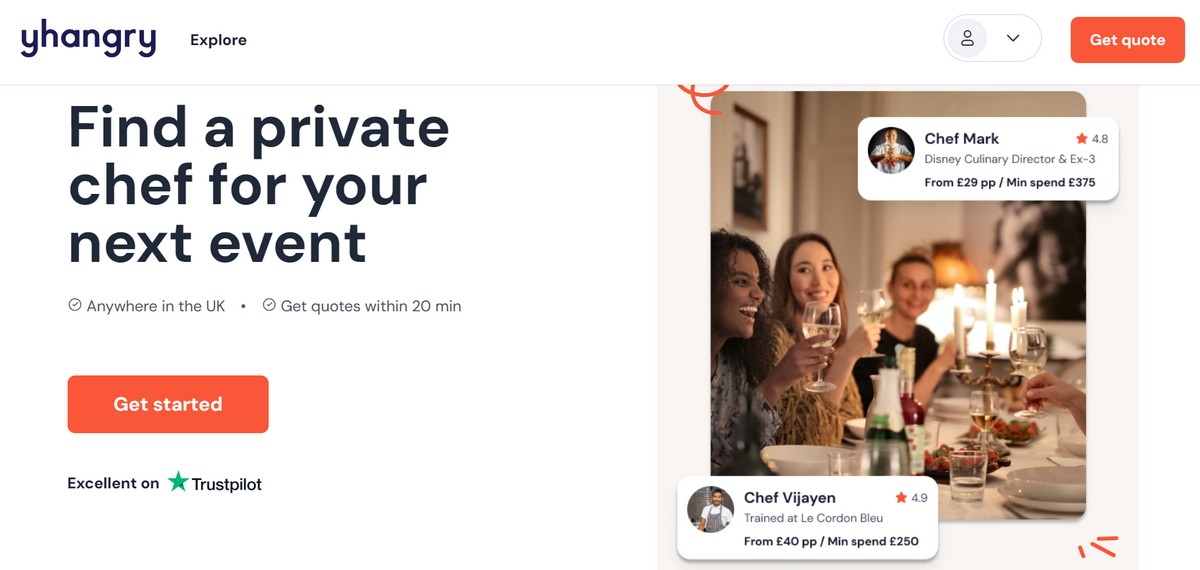 So why wait? This New Year's Eve, let yhangry bring Mexico to your doorstep. Indulge in the flavours, relish the convenience, and celebrate with flair. Your perfect Mexican feast is just a click away. Book Your Mexican Fiesta with yhangry Now!
Conclusion
Celebrating the New Year with Mexican cuisine and good company is the perfect way to start off the year. With these delicious dishes and festive decorations, your fiesta is sure to be a hit. From appetisers to desserts and drinks, there are plenty of options to choose from that will satisfy all of your guests. So gather your loved ones, put on your sombreros, and get ready to dance the night away as you welcome in the new year with a Mexican fiesta to remember. ¡Feliz Año Nuevo!