Buon Natale! Ah, the magic of an Italian Christmas – where the air is filled with the aroma of sumptuous food, the clinking of wine glasses, and the warmth of unparalleled companionship. If you've ever wondered how to encapsulate this enchanting experience in your own home, you're in the right place.
Italy, a land steeped in culture, often celebrates its traditions at the heart of the home – the dining table. From the rolling hills of Tuscany to the bustling streets of Naples, each region cherishes its own culinary masterpieces. Hence, crafting the perfect Christmas Eve dinner, brimming with Italian specialities, might seem like a Herculean task, especially if you're not sure where to begin.
Fear not, as yhangry is here to be your culinary compass, guiding you through an unforgettable gastronomic adventure across Italy. We've curated a menu of 15 spectacular dishes that encapsulate the very essence of La Vigilia, the Italian Christmas Eve.
And here's the cherry on the cake – these dishes are universal crowd-pleasers. They'll bring a dash of Italian flair to any gathering, not just those steeped in Italian tradition. So, why not dazzle your guests this Christmas Eve with a feast that's as captivating as a Venetian sunset? Cheers, or as the Italians say, "Salute!"
Book a Caterer for Your Italian Christmas Eve Celebration With yhangry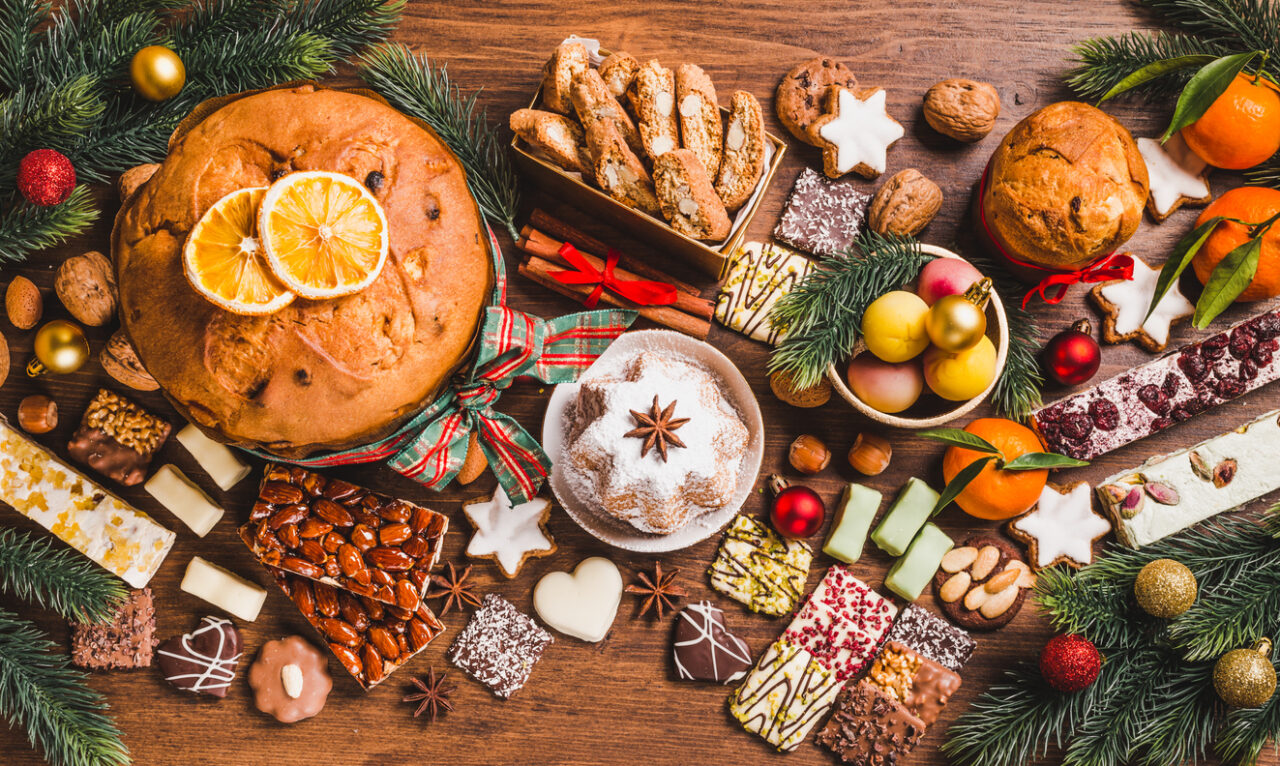 Beyond Italy's majestic architecture and awe-inspiring landscapes, it's the cuisine that often steals the spotlight. Imagine a table laden with creamy pasta, crisp croissants, and pizzas bursting with flavour – it's no wonder the world is enamoured with Italian food.
But let's be honest, creating an Italian Christmas Eve feast that does justice to this significant celebration can feel like a monumental task. The pressure is on, and the clock is ticking. That's where yhangry steps in, turning your culinary aspirations into a stunning reality.
When you choose yhangry, you're not merely outsourcing a meal – you're investing in culinary perfection. Our chefs aren't just professionals; they're culinary artists trained in the fine art of Italian cooking. They delve deep into Italy's regional specialities, whether it's the hearty stews of the Alps or the seafood delicacies of the Amalfi Coast, to bring you a menu that's as authentic as it is exquisite.
But the experience doesn't end at the plate. Our team takes care of everything, from menu planning to ingredient sourcing, and even the after-dinner clean-up. So, all you have to do is sit back, sip on some fine Italian wine, and bask in the accolades from your thoroughly impressed guests.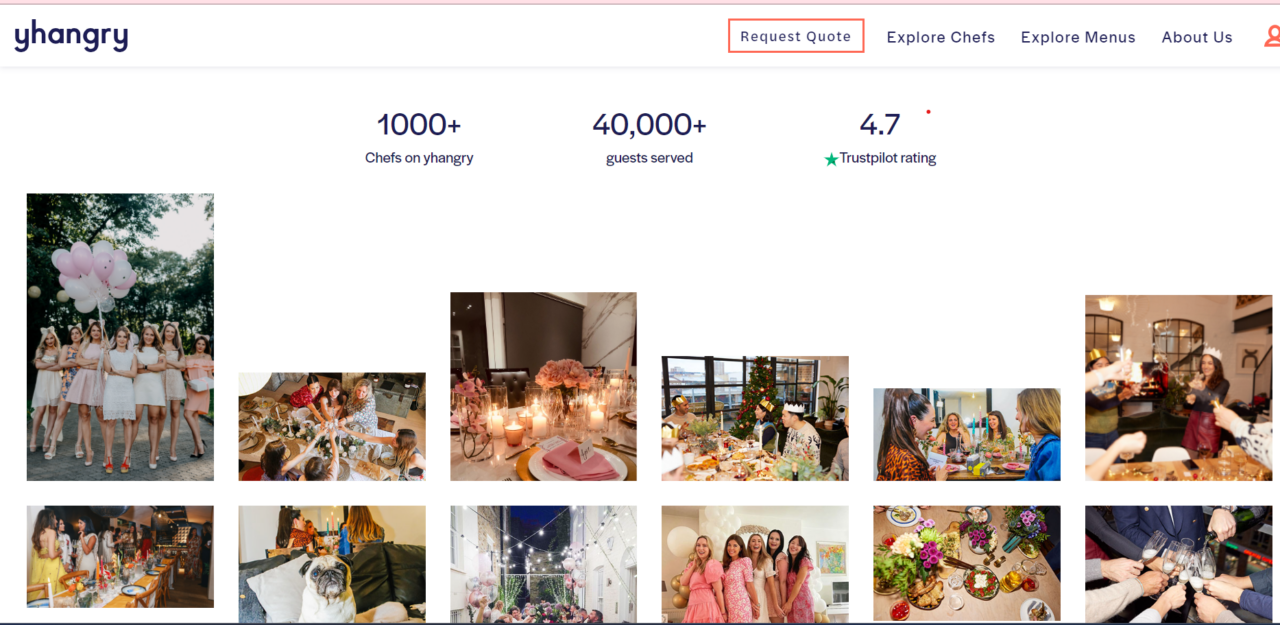 What's more, we understand that dining is a personal affair. That's why our Italian Christmas Eve menu is tailored to you, featuring a myriad of options to cater to varying dietary requirements. Vegetarian? Gluten-free? Nut allergy? We've got it covered.
So, this Christmas Eve, don't just host a dinner – curate an experience that'll be talked about long after the decorations come down. Make a statement, make memories, and make your holiday uniquely yours. All of this is just a click away. Browse our chefs' profiles and request your free quote today.
In a world full of ordinary, choose extraordinary. Choose yhangry.
Italian Christmas Eve Menu Recipes
So without further ado, here are the recipes of 15 of the most popular Italian dishes for Christmas Eve that'll surely ignite the spark in your household.
1. Baccalà alla Vicentina (Salted Cod Vicenza Style)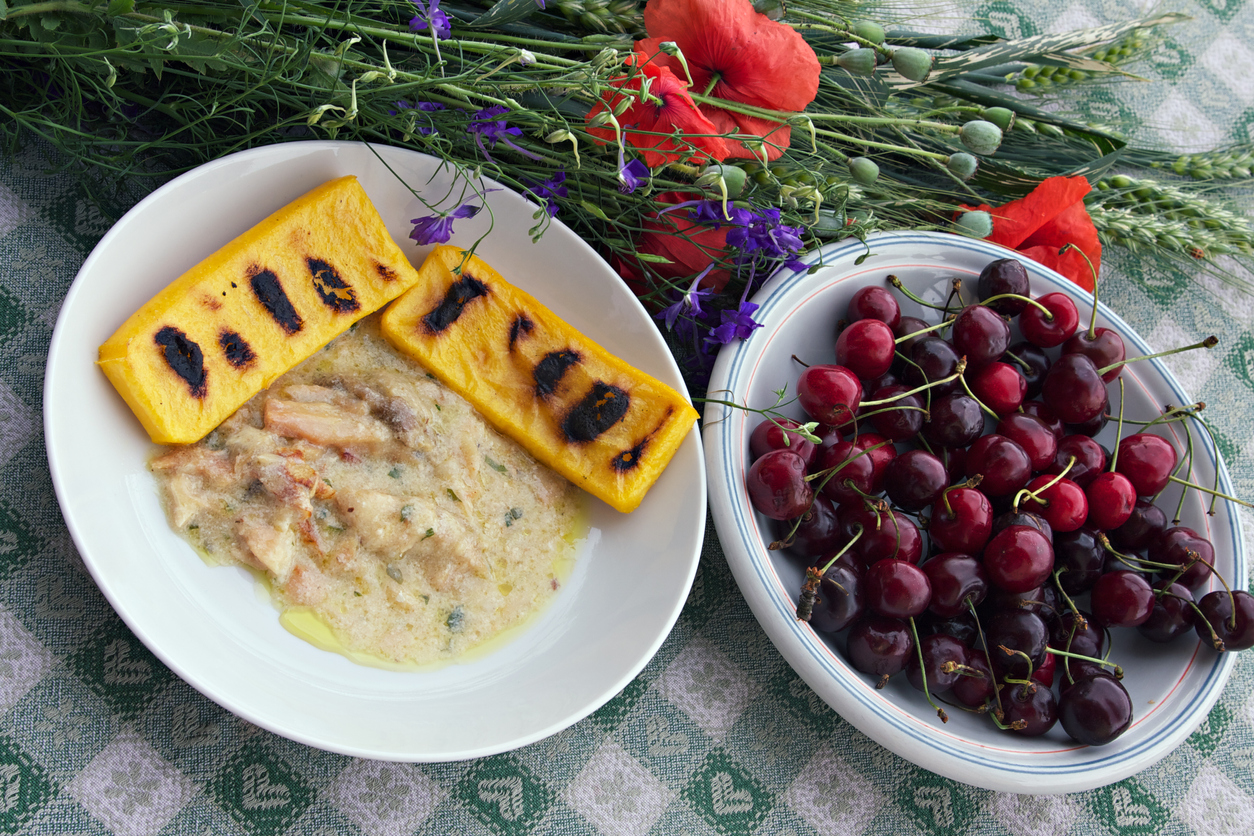 Baccalà alla vicentina is a native Venetian dish from the Veneto region. It's synonymous with an Italian Christmas, especially in Northern Italy. Baccalà alla vicentina is essentially salted cod or stockfish cooked with milk, anchovies, and onions. This dish is often served with polenta, and its creamy texture and mild flavour reflect the cosy spirit of Christmas.
Recipe
Soak salted cod or well-washed stockfish overnight, changing the water a few times. For a more potent flavour, you can soak it in cold water for 2-3 days, changing the water every 4 hours.

Remove the skin and fishbone, then cut the fish into small squares or rectangles.

Chop some onions and fry until brown, then combine the sardines.

Flour the cod and set it aside for a few minutes.

Cook floured cod with milk, onion, and a hint of grated Parmesan until tender.

Serve with soft polenta and garnish with parsley.
2. Cappelletti in Brodo (Cappelletti in Broth)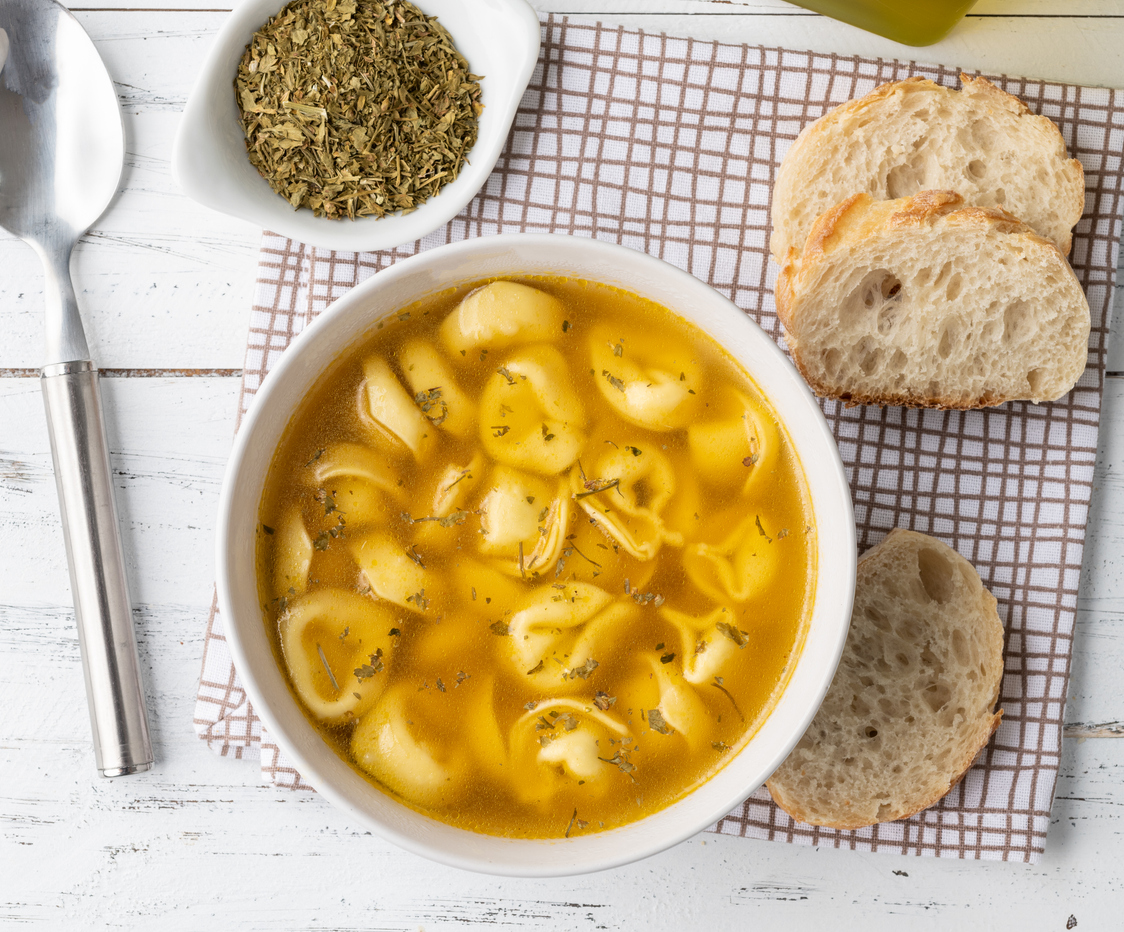 Cappelletti in brodo is one dish whose preparation is a labour of love. Hailing from Emilia-Romagna, these small pasta envelopes are similar to Bologna's hat-shaped tortellini but filled with meat and cheese. Traditionally served at Easter, this dish is equally comforting for Christmas Eve. Cappelletti in brodo is cooked and served in a rich meat broth. It's a starter that brings warmth to the Christmas table.
Recipe
Prepare pasta dough and roll it thin.

Fill with minced meat, Parmesan, nutmeg, and egg.

Cut into squares, fold, and seal.

Cook in simmering meat broth until tender.

Serve with bread.
3. Insalata di Mare (Seafood Salad)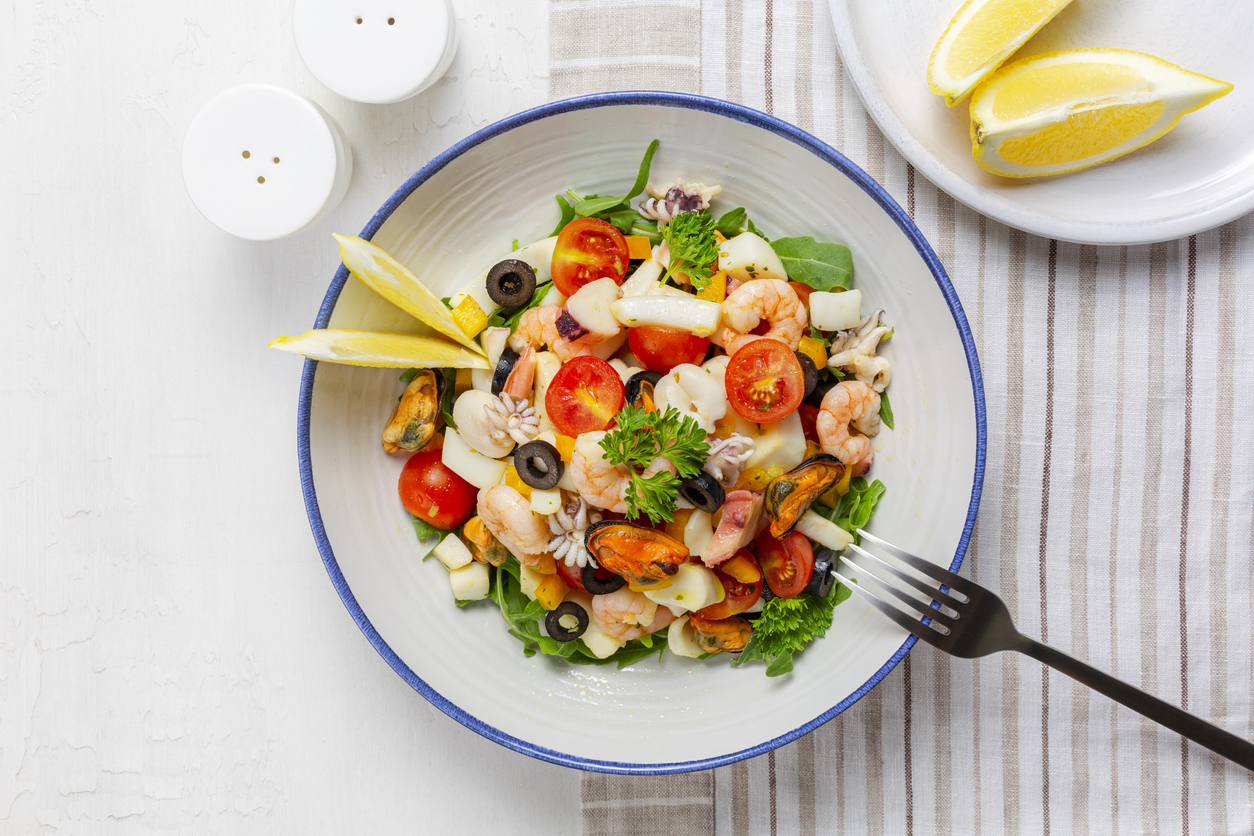 A light and refreshing dish from Southern Italy, insalata di mare is an Italian seafood salad that features an array of seafood marinated in lemon and olive oil. It's a refreshing contrast to the richer dishes of the season. Similar to Peruvian ceviche, insalata di mare offers the freshest seafood cooked tender and served chilled.
Recipe
Steam seafood like shrimp, calamari, prawns, crabs, scallops, squid, and mussels until tender.

Mix with chopped celery, red onion, and parsley.

Dress with lemon juice, olive oil, salt, and pepper.
4. Panettone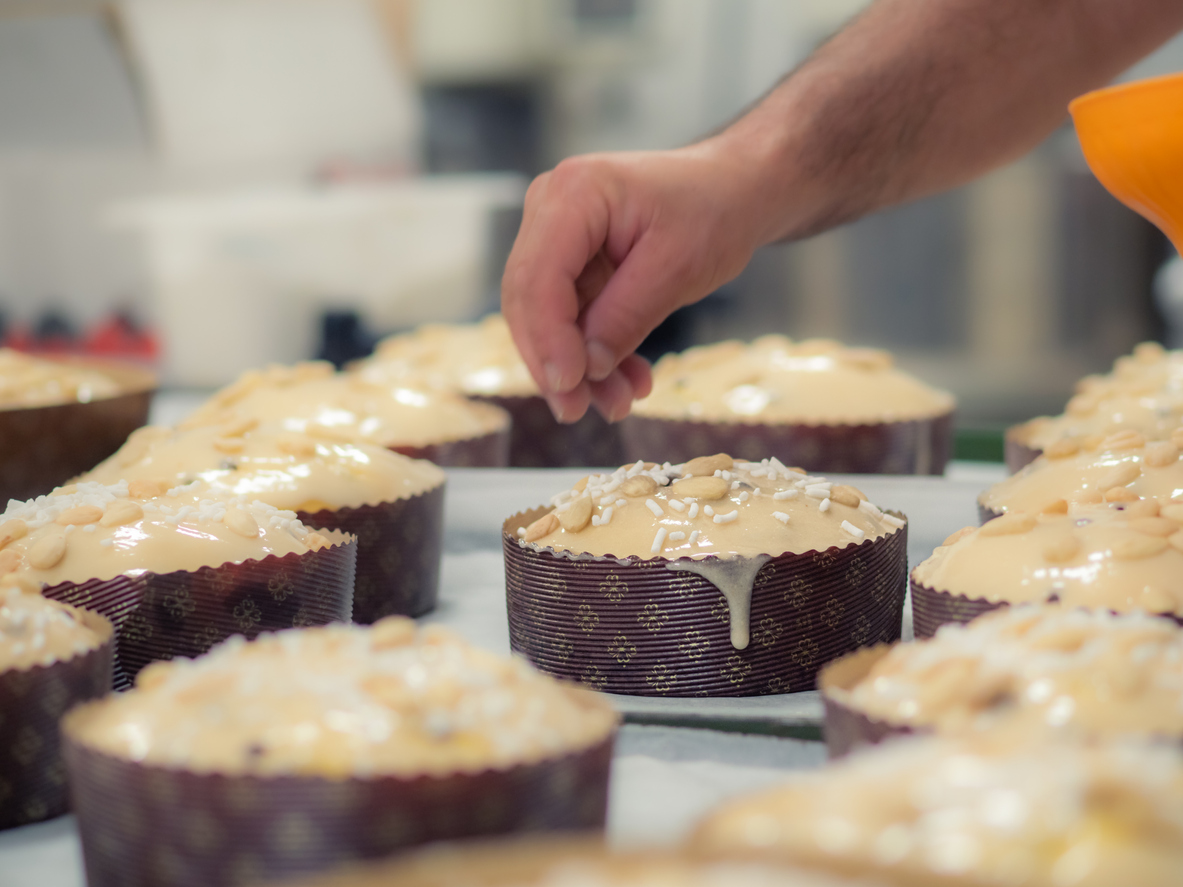 No Italian Christmas Eve is complete without panettone, a sweet and fluffy bread studded with candied fruit. Originally from Milan, panettone's buttery texture and sweet taste have made it popular within and outside Europe. This dish is often served as dessert, and it's a symbol of togetherness and celebration.
Recipe
Make a sweet dough with flour, eggs, sugar, and butter.

Incorporate candied fruit and raisins into the dough.

Let it rise, then bake until golden brown.
5. Zuppa di Pesce (Fish Stew)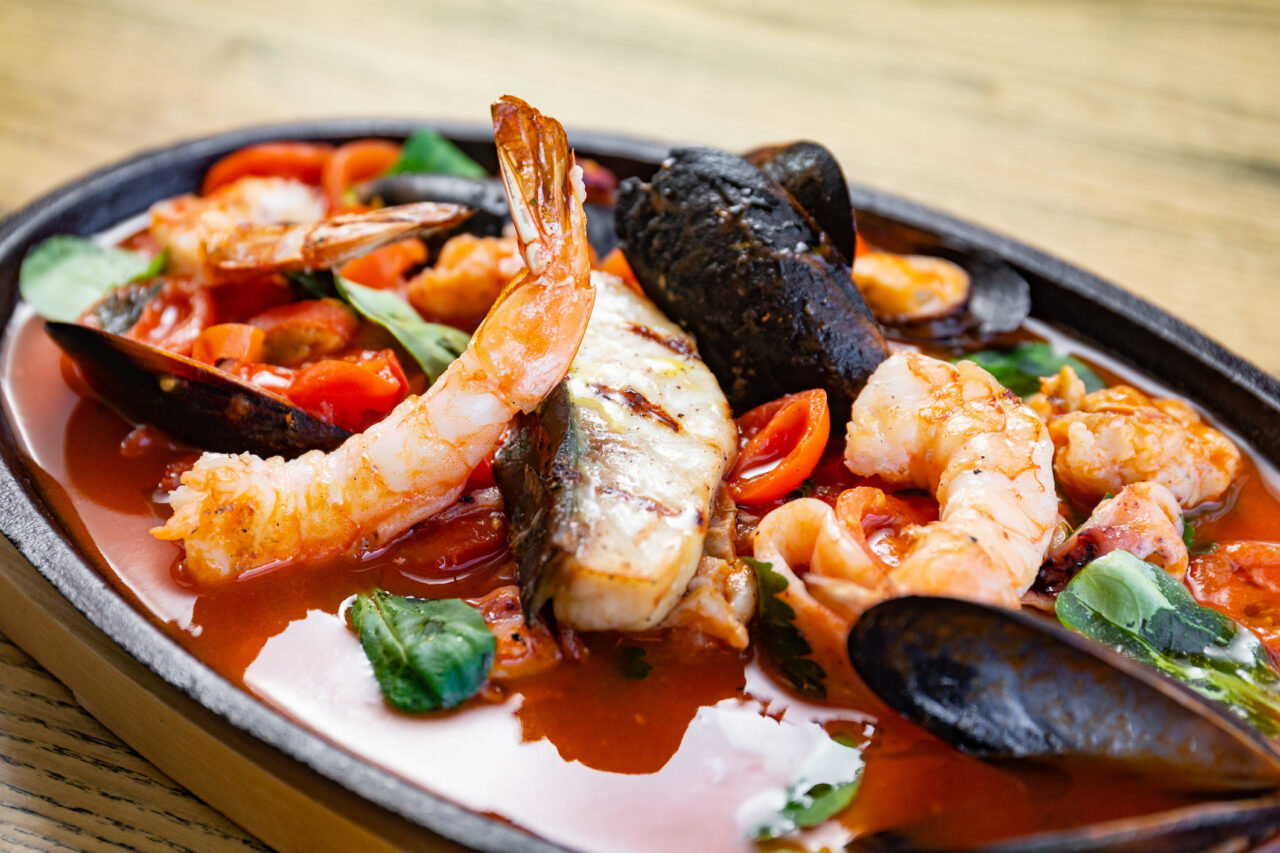 A hearty fish stew from coastal regions, zuppa di pesce, combines an array of seafood in a fragrant tomato-based broth. It represents the bounty of the sea and the unity of family. This meal is incredibly nutritious and rich in Vitamins. Zuppa di pesce can be served as a main course, often complemented with bread.
Recipe
Sauté garlic, onion, and tomatoes in olive oil.

Add mixed seafood like clams, squid, and fish.

Simmer with white wine, fish stock, and herbs until flavours meld.

Serve hot.
6. Lasagna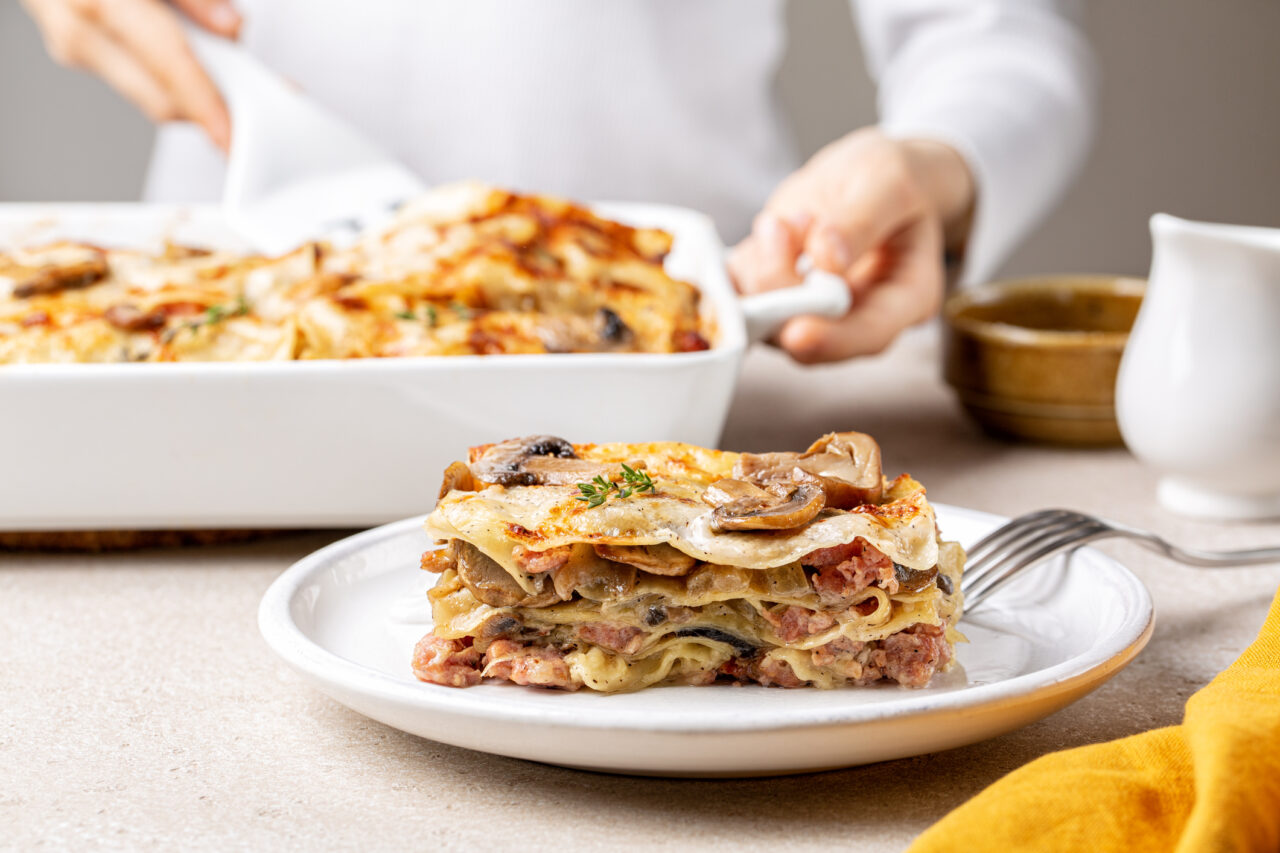 Christmas Eve wouldn't be complete without Italy's signature dish – lasagna. To the Italians, lasagna signifies abundance. It's crafted with flat-sheet pasta, rich meat sauce, béchamel, and Parmesan cheese.
Recipe
Cook lasagna sheets and set aside.

Layer with meat, béchamel, meat sauce, and grated cheese.

Repeat until the dish is filled, then bake until bubbly.
7. Capon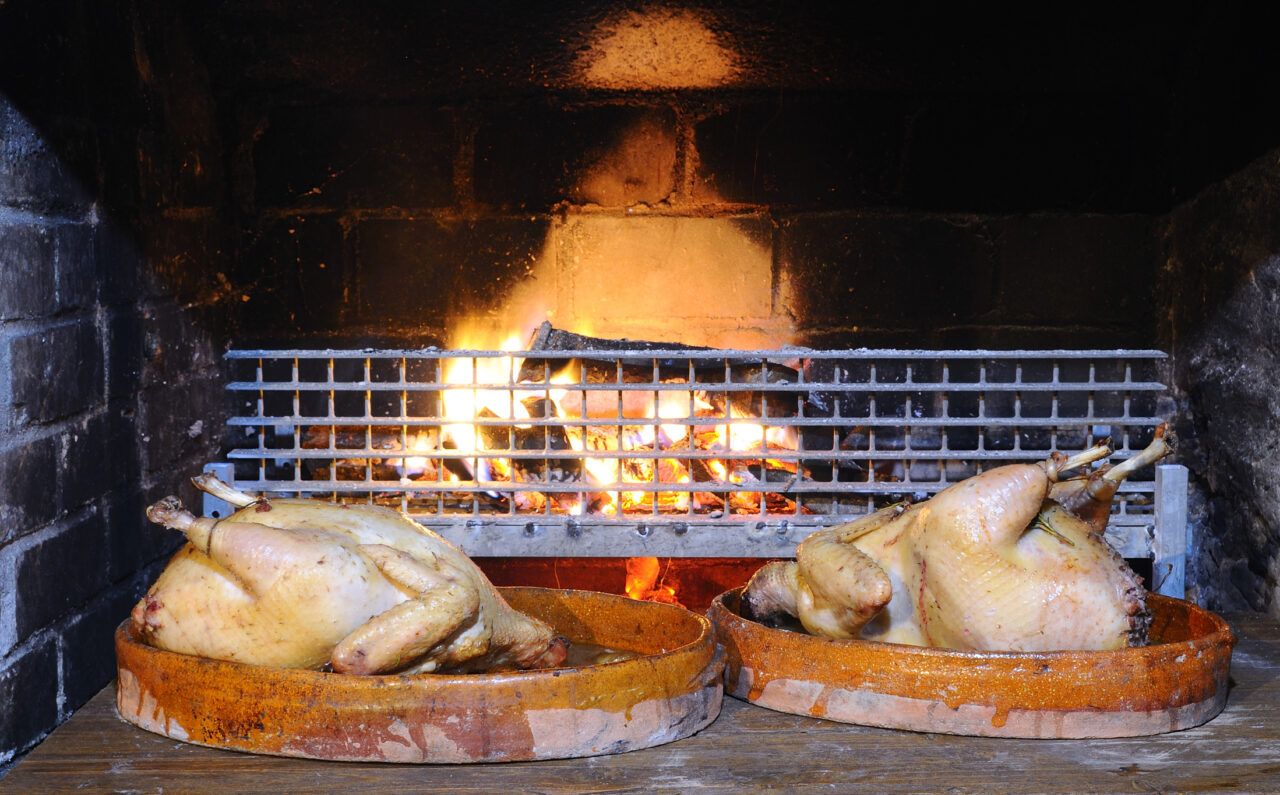 Like a Thanksgiving turkey, a roasted capon (castrated rooster) is the centrepiece of many Italian Christmas Eve dinners. This dish is incredibly filling and served as the main course. The tender meat from the capon signifies prosperity and festive indulgence. Hence, the reason it's so popular in Italy.
Recipe
Dress the washed and de-feathered Capon with olive oil, garlic, and herbs.

Roast until the skin is crispy and the meat is cooked through.

Serve on a platter with its juices.
8. Struffoli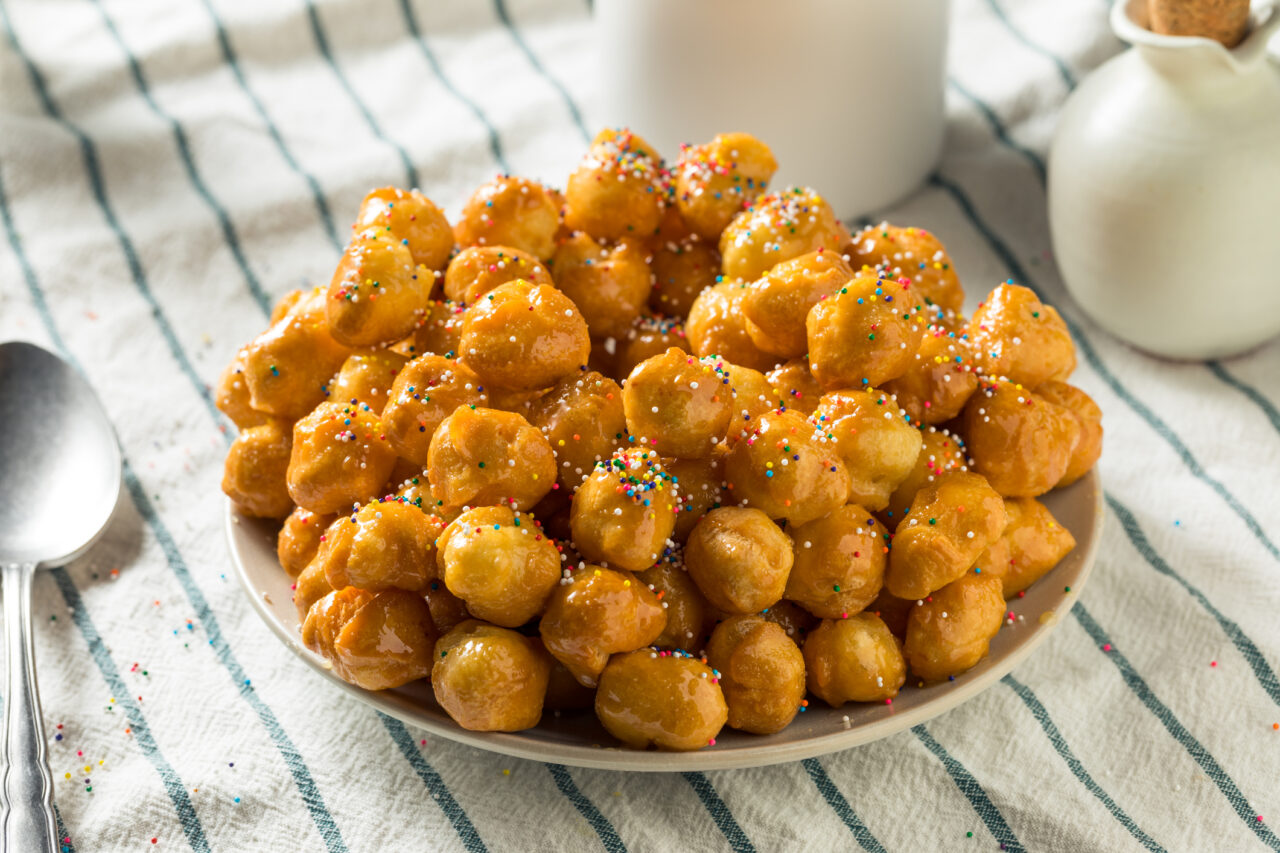 Struffoli are honey-covered dough balls deep-fried until golden and crispy. The sugary dough used for this Neapolitan delight, enjoyed by all age groups, is commonly featured in sweet delicacies such as chiacchiere. These sweet treats represent joy, a common emotion for everyone who eats it.
Recipe
Make a dough with flour, eggs, and a touch of sugar.

Shape into small balls and fry until golden.

Toss in honey, orange zest, and festive sprinkles.
9. Fritto Misto (Mixed Fried Seafood)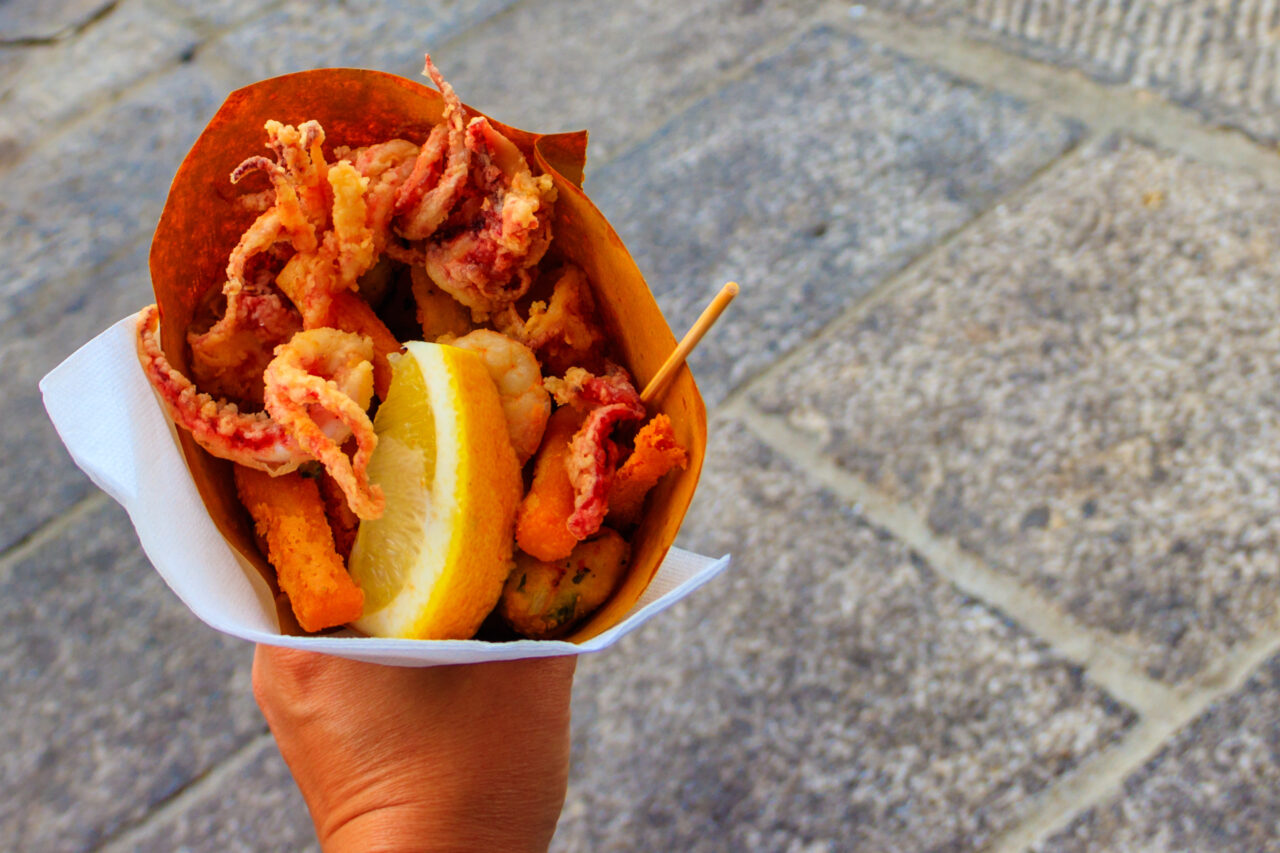 Fritto misto is a fan favourite. This plate of mixed-fried seafood, including shrimp, squid, and fish, is a beloved choice on the Christmas Eve table. Crispy and flavorful, it symbolises abundance, and devourers will fall in love with the crunch.
Recipe
Dip seafood in a light batter of flour, water, and egg.

Heat a pan with your preferred oil (groundnut, canola, olive oil).

Fry until golden and serve with lemon wedges.
10. Ravioli di Magro (Vegetable-Stuffed Ravioli)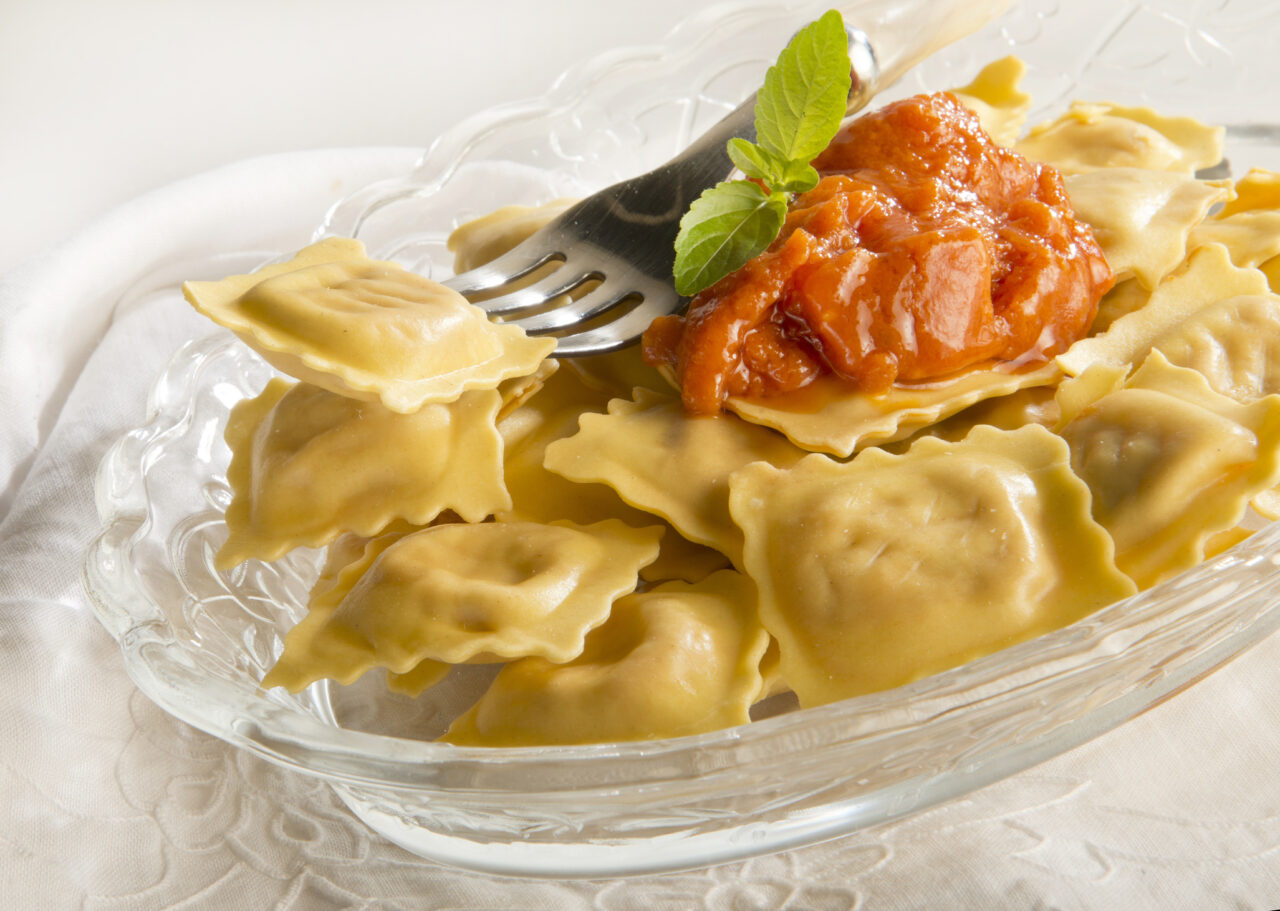 Hailing from Liguria, ravioli di magro features delicate pasta parcels filled with spinach, cheese, and herbs. This main course is one of Italy's finest and showcases the elegance in simple ingredients.
Recipe
Make a spinach and cheese filling.

Fill and seal ravioli, then cook until they float.

Serve with a drizzle of olive oil and grated Parmesan.
11. Broccoli di Natale (Christmas Broccoli)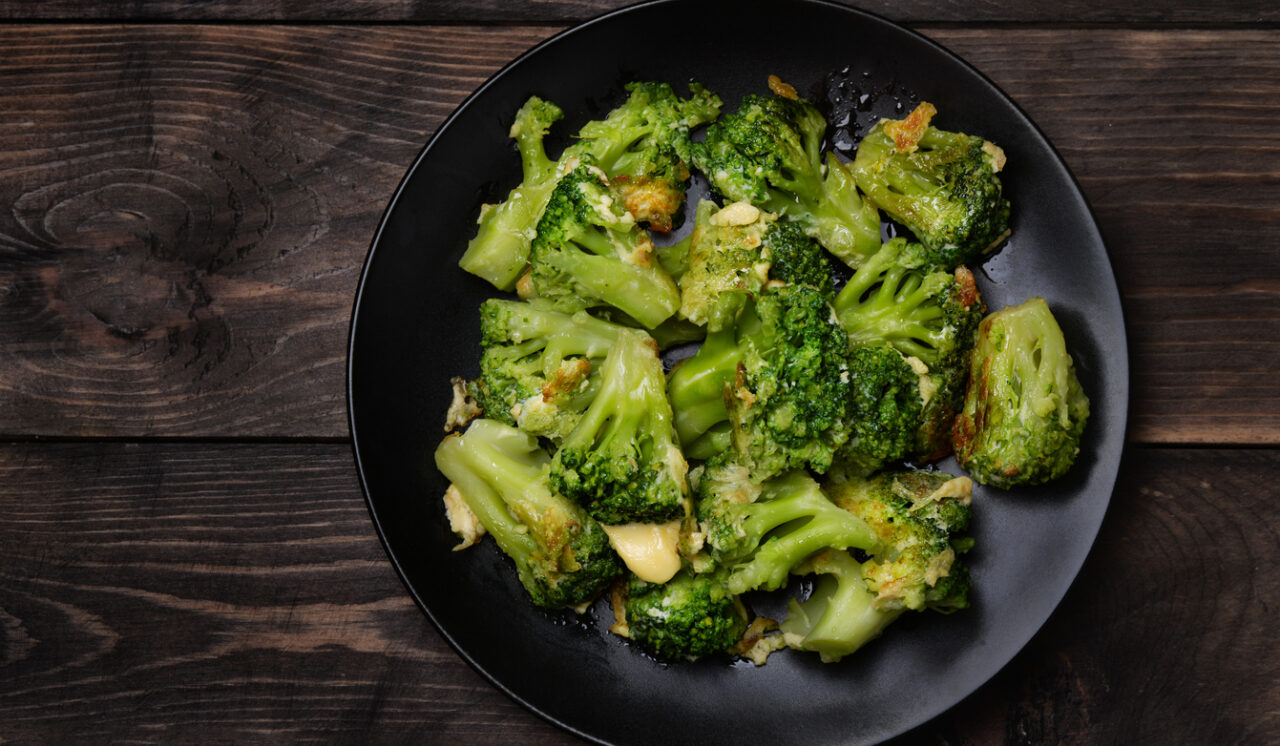 In southern Italy, broccoli is dressed up for the holiday table with garlic, chilli flakes, and olive oil. It's a reminder of the beauty of minimalism.
Recipe
Blanch broccoli florets until tender-crisp.

Sauté garlic and chilli flakes in olive oil.

Toss in broccoli and sauté until coated.
12. Tortellini in Brodo (Tortellini in Broth)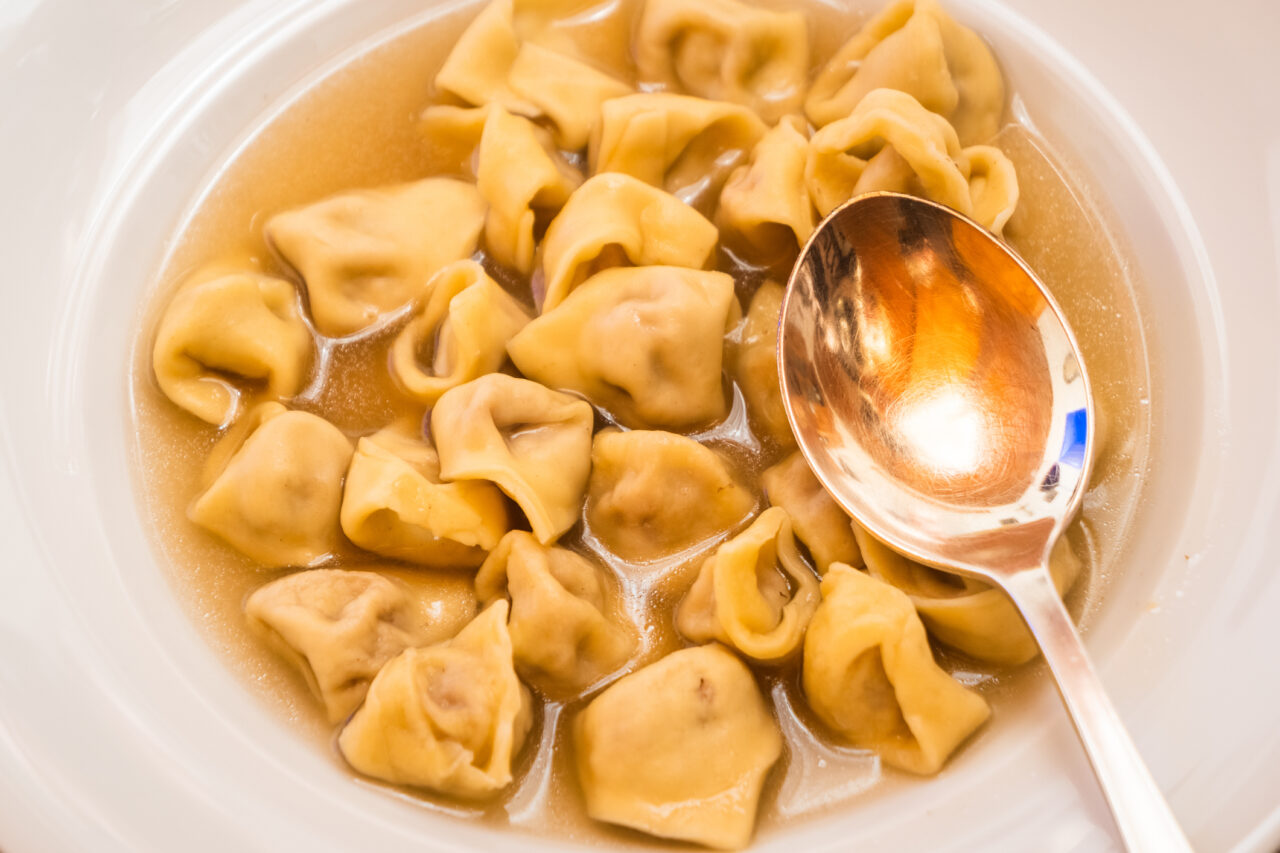 Tortellini in brodo is a heartwarming Italian culinary classic featuring petite pasta parcels generously stuffed with a succulent meat mixture. These are then simmered in a clear, flavourful broth that often includes nuances of vegetables and herbs. It's a comforting dish that brings families closer.
Recipe
Make pasta dough and cut into small squares.

Fill with a mixture of minced meat, cheese, and nutmeg.

Cook in simmering meat broth until tender.
13. Sfincione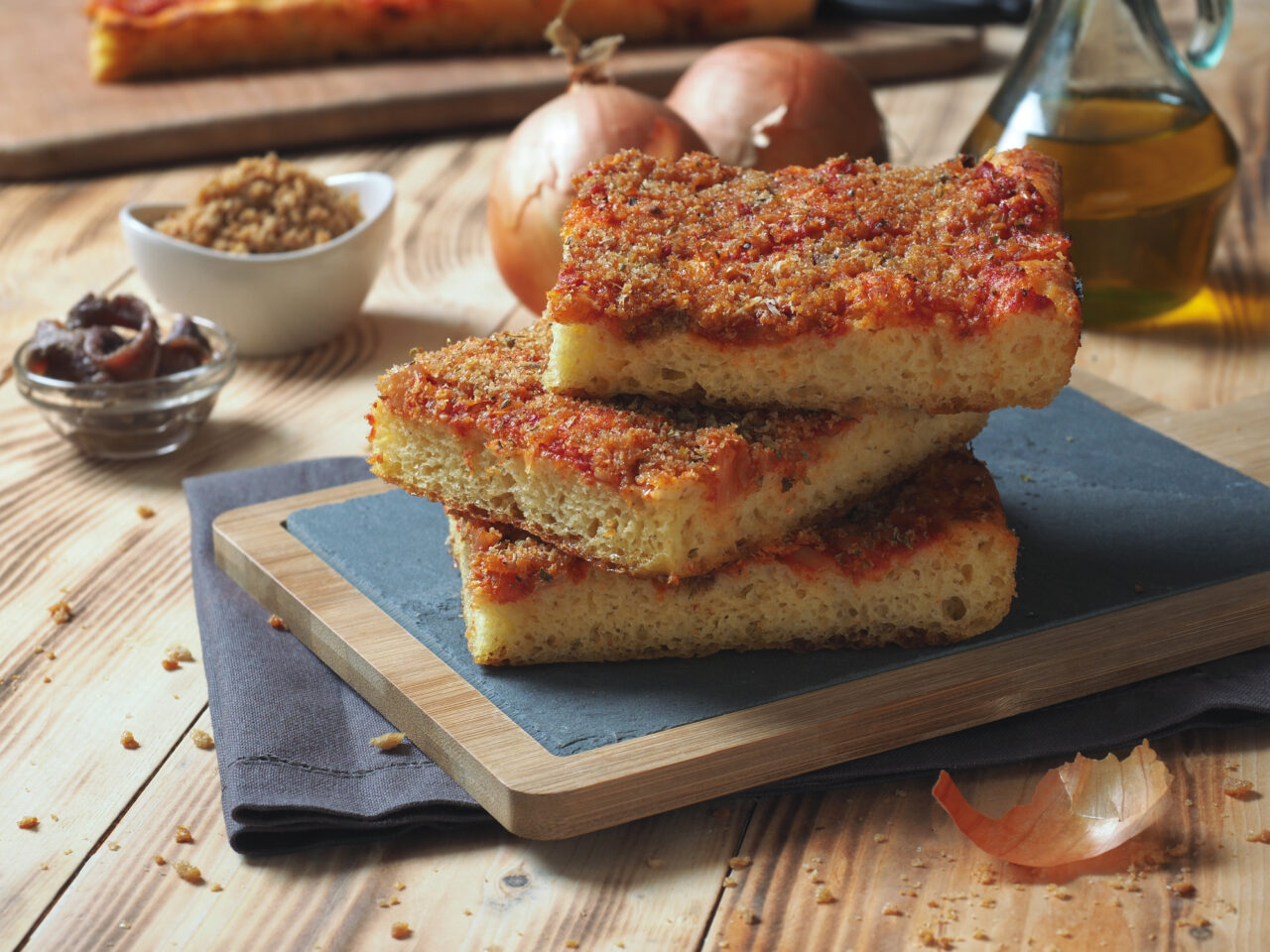 Sfincione, a Sicilian-style pizza, is characterised by a thick, fluffy base. The dish is generously adorned with caramelised onions, salty anchovies, and the robust, tangy notes of caciocavallo cheese. Each component offers its own unique contribution, creating a harmonious blend of flavours.
Recipe
Prepare pizza dough and let it rise.

Top with sautéed onions, anchovies, and cheese.

Bake until the crust is golden and the cheese is bubbly.
14. Crostoli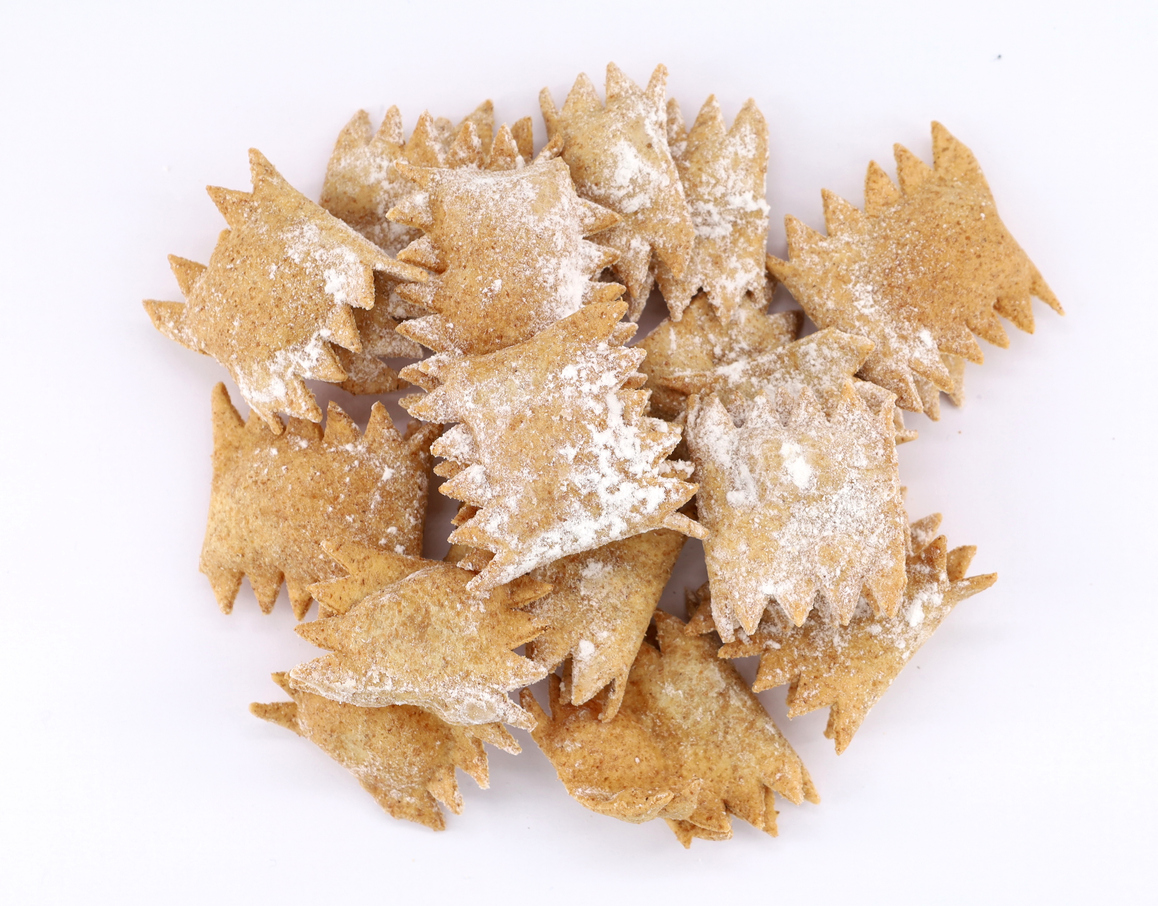 Crispy and delicate, crostoli are sweet fried pastries often enjoyed during festive occasions. In many ways, crostoli are more than just a delectable snack; their presence on a table is an invitation to partake in the joy of the occasion, making them a staple in Christmas Eve celebrations.
Recipe
Make a dough with flour, eggs, sugar, and butter.

Roll thin and cut into strips or shapes.

Fry until golden, then dust with powdered sugar.
15. Cotechino con Lenticchie (Cotechino with Lentils)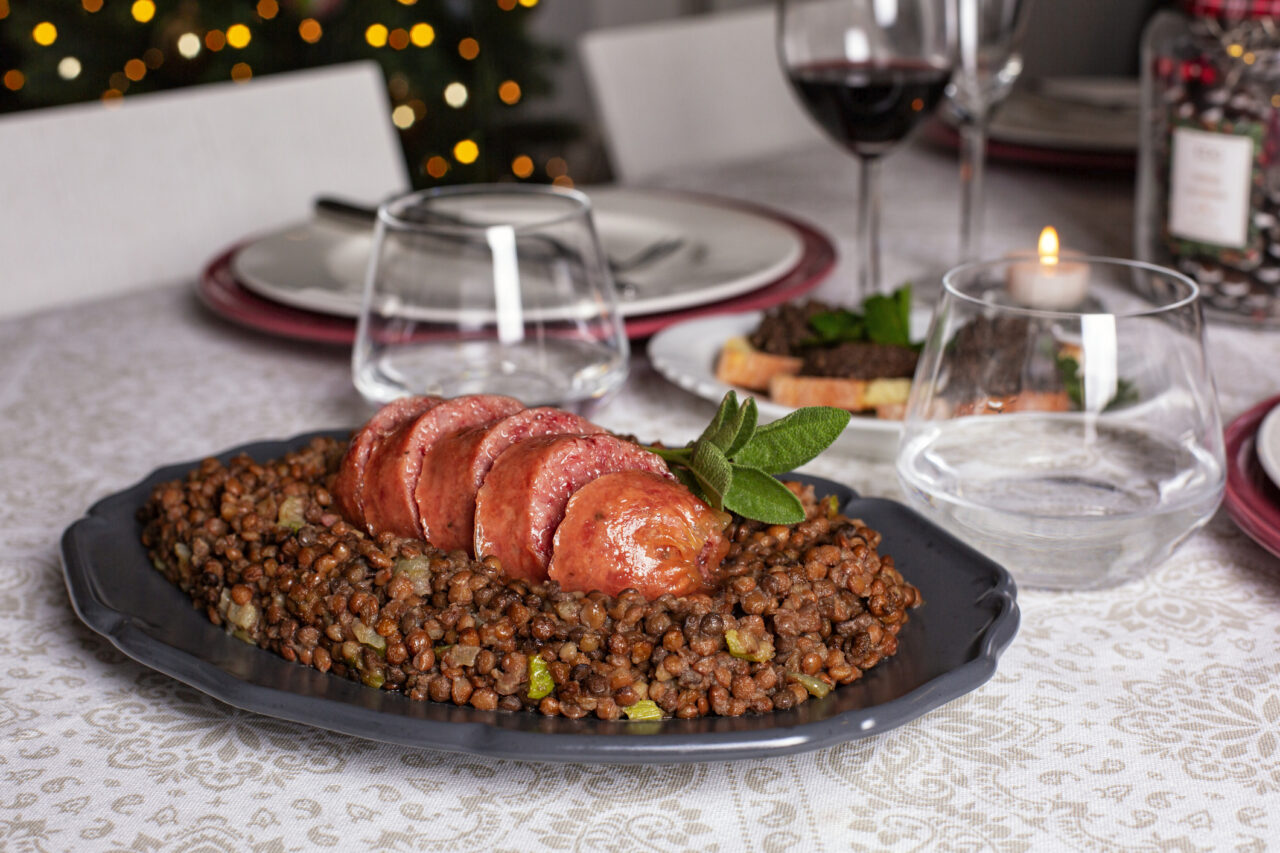 This sumptuous dish, brimming with the richness of succulent sausage and the comforting texture of tender lentils, is more than just a satisfying culinary experience. It carries with it the symbolism of good luck and prosperity for the year ahead, making it not just a meal, but a meaningful ritual.
Recipe
Boil the cotechino sausage until cooked.

Sauté onion, carrot, and celery in olive oil.

Combine and serve
Conclusion
Christmas Eve in Italy is a sight to behold. The lights, cuisine, and romantic Italian atmosphere elevate the entire experience. While you may not be in Italy this season, yhangry's caterers can bring Italy to you this Christmas Eve. Our caterers will create authentic Italian dishes with the freshest ingredients, giving you a taste of Italy. However, you can also create your signature Italian meals with the menu and recipes we've provided in this article.