Planning a hen do can be daunting, especially if you're trying to accommodate everyone's needs and preferences while sticking to a budget. Many brides-to-be opt for intimate celebrations at home, especially since the pandemic. This option feels more personal than the conventional method of going to a club, but without proper guidance, a home hen-do party can turn out boring.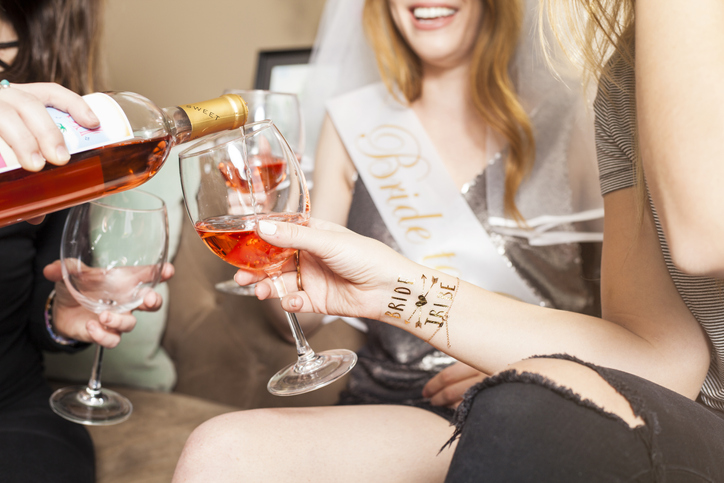 Don't worry. There are plenty of creative ways to make a hen do at home just as memorable as a night out on the town. This article will provide some great ideas for a home-based hen-do party in the UK. From virtual wine tastings to DIY spa days and murder mystery parties, we guarantee our ideas will inspire an amazing night for you and your guests.
Hire a hen-do caterer for your at-home party with yhangry
Hosting a hen do at home is a great and intimate way to celebrate the bride-to-be. However, catering for the whole party can be overwhelming, especially when you seek perfection.
With other items to check off, you're already dealing with a lot, so let someone else shoulder the burden of catering. Luckily, hiring a caterer from yhangry is the perfect solution to alleviate some of the party planning stress.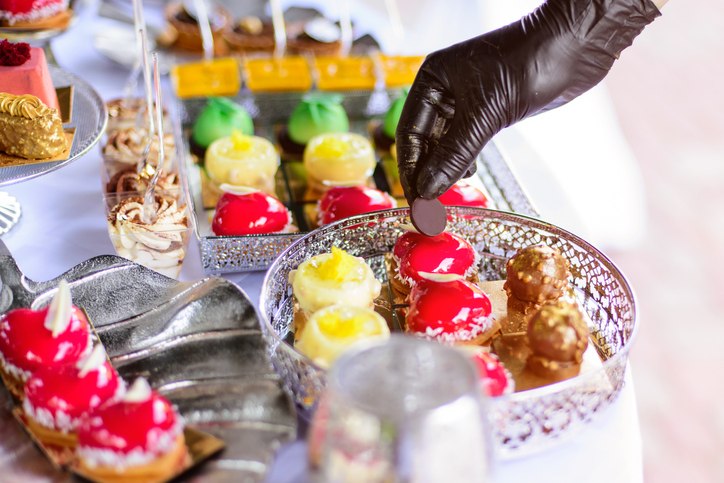 Yhangry connects you to the finest private chefs and caterers in all of Great Britain. These chefs have the most experience and possess immeasurable skills. Yhangry's culinary experts create mouth-watering menus featuring appetisers, mains and desserts using only the freshest, locally sourced ingredients. These menus are customisable as they accommodate diverse dietary restrictions like kosher, vegan, halal, gluten-free, dairy-free, etc. Our chefs are also versatile, as they can create authentic local or intercontinental cuisines that everyone can enjoy.
Hiring a yhangry hen-do caterer is an excellent choice if you want to relax and enjoy the party as our chefs offer inclusive service offerings, which range from table service to clean up, etc.
What are you waiting for? Browse our chefs, view their menus and get a quote. 
7 creative hen do at-home ideas
As catering is handled, you can devote more resources to choosing the theme or idea for the home bachelorette party. A few of the best ones include:
1. Virtual Celebrations
A virtual celebration for a hen do is an excellent way to create a fun and memorable experience for the bride-to-be and her closest friends, even when everyone can't be together in person. And what could be more sophisticated and fun than a virtual wine-tasting or cocktail-making class? With the help of a knowledgeable wine expert or mixologist, you and your group can explore different wine and cocktail flavours from the comfort of your own homes.
The best part about this idea is that you don't need to be an avid wine connoisseur to enjoy a virtual tasting. The experience can be customised to fit the group's preferences. A paid expert can offer the participants guidance and insights on the history, production and flavour profiles of each wine. With simple decorations and the right atmosphere, you can create an elegant and exciting experience that feels as luxurious as wine tasting in Napa Valley.
2. DIY Spa Day
A spa day is absolutely necessary for the bride-to-be, and a DIY spa day can be interactive and fun. Such a spa day is an excellent way to treat the bride-to-be and her closest friends to relaxation and pampering. With a few simple supplies and creativity, you can create a luxurious spa experience in the comfort of your own home.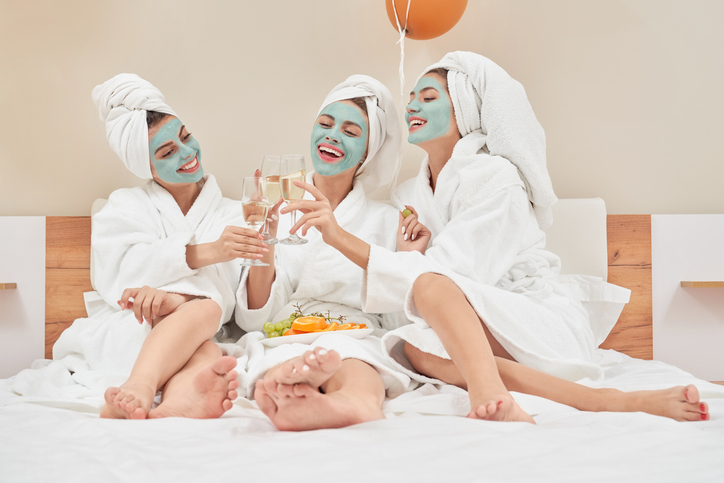 Start by setting the mood with calming music, soft lighting and relaxing scents like lavender or eucalyptus. Then, provide everyone with a robe, slippers and towels to create a spa-like atmosphere. You can create face masks with ingredients like honey, oatmeal and avocado and set up a glam station with makeup, nail polish and manicure kits so everyone can give themselves a relaxing and indulgent manicure.
3. Murder Mystery Party
A murder mystery party is an excellent idea for a hen do. It serves as an outlet for fun and creativity without leaving the house. Murder mystery parties are exciting as participants assume characters and find clues that lead to the culprit. This interactive game involves asking questions, suspecting everyone and gathering evidence.
You can decorate your space like a crime scene to get in tune with the game. You can also give the guests costumes for a more immersive and authentic experience. A murder mystery party is an out-of-the-box way to celebrate a hen do, but we can guarantee it'll be a bachelorette party for the books.
4. Games Night
A games night is one of the first party ideas you may come up with for a hen do. It is a classic and fun hen-do party idea as it's an opportunity for the bride-to-be to unwind with her friends and have a good time. A games night involves all types of activities, from board to card games. Variety is appreciated with such parties. Hence, you must provide games that pique different interests and skills.
Food and snacks are a prerequisite for a games night, but a yhangry caterer can handle this. For added allure, your games night can even be personalised to the bride-to-be's interests and hobbies.
5. Craft Workshop
If the bride-to-be loves art and creativity, a craft workshop for her hen do is perfect. This celebration creates a relaxed atmosphere for everyone to get together and learn a new skill; there's no limit to what you can do. There are several options to choose from, like jewellery-making, basket weaving, scented candle-making, flower arranging or painting.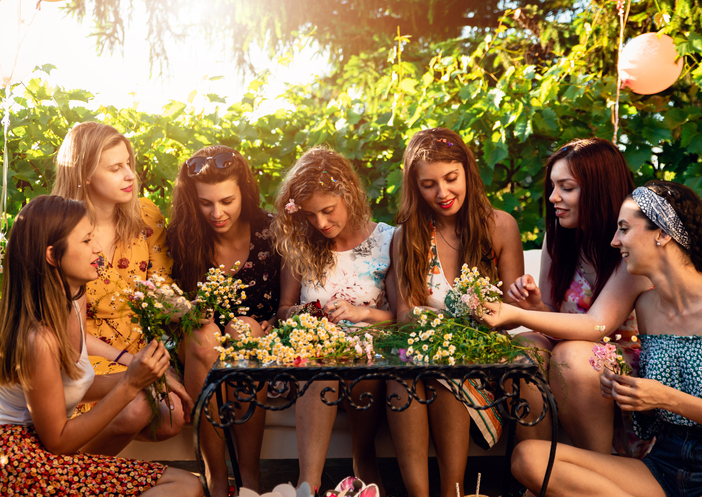 You can hire a professional instructor or host the workshop yourself if you have experience in the craft. However, you will need to provide all the necessary materials, tools, snacks and drinks to keep everyone energised throughout the session.
6. Slumber Party
A slumber party is usually a given on most bachelorette nights. However, why not go full adult slumber party? For this to work, there should be a glam station and pretty decor featuring luxury teepees for this boutique-style slumber party. This decor sets the tone for the guests to arrive in their classy pyjama sets.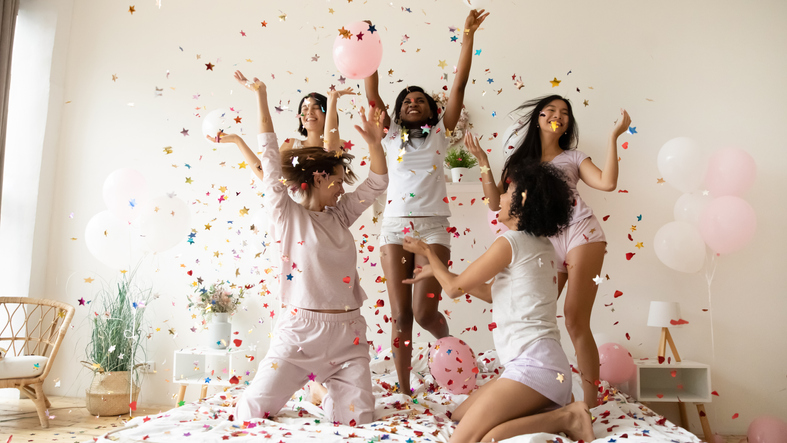 You can organise the classic slumber party games like truth or dare. Or, you can watch a movie, pillow fight or do whatever you please. A snack bar is also a prerequisite for a slumber party. However, a yhangry caterer can handle this part.
7. Karaoke Party
A classic hen-do idea is a karaoke party. It's a great way to let loose, be silly, drink and sing your heart out before the big day. Whether you're a seasoned singer or just looking for fun, a karaoke party is a great option for a hen do.
You can create a playlist of popular songs that resonate with the group, get a karaoke machine and go to town. With strobe lights and props, you can set the scene and encourage everyone to participate.
How to save costs with a stay-at-home hen do
An at-home hen do, by default, is a low-cost event. However, it's still possible to go over budget. Here are some tips to save costs on your hen-do party.
1. Plan Ahead
Planning allows you to take advantage of time-sensitive discounts and sales. It also gives you ample time to book affordable accommodations, activities and supplies.
2. DIY Decorations and Activities
You can save money by creating decorations and activities for the hen do. For example, you can create DIY photo backdrops, games and crafts using materials from a craft store.
3. Bring Your Own Booze (BYOB)
Consider having a BYOB policy, where guests can bring their own alcohol or drinks. This will checkmate the cost of drinks or the need for a bartender.
4. Use Free Resources
Take advantage of free resources, such as online games, music and movies, instead of paying for entertainment.
FAQs

What are the common meals at a stay-at-home hen-do party?

Barbecue, cakes, salads, cocktails, mocktails and finger foods are commonly served at home hen-do parties in the UK. Charcuterie boards, cheese platters and mini sandwiches are common as well.

What is the easiest way to get the catering done?

Hiring a private chef from yhangry is the surest and easiest way to check off catering from your hen-do to-do list. Our chefs guarantee excellence at every event, regardless of the guest list.

What does a private chef need?

You can communicate with your chosen private chef if your kitchen isn't fully equipped. This way, the chef can bring all the food and equipment needed to create and serve ambrosial meals to your guests.