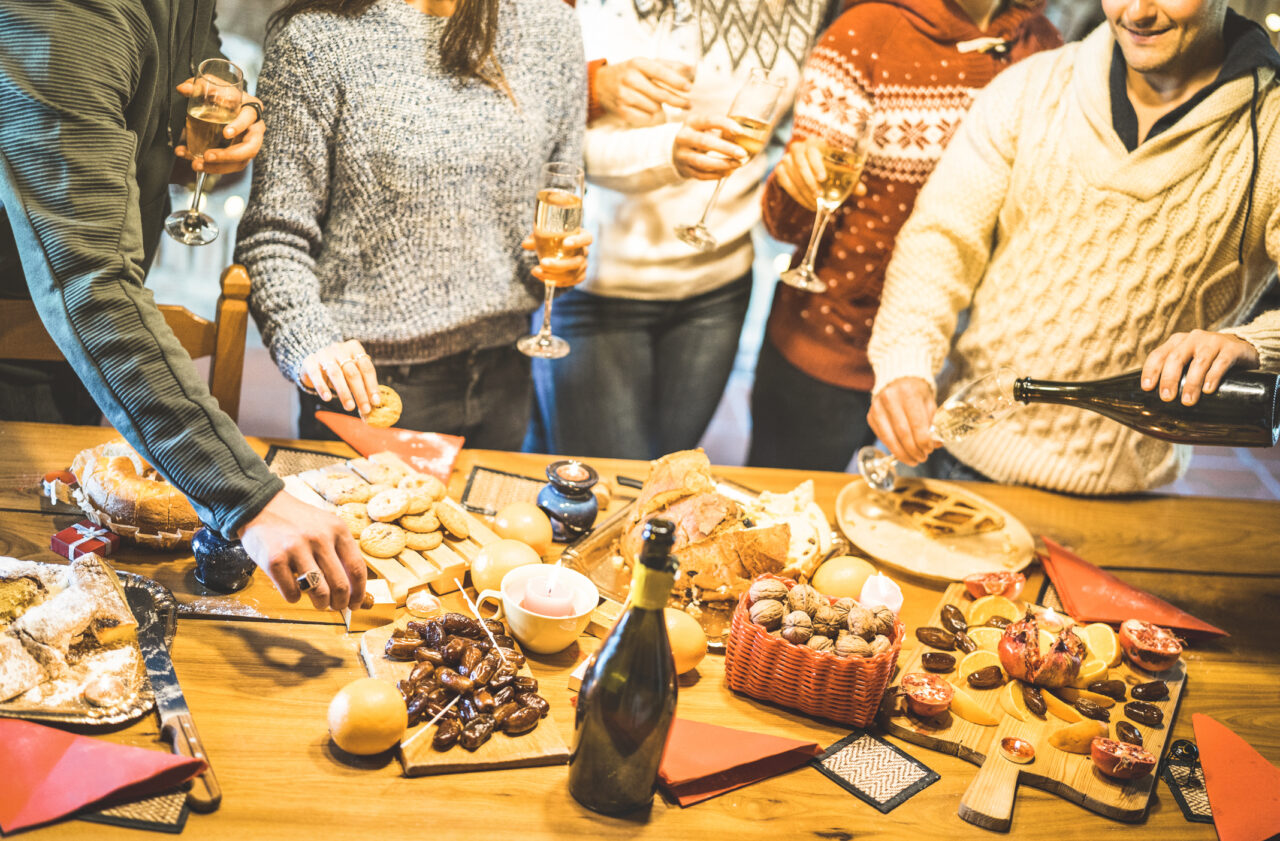 Christmas Eve is a time of joy, anticipation, and festive gatherings. As families and friends celebrate, the appetisers become more than just a prelude to the main course; they set the tone for an unforgettable evening. From classic favourites to innovative creations, the right selection of appetisers can transform your celebration into a culinary delight that resonates with the warmth and spirit of the season.
But how do you create a Christmas Eve appetiser menu that impresses your guests and leaves them reaching for seconds? How do you balance tradition with creativity, comfort with luxury, and simplicity with elegance? This comprehensive guide is here to inspire you with a collection of Christmas Eve appetiser menu ideas that are easy to prepare and infused with the magic of the holiday season.
Elevate Your Christmas Eve Celebration With yhangry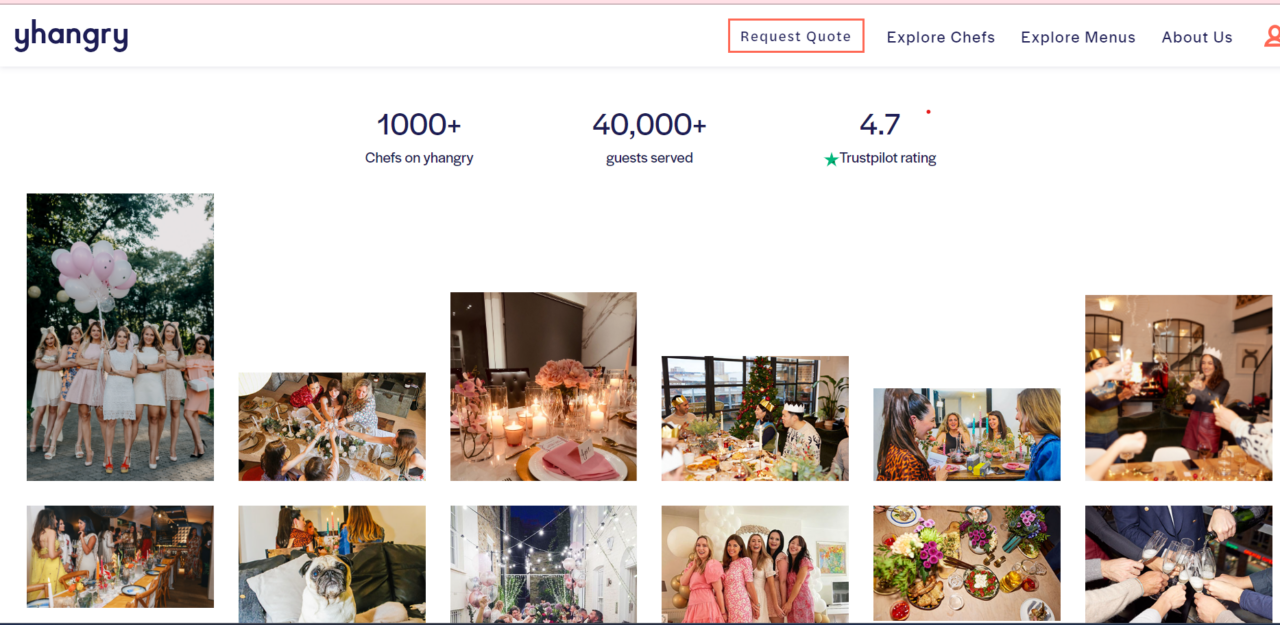 Imagine a Christmas Eve where the appetisers are delicious and a reflection of culinary artistry and personalised elegance. That's the experience yhangry brings to your festive celebration. With yhangry, the joy of Christmas Eve transcends traditional boundaries, turning your gathering into a gourmet feast crafted by expert hands.
Personalised Culinary Experience: At yhangry, we believe that every celebration is unique. Private chefs are dedicated to understanding your preferences, dietary needs, and culinary desires, creating a Christmas Eve appetiser menu tailored just for you.

Global Flavors Meet Local Traditions: Explore a world of flavours without leaving your home. From classic Christmas favourites to global-inspired delicacies, our chefs bring a fusion of tastes that honour tradition while embracing innovation.

Convenience Meets Luxury: Why stress over preparation when you can enjoy the luxury of yhangry's Christmas party catering? Chefs take care of everything, from sourcing fresh ingredients to impeccable presentation, allowing you to savour the moments with your loved ones.
Whether you want to add a touch of sophistication to your family gathering or plan a grand soirée, yhangry is here to make your Christmas Eve a culinary masterpiece. Book a quote for your festive party.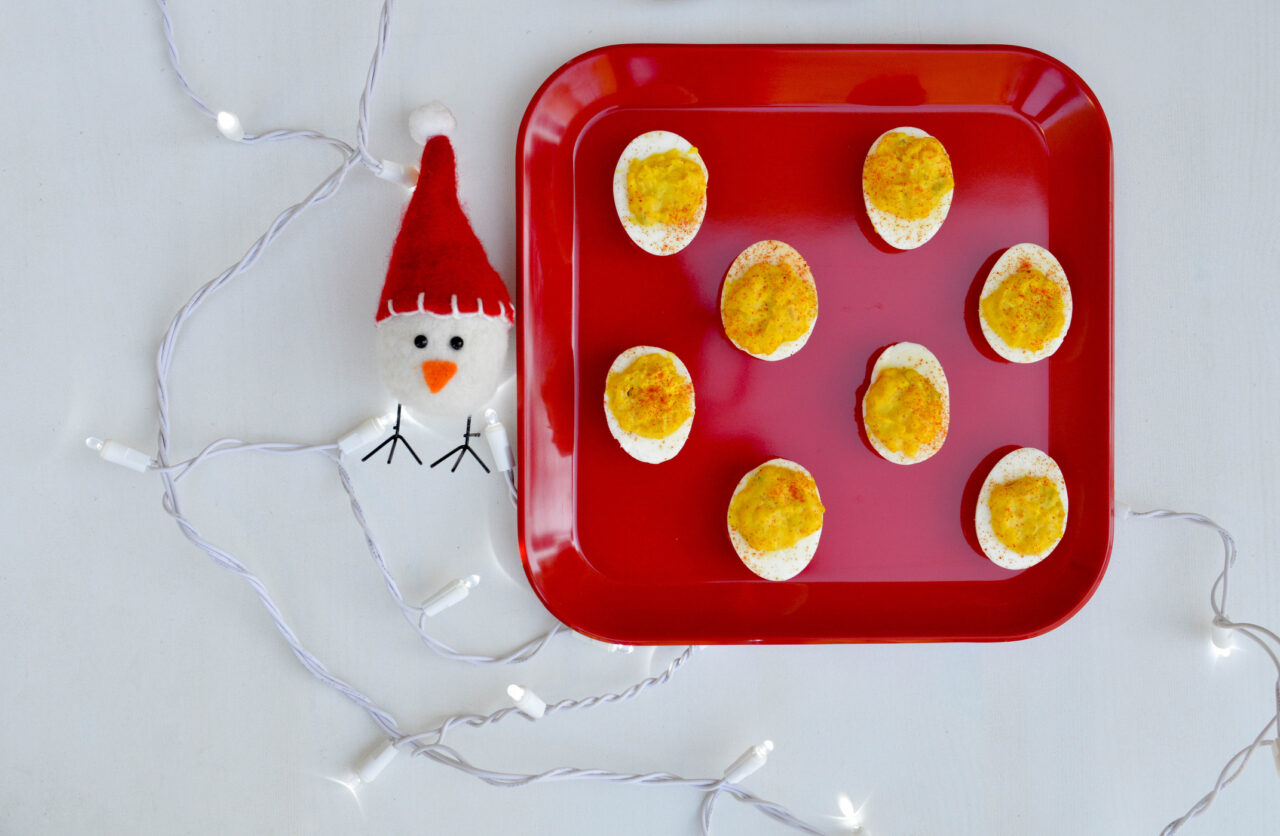 Classic Christmas Eve Appetisers
Nothing says Christmas Eve like the comforting taste of classic appetisers that have graced our tables for generations. These timeless favourites are not just delicious; they evoke memories, traditions, and the warmth of family gatherings. Here's a selection of classic Christmas Eve appetisers that are sure to please, along with some creative ideas to serve them with flair:
1. Deviled Eggs
Traditional Style: Serve with a sprinkle of paprika and fresh parsley.

The yhangry Twist: Add a dollop of caviar or smoked salmon for a luxurious touch.
2. Shrimp Cocktail
Traditional Style: Serve chilled with cocktail sauce and lemon wedges.

The yhangry Twist: Offer a trio of dipping sauces, including spicy mango salsa and creamy avocado dip.
3. Stuffed Mushrooms
Traditional Style: Fill with cream cheese, garlic, and herbs.

The yhangry Twist: Add crabmeat or pancetta for a rich and savoury flavour.
4. Cheese and Charcuterie Board
Traditional Style: Arrange a selection of cheeses, cured meats, olives, and crackers.

The yhangry Twist: Include exotic cheeses, artisanal jams, and edible flowers for an elegant presentation.
5. Mini Meatballs
Traditional Style: Serve with marinara sauce or gravy.

The yhangry Twist: Offer a variety of glazes, such as cranberry-balsamic and teriyaki-ginger.
Tips for Serving Classics With Style
Here are some tips to serve classics with a touch of elegance and sophistication:
Plating: Consider creative plating options, such as serving appetisers in individual spoons or mini cups.

Garnish: Use fresh herbs, edible flowers, and citrus zest to add colour and freshness.

Pairing: Offer wine or cocktail pairings that complement the flavours of each appetiser.
These classic Christmas Eve appetisers are the soul of festive gatherings, and with a touch of creativity, they can be transformed into modern masterpieces. Whether you follow tradition or add a yhangry twist, these appetisers will set the stage for a memorable celebration.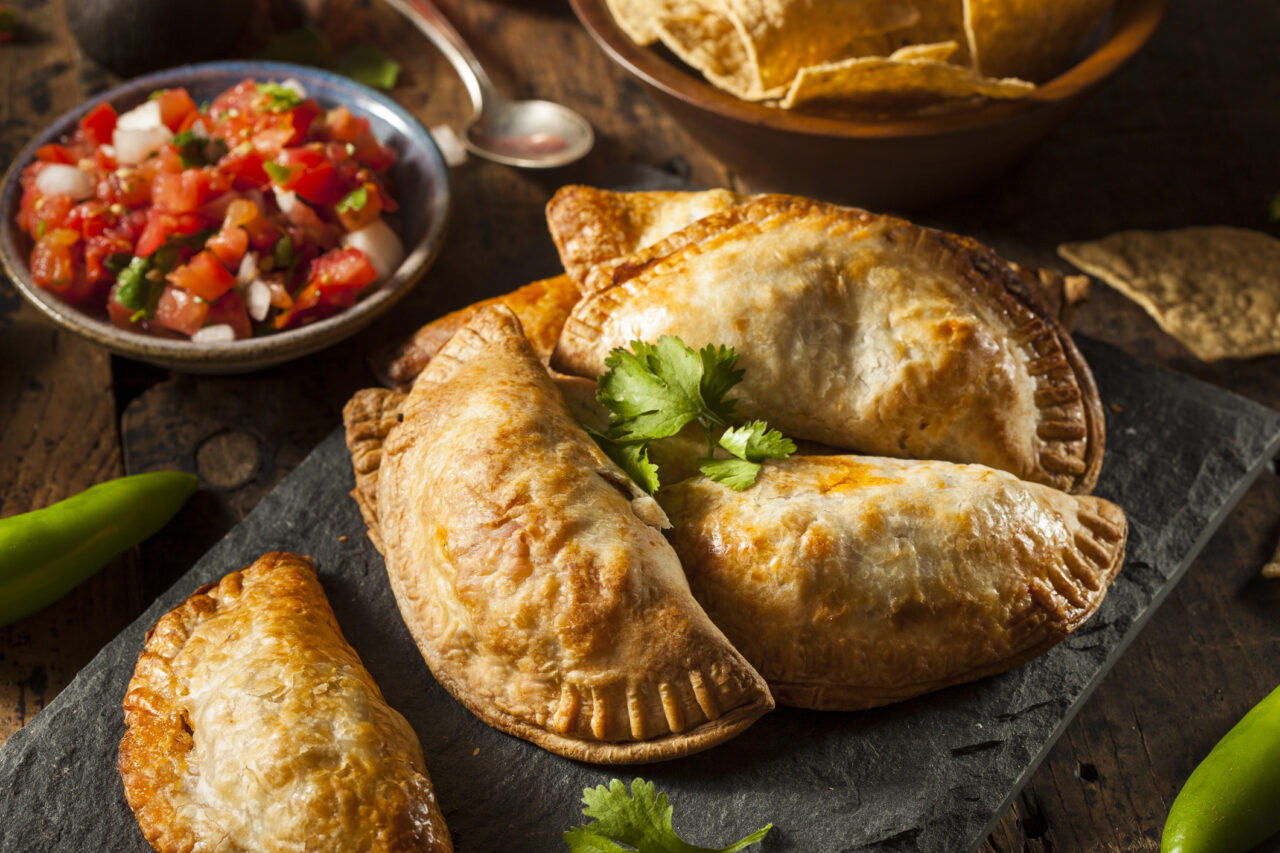 Global-Inspired Appetisers
Christmas Eve is a celebration that transcends borders, and what better way to honour this universal joy than by bringing flavours from around the world to your festive table? Here's a selection of global-inspired appetisers that are sure to impress:
6. Asian Sesame Chicken Bites
Inspiration: East Asia

Serving Suggestion: Serve with a tangy sesame-soy dipping sauce and garnish with scallions.
7. Beef Empanadas
Inspiration: Latin America

Serving Suggestion: Offer a side of chimichurri or salsa for a zesty kick.
8. Mediterranean Stuffed Peppers
Inspiration: Mediterranean

Serving Suggestion: Fill mini bell peppers with feta, olives, and herbs, drizzled with olive oil.
9. Indian Spiced Samosas
Inspiration: South Asia

Serving Suggestion: Accompany with mint chutney and tamarind sauce for a blend of flavours.
10. Moroccan Lamb Skewers
Inspiration: North Africa

Serving Suggestion: Marinate in Moroccan spices and serve with yoghurt-cucumber dip.
Tips for Creating a Global-Inspired Menu
Here are some tips to help you craft a menu that is both diverse and delicious:
Balance: Consider a mix of spicy, savoury, and sweet flavours to cater to different tastes.

Authenticity: Use authentic ingredients and cooking techniques to capture the essence of each cuisine.

Presentation: Embrace cultural aesthetics in plating, using traditional serving ware when possible.

Pairing: Offer beverages that complement the global flavours, such as sake with sushi or sangria with empanadas.
These global-inspired appetisers are more than just dishes; they celebrate diversity, creativity, and the shared joy of Christmas Eve. Explore new horizons and make your festive gathering a gastronomic adventure that transcends the ordinary.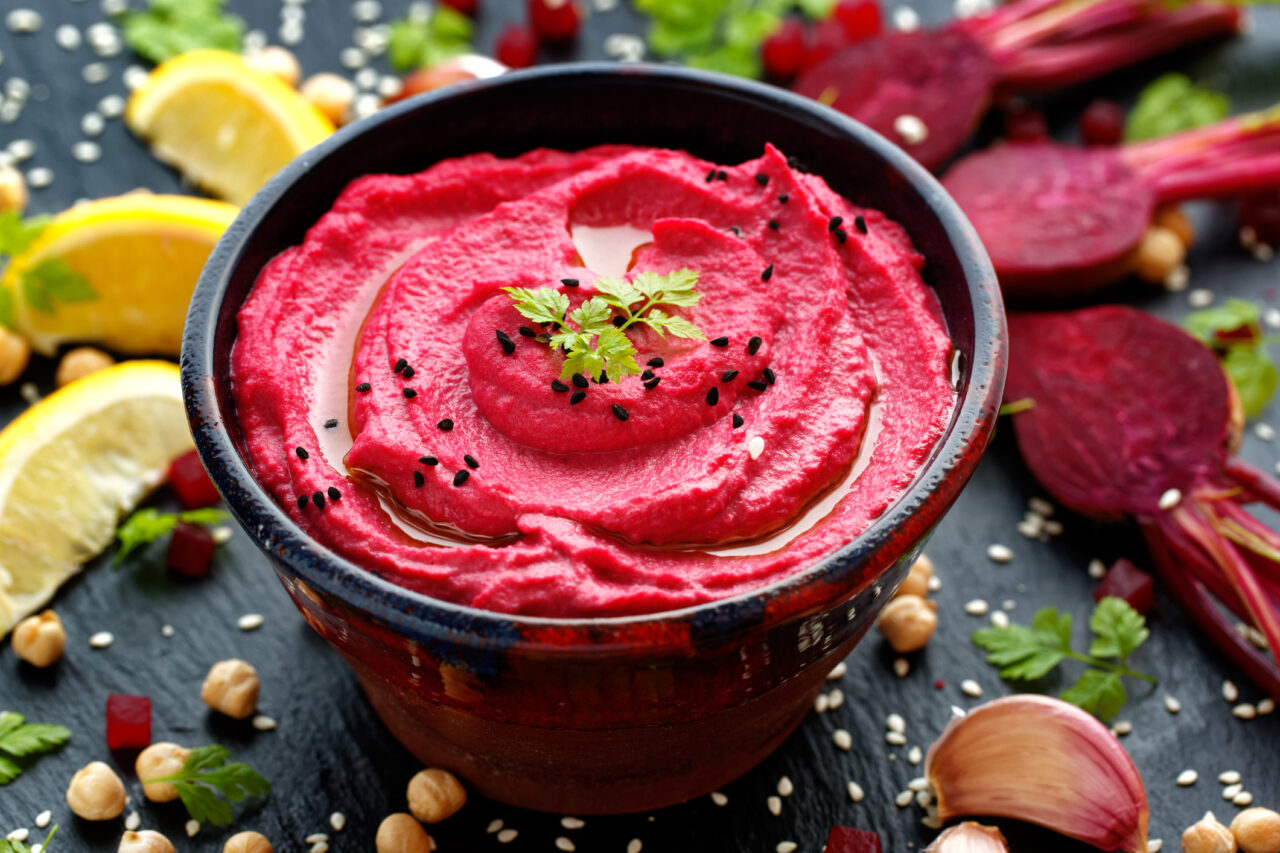 Vegetarian and Vegan Options
Creating a menu that caters to all your guests, including those with vegetarian and vegan preferences, is a thoughtful gesture in the spirit of togetherness and joy that defines Christmas Eve. Here's a selection of vegetarian and vegan appetisers to inspire your menu:
11. Roasted Beetroot Hummus
Type: Vegan

Serving Suggestion: Serve with pita, chips, and fresh vegetables for a healthy, colourful option.
12. Stuffed Grape Leaves (Dolmas)
Type: Vegan

Serving Suggestion: Offer with a lemon-tahini dipping sauce for a Mediterranean touch.
13. Caprese Skewers
Type: Vegetarian

Serving Suggestion: Thread cherry tomatoes, mozzarella, and basil on skewers, drizzled with balsamic glaze.
14. Vegan Spring Rolls
Type: Vegan

Serving Suggestion: Fill with fresh vegetables and herbs accompanied by a sweet chilli dipping sauce.
15. Spinach and Artichoke Dip
Type: Vegan

Serving Suggestion: Serve warm with crusty bread or crackers for a comforting favourite.
Tips for Creating Inclusive Appetisers
Follow these tips to help you create a more inclusive appetiser menu:
Labelling: Clearly label vegetarian and vegan options to make choosing easy for guests.

Variety: Offer a range of flavours and textures to ensure that plant-based options are exciting and satisfying.

Consideration: Be mindful of other dietary restrictions, such as gluten-free or nut-free, and offer alternatives when possible.
These vegetarian and vegan appetisers are crafted carefully and creatively, ensuring guests feel included and celebrated. Embrace the spirit of Christmas Eve with a menu that reflects the diversity and unity of the season.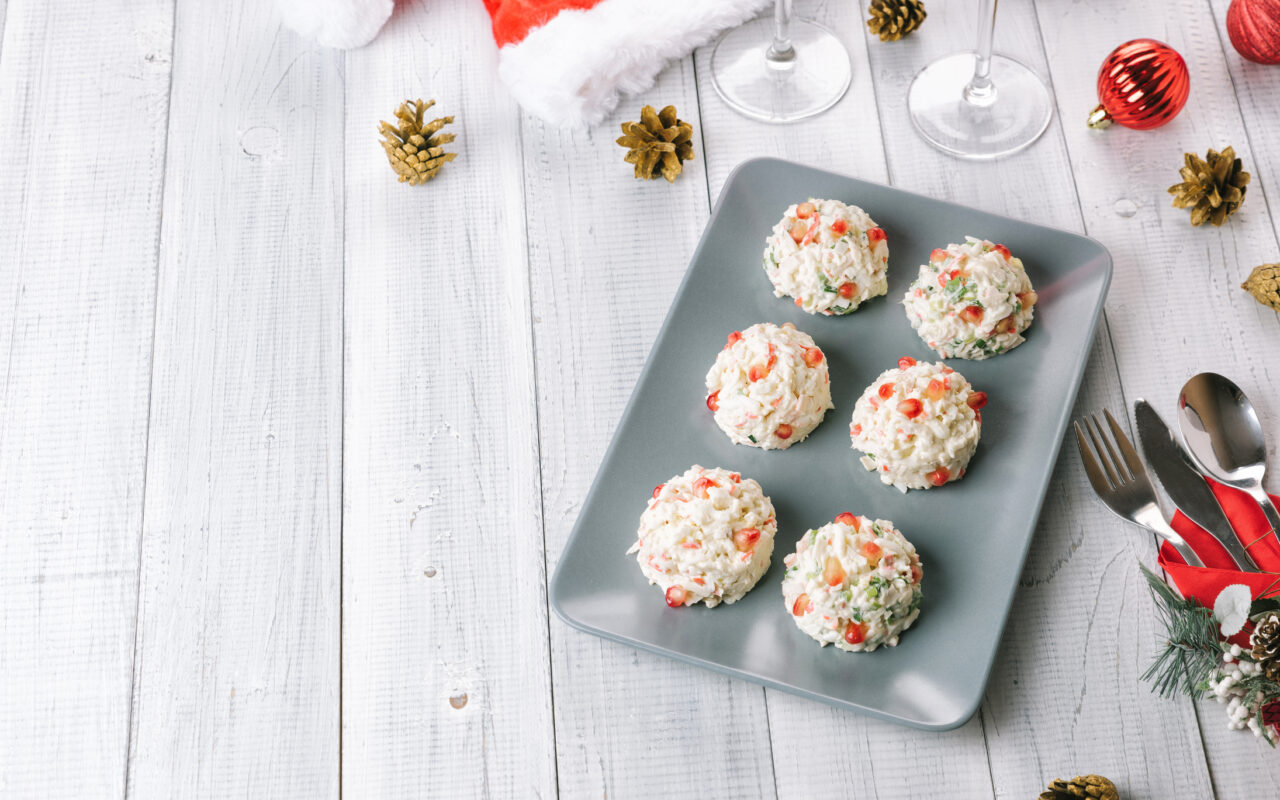 Creative and Fun Appetisers for Kids
Christmas Eve is a time of wonder and excitement, especially for the little ones. Why not add to their joy with appetisers that are delicious, playful, and engaging? With a flair for ingenuity and attention to detail, you can create a spread that delights children and adults alike.
16. Snowman Cheese Balls
Preparation: Shape cheese balls into snowmen and decorate them with pretzel arms, olive eyes, and carrot noses.
17. Santa Deviled Eggs
Preparation: Garnish deviled eggs with red pepper hats and black olive eyes to resemble Santa Claus.
18. Christmas Tree Veggie Platter
Preparation: Arrange broccoli, cherry tomatoes, and yellow bell peppers in the shape of a Christmas tree.
19. Reindeer Pretzel Bites
Preparation: Use pretzels for antlers and candy eyes to create adorable reindeer faces.
20. Penguin Olive Bites
Preparation: Assemble black olives, cream cheese, and carrots to create cute penguin appetisers.
Tips for Creating Kid-Friendly Appetisers
Here are some tips for crafting a selection of kid-friendly starters that are both delicious and nutritious:
Interactive Cooking: Involve children in preparing, making cooking fun.

Healthy Choices: Incorporate fruits and vegetables in creative ways to encourage healthy eating.

Allergen Awareness: Be mindful of common allergens and offer alternatives if needed.
These creative and fun appetisers for kids are more than just dishes; they celebrate Christmas Eve's magic and innocence. Let the youngest guests be part of the culinary adventure, creating memories that last a lifetime.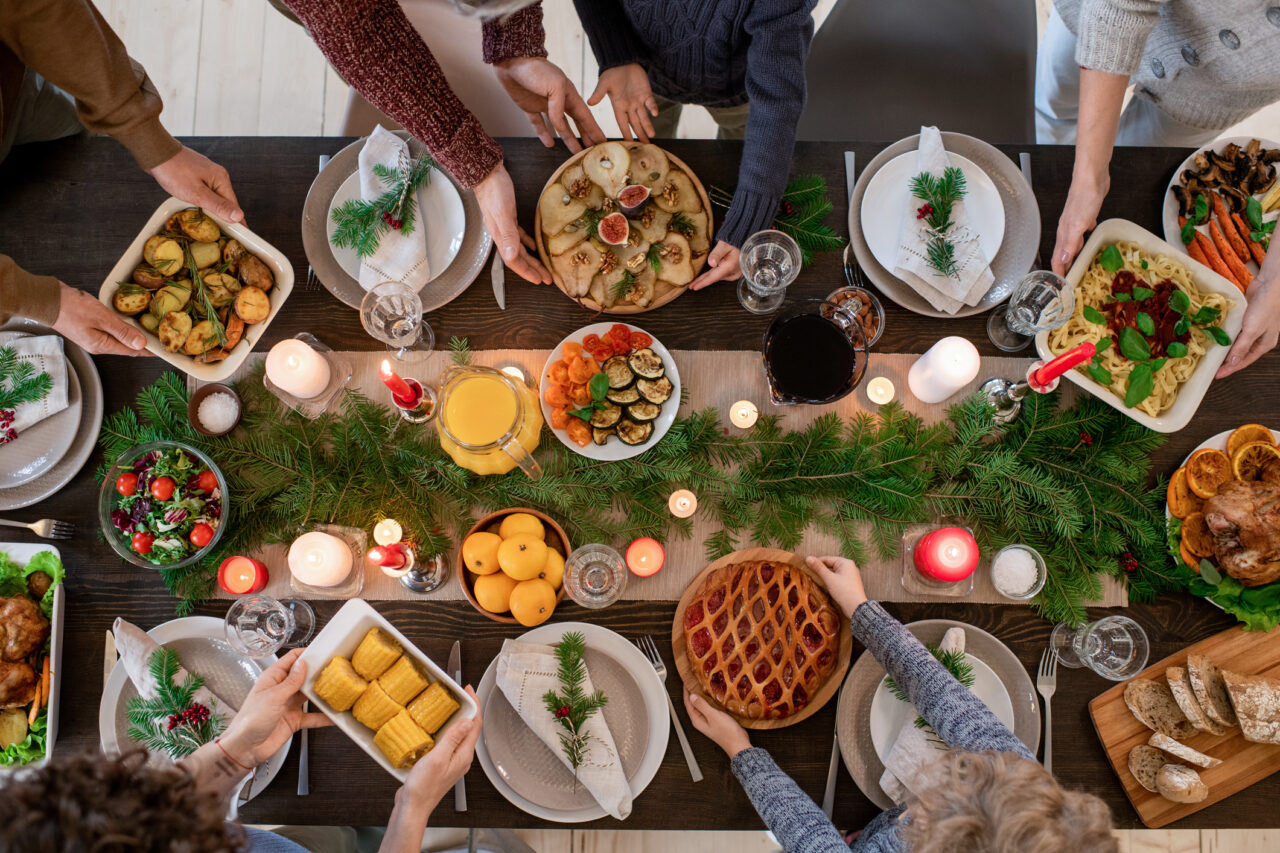 Conclusion: Embrace the Joy of Christmas Eve With Unforgettable Appetisers
These appetiser ideas offer a journey through flavours, textures, and traditions, allowing you to craft a menu that reflects the unique spirit of your gathering. Whether you're hosting an intimate family dinner or a grand soirée, these ideas are here to inspire and guide you.
At yhangry, we believe in the power of personalised culinary experiences and the joy of sharing a meal. If you want to elevate your celebration with the expertise of private chefs and caterers, we invite you to discover how we can be part of your Christmas Eve story.
So, why not make this Christmas Eve a celebration to remember? Embrace the creativity, diversity, and indulgence that defines this festive time of year, and create memories that last a lifetime.
FAQs

What snacks to serve on Christmas Eve?

Serve a mix of classic favourites like deviled eggs and shrimp cocktails, global-inspired bites, vegetarian options, and kid-friendly creations. 

What do you serve at a Christmas Eve cocktail party?

At a Christmas Eve cocktail party, you might serve an array of festive cocktails like spiced mulled wine or eggnog martinis, accompanied by a selection of appetisers such as smoked salmon blinis, mini mince pies, and cheese and charcuterie boards. To add a touch of holiday magic, consider garnishing drinks with seasonal herbs like rosemary and offering themed snacks like gingerbread cookies.

What should you serve at an appetiser party?

Consider serving a mix of hot and cold options like stuffed mushrooms, mini quiches, and sliders for warm choices, and bruschetta, shrimp cocktail, and a cheese and charcuterie board for cold selections. To cater to varied tastes and dietary needs, also include vegetarian, vegan, and gluten-free options.