In the past, vegetarian food has been dismissed by detractors as being little more than grass. This perception has greatly changed over the past decades, and vegetables have become increasingly popular. Nowadays, you can easily find great vegetarian outlets serving mouthwatering 100% vegetarian meals.
Recently, Edinburgh was found to be the second most popular vegan area in the UK after Glasgow, so you wouldn't be too surprised to learn that hundreds of great restaurants in the city cater to vegetarians. Some restaurants provide food of all different cuisines and styles for vegetarians and vegans, meaning they're spoilt for choice.
Get High-Quality Vegetarian Food at Home
The best vegetarian restaurants are always in high demand; getting a seat in one can be a hassle. It's fun to go out to restaurants and dine over a mouthwatering meal; however, relaxing in your home and letting a private chef cook for you can be even more fun.
Private chefs aren't just for billionaires in their mansions. They can also cook affordable meals for you within the comfort of your own home. They'll take into consideration what dietary restrictions you have and craft a menu to suit your evening.
Great vegetarian food, in particular, can be hard to find, so why not hire a private chef to cook it for you? Yhangry makes it easy to find the best private chefs in Edinburgh who can cook vegetarian meals for you. All you have to do is request a free quote from us, and we'll connect you with an affordable, experienced chef who can create the perfect, 100% plant-based dinner for you.
The Best Vegetarian Restaurants in Edinburgh
To help you find the best vegan restaurants in Edinburgh, we've compiled this list highlighting the best vegetarian-friendly places to eat in the city. Although you don't have to go out to enjoy great vegan food, you can always hire an experienced personal chef or catering service.
Bars & Restaurants
Paradise Palms
41 Lothian St, Edinburgh EH1 1HB
Paradise Palms is a tropical-themed bar and restaurant with a great vibe. It serves American food, primarily soul food, with a vegetarian twist. Their menu includes such classics as juicy veggie burgers, loaded fries, buffalo cauliflower and much more. They include fantastic spicy options for people looking for a hot dish.
Paradise Palms can be found near Edinburgh university campus buildings. As well as a fantastic restaurant, they have a great tiki-themed cocktail bar with an extensive drinks menu of cocktails and frequently feature live entertainment on weekends. Paradise Palms is one of the most enjoyable places where vegetarians can kick back, relax and tuck in.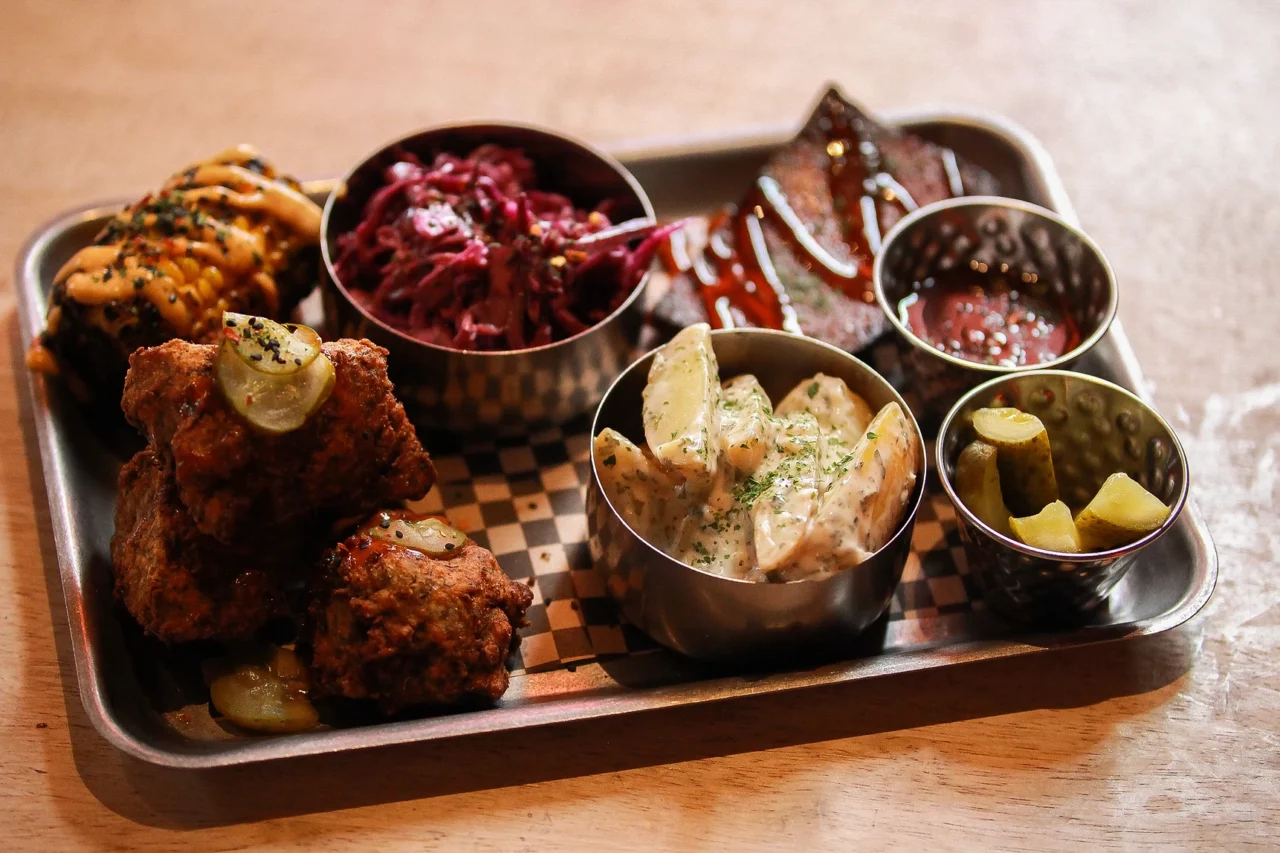 Kalpna
2 – 3 St Patrick Sq, Edinburgh EH8 9EZ
Kalpna is a legendary restaurant for Edinburgh vegetarians, as it has been serving great vegetarian food for over 40 years. It is an Indian restaurant that uses local produce to create incredibly tasty food like pakoras and dahi puri.
Kalpna's interior is something to behold. Its walls are lined with sparkling mirrors that make the restaurant instantly recognisable. Their menu is a fantastic mix of classic beloved Indian dishes and contemporary cuisine, which is fresh and exciting. Kalpna is a beautiful restaurant and very affordable. Every vegetarian in Edinburgh should go to Kalpna at least once.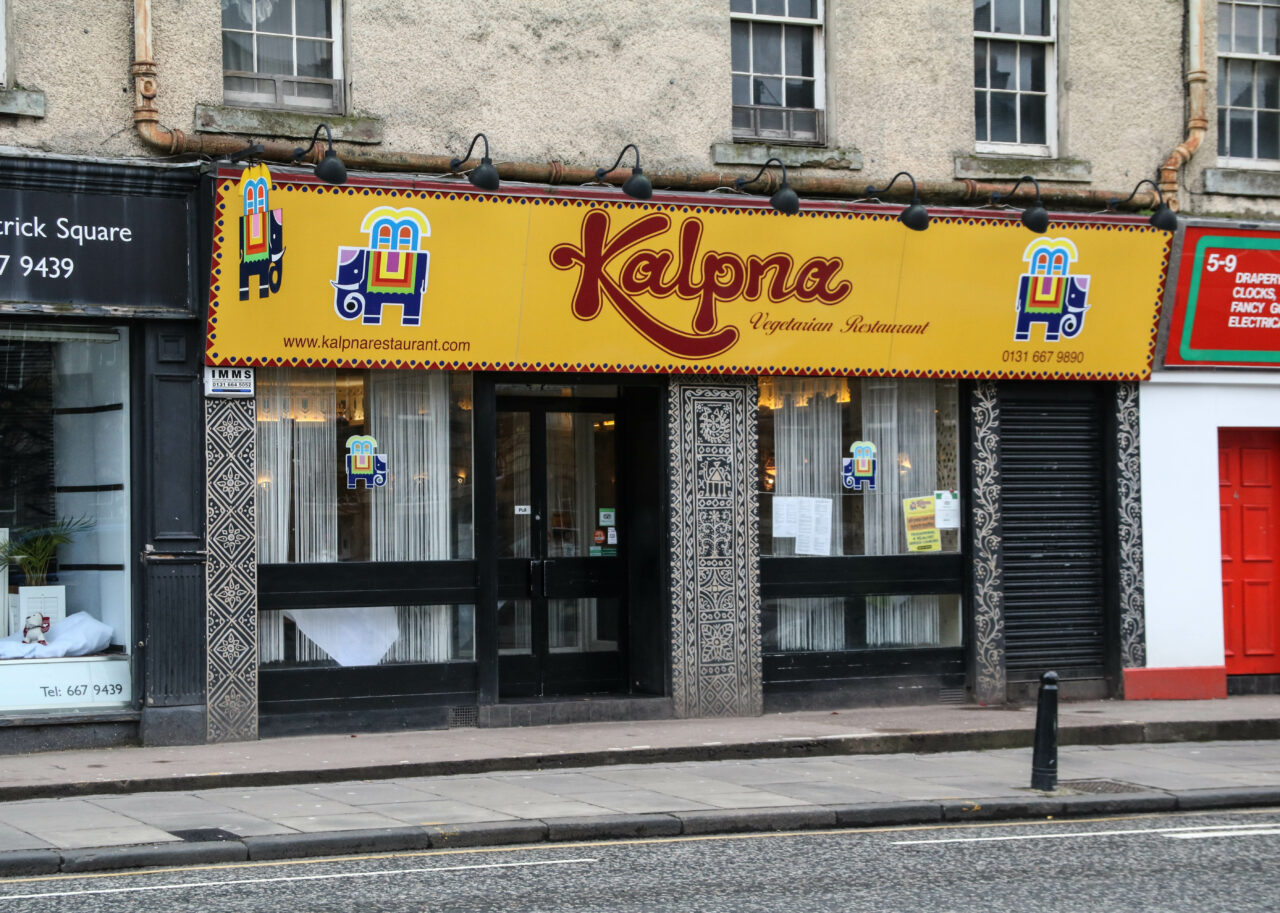 Novapizza Vegan Kitchen
42 Howe St, Edinburgh EH3 6TH
Novapizza Vegan Kitchen is a vegan-friendly Italian restaurant run by a Roman family. They serve authentic Italian food for vegans using locally sourced ingredients. It's a very cosy restaurant serving distinctive versions of classic Italian dishes.
They have a menu with all your typical Italian meals, like pasta dishes and white pizzas. They also have seasonal menus that change every six months and include interesting culinary offerings.
Many people claim that Novapizza serves the best vegan pizzas in Edinburgh and that they're irresistible to all Italian-food lovers, vegan or not. Their pizza menu reads like a typical pizzeria, but instead of using ingredients like mozzarella, salami, ham or pepperoni, they swap them out for vegan alternatives. If you're looking for a delicious pizza that hits the spot, look no further than Novapizza.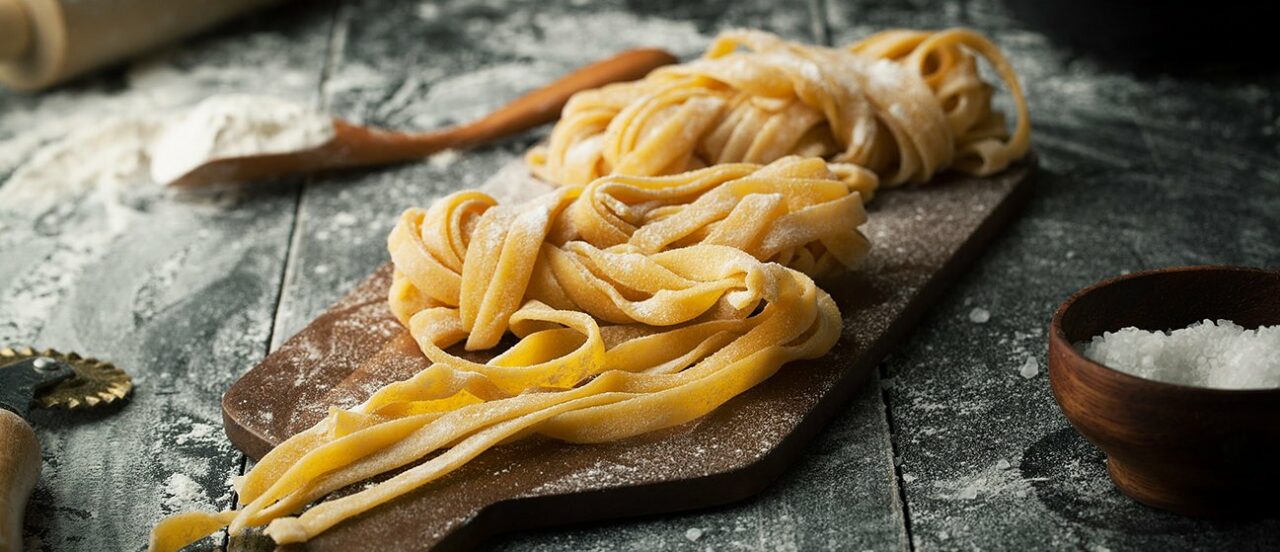 Sora Lella Vegan Restaurant
13a Brougham St, Edinburgh EH4 9JS
You can find Sora Lella Vegan Restaurant on the opposite side of Edinburgh to Novapizza. This award-winning restaurant is charming and has a rich, varied menu that satisfies all Italian food lovers.
This family-run Italian restaurant serves some of the finest Italian food in Edinburgh, and its plant-based pizzas and pasta are mouthwateringly delicious. Sora Lella has all the typical Italian dishes you'd expect, like pizzas, carbonaras and lasagne, but made with vegan alternatives, meaning you can enjoy all your favourite Italian dishes knowing they have been created lovingly without meat or dairy.
Sora Vella and Novapizza are the two best Italian restaurants for vegetarians in Edinburgh, and vegetarians are spoilt for choice.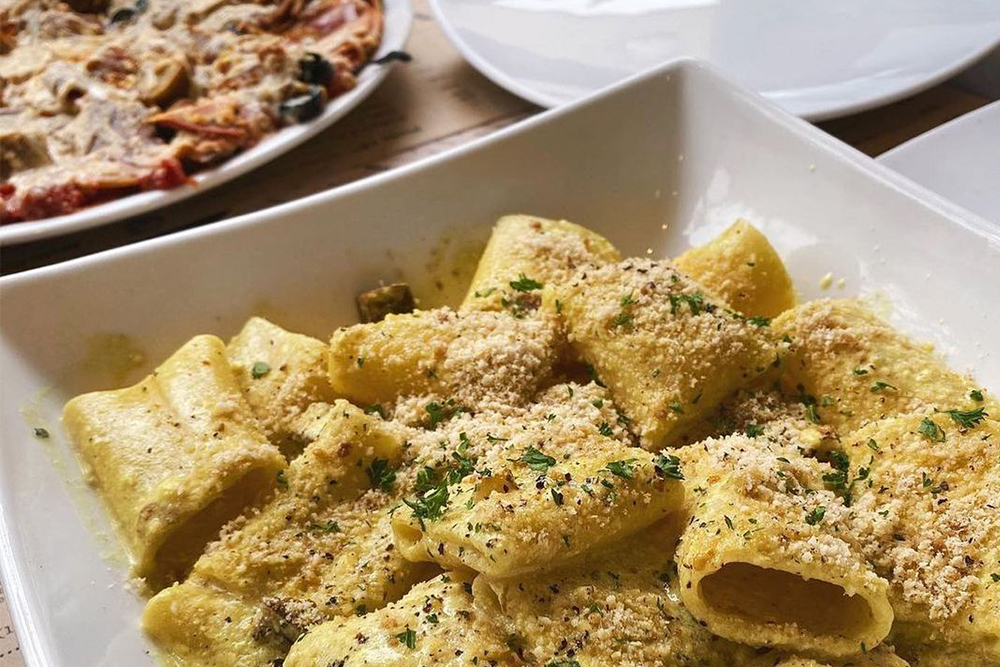 Seeds For The Soul
167 Bruntsfield Pl, Edinburgh EH10 4DG
Seeds For The Soul is a funky vegan restaurant with an extensive menu. They include eye-catching dishes, like their unicorn pancakes, which are filled with superfoods like spirulina and purple goji berries.
Their signature dishes are their delicious vegan burgers, which are some of the best plant-based burgers you'll ever eat. They have a great brunch menu, including a full vegan breakfast and sweet pancakes. They also have a lunch menu that includes vegan-friendly hot dogs, cheeseburgers and more. Alongside these hearty meals, they also have a great cake selection.
Seeds For The Soul is a great local place with an independent ethos. It has a cosy seating area adorned with fairy lights and featuring artwork by local artists. Even if you're not too hungry, it's a great spot to hang out in Bruntsfield.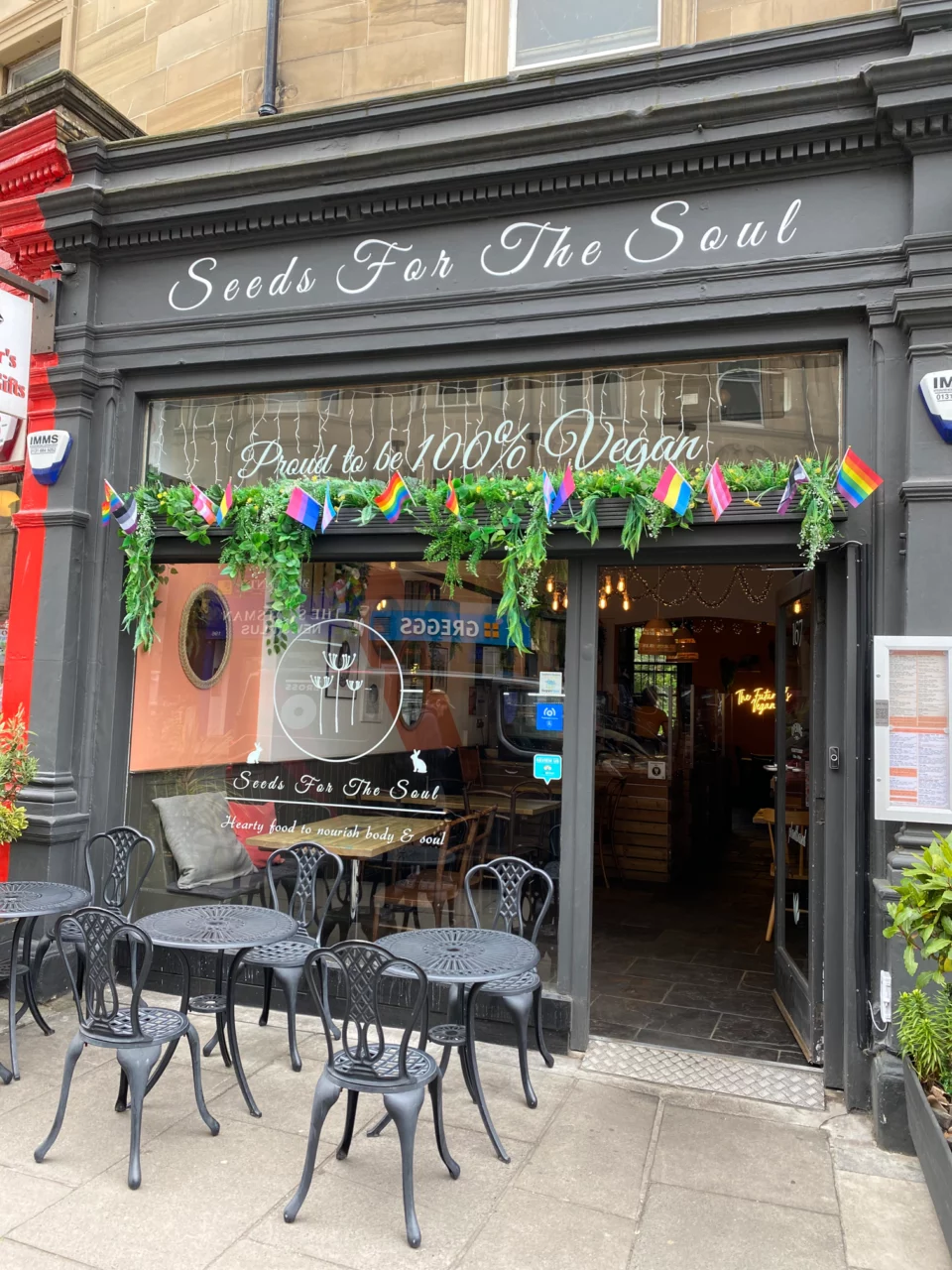 The Auld Hoose
23 – 25 St. Leonard's St, Edinburgh EH8 9QN
The Auld Hoose is a pub that looks like your typical pub. However, underneath its veneer is a great place for vegans and vegetarians as it has plenty of vegan options on its menus, such as generously portioned vegan nachos and delicious falafel burgers.
The Auld Hoose is a great place for vegetarians who want to eat out with omnivore friends but don't want to drag them to a vegan restaurant. It's also a great hearty pub where you can kick back and enjoy yourself.
There are many other pubs in Edinburgh which serve excellent vegetarian dishes. The Woodland Creatures pub in the heart of Leith serves a delicious Sunday vegan roast. Other Edinburgh pubs with great vegan menus are The Safari Lounge, The Sheep Heid Inn and the Salisbury Arms.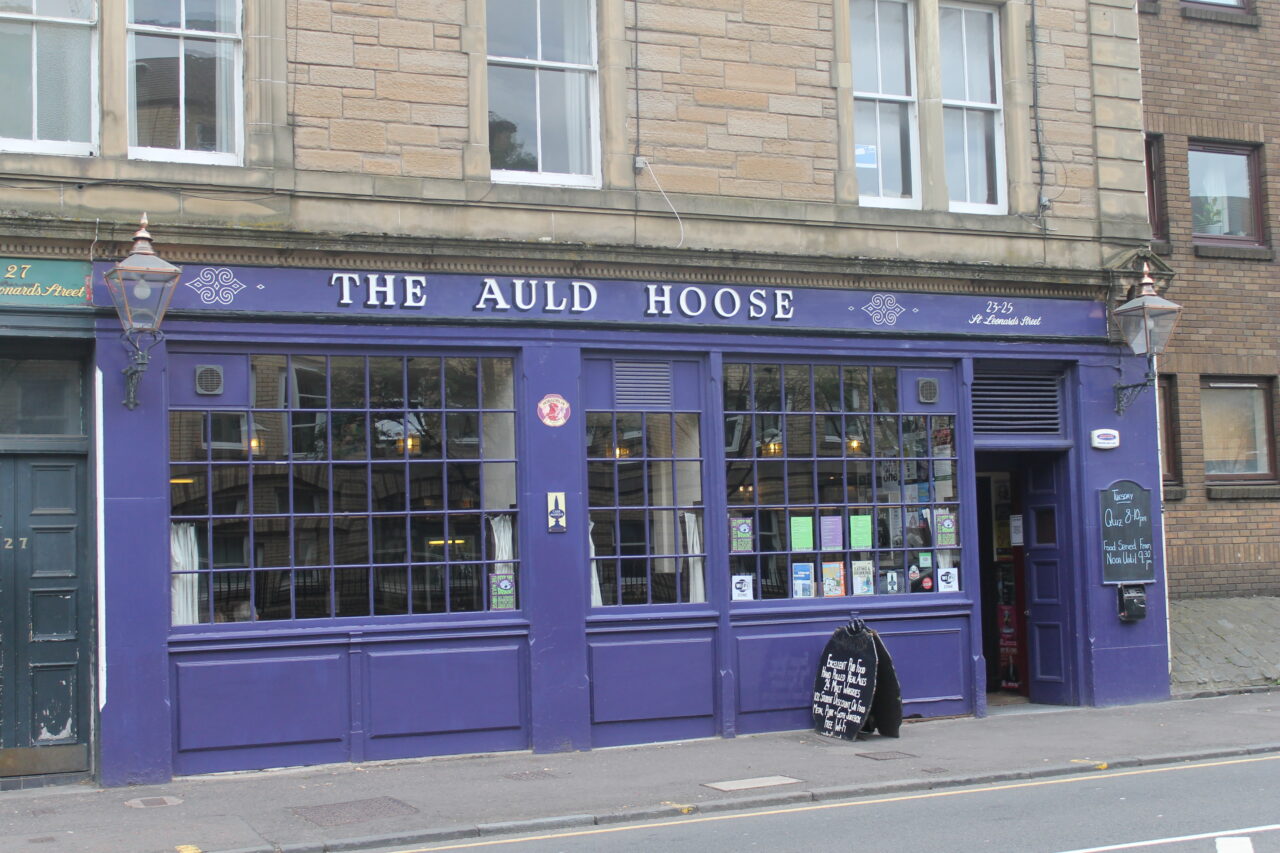 Holy Cow
34 Elder St, Edinburgh EH1 3DX
Holy Cow is another great vegan-friendly restaurant. Holy Cow has two locations in Edinburgh; one is on Elder Street near the main bus station, while the other, the Holy Cow Lounge, is on Dundee Street. The lounge is slightly bigger, so you're more likely to get a table there.
Holy Cow has a very imaginative menu, and all its food is made fresh on its premises using locally sourced produce. Everything on the menu is vegan, and there are many gluten-free options. If you're interested, they also provide vegan afternoon tea.
Their signature dish is their Muu burgers, which come in various flavours such as Thai carrot and Vietnamese tofu. They also make splendid vegan sandwiches and mouthwatering desserts like their amazing cheesecakes. Holy Cow is a must-visit for vegans in Edinburgh as it offers some of the best vegetarian food you'll find anywhere in Scotland.
Holy Cow is one of the city's best lunch locations for vegans, but there are some other great vegan-friendly lunch locations, such as The Sly Fox in Leith, which serves classics like vegan goulash and new dishes like vegan salmon cream on toast. There is also Black Rabbit, which offers vegan sandwiches, and FacePlant Foods, which does a great vegan grilled cheese.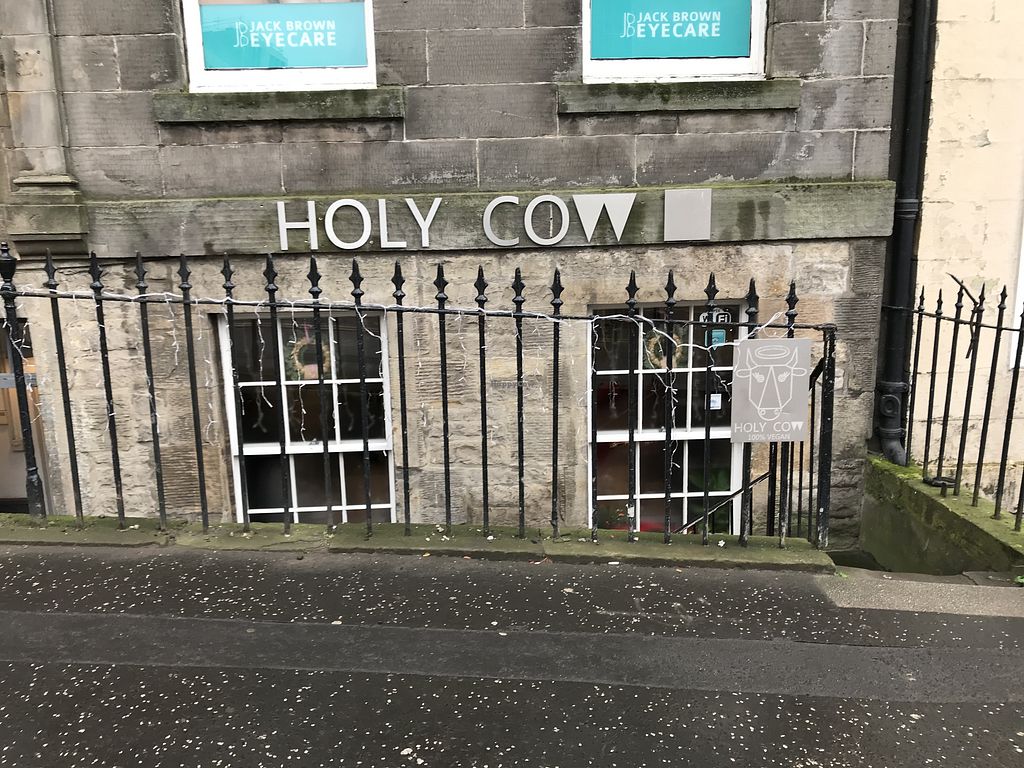 Hendersons
7 – 13 Barclay Pl, Edinburgh EH10 4HW
Hendersons is perhaps the most notable vegetarian restaurant in Edinburgh. It is a classic of the veggie scene and the longest-running vegetarian restaurant in the country. Sadly, it was one of the victims of the COVID-19 pandemic, and Hendersons shut its doors in 2020.
Fortunately, Hendersons has now remerged in a new location. While it is a new restaurant with a fresh look, it retains much of the classic Hendersons menu. Hendersons also has a new slogan: "Eat Better, Live Better", something they hope to promote with their tasty, wholesome, healthy food.
Hendersons has changed since its original heyday but hasn't forgotten its roots; every vegetarian in Edinburgh should go there at least once.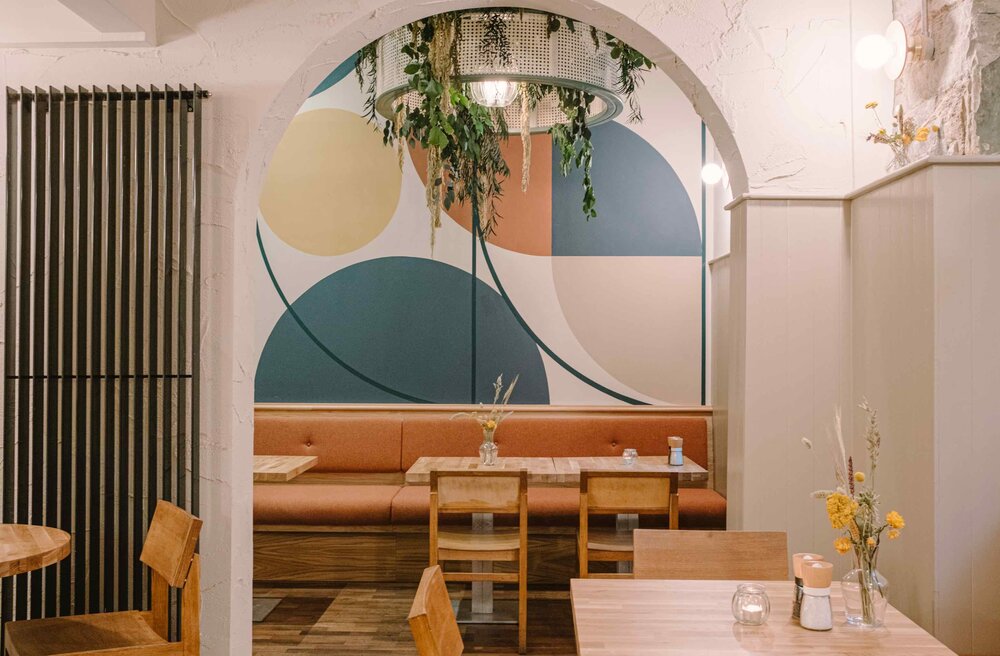 Cafes & More
Beetroot Sauvage
33 – 41, Ratcliffe Terrace, Edinburgh EH9 1SX
Beetroot Sauvage is a wellness centre all about letting you find joy through yoga, therapy and vegan food. It's a great place to replenish your body and make yourself feel great. It's a welcoming location filled with smiling staff and is dog-friendly and child-friendly, which many other eating locations aren't.
Although they're primarily a wellness centre, they also have a sweet vegan cafe that offers everything from all-day breakfasts and brunches to healthy smoothies. Beetroot Sauvage claims to have the best vegan cheese in Edinburgh, so if you're interested in testing their claims, you must visit them.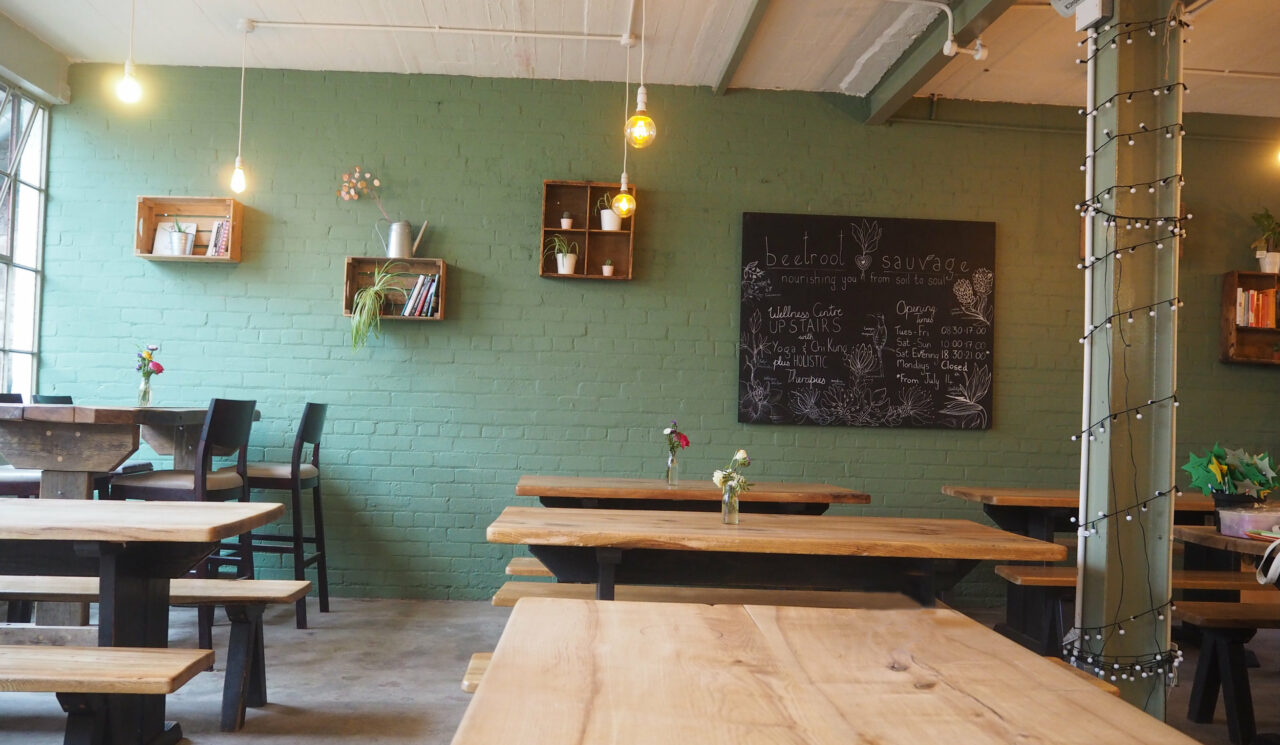 Hula Juice Bar
94A Fountainbridge, Edinburgh EH3 9QA
Hula Juice Bar is a healthy, ultra-cool cafe with a bright, joyful interior and a wholesome atmosphere. While it is not an exclusively vegan restaurant, it has plenty of vegan options.
They have a great range of juices, smoothies, breakfasts and other dishes. They are notable for their pancakes and nutritious smoothies.
Edinburgh also has Loudons, a cafe that isn't vegan-exclusive but has plenty of breakfast and brunch options for vegans to enjoy.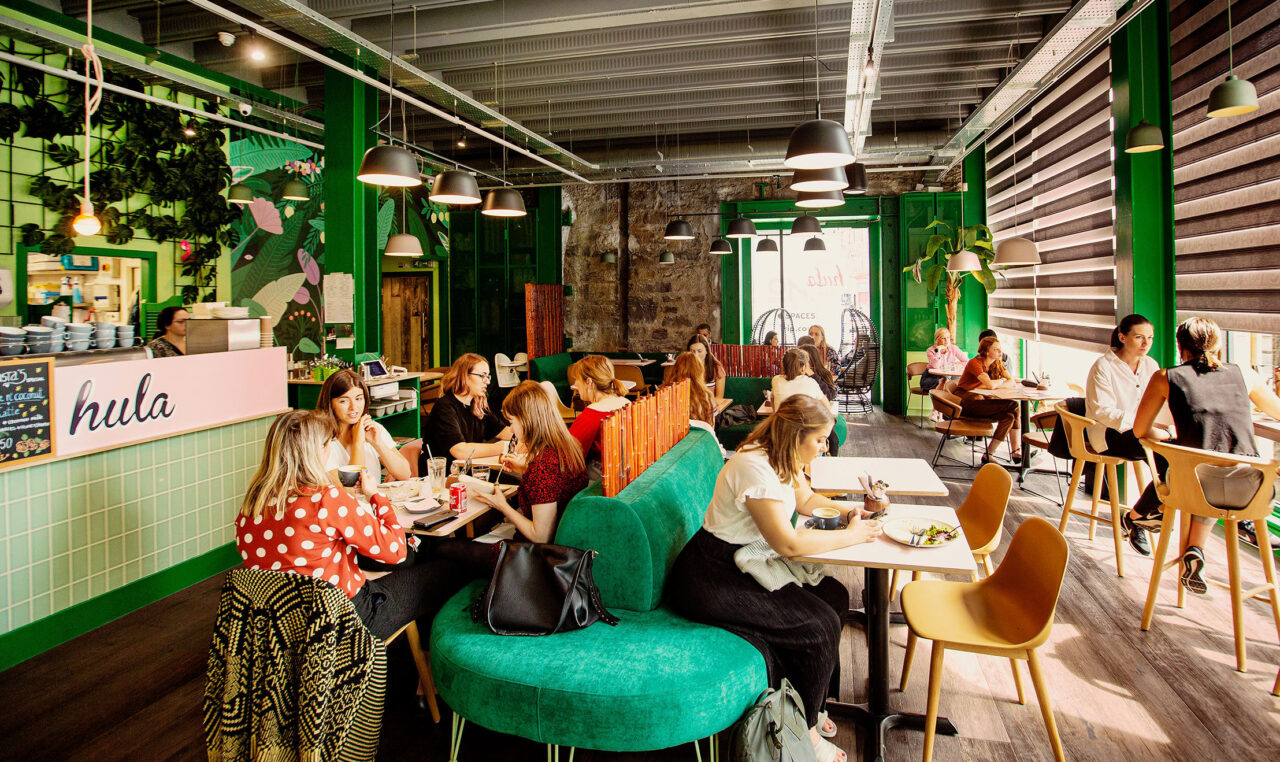 Himalaya Shop
20 S Clerk St, Edinburgh EH8 9PR
The Himalaya shop is a cute shop which sells arts, crafts and jewellery. It's a small, unassuming store that might not be an obvious place for vegans to eat, but hidden at the back of the shop is a lovely cafe that sells chai teas, cakes and a selection of Tibetan treats.
The Himalaya Shop might not offer you main course meals or fancy dinner options, but it is a nice laid-back place to relax. As you relax, you can enjoy their reasonably priced ethical vegetarian food.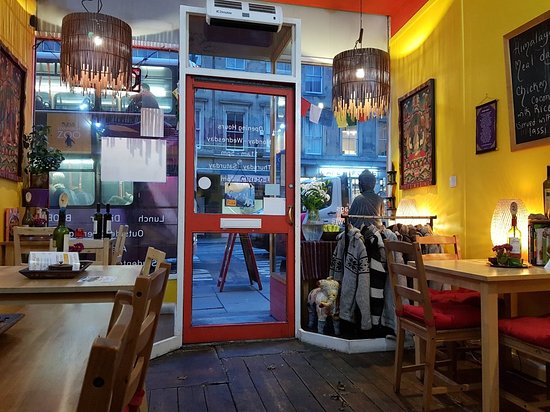 Gourmet Restaurants, Gastropubs & Fine Dining
Harmonium
7 – 11 E London St, Edinburgh EH7 4BN
Harmonium is a gourmet gastropub in Leith brought to you by the people behind the fashionable Flying Duck restaurant, a beloved, quirky, semi-secret bar in Glasgow.
Harmonium is a fancy restaurant filled with nautical decor that has quickly become a favourite of vegetarians (and non-vegetarians) in Edinburgh since its establishment in 2017.
Harmonium features a wide range of perfectly made vegan dishes, such as popular classics like pizza, macaroni cheese, fish and chips, and new inventive meals like mushroom scallops and vegan banh mi. Perhaps their best dish on offer is their thick juicy vegan burgers.
Harmonium has friendly staff and a welcoming environment, which makes it one of the standout vegan destinations in the city.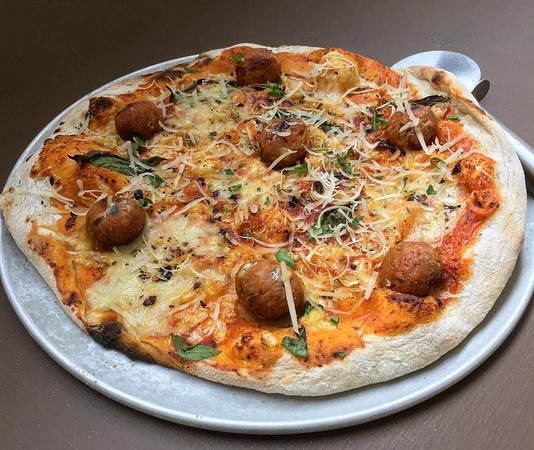 David Bann
56 – 58 St Mary's St, Edinburgh EH1 1SX
David Bann is an upmarket restaurant well known for its award-winning eclectic cuisine. You can find the restaurant near Edinburgh's Royal Mile. It is a firm favourite of Edinburgh vegetarians and is frequently listed as one of Scotland's best restaurants in general.
This modern restaurant has outstanding vegan dishes, including delectable risottos, delicious curries and a wide selection of veggie desserts. David Bann also offers fascinating cosmopolitan dishes from far and wide, such as Southeast Asian cuisine, allowing you to try out cuisines you might not otherwise have become familiar with.
David Bann is a haven for veggie foodies, and if you're interested in popping in, you'll be happy to know it's not a self-serious, stuffy restaurant. It's got a great atmosphere and friendly staff and is a wonderful place to eat. If you're looking for a vegetarian-friendly restaurant for a special meal, look no further than David Bann.