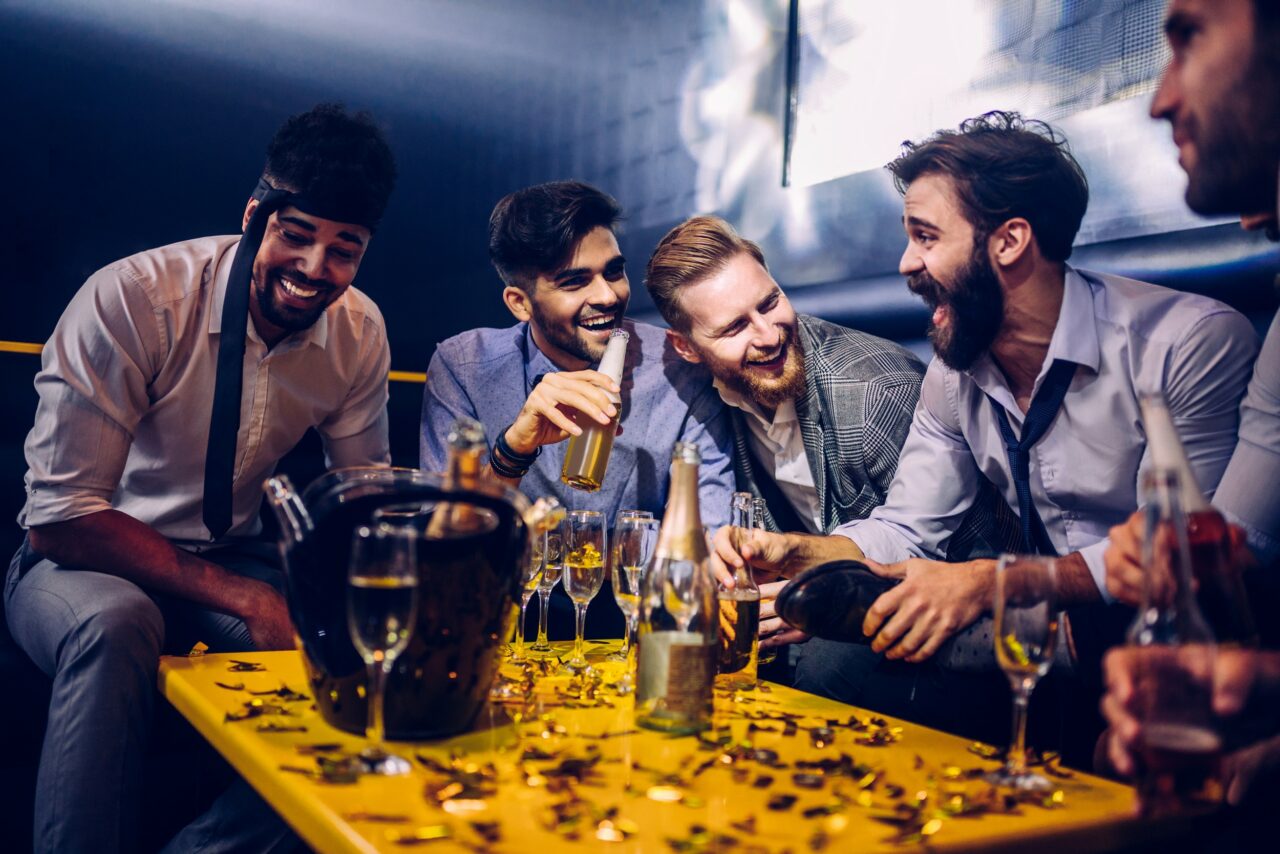 Your stag do is a vital part of anybody's wedding and life experience as a whole. As the last night of freedom for an unmarried man, stag dos are frequently one of the most memorable occasions you'll ever experience. Traditionally, these events involve copious amounts of alcohol and ridiculous pranks. However, you may want alternative stag-do ideas to make your event extra special.
Yhangry: Your Number One Place for Private Catering
If you're racking your brains for alternative stag-do ideas, then you may be thinking of things that involve food. With the focus on fun and the likelihood that alcohol will flow, you'll unlikely want to take on cooking yourself. That's where a private chef comes in.
Yhangry connects you to private chefs in your local area who can provide catering for your stag do or any other event. The private chefs we can connect you with are here to create lasting memories with your closest friends in a fun and memorable way. Whatever kind of food you fancy, we have a menu for that. From traditional British grub to a huge range of international cuisine, private chefs that use our service have something for everyone.
So, if you need catering for your stag do, get a quote from us today. Make sure your stag do is truly memorable and that you can focus on enjoying the night by organising your catering with yhangry!
The Importance of a Stag Do
Though it may sound cliché, the groom's stag do is a once-in-a-lifetime experience. It's the chance for you and all your close friends to get together, have fun and make memories that will last forever. The traditional stag do usually involves alcohol, pranks on the groom and other activities designed to make everyone laugh. However, if you want something a little different that you can look back fondly on, it may be time to think of some alternative stag-do ideas.
Why You Might Want Alternative Stag Do Ideas
While everyone has a stereotypical view of a stag do, there is no reason the idea you come up with for a stag can't be different. Perhaps you don't drink alcohol, or maybe you want something a little more meaningful. Whatever your reasons, there are plenty of options when searching for stag ideas. Perhaps you want some funny stag-do ideas like a comedy night, or maybe you're looking for more unusual stag ideas like an escape room trip.
Regardless of your reasons, alternative stag-do ideas are the perfect way to make the groom's night memorable and enjoyable. And if food is involved, visit us here at yhangry so that you can ensure your catering is taken care of and that you'll enjoy delicious food without worrying about the preparation.
8 of the Best Stag Do Ideas for Those Who Want an Alternative
Paintballing
Paintballing for a stag do is an excellent way of bringing out your competitive side whilst having fun with friends. Split into teams, have a friendly (or not so friendly!) paintballing game and compete to become the ultimate champions. Paintballing for a stag certainly fits the picture as a "guy thing" and is never short of laughs as you all get covered in paint – and at least one person takes to cheating. Trust us; there's always one!
Pros of paintballing for a stag do:
It's a great way to get competitive and have fun

You can play as teams or individuals

Everyone will come away with stories to tell.
Cons of paintballing for a stag do:
It can be quite expensive

Some venues have age restrictions

Alcohol is not allowed at paintball venues for safety reasons.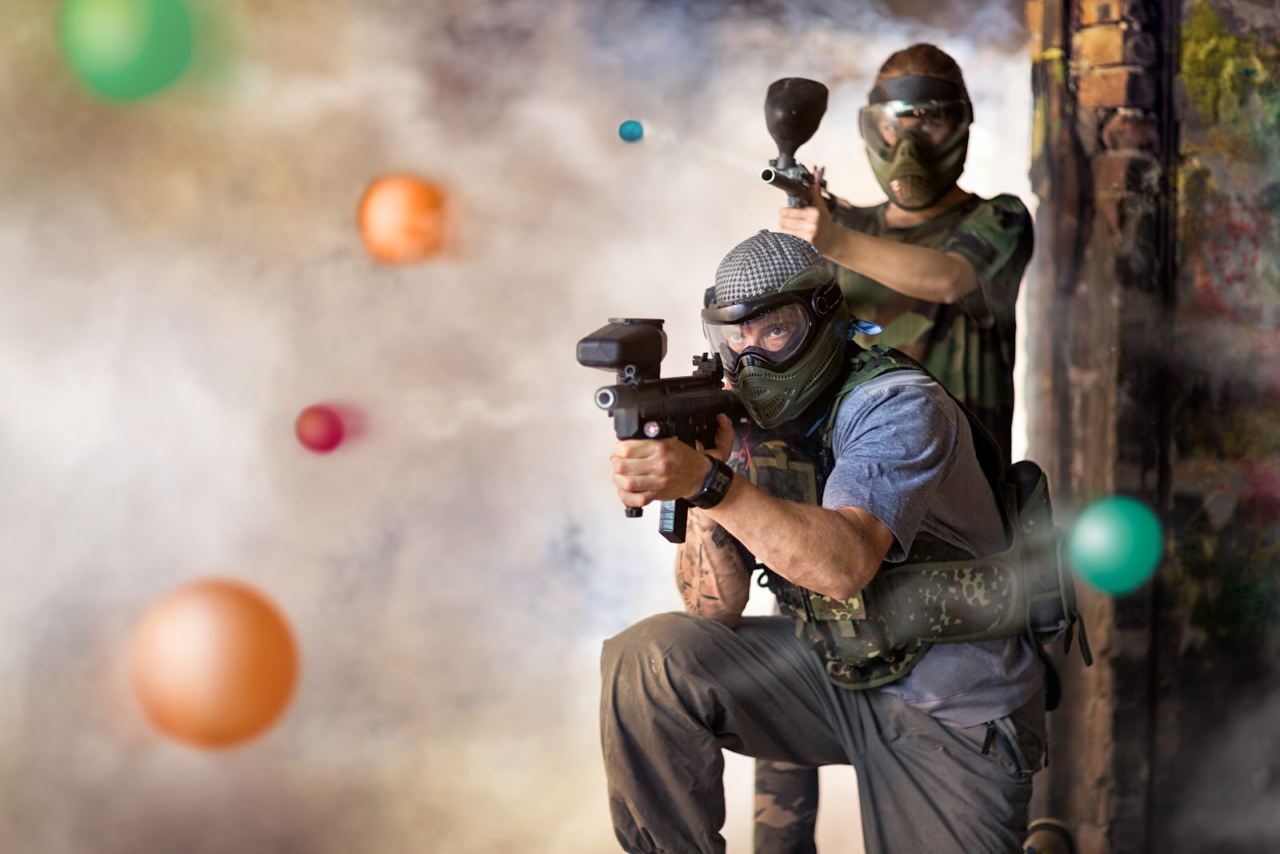 Go-Karting
Go-karting is a great activity for a stag do, as it offers a fun and exciting atmosphere everyone can enjoy. It allows the group to compete in a friendly and safe environment, perfect for celebrating the groom's last night before marriage. Go-karting also offers an adrenaline rush, making it ideal for those looking for a more extreme activity.
Pros of go-karting for a stag do:
Fun and engaging activity

Competitive atmosphere to increase the excitement

Safe environment.
Cons of go-karting for a stag do:
It can be dangerous if proper safety measures are not taken

Limited availability in certain areas

Usually requires pre-booking, making it difficult to organise at short notice.
Escape Room Challenge
Escape-room challenges are a great way for the whole group to have fun. You and your friends will be locked in a specially designed room and required to solve puzzles and complete tasks to escape within the time limit. These puzzles may include clues, riddles or hidden objects you must find to progress. This activity is perfect for those looking for something different – it's an immersive experience where everyone can get involved.
Pros of having an escape-room challenge for a stag do:
A challenging and exciting activity

Everyone gets involved

Perfect for large groups.
Cons of having an escape-room challenge for a stag do:
It can become quite expensive if there are many people taking part

Time limits mean that some groups may not finish the challenge

Not suitable for people with a fear of enclosed spaces.
Brewery Tour and Beer Tasting
A brewery tour and beer tasting for a stag do is a great alternative activity, allowing everyone to sample some of the best local beers while learning about the brewing process. This type of event will not only provide you with some delicious drinks, but it's also a great opportunity to bond as a group by trying something new together.
Pros of beer tasting for a stag do:
Relaxed and enjoyable atmosphere

Everyone can learn something new

Delicious food and beer to sample.
Cons of beer tasting for a stag do:
It can be an expensive activity

Not suitable for those who don't drink alcohol.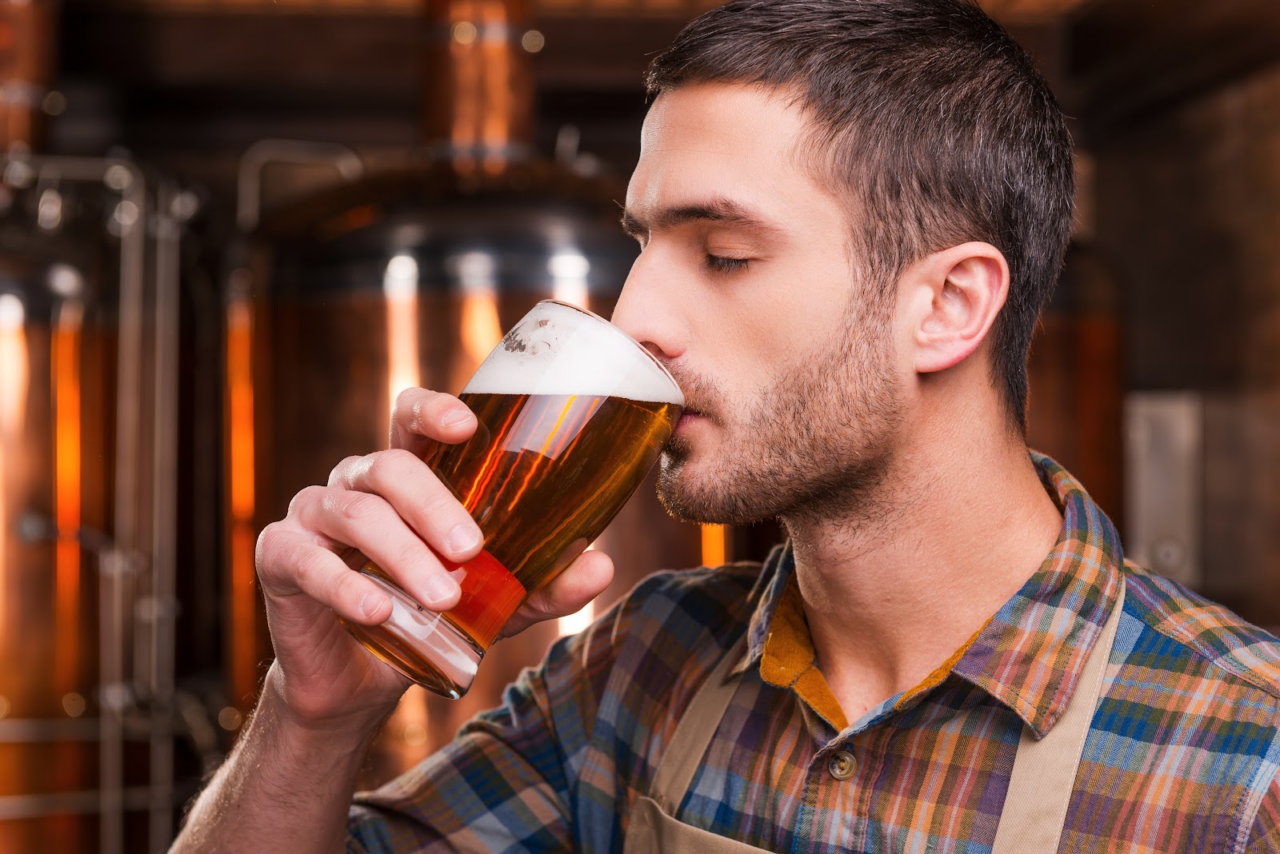 BBQ and Outdoor Entertainment
For a more chilled-out time, why not try hosting a BBQ for the groom's stag do with an outdoor games night? This activity is perfect for those who want to enjoy the great outdoors and tasty food. You can play lawn games, sit around the fire and socialise with friends. Yhangry has a dedicated BBQ menu with private chefs in your local area ready to provide catering for such an event. Why not check out our menus and get a quote if you want a BBQ for a stag do?
Pros of a BBQ for a stag do:
Relaxing atmosphere

Delicious food

Fun activities for everyone to enjoy.
Cons of a BBQ for a stag do:
Weather dependent

It can be costly if you are providing all the necessary equipment.
Comedy Night
If you want funny stag-do ideas, then comedy nights are perfect. They're great for those who want a relaxed but entertaining evening. A comedy night is perfect for getting everyone in the mood and allowing them to laugh and bond. If there are no big-name comedians in your city, there will always be something on at your local comedy club – and alcohol will always be flowing freely!
Pros of organising a comedy night for a stag do:
A great atmosphere filled with laughter

Alcohol permitted at venues

Flexible – can be done at any time of day

Funny stag-do ideas are always popular.
Cons of organising a comedy night for a stag do:
It can be expensive depending on the venue and headlining act

Not suitable for those looking for something extreme.
Quad Biking
Quad biking is an adrenaline-filled activity perfect for those looking to get their heart pumping. This activity offers an opportunity to get out into the countryside while steering around a track at breakneck speed! There are many quad biking venues in the UK, making booking a session easy for you and your friends.
Pros of quad biking for a stag do:
Great way to feel the rush of adrenaline

Fun, unique and exciting experience.
Cons of quad biking for a stag do:
Weather dependent

Can be expensive

Possibly dangerous.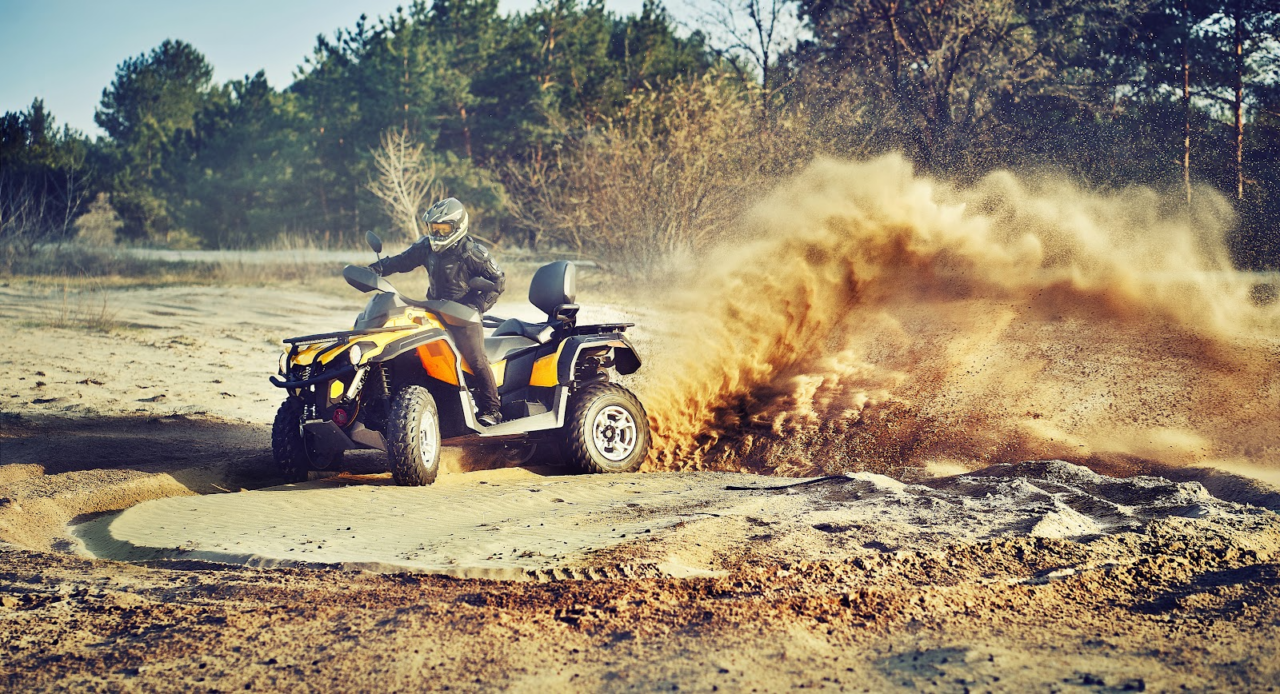 Book a Private Dining Experience
If you're looking for something more sophisticated, why not book a private dining experience? This is the perfect way to ensure everyone has an enjoyable time together. You can choose from various restaurants and cuisines to suit everyone's taste.
If you don't fancy going out, yhangry can connect you to private chefs in most UK cities who'll be happy to provide catering in your home or any venue you choose. You can be sure of excellent quality food when you use yhangry!
Pros of booking a private dining experience:
Gourmet food served in luxurious surroundings

A huge range of food unavailable at home

First-class service.
Cons of booking a private dining experience:
Not suitable for anyone wanting an adrenaline rush

Alcohol consumption may be limited.
Conclusion
A stag do is not just about getting drunk and embarrassing yourself; there are plenty of alternative or funny stag-do ideas to give you an unforgettable experience. From unique activities like quad biking and comedy nights to luxurious private dining experiences, you have a wide range of choices when it comes to stag ideas that will make your night one to remember forever.
And don't forget, if your plans involve food, then yhangry can help make your stag do go with a bang. Whether you're looking for something traditional or unusual, we can put you in touch with private chefs willing to provide catering for any occasion.
FAQ

What are some other funny stag-do ideas?

Some funny stag-do ideas we haven't mentioned include a scavenger hunt, a pub quiz, or having an outdoor comedy movie night with lawn chairs and a projector screen set up in the backyard.

What are the best stag ideas to please everyone?

The best stag ideas always depend on the group's tastes – what kind of experience they want and how much time they have available for their trip. It's important to consider everyone's preferences when deciding on an activity so that all attendees can enjoy it together.

What is the best way to plan a stag do?

The best way to plan a stag do is by researching different stag ideas – either by yourself or through a travel company – and then setting aside enough time to create your customised package tailored to the groom-to-be and his guests. Consider all preferences, budgets, safety measures and everyone's time! With careful consideration, you can create an unforgettable experience for everyone involved.