CHRISTMAS DAY DINNER
IN CHELMSFORD


Tips for where to celebrate and have Christmas Day Dinner in Chelmsford. Here's our pick of where to go and what to do!
Planning Christmas Day for your family and friends can be stressful! Here are the top picks for Christmas Day Dinner in Chelmsford. We've put together a handy, shareable guide.
Restaurants for Christmas Day Dinner:
County Hotel, Samphire Restaurant
The hotel restaurant has a cosy setting, with both modern and traditional embellishments. They always have great Christmas decorations for December! Traditional Christmas Day Dinner with all the trimmings! And enough cranberry sauce to knock you out.
The Anchor Danbury
Paired back, quintessentially British pub. The elegant dining room has a Christmas menu running for all of December. Because of the small size, seating is limited so make sure to book in early to secure a table.
Golden Fleece Chelmsford
A 17th century pub with real character – and that includes the lively atmosphere too! Expect Christmas music, decorations, lots of food and a great time. You can pre book Christmas packages including the drinks package so you don't have to worry about anything on the day.
Bourgee Chelmsford
Bourgee is all about luxury but at an affordable price. Their Christmas Day Dinner menu is one of the ones to look out for in Chelmsford. They're known for their roast dinners and the luxurious lobster. There are three courses
Chutney House
Fancy something a little different? Chutney House is open on Christmas Day for a twist on the traditional dinner. You'll be having enough turkey in for the nest week so you may as well mix it up on the day. This beautiful setting has 18th century glamour.
Middletons Steakhouse & Grill
Middletons are known for their steaks. For Christmas they have a traditional Christmas Day Dinner menu at their Chelmsford restaurant. From £60 per person you can get three courses of fantastic food.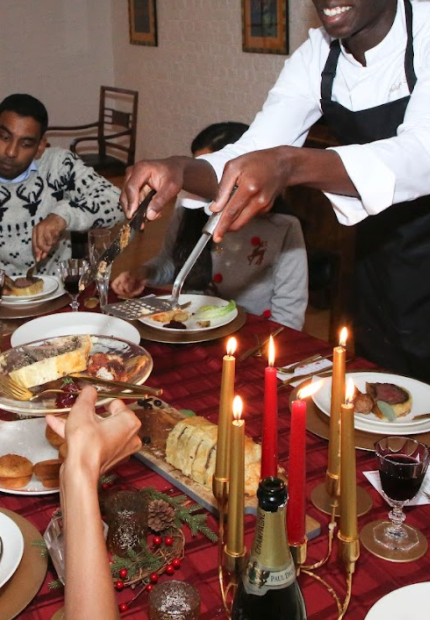 Eat At Home for Christmas Day Dinner in Chelmsford:
Private Chefs
Make Christmas Dinner Easier by hiring a chef to cook it for you. No grocery shopping, no doing the dishes, it's like having a restaurant pop up in your home. Yhangry have online Christmas menus so you can browse what chefs are offering for Christmas Day Dinner in Chelmsford, click and book straight away.
View here ➡️
Local Butchers in Chelmsford
Butchers and farm shops can make Christmas Day Dinner both easier and tastier. Their high quality meats mean you can create something a little more special than the usual supermarket Christmas turkey. Here are our favourites sorting out your Christmas Day Dinner in Chelmsford.
The Manor Farm Shop
Milbury Meats
Meat and Clever
About us
Yhangry is a private chef platform which has been featured on Dragons' Den. If you are planning to host Christmas, you can find and book local private chefs to cook in your home. You simply choose from our chefs' menus starting from £25pp. The chef will bring the shopping, cook up a feast and clean up in the kitchen, so you get to enjoy a fabulous time with your loved ones without having to worry about the cooking.