Meet Chef Tristan:
Cooking his way to success

Le Cordon Bleu Graduate, Head Chef of a prominent restaurant at 21 and now a successful private chef in London, Chef Tristan is scaling some spectacular career highs. We caught up with the chef to gain some in-depth insights into his journey so far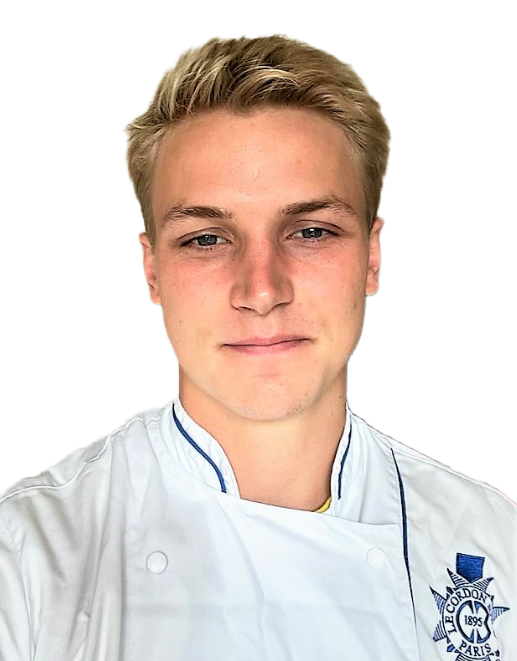 Tell us about yourself, how did you begin your culinary journey?
From the age of about 8, I would be found lurking around the kitchen at every moment. As children, my siblings were quite into food too, but I was the only one who carried on with it growing up. I chose not to go to Uni because by then I knew I wanted to try cooking afterwards anyway. After finishing school, at the age of 18, I applied to Le Cordon Bleu. The six months there, jumpstarted my career!
When did you graduate? How has Le Cordon Bleu helped you in your career?
I graduated in 2016, earning my diploma in an intensive six-month cuisine course giving me those solid foundations to build on. They are a French school, so they teach you the in and outs of french cuisine which can be applied to almost any cuisine. It's a brilliant course! This gave me those techniques and the knowledge to apply to high-end restaurants.
Did you find your first job through the intstitute?
No. Le Cordon Bleu held networking events for the students– a lot of big agencies, restaurants and companies came in and I did interview for a few but quickly realised they weren't for me. However, I didn't want to just be a guy in charge of 1 job endlessly so I went searching for something that smaller where I could do everything within the kitchen. That's where I found a gastro pub full of great people who loved to have fun and produce some good food. The head chef there taught me a huge amount and I will be forever grateful, even though I knew that I wanted to do fine dining in the future. Working at a gastro pub, was such a learning experience and it gave me the room to grow, consolidating all the skills I had acquired while having some fun along the way.
Do you have any chefs you draw inspiration from or aspire to be like?
I think every chef needs to be their own and find their own style in what they're doing. There are chefs I think are brilliant, of course, like David Muñoz of StreetXO or Clare Smyth, of Core but I'm more inspired by the people around me than celebrities. I'm always asked this- 'Do you think Ramsey, Heston, Pierre-White etc are a good chefs?' My answer to them is always the same– 'I haven't worked with them so I would not know'. From a professional point of view, I would not say I aspire to be like someone else. Inspiration, however, is everywhere. Especially people I have worked with, like my sous chef, when I was head chef, was simply brilliant. One gets inspired by people's passion; can learn from anyone really. It's the silly things, like looking in the veg aisle at the supermarket! The way other people approach a dish could be entirely new to you. I think that's the way to be, find inspiration everywhere, emulate only yourself.

How did the decision to work as a private chef come about?
After my gastro pub experience, I quickly moved on to fine dining at Claude's Kitchen. The food there is fine dining, but quirky and different, which I quite enjoyed. I made Head Chef two years into working there. Every now and then, people would ask me if I could do a dinner party or an event etc for them. I had never thought of it as a career because from the outside, being a successful 'private chef' seemed like an unobtainable goal. It was rare, but I did those few dinner parties dipping my toes in and it made me realise there is potential to make this a full-time thing.
When the pandemic came around people started asking more and more about events at home. So I began to look up agencies who do private events/parties and I came across yhangry among a few others, and that got the ball rolling. My knowledge of wine helped, because people are always asking about pairings and suggestions.
The best part about being a private chef is that I get to know everyone around the table. I have a chat with them all and get to know them so I know who I'm cooking for. They can ask me questions about anything, the whole experience is so personal and a lot more care goes into the entire act of cooking. It is an incredibly fulfilling experience for me.
How has the experience been working with yhangry?
Yhangry, as a platform is extremely flexible. I can pick and choose days I'd like to work, set my own prices. I have set up my own menus on the profile, offering food, wine tastings. It's easy to contact clients before the bookings. The team takes care of most of the admin and payments are processed super quickly. It makes things so easy for any aspiring private chef to increase our client base, with no cost to me. I quite enjoy it working with Yhangry.
Is there a dish you love to cook?
So I don't have a go-to dish, no. I plan and cook in such a weird way, I didn't really realise this until recently. I was cooking a duck dish I had never cooked before for a client. When they asked me about the dish,  I then told them I'd never cooked it before and they were baffled. The way I go into cooking/planning a dish is firstly choosing the main protein and then building the dish up from there on. I have five or six ideas of what I want to have in the dish (texture, flavour, methods) and then develop them into the other elements of the dish… It may sound weird, but for me it's a normal thing. I have probably never cooked the same dish twice and had never realised that was slightly odd thing to do!
What has been your greatest culinary moment so far?
There are two I would say. One is obviously becoming head chef at 21, but that is more of an achievement.
Moment wise, I remember a sort of eureka moment I had, about six months into working at Claude's. Previously, the head chef would always be overseeing things, when I'm sending food to the pass and he's checking seasoning telling it needs more this more that or needs 2 mins longer etc. It was one night I sent a fish dish to the pass and he said absolutely nothing and I'm not sure what happened but in my mind things just clicked and I could see literally how to cook so much clearer and I guess from then I've never looked back.
Do you like living in London and what do you think of the food scene here?
I've only lived here since 2016. The first few years, I was so busy– I was constantly working. I think, only after the pandemic, I've come to explore it more. It's a busy city, there's something for everyone. Overall, the food scene is dynamic but the restaurant industry has taken a hit after the pandemic. The way people are eating has changed so much! Clients I've had have been much more health conscious, meal prep requests have become very common. The private chef business is booming which is working out very well for me.